Photography Mitchell Sams
Yuhan Wang AW20 was a funereal fairytale
For the LVMH Prize-nominated designer's first standalone show on the London schedule, the Fashion East alumna showed her most versatile collection yet.
Photography Mitchell Sams
'Funeral Notice' read the heading of the invitation to Yuhan Wang's AW20 show. Given that it's her first standalone presentation on the London Fashion Week schedule, after three seasons on the Fashion East roster, it felt like a rather ominous note for this new chapter of her career. Far from morbid, however, Yuhan's main preoccupation here was with the rituals tied to life's passing, and their associated aesthetics.
Where her previous work was dreamily romantic, this collection had a decidedly Victorian anchoring. A sheer embroidered skirt had ruffled lace fishtails floating about the wearer's calf -- elsewhere the same silhouette was translated with a hand-drawn rosebud print, with fringe replacing lace. Yuhan hardly skimped on the latter material though. In white, there was a crinolined day dress with gently ruched sleeves. In black, it served as a metaphorical pallbearer or the funereal theme, applied to hoop-brimmed hats-as-veils and bonnets, blouses and flouncy shawls. As befits the sobriety of both the topic and the era she was inspired by, looks erred towards modest, with full-length sleeves and high necklines -- though that's not to say that it was at all prudish for it.
If you're familiar with Yuhan's work, the above will sound like an encouraging development, though hardly a jaw-dropping surprise. Victoriana chic has, after all, been a staple of the brand since its founding, and her work has been marked by the stoic refinement of an inimitably delicate take on feminine dressing. And to great success, too -- such that she was announced as one of the semifinalists of the 2020 LVMH Prize.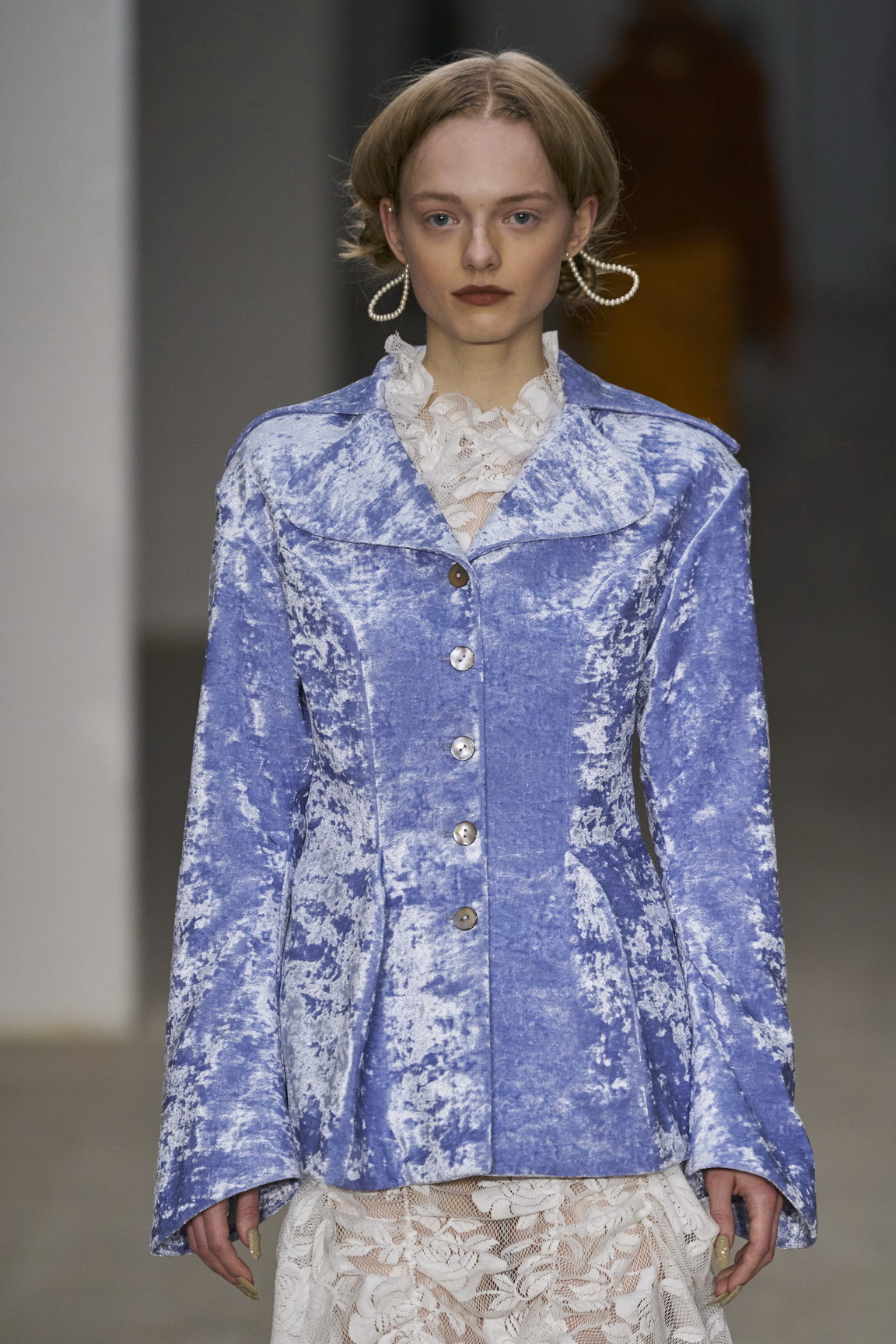 This season she proved why, stepping beyond her established comfort zone to introduce tailored pieces -- a waisted black satin jacket with lace-trimmed lapels, and jacquard blazers in cream and cornflower blue. Another fresh addition was the outerwear, with generously proportioned coats in floral-printed brushed fabric, as well as fuzzy, sheepskin-feel wool.
Those that came for Yuhan's trademark romance had little reason to be disappointed. With the finale came a procession of the dramatically romantic dresses that first brought the designer to light; ruched printed fabrics and pastel-toned lace danced around their wearers' bodies like blossoms falling in a breeze. Even here, though, there were signs of significant elevation in the designer's craft -- particularly when it came to the closing piece in emerald satin, perhaps the most evening-ready piece we've seen from Yuhan yet.