Olivia Rodrigo just announced her debut album with a new single
'deja vu' follows the Disney star's record-breaking debut 'driver's license'.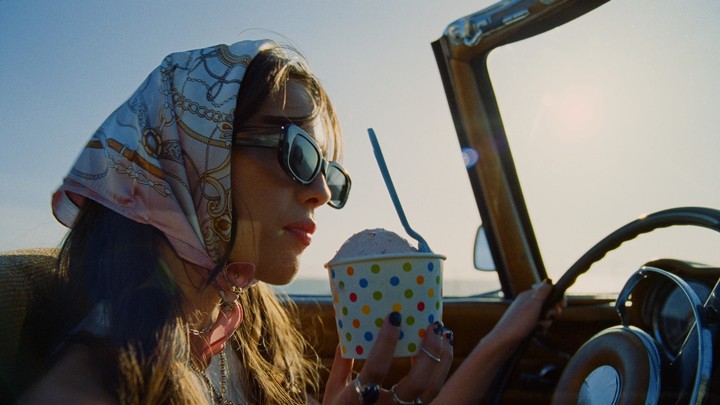 Still from 'deja vu'
In January 2021, Olivia Rodrigo went from a successful 17-year-old actress known for her central role in Disney's High School Musical: the Musical: the Series to record-breaking popstar with a song that the whole world seemed to be talking about. "driver's license" immediately racked up the most streams by a female musician in a single day in US Spotify history (5.68 million in 24 hours) before sitting happily at #1 in the Billboard global chart for eight consecutive weeks, beating a record previously held by BTS. We declared the single "an emotionally raw heartbreak ballad of dreams", while Olivia told i-D that she had low expectations for the release: "if I'm being completely honest, I didn't even expect it to chart."
Today, a little over two months later, Olivia has hit us with a double blow: releasing her follow-up single "deja vu" (more pop perfection) and announcing that her yet-unnamed debut album will be released on 21 May 2020. She's seriously on a roll. The narrative of "deja vu" is a natural continuation from "driver's license" -- Olivia, having moved on from the initial heartbreak of the latter, examines the similarities between herself and her ex's new girlfriend. She considers all the special places, records and jackets that they once shared, that he'll now be sharing all over again; going on to note that her replacement is "another actress / I hate to think that I was just your type".
"The concept of deja vu has always fascinated me and I thought it would be cool to use it in a song around the complex feelings after a relationship ends," Olivia says. "I started writing and recording 'deja vu' last fall and had so much fun creating the different melodies and sonic textures that you hear throughout."
In the Allie Avital-directed video (we've been blessed with one of those too!) Olivia is back in the driving seat, heading to Malibu with the top down, channelling old school glamour in a headscarf and dark glasses. A series of scenarios play out with Olivia and actress Talia Ryder (Never Rarely Sometimes Always) interchanging in a cinematic visual that Allie says was inspired by "everything from Ingrid Goes West, Persona, 3 Women, Killing Eve, surveillance, and stalking". Honestly, how could you not like the sound of that?
Olivia's debut album is due May 21 2020 and is available for pre-order here. Follow i-D on Instagram and TikTok for more music news.