read the tender sex scene cut from 'call me by your name'
"They settle into a mock wrestling position with Oliver's shoulders rubbing Elio's knees," James Ivory wrote in the original version.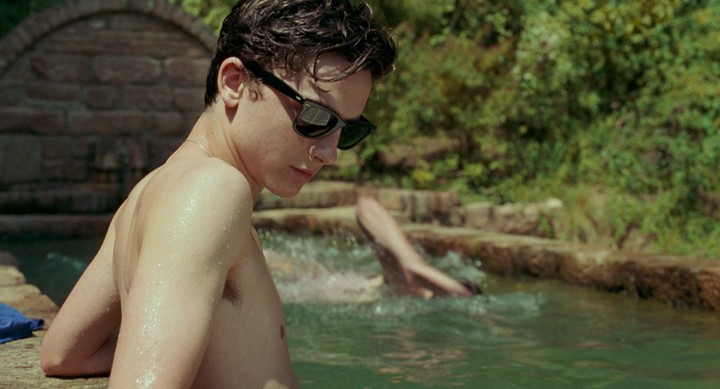 Courtesy Sony Pictures Classics
The original script James Ivory wrote for Call Me By Your Name is very different from the film we received. Ivory has made this very clear, speaking repeatedly on the disagreements him and director Luca Guadagnino had. One of the biggest cuts Guadagnino made was removing the explicit sex scene Ivory wrote. He opted instead to film Oliver and Elio's lovemaking in the vaguest of terms. This omission upset a lot of people, many wondering if the scene had been watered down to make straight viewers more comfortable. Well, we're able to imagine what Oliver and Elio's rendezvous would look like now. A fan has uploaded the first spec script for Call Me By Your Name. It's definitely real — as it features many of the original elements Ivory has talked about repeatedly, like the omission third-person narrator.
What's striking is just how beautifully Ivory writes Elio and Oliver's first time. The moment is unabashedly queer, providing a raw, rare on-screen depiction of anal sex. "When it happens … there is a degree of pain and discomfort," Ivory writes. "An eternity seems to pass between Elio's reluctance to make up his mind and Oliver's instinct to make it up for him." There's a slew of poetic lines in Ivory's scene description: "Elio looks into Oliver's eyes in an intensity of love and expectation, wanting this moment to last forever, knowing there is no coming back from this." Elio and Oliver then deliver the film's title to each other and it feels much more real and earned in this version, as the two are lost in the throes of passion. The scenes ends with a radically bold exchange of bodily fluids — intended to be shown on camera, of course.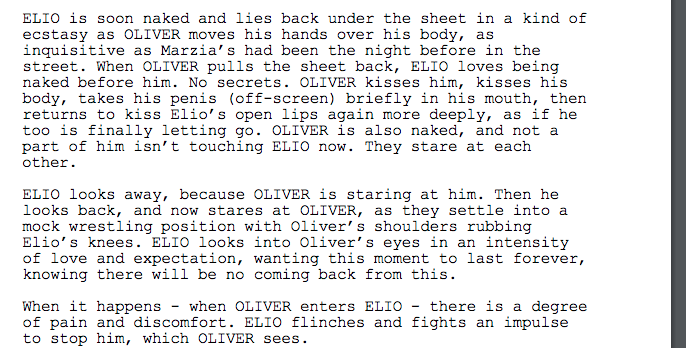 James Ivory's original sex scene really goes for it and perhaps Guadagnino was worried it would overshadow the more powerful, cinematic elements of the film. Proof: the peach scene receiving so much buzz, despite not even showing Oliver eating the "diritied" peach like he does in the novel.
It's dispiriting some of the most disruptive, queer scenes in André Aciman's novel had to be cut. We're hoping there's a day when seeing two men poop together in a bizarre, but poetic, act of love doesn't ruffle the feathers of straight viewers. Either way, James Ivory still won an Oscar for his screenplay, so we're not that mad.
You can read the original Call Me By Your Name screenplay here.