striking photographs of new yorkers on the subway
Andre Wagner shoots fleeting moments of human history underground.
Photography Andre Wagner
"I'm like a little kid, I just want to look out the windows all the time," says Andre Wagner about taking the subway.
He lives in Bushwick, off the J train, which is above ground through Brooklyn and Queens. The natural light there is better for photography than it is on Manhattan trains. Though not much. "As a street photographer, the subway is actually like the last place I want to be because it's dark," Wagner laughs.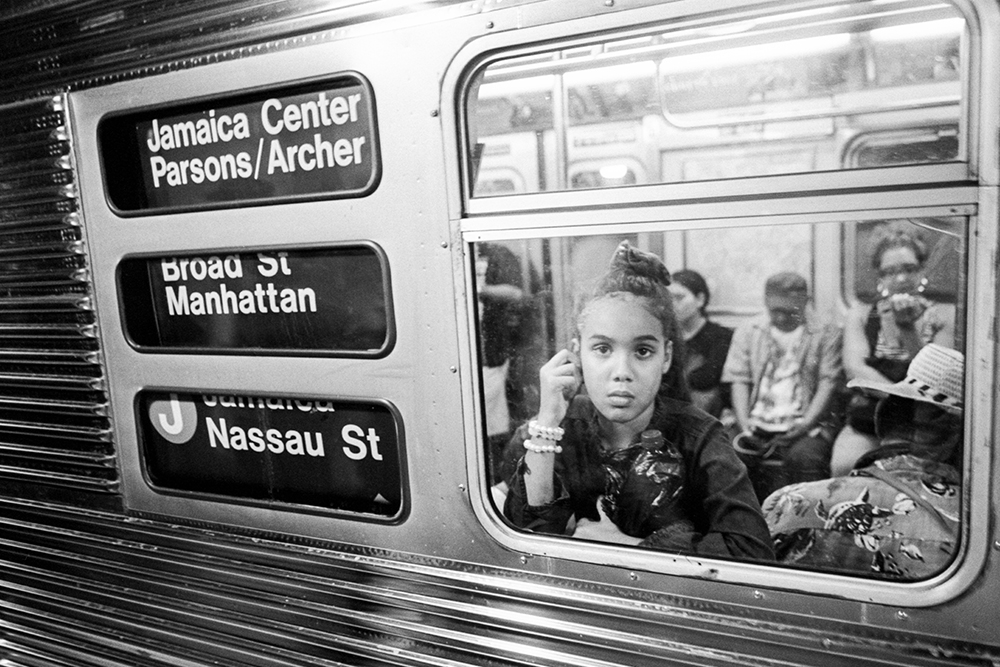 The closeness that makes studying people on the subway so interesting (where else do you sit thigh-to-thigh with strangers who are clipping their nails or sleeping?) is also what makes shooting there challenging. At rush hour, Wagner can sometimes barely lift his camera to his eyes; he gets glared at by strangers for photographing other strangers unawares. "I learned that you have to have conviction when you enter people's spaces," he says. "You can rub people the wrong way. But when you see something, you have to get it."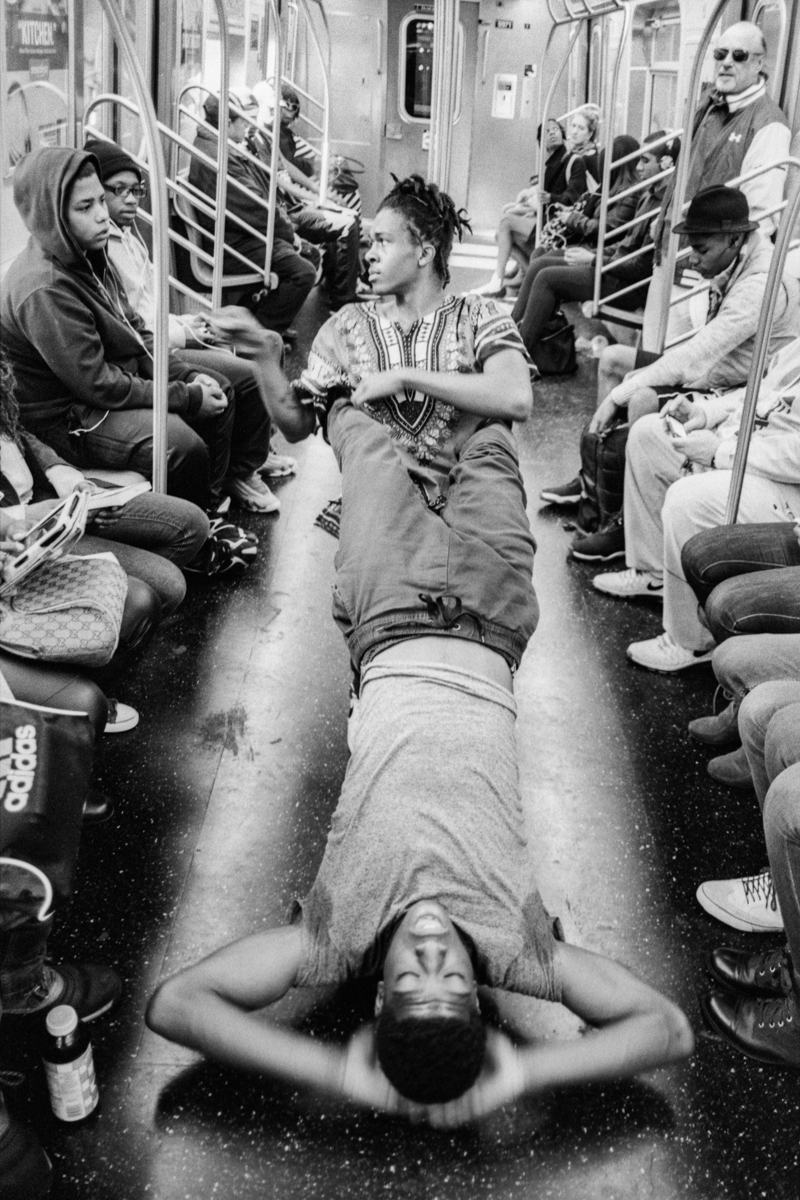 His new book, Here for the Ride, collects four years of Wagner's subway photographs, including miraculous frames of New Yorkers caught in surreal and often poignant moments. In one image, two men in ski masks push a suitcase through closing train doors as if mid-heist. Another image juxtaposes two families — one black, one white — sitting in the same car but separated by a suggestive gap.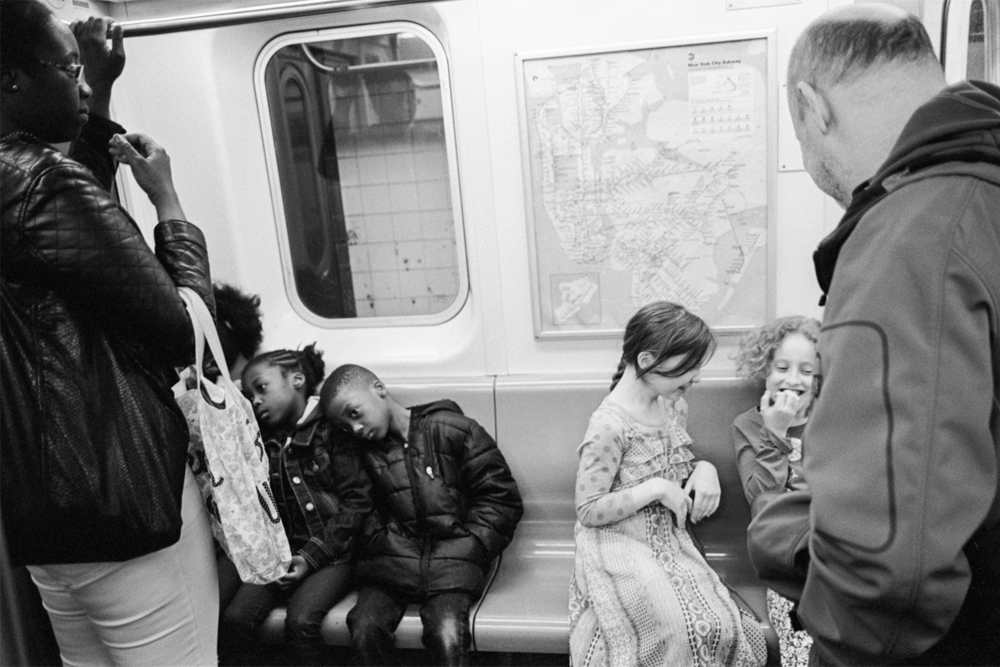 "There's a political side to being on the train," says Wagner. "The American flag pops up everywhere. You see different neighborhoods and different people everywhere. I'm a black photographer so thinking about my own personal experiences in America helped inform the images in the selection."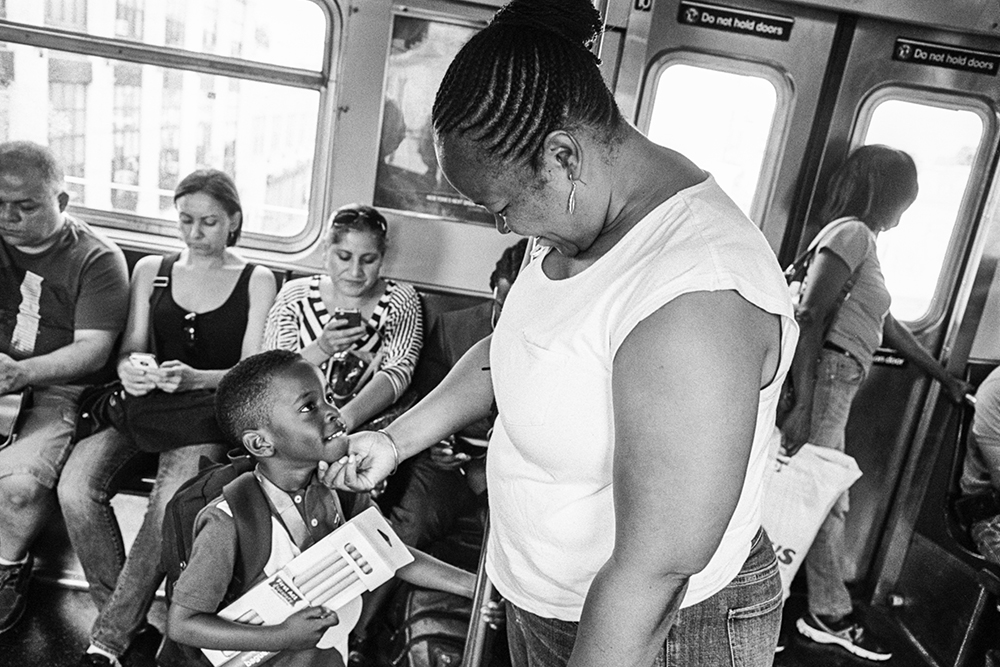 Wagner moved to New York from Nebraska in 2011 to pursue his education in social work. Instead, he became more serious about photography. He studied the images of veteran New York street photographers like Gary Winogrand, Gordon Parks, and Roy DeCarava and began taking photos while commuting to his first job at a photography studio. He eventually shelved his master's in social work and became a full-time photographer (his work frequently appears in The New York Times Styles section). But as his friend Zun Lee suggests in an essay accompanying the book, Wagner practices a kind of "visual social work" through his photography.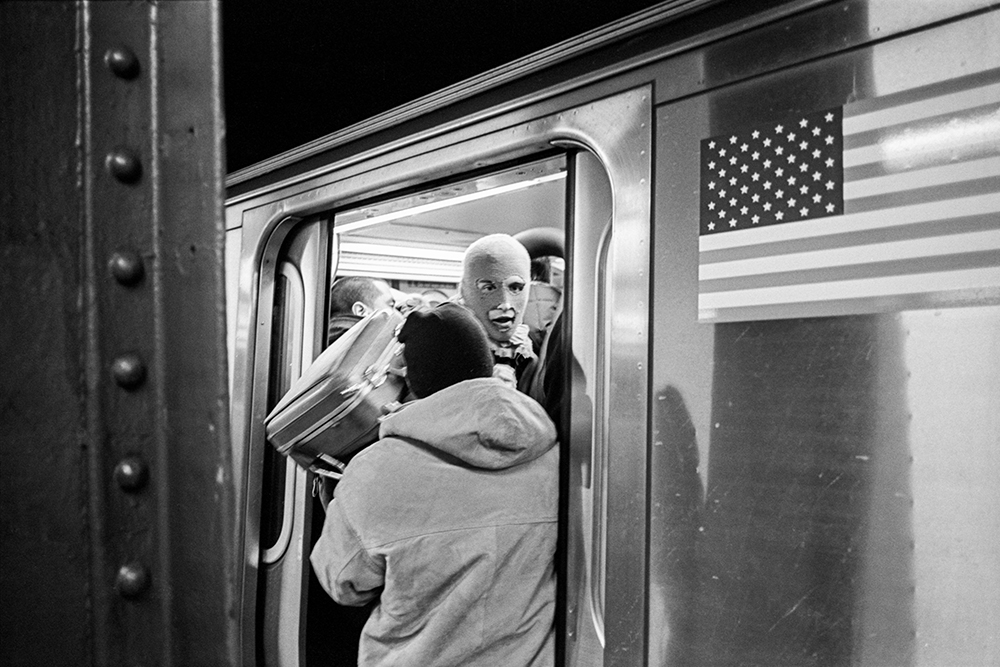 The images in Here for the Ride, shot between 2013 and 2016, document a specific moment in American history. Wagner captures a suited white man standing alone on a subway platform holding a sign that reads, "The silent majority stands with Trump." He captures a policeman, pictured from behind and up-close, looming over a black teenager in a hoodie. "Sometimes, I think people get fooled by my work in a way," says Wagner. "Because it's black-and-white they think it's nostalgic, but really I'm trying to engage with the world of today."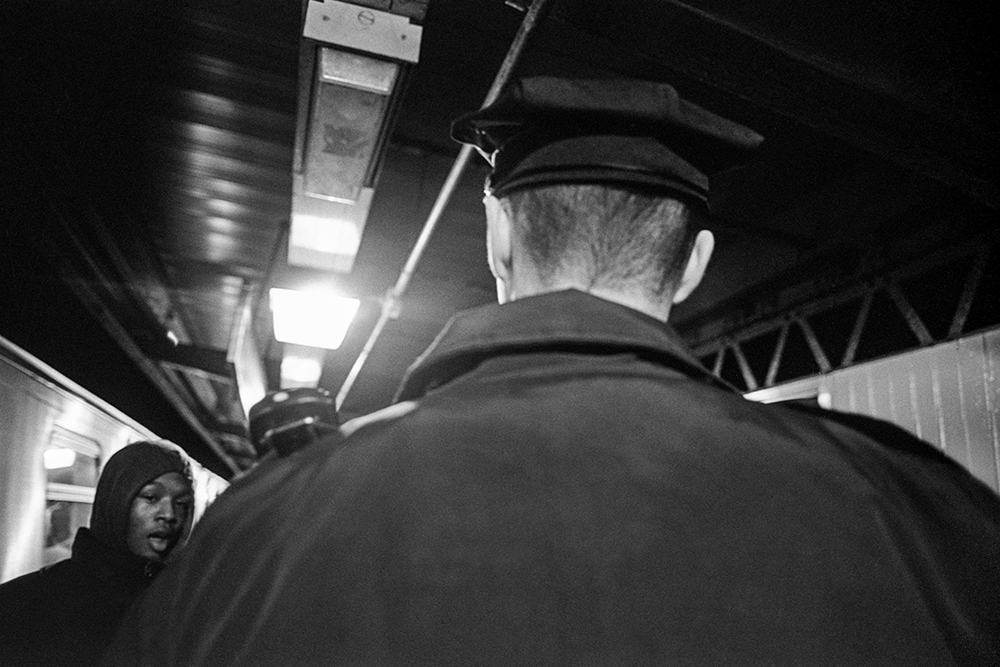 Still, Wagner feels uncomfortable with being described as a photojournalist. "It's just not how I want people to approach this book," he told his friend the poet Miles Hodges, who wrote the book's introduction. But he's also squeamish about being called a street photographer. The meaning of that phrase has changed so much since the era of Gordon Parks, Wagner points out. It's hard to hear "street photographer" in 2017 and not think of Instagram or overly manicured style blogs. Wagner likes to occupy a place between journalism and something more autobiographical. "I feel like I fall in between those spaces because I'm not photographing news stories and I'm not just like carelessly photographing the streets," he says. "I'm trying to use the world and tell the story of other people through what's going on around me."
Instagram has been helpful, though, in sharing that story with a wider audience. Like everyone, Wagner thinks he spends too much time on the app. But his large Instagram following (check out @photodre) helped him find a publisher for his book and later sell copies. "I also love it because I think of black photographers who have not been able to get their work out there and I'm living in this age now where I can share my work," he says, "Everything is not totally reliant on these gatekeepers."