we can thank tyler, the creator for introducing jaden smith to supreme
In a new interview with GQ, Jaden says that Tyler made him 'care' about the brand.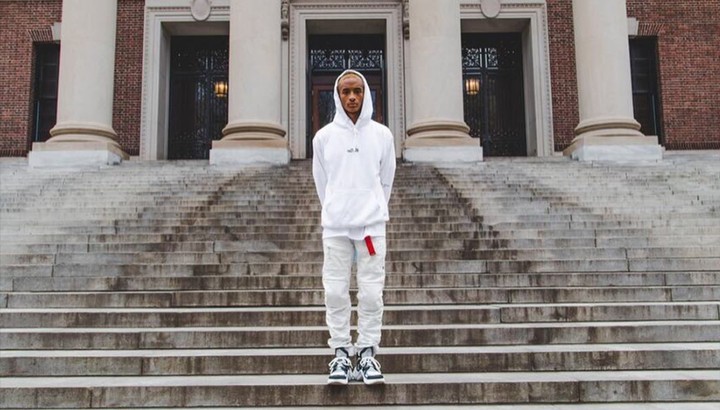 Image via Jaden Smith Instagram.
From telling us all to dress like superheroes, to proclaiming that his sartorial icon is Poseidon, one thing's clear, Jaden Smith has a lot of avant-garde opinions on fashion. In his latest interview with GQ, the artist, actor and musician talks about his greatest fashion influences, crediting none other than Tyler, the Creator with turning him into the dedicated hypebeast he is today.
Well, more specifically, Jaden says Tyler introduced him to skating behemoth Supreme and educated him in how and why he should care about the brand. "I mean, Tyler showed me Supreme", Jaden tells GQ. "Like, I never cared about Supreme until Tyler."
Jaden believes that fashion's role is more than just brands and, er, Greek gods. To him, he tells GQ, it represents a path towards independence; paving the way towards gender equality as more non-binary clothing enters the mainstream. "It's like people have realized there's a big hive mind, to where we all like to do kinda the same thing," the Skate Kitchen star says in the most Jaden Smith way ever. "And people are trying to break that now, people that are realizing that."
Of course, unlike his newfound love for Supreme, Jaden's long-term obsession with Batman is well documented -- he famously dressed up as the caped crusader for prom back in 2015, and then, never afraid to be an outfit repeater, wore the same attire to Kim and Kanye's wedding (as you do). "I felt as though I needed to protect everyone there and needed to have the proper gear to do so," Jaden explains.
And honestly, I feel like that makes perfect sense? Anyone else?
This article originally appeared on i-D UK.