brenna huckaby is celebrating the beauty in her disability
The model, athlete and activist talks overcoming adversity and embracing the body you're in.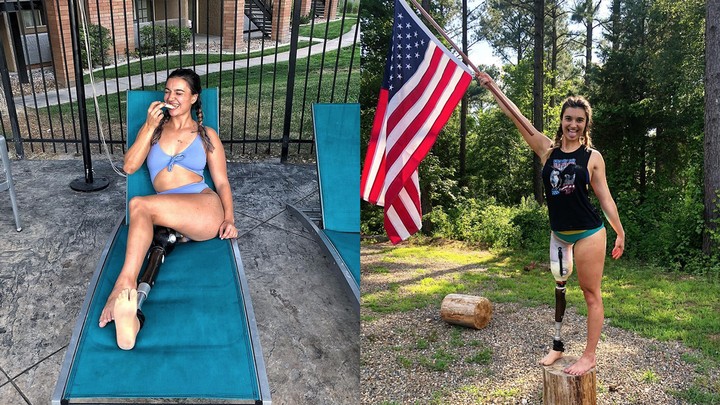 Photos via Brenna Huckaby's Instagram.
She may be just 22 years old, but for Paralympian Brenna Huckaby, Sports Illustrated's first disabled swimsuit model, her beauty journey is already one of adaptation, rediscovery and self-love. The athlete grew up in Baton Rouge, Louisiana with dreams of becoming a gymnast, but at 14 she was tragically diagnosed with Osteosarcoma, a rare form of bone cancer which mainly affects teenagers and young adults. Determined not to let the diagnosis define her young life, Brenna immediately embarked on a grueling treatment plan which led to the amputation of her right leg to remove her tumor. Her longed-for gymnastics career was immediately over, but just two years later she learned to snowboard instead. Now, in 2018, she's a double gold Paralympic medallist, and continues to champion for body diversity, visibility and self-acceptance.
Earlier this year, Brenna made history as the first Paralympian to appear in Sports Illustrated's swimsuit issue. Photographed by James Macari in Aruba, the 22-year-old appears defiant, confident and beautiful in her bikini. "I want to see more women with disabilities in the media recognized for being the beautiful women they are", she says . Brenna knows that being beautiful has nothing to do with what you wear, how much you weigh, or how good you look in a photo. It's how you feel and the confidence to be who you are, unapologetically. Here, she offers her notes on beauty.
"In my life, I've learned that nothing is permanent. Your plans for life are never set, and that's okay -- because life is too short to worry about. Life has always thrown me curve balls --before and after cancer -- but I've learned how to pick up the pieces and make the best of every situation.
I didn't start wearing make-up until my senior year of high school. I had a goggle tan (where half your face is burnt from wearing snow goggles) so I would fill in the rest of my face with bronzer. Beauty has been trial and error with me from the get go! I'm always super open to trying new things, like dyeing my hair crazy colors. When it comes to hair I'll try anything because it'll just grow back - I guess I can thank cancer for my hair freedom. I love how make-up and beauty can make you feel more confident, but I've taught myself to never use it as a crutch. That's allowed me to love my skin in every form.
"When I was a kid, I never really cared much about what I looked like. It wasn't my priority. When I was in high school I started to notice and care more, but then I got cancer and I lost my leg. That questioning of myself turned into a ton of other problems. I've struggled with eating disorders and with body hate. It wasn't until I had my daughter that I fully let go of those insecurities. I didn't want my daughter to hear the horrible things I had to say about myself -- what kind of example would that set for her?
When I stopped putting myself down everything else fell into place. I started loving every aspect of myself. I stopped wearing shorts with my swimsuit and I wasn't self-conscious when I wore something bold. I just started living!
I love being able to set the example for other young people going through similar things to me. I didn't see women like me in magazines, and I definitely didn't see them online being featured as 'sexy'. I love how I can be that role model for others.
That online visibility, and the advent of social media has made beauty more accessible than ever before. There are so many different types of women on social media expressing themselves in so many different ways. It's so helpful in creating our own beauty awareness, and it's a no brainer that magazines are becoming more diverse in response. We'll always feel the pressure to conform to certain beauty ideals, and that's something I definitely struggle with. I love my body and I'm confident in my skin, but that doesn't mean that it's not an ongoing process.
I want to continue to champion different types of beauty and continue to be a role model for others. I want to inspire generations of people to love themselves and motivate them to overcome any obstacle in their life. I want to show people that beauty is a feeling and a reflection of your inner self. When I feel beautiful, nothing on my outside appearance has changed, I'm still me.
Beauty is just my confidence shining through."
This article originally appeared on i-D UK.
Tagged: