why does cleaning up your social media feel so dirty?
The new age of self-editing online.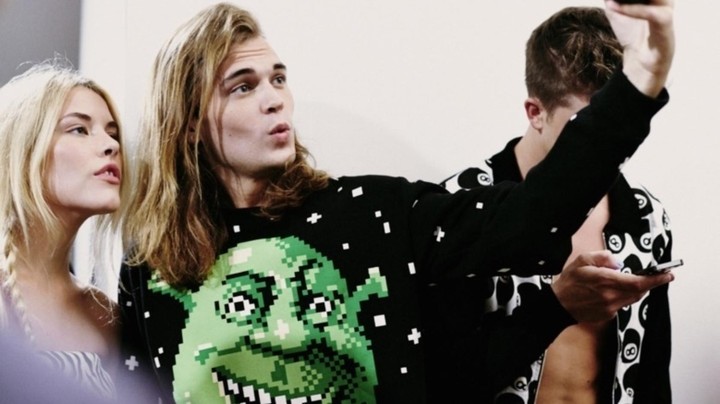 Photography Harry Carr
Taylor Swift sent her fans into a panic earlier this month after she began making some serious changes to her social media accounts. The pop star deleted all of her Instagram photos, tweets, Tumblr posts, and most of her Facebook content with no explanation. She virtually disappeared from the internet and her millions of followers in a matter of seconds.
The blackout turned out to be part of the promotion for her album Reputation dropping in November, but Swift's social media cleansing is actually a part of a larger trend of people who are going back and deleting their online content. Everyone from Kanye West to Donald Trump has attempted to "scrub" his digital identity by strategically getting rid of posts or even entire accounts.
"When it comes to people deleting their social media, often their motivation is that they want to present a certain self to the world that their previous online self isn't congruent with," explained Alice Marwick, an assistant professor in the department of communication at the University of North Carolina, Chapel Hill. "People in real life reinvent themselves all the time, but if you have this back catalogue of misdeeds on social media it makes that reinvention really tricky."
This was the case for Swift, who used the wiping of her social media accounts to symbolize the start of a new era. As she claims on her new track "Look What You Made Me Do" the "old Taylor is dead." So, to sell her new edgy image, Swift had to get rid of any photos depicting her as an all-American pop darling. The Weeknd made a similar move last fall when he deleted all of his old Instagram posts before the release of his album Starboy.
Although, for most celebrities who go back and edit themselves on social media, it's not always about wanting to be reborn. Many have gone back and erased posts after they were criticized by their followers or attacked by trolls. Kim Kardashian recently decided to delete a tweet about the terrorist attack in Manchester after many called her out for being insensitive. Kanye West, who is notorious for his Twitter rants, has also gone back and erased tweets. Before deleting his entire account, he got rid of a tweet explaining his justifications for meeting with Trump, who also has his own issues with trying to erase past statements online.
Throughout his presidency, Donald Trump has been going back and deleting old incriminating and unpopular tweets so much that an Illinois congressman introduced a bill called the "Covfefe Act" in June that would make it illegal for him to do so.
But, it's not just public figures who are concerned about how their social media usage might affect how they are perceived IRL. For many young people, the anxiety surrounding their online lives has been fueled by an increase in potential employers and schools inspecting social media accounts.
"Today's young people have been told since they were very small that everything you put on the internet can come back to haunt you," said Warwick. "We published a study on low income young people in New York City and their use of social media. A lot of young people engaged in very heavy self-censorship on social media because they were focused on upward mobility, they were worried that if they put something silly online it might cause them to use a job or educational opportunity. But, for kids with more privileged backgrounds they have a little bit more leeway because they have more chances."
In February, a study released by Kaplan Test Prep found that 35 percent of admissions officers looked at the profiles of potential students to learn more about them. While many said what they found had a positive impact, some said that posts including weapons or "questionable language" could have a negative effect.
"College applicants need to be aware of what others can find about them on social networks and make sure it reflects well on them," said Yariv Alpher, the executive director of research at Kaplan Test Prep, in a release. "For better or worse, social media has become an established factor in college admissions, and it's more important than ever for applicants to make wise decisions."
"I'd had my Twitter since middle school so I wanted to clear out all the embarrassing stuff," said 20-year-old Briana Kawkaba, who deleted thousands of tweets before going to college. "Plus my number of tweets got embarrassingly high."
Harvard recently revoked the acceptance of 10 incoming freshmen after it was found that they were sending offensive memes that mocked issues like sexual assault in a chat on Facebook.
A study conducted in 2012 that analyzed over 350 open-ended responses from bloggers found that the most common reasons for why people might purge their accounts were conflict management and protecting personal safety. But, in recent years, many companies have introduced services that will help edit your public profiles so that these issues don't happen.
An app named Keep or Delete will let you swipe through your old tweets like Tinder to decide which ones are good enough to stay. Another service called TweetDelete will automatically delete a user's posts after a chosen time frame, like in the case of writer Jenny Zhang who erases her tweets after two weeks. A startup named BrandYourself even started selling "online reputation management software" to help get rid of any compromising content on your pages.
In order to cut down on the need to self-censor, in the future Warwick believes more people will move towards apps like Snapchat, since the content is designed to be temporary. But, as users continue to use apps like Facebook and Twitter, it looks like they'll just have to keep editing their accounts.