watch the first trailer for chloë​ sevigny's lesbian murder drama 'lizzie'
Chloë Sevigny and Kristen Stewart are secret lovers in this chilling 'retelling' of the 1892 Lizzie Borden murders.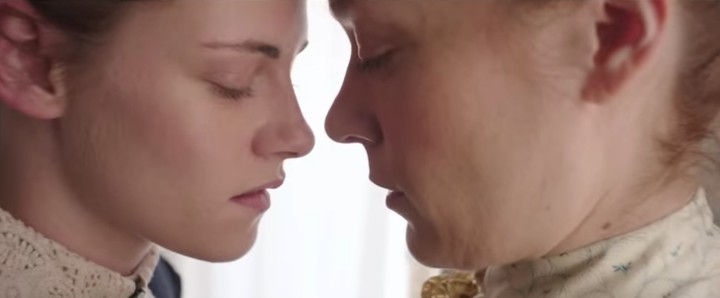 Still via YouTube
Chloë Sevigny is still mostly known as a 90s indie stalwart. But since starring in American Psycho at the turn of the millennium, creating what might be cinema's scariest ice-cream scene, she's sporadically returned to playing scream queens. Next month she'll appear as the titular axe-wielder in Lizzie, a retelling of the infamous Lizzie Borden murders, in which a Victorian-era spinster was acquitted of killing her mother and stepfather in Fall River, Massachusetts. The Sevigny version — directed by Craig Macneill — seeks to explain why the savage crime was committed. It also stars Kristen Stewart as the family's young housemaid, Bridget Sullivan, who was probably in the house when the murders took place, and is rumored to have been Lizzie's lover. Lizzie makes the two women's secret lesbian romance a lot more explicit.
More than 125 years after the original bloodbath, America's fascination with the Lizzie Borden story shows no sign of subsiding — particularly in the small Bristol County town where the family lived. Superfans can even spend a night in the actual "murder room" at what's now the Lizzie Borden Bed & Breakfast. Apparently that location was too cozy for Sevigny et al, however, who chose to recreate the mansion in Savannah, GA. Before the cameras started rolling, Sevigny and the crew held a seance in the austere film set.
"The frigid air came in," Sevigny recalled to VICE at Sundance last year. "There was some communicating with [Lizzie Borden's father, Andrew Jennings]. It was terrifying. The first night, I was there with an ex-boyfriend who's a pretty practical guy, and he got really terrified in the middle of the night. He felt a presence pushing down on him. On all three occasions I've been there, it's been unnerving."
Creepy much? Watch the trailer below.