kami sid, pakistan's first trans model, is fighting for visibility in karachi
The activist and model speaks to i-D about advocacy and her dream of a Pakistani trans modeling agency.
Image courtesy Kami Sid
On Pakistan's Independence Day, trans model Kami Sid stood on a rooftop in Karachi, holding up the country's green and white flag.
Later, she wrote on Facebook: "Pondering dignity and inclusion on this independence day. I hope that being a transgender and marginalized group, we get our independence soon and nobody can judge us on behalf of our gender or sexuality."
This isn't the first time and certainly won't be the last that Sid has stood up for transgender rights. She is a highly controversial figure in Pakistan: a transgender activist and model who has done photo shoots in Denmark, given talks in London, and posed for Pakistani fashion magazine Libas.
She may have celebrated her country on it's Independence Day but Pakistan has a far from perfect human rights record. The government doesn't work to protect women, religious minorities, or trans people — or hold perpetrators accountable for discrimination or violence.
Just last year, Pakistani trans activist Alisha was shot and killed in the conservative province of Khyber Pakhtunkhwa for being part of the Trans Action advocacy group.
It wasn't until 2009 that Pakistan recognized trans people as equal citizens (which allowed them to get national identity cards) and Sid is still constantly harassed and ridiculed.
Kami told i-D over email she gets attacked regularly. She faces threats and risks the safety of her family. She is also struggling to find paid modeling work and representation with a modeling agency, since she lives in a poor town in Pakistan and fights to survive.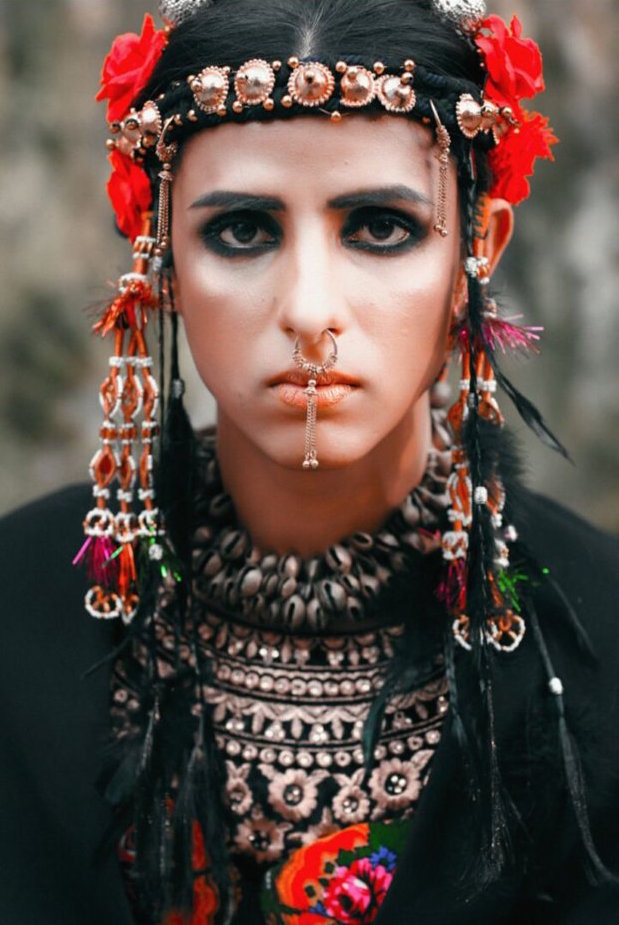 Regardless, the 27-year-old activist, blogger, and model is breaking stereotypes in her home country.
Kami is really an activist before anything else. She has been heralded as the next Laxmi Narain Tripathi, a veteran trans rights activist in India, and recently gave a lecture on transphobia and misogyny at the Karachi Literature Festival at the Southbank Centre in London.
Aside from modeling, Sid is a board member of a non-profit called Street to School, which teaches cultural diversity and sexual education to Pakistani school kids. She is also the program coordinator of the Aks International Minorities Festival in Copenhagen, which kicks off tomorrow and runs until August 20.
Long an outspoken advocate for trans rights (on Facebook and IRL), Sid's career as a trans model took off last year when she did a photoshoot with Karachi photographer Haseeb Siddiqui modeling clothes designed by Pakistani fashion house Waqar J. Khan.
"I'm always taking small steps in the battle against gender exclusion and professional disrespect," Kami said.
She described her first shoot — for which she posed with smoky eyes in a series of ornate orange, red, and black looks — as a celebration of trans rights in Pakistan and discussed modeling as being about much more than looking pretty: it can also be a form of activism, she believes.
"It's a duty and responsibility," said Sid. "As the national and international media recognize me as Pakistan's first trans model, people gave me the love I always wanted from society. But it's more than that. It's very important to highlight the issues of trans people in the media and also raise awareness about the transgender community."
Sid is not alone. Pakistan has a trans population of half a million people. Her prominence might also be a sign of the times in the region, as South Asia is seeing more trans models in the spotlight. Nepali model Anjali Lama became the first trans model to walk Lakmé Fashion Week in India this year.
She sees modeling as a form of lobbying. "You can't let yourself be degraded," she said.
Kami grew up in a family of seven siblings, raised by her mother (her father passed away when she was young). Her brothers tell her to hide and stop giving interviews to the media, and so she avoids them. She only visits her mother when they're not home, she told me. "After my first modeling shoot, which went viral, nobody can support me from my family except for my mother," said Sid. "They never understand gender and sexuality."
Sid has a tattoo on her hand which says "Mama's little boy." Has she thought about having it changed? No, she said: "For my mom, I was born a boy."
It's a daily battle living in Pakistan as a trans person, Sid reinforced, for both her and her family. Her mother fears for her life and keeps telling her to move to another country. "But I'm fearless," said Sid.
"It is very difficult being a public figure in Pakistan, for me it is like living on the edge," she said. "We as a trans community face verbal and physical violence on a daily basis because society takes us to only be sex objects, which is totally insane."
But Sid is confident and her message is clear. "Gender is in your head and sex is between in your legs," she said. "Society doesn't understand the actual meaning of being transgender. Parents should support their children without any discrimination and doubt."
Over the past few years, a number of trans modeling agencies have popped up around the world. There is Trans Models in New York City, Slay Models in Los Angeles, and Apple Management in Bangkok. To Sid, they're a great start but she has a long way to go, since the fashion network is small in Karachi.
"Most trans agencies are based in the US," she said. "If I get the chance to work with them, it would be a dream come true, as I belong to very low middle-class family in Pakistan and the whole world is watching my personal and professional growth."
She has big dreams, though. "What about a trans modeling agency in Pakistan?" Sid stopped and asked. "It's very hard but I hope one day, in the near future, we will definitely start something like this, as well."
"Currently," she added, "we are fighting for our equal rights."