nicki minaj says cardi b has "nicki-haterade"
The rapper says she felt "ambushed" by Migos and Cardi B after the release of 'Motorsport.'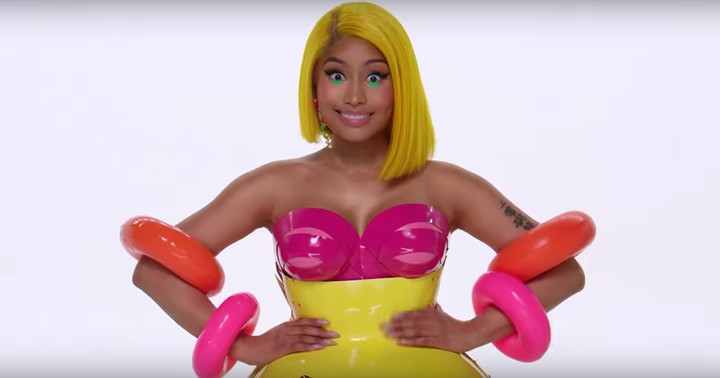 Screenshot via YouTube
It seems like the camaraderie between Nicki Minaj and Cardi B didn't last too long. Nicki took the time to elaborate on her feelings for the Bronx rapper right after premiering two new songs on Zane Lowe's Beats 1 radio show Thursday. Nicki said she was hurt by the first interview Cardi did after their song "Motorsport" premiered. The much buzzed-about Migos track featured Nicki and Cardi delivering verses back to back and saw the internet debating if the two women were throwing shots at each other. "The first interview she did really hurt me because she seemed so aggravated," Nicki said, choosing her words carefully. "She was like 'Oh I didn't hear that verse.'"
Nicki soon loosened up and elaborated on how she felt everyone was painting her out to be the bad guy. Cardi and Nicki were forced to shoot the "Motorsport" video on seperate days, prompting rumours Nicki did not want to be seen with Cardi. Nicki felt like Cardi and the Migos members did nothing to clear things up to fans. "At the time I went on Twitter and explained how "Motorsport" came about and people said I was lying," Nicki said, clarifying she had recorded her verse on the song before knowing Cardi B would also be on it. "Quavo didn't back me up. [He texted me] 'I would go on Twitter and back you up if you were my girl.' People would watch me be slaughtered and not one person will step in to tell the truth. It's entertaining to make Nicki seem like a bad guy. I still have the text in my phone. [Quavo] was the only person on "Motorsport" [at first]."
Nicki does have some praise for new female rappers in the game. She gave shoutouts to Ms. Banks (who she wants to go on tour with), Asian Doll, and Malibu Mitch
Nicki then went on to explain the reason she wasn't able to be on the set the same day as Cardi was because her hairdresser was unavailable. "Even with the scheduling conflict, she uses my hair dresser now. I texted him and said, You know if I didn't show up the day they were shooting they're gonna act like it's cause I'm being mean. Just to paint Nicki as the bad person. She's never showed me genuine love in an interview. Nicki haterade."
Listen to Nicki's full thoughts below:
And let the beef begin. It's heartbreaking to see two of the biggest females in rap right now squabble. It only gives into the sexist trope that successful women can't get along. Here's to hoping Cardi gives Nicki a ring later today, the two works things out, and we get the proper, mutually-loved collab we all want.
Check out Nicki's two new songs, "Barbie Tingz" and "Chun Li," below: