15 years of getting dirrrrrty
Christina Aguilera's CD:UK performance in autumn 2002 stripped away preconceived notions held about assumed manufactured female pop stars.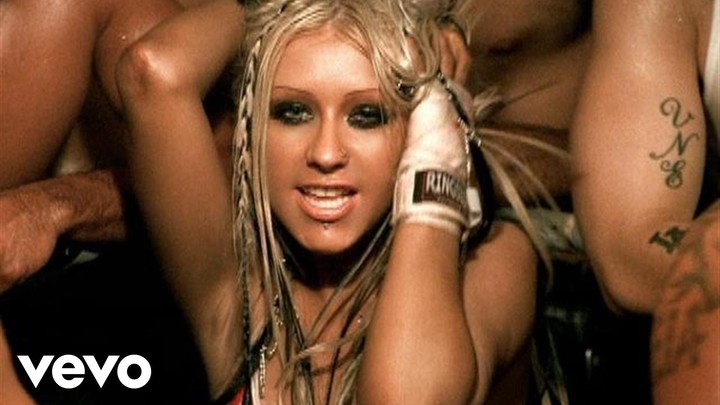 15 years ago, in the autumn of 2002, one of the world's biggest pop stars dropped by Saturday morning music show CD:UK wearing black and red chaps and pants with the word "nasty" emblazoned on the back to perform two songs, one about joys of hook-ups and female sexual liberation and the other about getting so hot and sweaty that your clothes literally fall off. The performances were criticised at the time for being "too raunchy" for a TV show basically aimed at children. And yet these complaints were met with merely a shrug by the artist herself, Christina Aguilera.
You see, at the tail end of 2002, Christina -- now reborn Xtina -- had kicked off the biggest and most accomplished pop star emancipation of all time the release of her album Stripped. Shedding the saccharine skin of Genie in a Bottle, What a Girl Wants and Come on Over (All I Want Is You) (all bangers in their own right, fyi), Xtina was not only distancing herself from her contemporaries -- most pertinently from a misogynistic tabloid fuelled "spat" with Britney Spears -- but was also embarking on a serious artistic and personal exploration.
Christina's self-titled debut, released in 1999, was styled after the clean cut but subtly provocative image of her contemporaries; despite some now revered bops, much of the record was faceless identikit pop, a direction that Christina herself wasn't on board with. "They clearly wanted to make a fresh-sounding young pop record and that's not always the direction I wanted to go in," she lamented to The Washington Post a year after the album's release. Sometimes they didn't get it, didn't want to hear me out because of my age, and that was a little bit frustrating."
While Britney might have set the world alight in a Catholic school girl outfit, much of the sexuality prescribed through pop culture in the late 90s and early 00s was anodyne and suggestive. The first glimmer of Christina's true intentions surfaced during her scene stealing turn in 2001's cover of Lady Marmalade, which also featured Pink, Lil' Kim, Mya and Missy Elliot. Rather than indulge in the radio-friendly reticence of pop music that sees its singers hold back, Christina pushed her voice and sexuality into new overt and profoundly confident territory.
In 2002 the now well-trodden female pop star emancipation narrative was in its relative infancy; it was rare that, in front of the scenes at least, we saw high profile women in pop music be assertive, which is perhaps why what Christina Aguilera did next is so bold. After changing her management in 2000, she set sail on her own A&R mission, working with unexpected producers who would let her flex her R&B and bluesy vocal chops, including Dr. Dre collaborator Scott Storch, ex-4 Non-Blondes member Linda Perry and then-Grammy darling Alicia Keys. It was, as she told MTV News, "a chance to show of all these colours and textures of my love of music and of my vocal range". She adds, "coming off of the height of being a part of such a big pop-craze phenomenon, that imagery of that cookie-cutter sweetheart, without it being me, I just had to take it all down and get it away from me."
Instead, Christina's approach to the album low key inhabited the spirit of punk. Going against expectations, she stripped away preconceived notions held about assumed manufactured female pop stars, advocating for self-expression, freedom and nonconformity. It was risky, too; Christina Aguilera the singer was part of a big budget pop machine, and there was a chance that she could alienate her young fanbase (and their parents). But instead of placating record labels and focus groups to sell the most records, Christina aggressively scoured away until Xtina was born. The prospect that this reinvention from Disney theme singing teen sensation to calling the shots on nearly every aspect of her artistic vision could have gone spectacularly wrong was palpable, but for Christina that wasn't what was important. Liberation was, as she plainly states on the album's intro, "No hype, no glass, no pretence. Just me, stripped."
Nowhere was this estrangement from expectations more apparent than on Stripped's lead single Dirrty, a nihilistic, brash and honking behemoth of a song that sounds like the greasy innards of a motorbike trying to have an orgy. At the time Dirrty's grinding and scuzzy production and wolfish vocals were unlike anything on the pop charts, especially in an era of blonde bubble-gum duplicates. This beefy track was matched with an even meatier David LaChappelle-directed video that sees Xtina in full leather chaps getup, dirty blonde hair streaked with black, sweatily fighting in a boxing ring as Redman shouts about throwing elbows. While Britney might have flirted with sensuality on 2001's I'm a Slave 4 U, Dirrty was drenched in it. However, clearly this unabashed eroticism was too much for her core American audience and Dirrty would become Christina's first single to not crack the Top 40 on the Billboard Hot 100.
From Elvis to Lady Gaga, it's always been easy to be provocative in pop music, and Dirrty is somewhat of a red herring when it comes to Stripped's true mission statement. Rather, across its 20 tracks the album broaches topics of domestic abuse, promiscuity and feminism with lived in experience and wisdom that many felt beyond her intelligence or age. Take the Lil' Kim assisted Can't Hold Us Down, which not only promotes female solidarity, but also confronts sexist double standards, male privilege, gender inequality and slut shaming. Or even the Etta James inspired Walk Away, a ballad that approaches romantic obsession and love lost with desperation often reserved for the blues.
Like Janet Jackson and Madonna before her, Stripped also excels in its unashamed exploration of female sexual desire. On the lusty Infatuation, Christina dichotomised her own sexual appetite with the warnings of a conservative mother figure to be chaste, surely a parallel for how women are often told to keep their sexuality in check. Later on, after a string of empowering anthems (Soar especially, which showcases her incredible vocal talent), an emboldened Christina owns her sexuality with ode to promiscuity Get Mine, Get Yours, a late-night funky bass track. It's a sexy song, sure, but it doesn't titillate or cater to the male gaze (or ear in this case). In fact, Christina has her blinders on and is actively shooing away the romantic advances of a lover -- she wants his body, not his heart -- this veracious approach to femininity and desire an unexpected rarity in an age of Bush-era conservatism in pop music.
Stripped isn't without its some emotional bloating, and songs like The Voice Within, Cruz and the gospel drum and bass fuelled Keep On Singin' My Song edge into oversentimentality. Yet this is offset by moments of gut-wrenching devastation and genuinely poignant affirmations. The understated I'm OK is a song that doesn't shy away from talking about domestic violence and the experiences of survivors and Beautiful, with its frank and its explicitly undiluted video, did more for the LGBTQ community and outsiders than many modern-day self-help anthems have since. Both these songs, co-written and produced by Linda Perry, put forward an emotional honesty not often permissible in pop music; there's no glossy production or vocal effects but rather a torrent of raw and unfiltered feelings.
At the time of its release, critics lambasted the album's length (it's 20 tracks long) and its brazen and formless approach to genre; Stripped, they suggested, was unfocused, convoluted and, as Rolling Stone patronisingly bemoaned, " almost an album for grown-ups". Female pop stars at the time were chastised for either not being involved enough when it comes to their material or, in Stripped's case, being too involved and lacking direction (because heaven forbid an artist would want to do things on their own terms). Rather, Stripped's assertiveness was derived as being just another "good girl gone bad" narrative to help shift records and make headlines.
This, of course, misses the album's anti-establishment mission statement: here was a young, successful artist willing to put her career on the line for something that nearly alienated and lost her the support of her home country -- what was more important to her, it seems, was self-expression at any cost, even if it did resonate with her target audience. Over a decade before Beyoncé would stand in front of the word "feminism" and Miley Cyrus would cavort around on a giant wrecking ball, Christina Aguilera was out here celebrating female sexuality and putting sexism and misogyny on blast. Stripped's only frustration, perhaps, is that the artist herself failed to live up to the album's understated anti-authoritarianism. But with her seventh album rumoured to be in the works, perhaps things could change. Hey, in Xtina's own words: you can't hold her down.