aurora halal is keeping everything in its right place
Following debut shows in Australia and New Zealand; promoter, producer, and fine artist Aurora Halal chats to i-D about balance, raves, and her constantly evolving artistry.
|
20 November 2017, 1:46am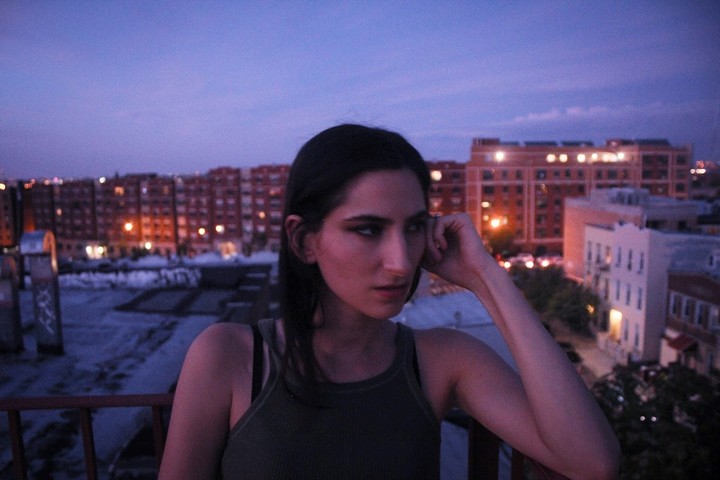 Aurora Halal, courtesy of Unsound.
From her transcendental sets, standout EPs and ongoing contributions to New York's underground party scene, Brooklyn-based DJ and artist Aurora Halal has swiftly become a distinguished voice in techno. Halal started throwing her own DIY raves in 2010, and in the years since, she's continued to showcase some of the most exciting local and global talents in electronic music. Recently, she's been busy co-organising and curating Sustain-Release, a small weekend-rave in Upstate New York that has become a go-to pilgrimage for techno and electronic music fans worldwide. Halal's artistry is unique, her sound bouncing from the ethereal to the relentless. Her 2015 EP Shapeshifter, released through her own label Mutual Dreaming Recordings, is a sleek and psychedelic example of her irresistibly contemporary appeal as a producer.
Before winding down her busy touring schedule to focus on polishing an upcoming album, Halal visited Australia and New Zealand for the first time, playing Unsound Adelaide, Strawberry Fields and a handful of sideshows in Melbourne, Sydney and Auckland. Last week, before she made the long flight Down Under, i-D spoke with Halal about touring, the New York scene and the politics of techno.
This is has been a busy year for you, with debut shows in South America and now here in Australia. How do you prepare for new audiences and contexts?
I'm just always changing my sets, so wherever I land, I play the latest iteration of what I'm working on. I do love seeing how certain crowds react to different elements though. In Brazil and Colombia, I noticed they are really drawn to the darker, nasty sounds. Last month I went to two DIY parties in Brazil, and loved Mamba Negra in Sao Paulo. It was run by women, one of which performed naked, the other DJing said nasty music, and they had multiple seventeen-year-old boy residents which I thought was a cool detail.

You've been throwing your Mutual Dreaming parties for several years now and have done a lot of visual-based work, how do those experiences inform your approach to DJing and making music?
It's a circle where everything informs everything. When I first threw parties in 2010, my interests were mostly fantasies: Arthur Russell's NYC, 80s Italo from listening to IFM in Holland, YouTube videos of New Dance Show and so on. I felt like that music needed to live in person. Thankfully [Mutual Dreaming] also developed its own life that was way different from what I had imagined, and moved way into the present. My music came later and is definitely separate, but it does reflect what I host since I get very close to it with each event.
What are the differing opportunities in organising an event like Sustain-Release compared to a night, particularly in an American context?
When I was starting in 2010, there were hardly any underground parties like [Mutual Dreaming] in America. Dance music had pretty much died in the 90s and venues were very closed to the idea of raves and would often say no. I've watched that change, but it took a while to get to that point. The majority of the parties I did until last year were illegal, which means finding a space that's not likely to get shut down and installing all the sound, light and bar from scratch as well as door staff and security. In my opinion that gives [the party] a really awesome feeling, like we're all in this together and building something from imagination. But that has its own problems: venues get shut down all the time and just last year we had the fire in Oakland and I think we're all sort of recovering from that. Sustain is basically a rave rather than a festival, and I approach it with the same ethos that I do the parties: everything is done from scratch.

And how do you maintain your events as 'underground' while interest increases?
The parties are still small, actually. The cool thing about New York is that there's so many events, it's really a choose-your-own-adventure kind of city, people are drawn to whatever speaks their language, which naturally separates people — each party has a strong identity.
That must really make a difference in cultivating a special vibe.
The people in New York are amazing in general, the diversity is what makes it.
It's been a difficult few decades for New York nightlife post-Giuliani, with issues of licensing, opening hours and other legal limitations. What do you make of the current scene?
I think it's endlessly inspiring, the element of secrecy and struggle has made it feel fresh and always developing. People aren't comfortable, so they're trying things and there's a lot of experimentation going on.

Do you see techno and electronic music as political?
I didn't, until I realised that everything is political in this climate. Basically every single aspect of American culture is now up for question. I'm trying wrap my head around it myself. I've always felt that everything I did was because I wanted to and had to do it, but lately I realised that it's significant to be a woman hiring people. At Sustain-Release I can choose to work with people who aren't sexist or racist, and try to create a reality outside of the mainstream.

People are starting to talk more about the toll that touring takes on DJs and artists, how do you personally navigate that?
My schedule isn't too crazy but I often feel like I'm on a treadmill, constantly trying to always do my best, then getting tired. I do come home a lot and I try to spend as much time in my house playing with my music and my machines, then going out to parties to see what's happening. The main challenge is that I have a limited amount of creative bandwidth, and I've spent the majority of the last year and a half working on my sets and throwing Sustain-Release, so I've been really slow about finishing recorded music. But I've set aside the next couple of months to work on an album, and I'm excited.

DJing can be very trial and error with frustrating lows and life-affirming highs. What is your relationship with playing as catharsis?
It's like a child or something, there's good days and bad days and it's always changing. I feel like a really good show, where you feel really connected can be so nourishing. Those experiences stay with me for a really long time, and keep providing new ideas for a long time after them. It's very addictive. When I don't feel like it went well, that will also stay with me for a really long time (laughs). It's not always consistent. My sets work best when I let go of control over them, when I stop thinking about what sort of music I want to play and just see what unfolds, rather than something more carefully planned.

Find Aurora on Soundcloud.