demi lovato's documentary is a revealing look at fame, fans and mental health
From her struggles with mental health, to her genuinely loving relationships with her fans, she's so much more than your average pop star.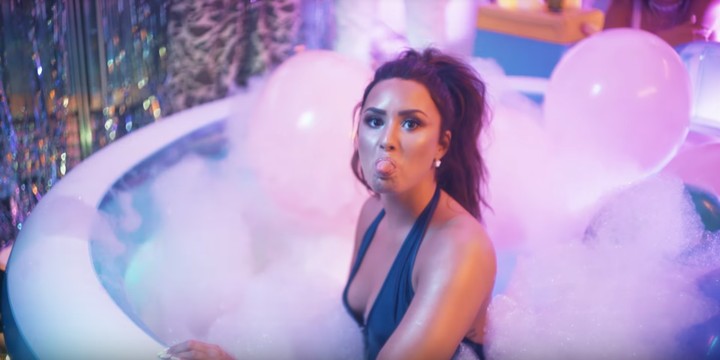 Disclaimer: I've never been a real fan of Demi Lovato. In fact, I always thought she was a tiny bit cringe and, maybe, just a little bit annoying. It's probably the Disney star thing. However, after watching Simply Complicated -- a brand new documentary that gives an intimate glimpse into the life of one of the biggest pop stars in the world -- I've totally changed my mind. She's now one of my heroes, and here's why.
1. She uses her platform to raise awareness about mental health…
Simply Complicated is an intimate documentary that serves to unmask the Demi Lovato we see on stage and in the press, and introduces us to the girl whose father was an addict; the former teen suffering from bipolar; the singer who still struggles with an eating disorder and the world renowned celebrity who was forced to deal with all these issues on a global stage, and who publically found solace in a bottle of vodka and several lines of coke. Being brutally honest about the various demons she's faced in the past, and is still reminded of today, with 7 million viewers (and counting), is not just brave, it's heroic. By showing the world what she's been through, she can help save others from going down the same path. "I want to be a voice," she says, "not a victim." Most importantly, she is advocating the importance of talking about mental health in the open, as opposed to silencing it.
2. She had to deal with heartbreak in the public eye...
In the doc, Demi talks about the problems of having a romantic relationship with someone, while recovering from addiction and still coping with eating and bipolar disorders. In the past, she's had to end relationships because she realised she wouldn't be able to overcome or conquer issues while "relying on somebody else to take care of the loneliness". As most of us know, breakups suck; all you want to do is eat ice-cream alone in bed with a good rom-com, so hearing about Demi talk about being "violated" by grieving a relationship in the public eye made stark the extra strains of having your every move dissected. She's just a normal human being; just because she sells out huge arenas in seconds doesn't make her invincible to pain.
3. Fame hasn't protected her from bullies...
When she was younger Demi was severely bullied. You could argue that the majority of teenagers have encountered some kind of bullying before. However, Demi's story of girls making "a suicide petition" about her is one of the more extreme cases. It's a reminder that you have no idea what people are dealing with behind closed doors. Not even fame can form a protective barrier.
4. She really, truly cares about her fans...
One of the best things about the documentary is that it narrowed the gap between star and audience, allowing the fans into her life in a more personal way than an arena concert or regular interview. Aside from all the bits about her various demons, most of the documentary is about her fans, and how she feels about them.
5. Famous people are basically just like us...
So much more than just a Disney star who sings catchy tunes for kids, Demi Lovato is an actress, a singer, a person, and one going through daily conflicts in her own mind that are way bigger than what I could've ever have guessed.
We put celebrities on pedestals, we see them as gods, goddess, infallible people that we are not worthy of, but actually they're just like us. They get depressed, they feel unattractive, they struggle when dealing with heightened emotions. But unlike them, we don't have cameras snapping away at our private lives. Ultimately, the documentary is a reminder to not buy into preconceptions of others, even when we think we've got them figured out.
As the old adage goes, don't judge a popstar by their album cover.
Tagged: