Photography Colby Blount/ BFA
opening ceremony threw a raging dance party to increase voter turnout
In partnership with the grassroots organization, the brand's rager emphasized how the 2018 elections could change the course of American politics. Oh, and there was pizza.
|
04 December 2017, 9:08pm
Photography Colby Blount/ BFA
House remixes of 90s Janet Jackson, pork belly bao, and looks consisting of everything from vintage Raf Simons to waist-length pastel-grey braids. This is not what you would expect at your standard benefit (especially one involving politics). But, then again, Opening Ceremony isn't really the kind of brand that does "standard."

Saturday night, OC partnered with Swing Left, a progressive organization working to increase voter turnout, to get the message out to New York's young creatives: VOTE IN THE 2018 ELECTIONS. Understandably, a lot of hope and faith has been placed in the 2020 Presidential Election. But Swing Left is working to remind Democrats that the politicians we elect to the House and Senate in 2018 can have an even greater impact on our day-to-day lives. We got a painful reminder of this last week, when the Senate approved the Republican tax bill.
"This past year, it took me a long time to process how to channel all my hurt and frustration [over the 2016 elections]," OC co-founder Carol Lim tells me. We're sitting in a private room that overlooks the party, which is taking place in Chinatown's Spring Studios. The crowd is popping and locking to a pulsating mix DJed by super-producer Mark Ronson. For a second, it feels like the biggest thing OC's donating to the world is some much-needed escapism. "Swing Left made it super easy," Carol expands with. "I signed up, they told me these are the areas near you that you can help support. Partnering with them just felt like a really concrete way to support something that we know we can change."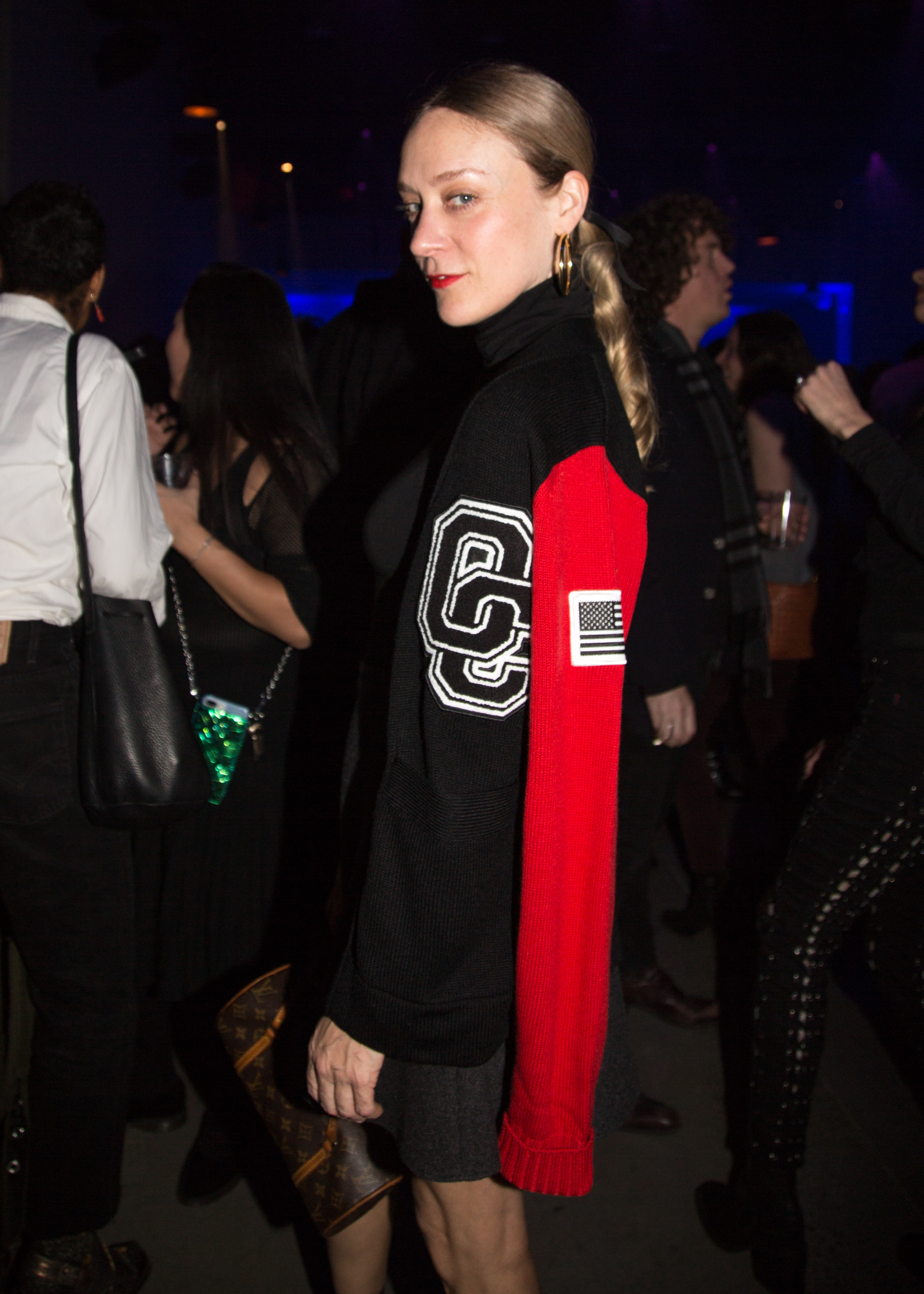 Downtown actresses and emerging artists came out to support the event. Amber Tamblyn, Hailey Gates, Chloe Wise, and Chloë Sevigny (wearing an OC varsity jacket) were all in attendance. Amber Tamblyn even delivered an urgent speech. "We are not going forward with this president and what he demands of us," she declared, the crowd cheering her on. "Change begins in this room. Period."
"It's interesting to have something political like this in the fashion scene," model Omar Ahmed told me right before the speech. Then he elaborated on his outfit inspo: brown neutrals. He stepped back, showing off his tan beanie, sand-colored Eckhaus Latta top, and dark-brown Fendi trousers.
This kind of LES-cool meets UES-charity was present throughout the event. Attendees wore current-season Calvin Klein paired with glow-rings given out to donators. It perfectly illustrated how immersed today's "cool kids" are in social justice.
"It's exciting to come out for this cause," Georgia, an associate at OC's SoHo store, said. She looked down at her black tube top, black linen pants, and forest-green clutch purse. "Everything I'm wearing I stole from my mom!"
And that's exactly it. Young adults may not have the pocketbooks of an UES philanthropist. But we're eager to take part in real life advocacy, not just the social media kind. It's definitely something worth raiding your mom's closet for.