remembering xy magazine's hot gay youth
James Franco's new film, 'I Am Michael,' explores the life of gay youth activist Michael Glatze who worked at xy magazine and became a Christian pastor denouncing homosexuality.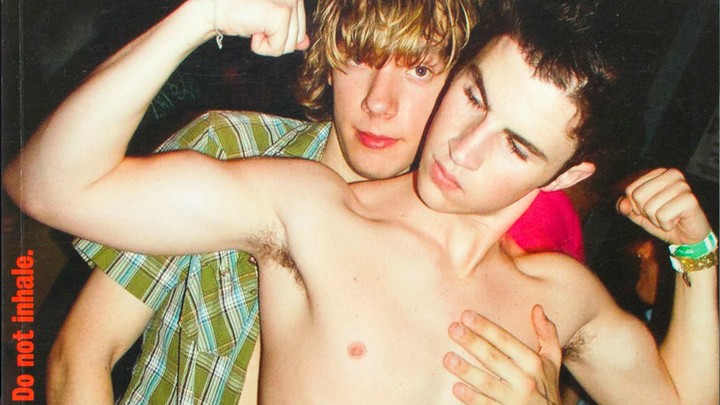 I lived in San Francisco for a summer in 2001. I was 21, gay, out and working in a call center for a multi million dollar mortgage broker, where I'd spend my mornings drunk calling my best friend who worked across town and who was also still under the influence. We would regale each other with stories from the night before and guffaw about how we couldn't see the space bar on our PCs. No wonder a financial crash was coming.
So I was young, really young in San Francisco. And I didn't see that many other young people in the Bay area. I danced in The End and The Eagle and I remember wondering where all the young people were. We hung out in Amoeba Records in The Haight on Sundays buying Magnetic Fields CDs and, nope, not exactly falling down with the under 21s either. Had an early noughties version of the child catcher rounded them up for the summer season? Did everyone under 25 leave SF for somewhere less foggy in July?
It turns out gay youth were in San Francisco, at least in the pages of a magazine published in the city. I first picked up a copy of XY magazine in a bookstore on Castro. Distributed across the U.S., XY was different than other gay press because it was so young. Each issue of this bi-monthly mag for young, gay Americans unashamedly stuck the twinkiest, cutest homo on its cover, somehow managing to be sexy, not creepy in the process. There were young gay guys for other young gay guys rather than for the pleasure of pervy old blokes, though it probably drew its fair share of those too.
XY plays an important part in the new film I Am Michael (which opens the London LGBT Film Festival tonight) in which James Franco plays a former XY employee and gay youth activist Michael Glatze who did a spectacular about turn when he became a Christian pastor who denounced homosexuality. The magazine is important to the story because it comes to represent everything Glatze decides isn't right or possible, namely being gay, free and happy. To put his life switch in context, you only have to look at the pages of the magazine Glatze once helped edit, which someone has helpfully uploaded here.
"The gay magazine that's too big for its britches," XY said its average reader age was 22 but that may have been to stop the advertisers heading for the hills of San Francisco. If that was the purpose, it didn't work. The magazine regularly ran pieces about the lack of commercial interest in the title. So instead XY filled its pages with readers' personal pictures and stories like "My Favourite Boi", about American teen boys, their first boyfriends and bad bleached tip hair fashions. Stories spoke to a demographic previously ignored with advice on "What is there to do for a 16yo on a Friday night?" as well as tackling age-old male issues in advice columns investigating hypnotherapy for a bigger cock. XY was radical because it was candid about queer youth: that they were having sex, that they were looking for love, that they worried about their cock size like every other adolescent male on the planet.
Even when it was being titillating and risqué, like when it sent reporter Mark Simpson to pick up a marine in Tijuana or put a model with the top of his arse crack exposed on its cover, XY was always responsible towards its young readership. It produced survival guides for gay youth, penned by its staff writers, mostly young gay men who were experiencing exactly the same things as the readership. One of those writers was Glatze. I Am Michael begins in the era of XY when Glatze meets and falls in love with Benjie Nycum, played by Zachary Quinto. There's an early segment about their romance during those heady, magazine making days. The two boys make out, play Tori Amos on the piano and have bad hair days, in the honeymoon period of their ten-year relationship.
But all is not well with Glatze. The couple leaves San Fran and the magazine for Nycum's new job in Dullsville, Canada. Glatze becomes all at sea without his role as youth activist and mag writer in the big city. An orphan, he turns towards God when he suffers heart palpitations and fears he'll die of the same heart condition as his dad. Nycum and Glatze pick up a third wheel for their relationship in the shape of a hot young boy Tyler (Charlie Carver), who could easily have made the cover of XY. Glatze establishes a new Young Gay America, a new teen title and the three go on road to make a documentary about the same demographic. Glatze meets a young man who is both Christian and gay, a moment where he is forced to reconsider his agnostic position. The film plots junctures at which Glatze turns away from his gay life until he decides to abandon it completely, posting a rejection of everything he'd done before on his blog post in 2007.
closed its doors in the same year. The magazine's founding editor Peter Cummings filed for bankruptcy in 2010 and in a move indicative of the title's heartfelt attempt to talk to gay youth, refused investors access to subscriber data to protected potentially underage, closeted readers' privacy. Even if an employee like Glatze strayed - and I Am Michael is at pains to be as even handed about that as possible - XY stayed true to its young gay readership to its end.
I Am Michael is the opening film of the BFI Flare London LGBT Film Festival which starts tonight.
Credits
---
Text Colin Crummy