Photography courtesy Club Glam
'nails by juan' makes manicures from fever dreams
Juan Alvear likens his unsettling nail art to the 'cursed images' Tumblr meme.
Photography courtesy Club Glam
To call Juan Alvear a nail artist is something of an understatement: his bizarre (read: totally amazing) style of sculptural mani-beautification might be an entire reconceptualization of what nail art can and should be. Collected in one Instagram gallery wryly dubbed "Nails by Juan," the feed can feel a little disconcerting at times: his creations twist and curl and spiral. Many nails are long and stiletto-sharp, comprised of a polymer clay imbuing them with a thick, gooey-bumpy texture; others are miniature dioramas emerging from the nail bed, carefully molded to resemble beach scenes, crocodiles, unicorn horns, and various other flora and fauna. Informed by Alvear's background in studio art and inspired by the everyday, mundane pockets of life in New York City, Nails by Juan is what you get when a trained sculptor-painter finds themself with an affinity for Sculpey, a lifetime collection of brightly-hued nail polishes, and a playful sense of humor.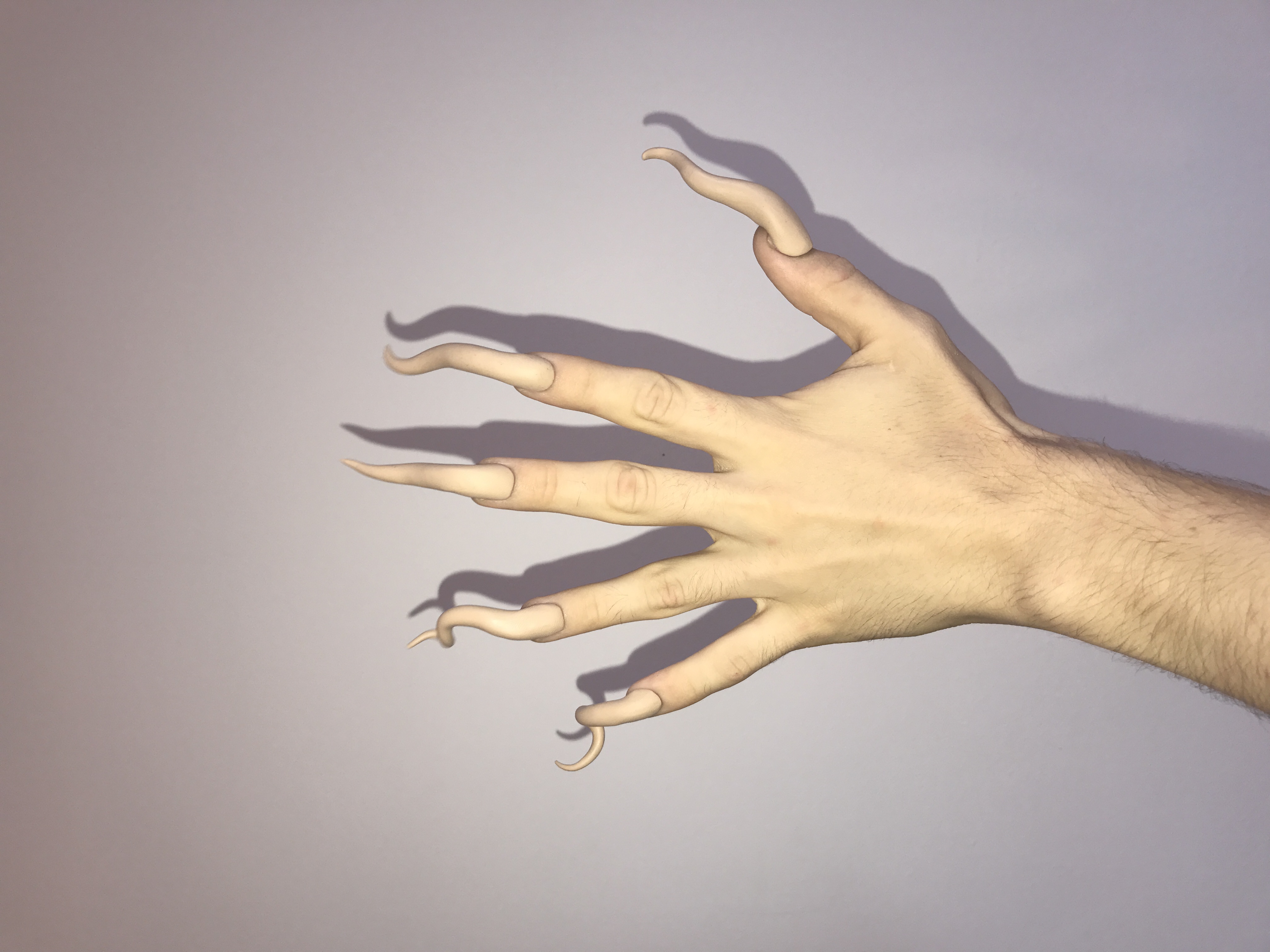 Currently tying up loose ends on his thesis at The Cooper Union, Alvear originated Nails by Juan about one year ago as a way to connect with his classmates. Imagining the hand as a base for a sculpture, he enjoys the process of hand-making each nail, just as he handmakes his artwork or broaches or earrings, and the intimacy of slowly crafting a nail for a particular person's hand. "It's a good opportunity to talk to people about them, and hear about them, and tell them about me, creating some sort of bridge between each other. Otherwise, I think people do exist in their own little bubble, and I exist in my own — a lot of times — very singular bubble."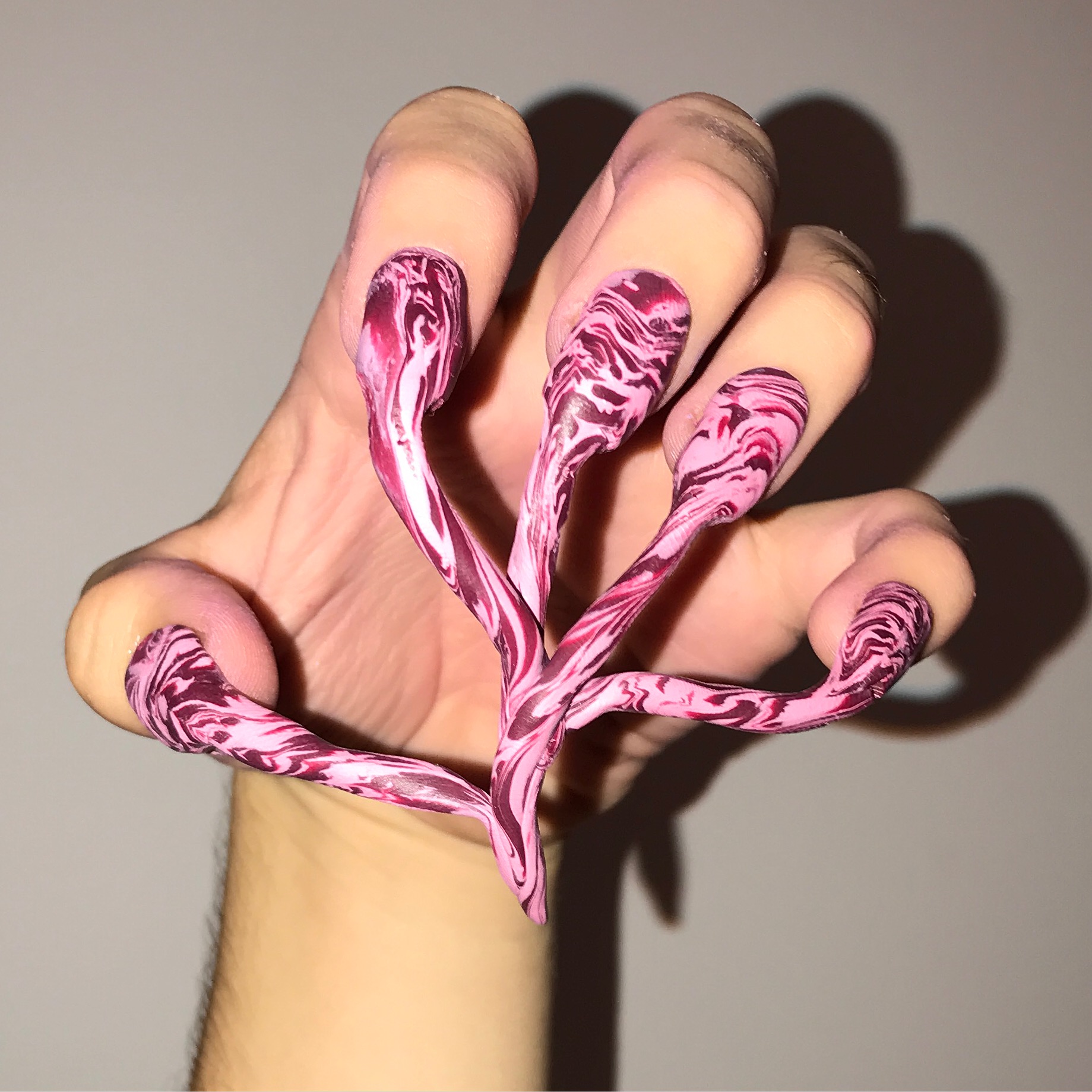 Having grown up painting his sister's nails using polish collected over the years, Alvear is fascinated by the colors available in nail polishes — those kinds of manufactured, sickly reds and greens that you just can't find at your local art supply store — and he frequently utilizes them in his formal practice, which spans media from painting to sculpture to jewelry. But extending beyond polish, he utilizes a variety of mystery materials: clay, shoelaces, yarn, and even fishing lure have found their way into his toolbox. "[The material] being obscure is important to me," he notes. "That kind of informs the nail sometime, their shape, and how I photograph them: then people are left with more questions and that's good, that's awesome."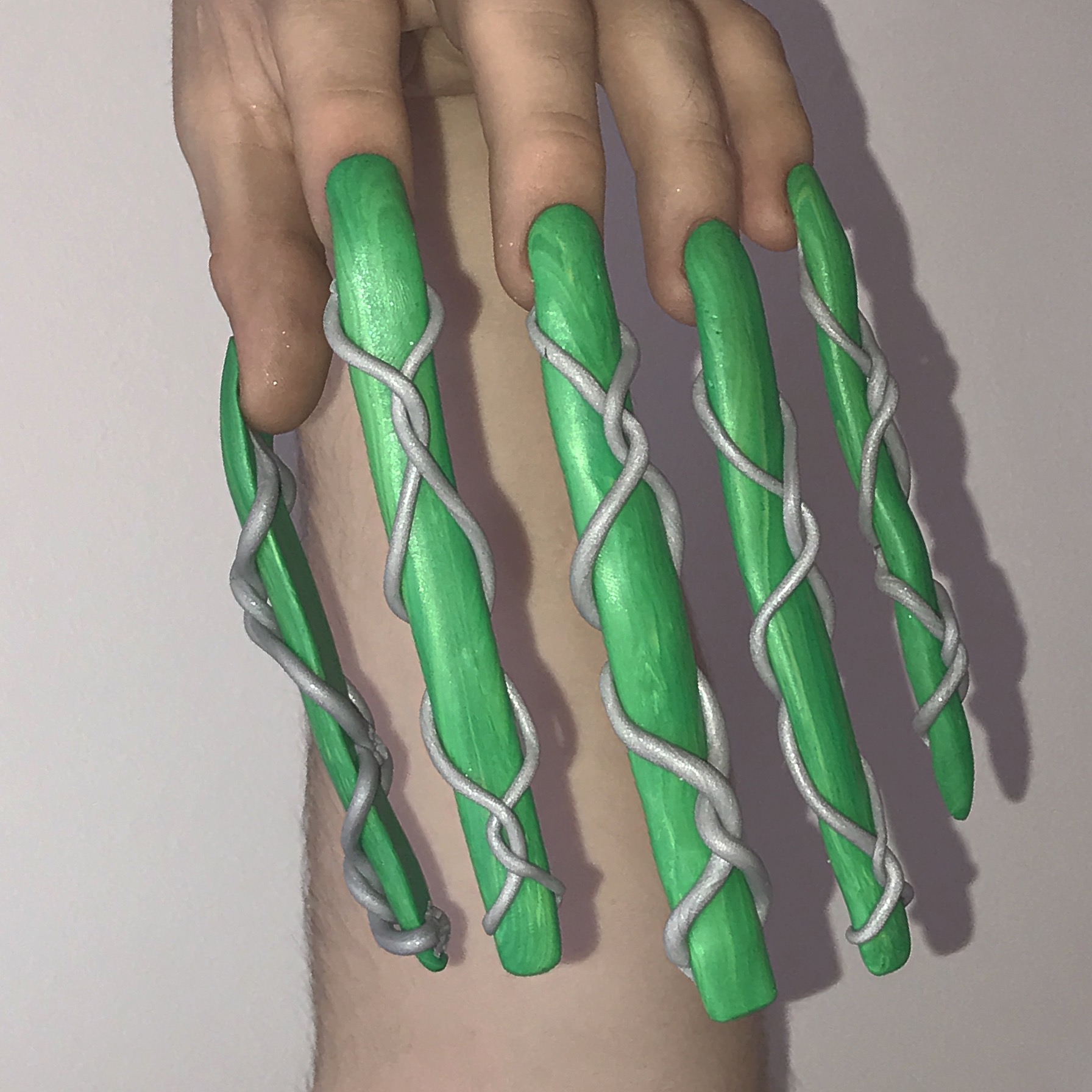 Alvear likens Nails by Juan to "cursed images," a meme originating from Tumblr that refers to photos that are uncomfortable or disturbing to the viewer, either due to the poor photo quality or the unexplained, illogical content. Acting as a kind of disruptor, a provocateur, within the Instagam nail art community, he hopes that people who discover his nails on the internet will be left with that same curious feeling. "Nail art on Instagram has become this crazy thing. I've recently started posting videos of my nails and some of the videos I've posted have gotten like 35,000, 55,000 views…. The reactions are very hot and cold: some people are like, I'm obsessed, and some people are like, this is disgusting, this is gross. I like them both."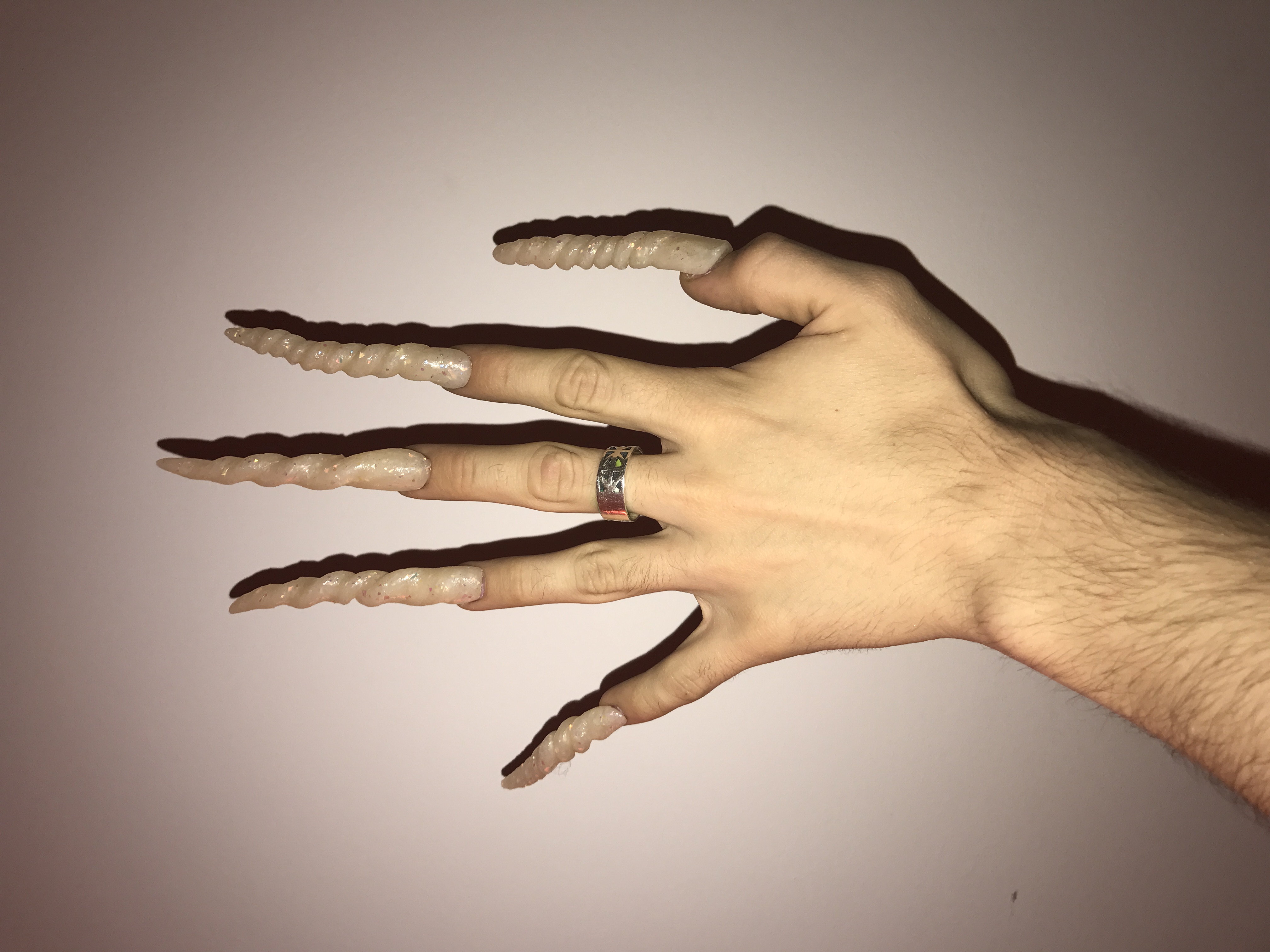 Typically long and heavy, the nails aren't meant to be worn for long, only a few hours at most, to an event or a photoshoot. "I've been contemplating nails as this gray area between sculpture, of art and fashion, commodity…," he explains. "In a way they're just experiments. They're not really made to be nails. They're almost nails, they're almost an accessory…. They're very much just objects that happen to go on the nail."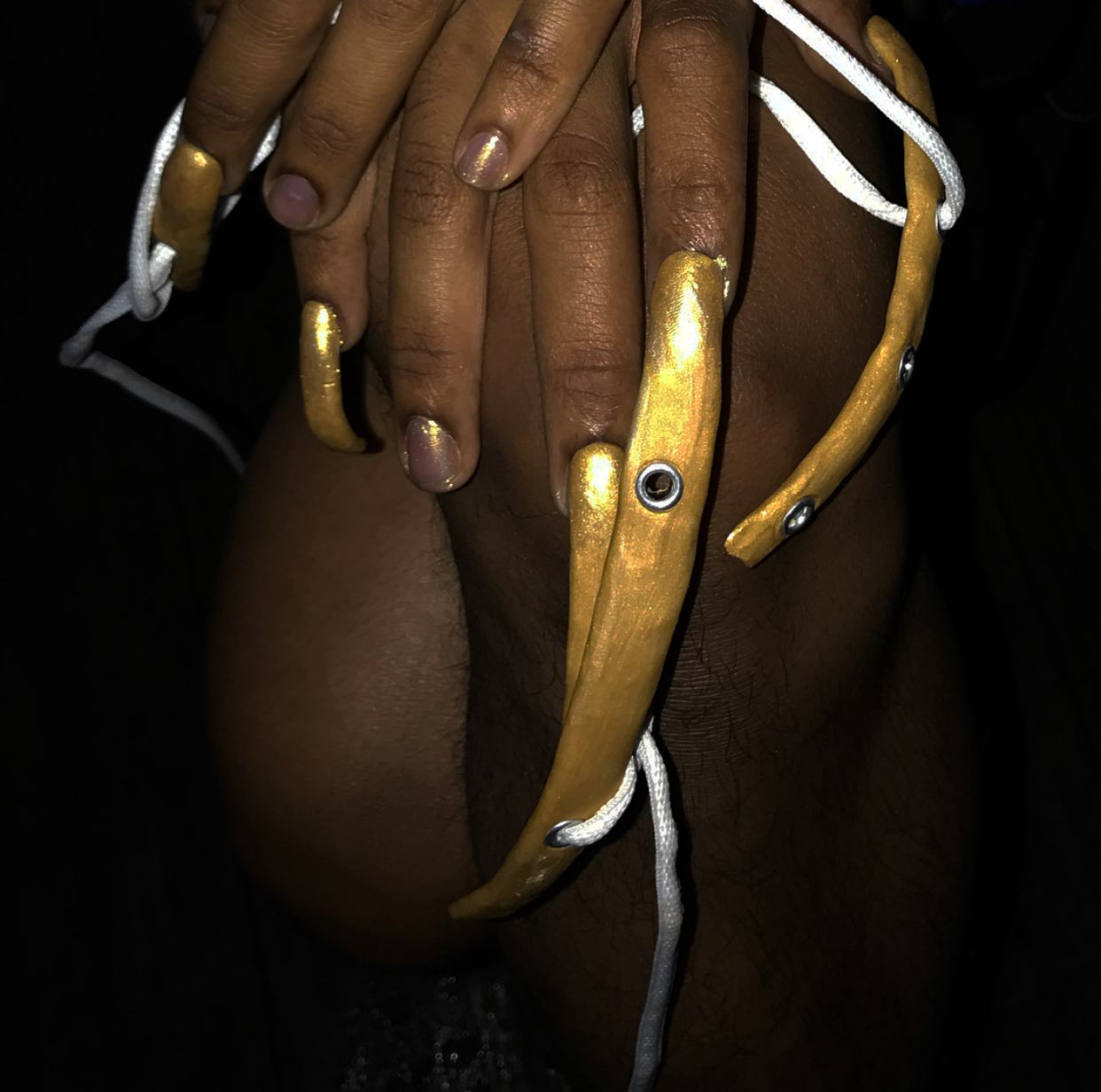 Yet, despite their inherent impracticality, or perhaps because of it, they've caught the eyes of a growing roster of stylists and artists, frequently finding their way into editorials and runway shows. Nausicca's Spring/Summer 2018 presentation saw models touting long, golden nails pierced with dangling, dancing shoelaces, reflecting the laces used in Nausicca's garments. A recent issue of Novembre Magazine featured a collaboration between Alvear and Los Angeles-based artist Petra Cortright, in which Cortright used images of Alvear's nails as a canvas for stunning digital paintings. Even Raul de Nieves, a noted multimedia artist and friend of Alvear's, sported a commissioned set of nails, molded to resemble skulls in a spectrum of primaries, to the opening of his exhibition at 2017 Whitney Biennale. "That moment was cool because it was one of the first sculptural nails that I made and it was the first one I had commissioned," he says. "In a way, my work was at the Whitney for the opening, and I love that. Do I put that on my CV?"

Looking forward, Alvear hopes to direct more photoshoots involving his nails and to continue to collaborate with other artists. With New York Fashion Week on the horizon, keep your eyes peeled for Alvear's signature talons on the runway of some of the city's up-and-coming brands.