the zine calling bullshit on online sexual harassment
Sydney Lima and Grace Small are asking women around the world to send in any sexually abusive DMs they might have received, which they will then air publicly in the form of a printed magazine.
|
01 February 2018, 10:58am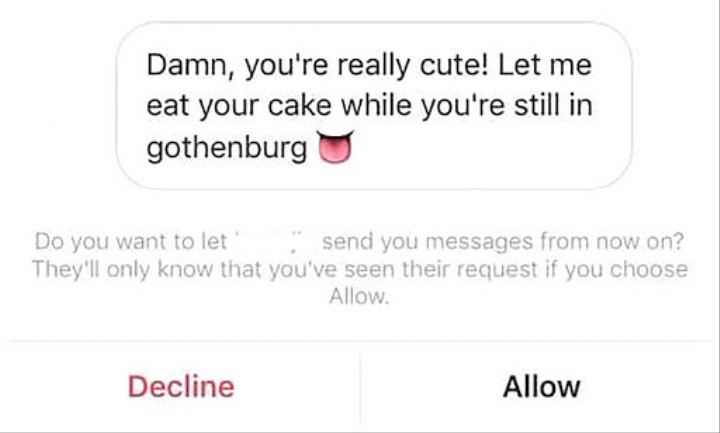 Sick and tired of the daily tirade of unsolicited dick pics and sexually abusive messages ("I wanna come inside your arse so hard bitch" was one), that filled their respective inboxes, models Grace Small and Sydney Lima decided that enough was enough. Just because this kind of harassment is happening online, doesn't make it any less traumatic than getting cat-called in the street. Why should it be down to them to just ignore, block and delete this toxic behaviour? Furthermore, if it isn't called out, what's to stop it happening in the future?
"No one should be able to send you pictures of their dick without consent, nor explicit and often violent plans of what they'd like to do to your body," says Sydney and Grace. "The internet should not be a safe space for abusers to roam freely, facing little to no consequence."
Given their numerically overridden usernames and the covert nature of direct messaging, most of these abusers are anonymous and their harassment remains unknown, and more importantly unchallenged. To rectify this, the girls are collecting screenshots of messages and pictures that women have been sent on social media to compile into a printed magazine, sardonically titled Love Letters (vol.1). Why? So that women on the receiving end of such messages know they aren't alone, and so that they feel they can reclaim some kind of agency over these obtrusive messages. It also sheds light on just how widespread this kind of toxic behaviour actually is.
"Previously, we'd been made to feel as though we were taking ourselves and the messages we'd received too seriously. Being able to discuss the messages together made us realise that we weren't being overly dramatic in our emotional responses to them. And chances were that if both of us were left feeling this way then many more women were, too. We want to say out loud that this is not ok. Just as there has been a backlash against women getting cat-called in the street, the same attitude should be taken online. The idea that women should shrug off virtual violence is insidious. This is why we're printing the messages. So that the abuse is externalised for all to see."
So far, the girls have amassed a considerable collection of messages, but they are asking for more. If you'd like to contribute, just email your screenshots or submit via the site.
This article originally appeared on i-D UK.