kaia gerber is now a designer for karl lagerfeld
The 16-year-old supermodel has linked with the Kaiser on a leather-starring capsule collection.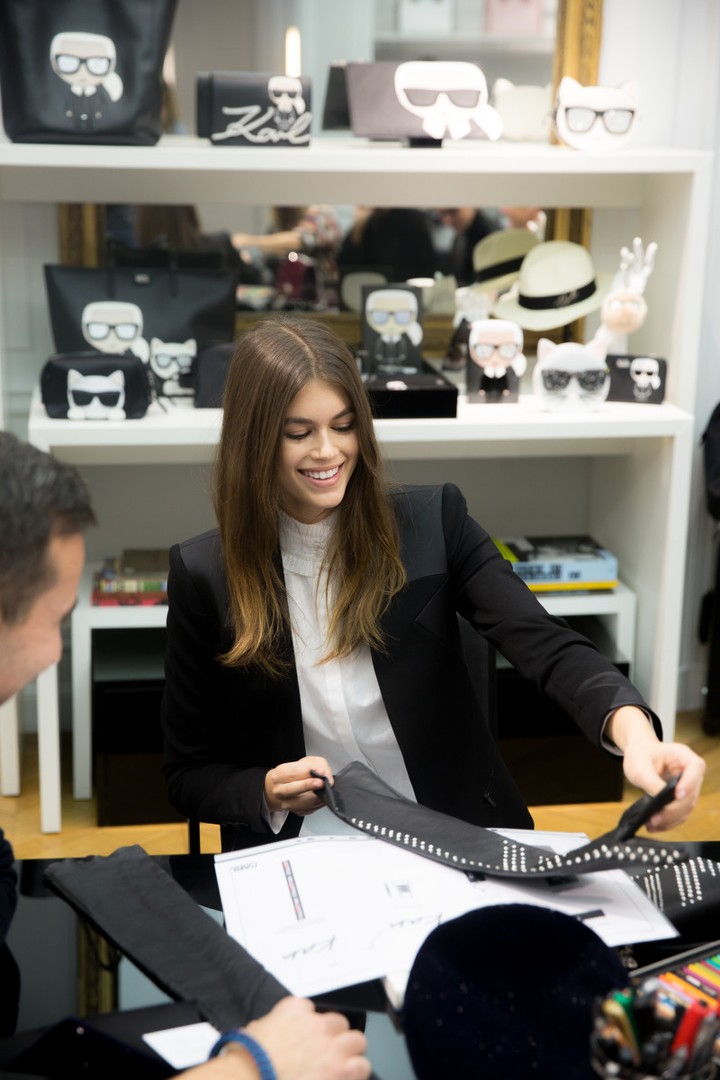 Photo: Romain Mayoussier/Karl Lagerfeld
Model-turned-designer is hardly a rare epithet. Gigi Hadid supplements runway time with crafting capsules for Tommy Hifiger and Stuart Weitzman. But still, even in the fast-paced fashion world, it's rare for a model as fresh as Kaia Gerber to be taking up a pencil and sketch pad. The gazelle-like daughter of Cindy Crawford made her fashion week debut only four months ago, breezing into the upper echelons of runway royalty by walking 18(!) brands and opening for Chanel. Apparently, Karl Lagerfeld took quite a liking to the 16-year-old superstar. WWD reports that the Chanel creative director has tapped Kaia to create a collection for his namesake Karl Lagerfeld brand.
"When Karl first told us his idea to collaborate with Kaia, we were all excited by the incredible potential and power of bringing their two worlds together," said Pier Paolo Righi, chief executive officer of Karl Lagerfeld. "We have been working intensely over the last months with Kaia in L.A. and at our studio in Paris. It was exciting to see her clear vision, passion and engagement, and the collection will definitely inspire many young women."
We've yet to hear details of what Kaia's cooking up for the Kaiser. WWD suggests the collection will be "a mix of California cool for day and French sophistication for after dark." The outlet also caught a glimpse of some elbow-length studded leather gloves that she was wearing in the studio, an homage to the shorter fingerless gloves that have become as synonymous with Karl as Diet Coke. Hopefully Kaia's personal preference for Pepsi isn't causing any rifts in the design studio.