10 things you need to know about northern pop powerhouse phoebe green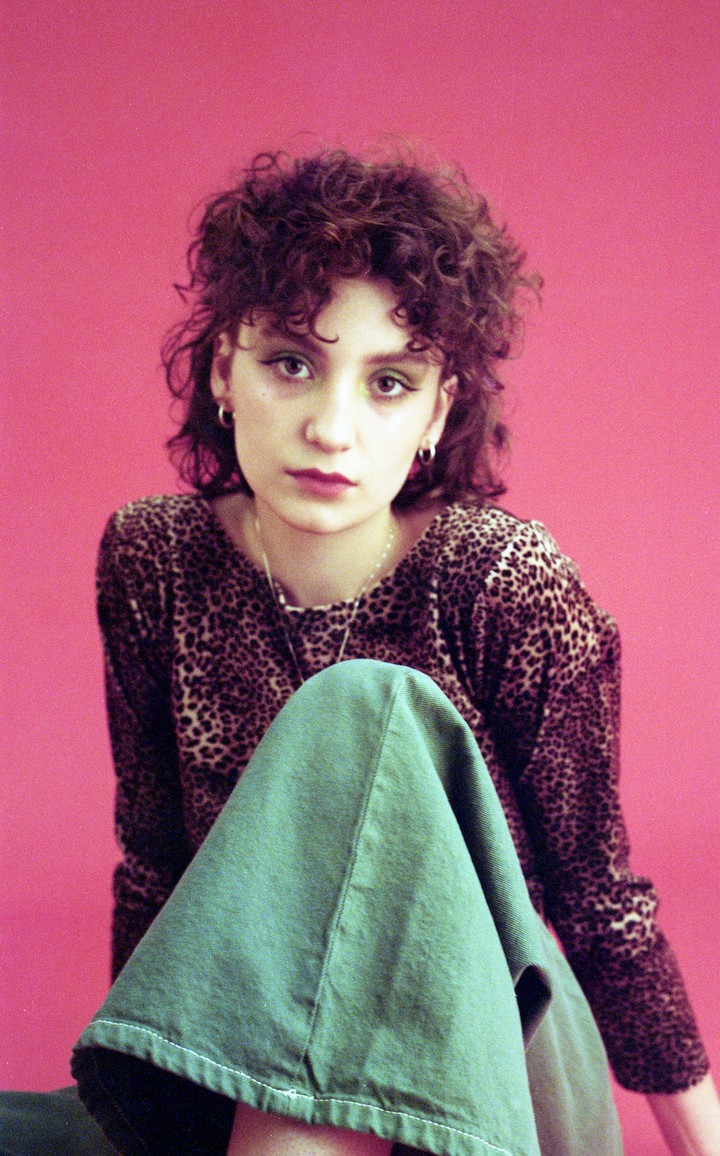 Photography Sara Carpentieri
When Lancashire's Phoebe Green was just four years old she received a Barbie karaoke machine for Christmas. She distinctly remembers her nan filming one of her in-house Atomic Kitten cover concerts, her nascent warbling projected down its buzzy plastic microphone like, recalls Phoebe, "a true Y2K icon". Fast forward six years and a then 10-year-old Phoebe laid down a live performance of her first self-penned song on her webcam, convinced it would bring her one step closer to fame. It might have taken a little longer than planned, but the 21-year-old is well on her way now.
Starting to outgrow the angsty poetry she wrote in her teens, in 2016 Phoebe released an impressive Moldy Peaches-esque EP called 02:00AM that spawned from a school project and which, despite recording it solo in her bedroom, quietly racked up a cool 3 million plays on Spotify. She has since evolved into the synthy alt-pop Radio 1 regular introduced to the wider world this March via her catchy Everything Everything-produced single Dreaming Of.
Fresh from supporting Sundara Karma on tour and happily sharing a manager with her pals Goat Girl and The Big Moon, Phoebe is gearing up to share more music "from the very depths of my being! Get ready 2 feel uncomfortable!" Can't wait tbh. In the meantime, follow her very well colour-coordinated Instagram account and get to know her a bit better below.
1. Phoebe was born and raised in Lytham...
"I think it made me lose my mind a bit, which was probably beneficial to my writing! It was quite isolating and definitely exhibits a small town mindset. It's so cliche but I never really felt like I fitted in. I loved growing up with the sea at the bottom of my road though, and with local heroes like Sophie Aspin and Little T less than 20 minutes away, who can complain?! Please google Blackpool Grime Media, truly a cultural adventure."
2. But now she lives in Manchester and is mates with all the local bands...
"My incredible mates Witch Fever are shaking the Manchester music scene with their feminist rage, which is so empowering and refreshing to see. There's also Bleach Boy, Alex Rave, Document... there are a lot of new bands at the minute that are dead good."
3. You can call her "Shirley Temple of the north" if you like...
"Since my nan introduced me to Poor Little Rich Girl when I was really young, I've watched her films religiously and started impersonating her. My family still ask me to do it at Christmas. It's mainly just a reference to the hair and the baby face."
4. She has a single called Sagittarius but she's a Scorpio. And yes, she relates...
"I'm very emotional and intuitive and get obsessed with things quite easily. I'm proper into analysing people, so as soon as someone tells me their star sign that's it, I'm reading their every move."
5. Her new single is called Dreaming Of. These days she's Dreaming Of...
"Releasing another body of work that fully depicts a period of my life in a really cool and interesting way."
6. Green might be the colour of envy but our Phoebe isn't the jealous type...
"I'm so aware that everyone is in such a different place mentally. I preach so much about lifting those who inspire you up instead of bringing them down due to your own insecurities. That said, I'm pretty jealous of Tyler, The Creator because he's dead good at combining both the visual and musical elements of his work in a way that I can only aspire to."
7. She's a middle child...
"And I am the absolute embodiment of what that means."
8. She's signed to Chess Club Records but doesn't know the rules of the game...
"Never in all my years have I ever participated in a game of chess."
9. 21-year-old Phoebe wishes she could give 16-year-old Phoebe some advice...
"Be more selective with your time and empathy; keep it for the right people and save some for yourself, as trying to please everyone will exhaust you in the long run. Also, stop snogging sweaty boys at house parties for validation. It won't mean nowt once you realise that they'll probably grow up to catcall women and vote UKIP."
10. For when the time comes, she's already got the title of her autobiography sorted...
"The Life and Times of Beebie Bean, my drunk alter-ego. Far more entertaining tales will be told."