the matildas have a new anthem by an all female supergroup
Nina Las Vegas, KLP, Kota Banks, Graace, Thandi Phoenix and Ninajirachi team up to soundtrack Australia's efforts at the 2019 FIFA Women's World Cup.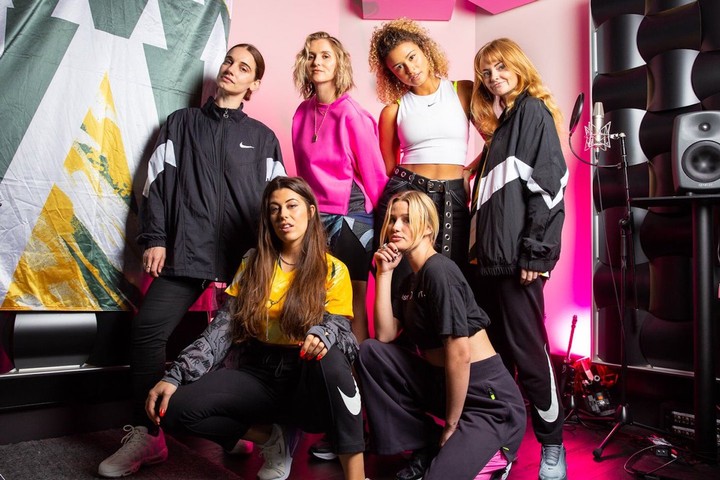 The FIFA Women's World Cup kicks off today in France with the Australian team The Matildas ranked sixth out of 24 competing countries. It's a huge moment for the players and their growing legion of fans, a fact cemented with the release of a huge new team anthem. Coming together to write and record Everything We Ever Dreamed Of, musicians Nina Las Vegas, KLP, Kota Banks, Graace, Thandi Phoenix and Ninajirachi each channelled their particular strengths to create the kind of inspiringly finger-on-the-pulse team song we can all get behind.
We spoke to Nina Las Vegas about being part of this dream team and what it feels like to make music that's certain to backdrop a huge moment.
This song represents a nice intersection between sport and a wider musical culture. Can you tell us a bit about how it came to be?
I'm actually a big football fan. I used to play competitive football when I was younger. The gang at Nike knew this so approached me with this opportunity. I loved the idea of writing a song for the Matildas in France with some other musicians I respect. So we just started writing and it was cool; really targeted and energetic.
Was the idea to make something super motivational?
The idea is that Everything We Ever Dreamed Of is the team's mantra. It's about the dream of playing in the world's biggest comp and ultimately playing as full time footballers. We wanted to reflect the ambitions of the team, without isolating anyone.
It's really cool that four independent musicians had the opportunity made this song.
Yeah, I mean Nike could have just chosen a random track but they chose us to make something bespoke. I think that linking football with music is so important, we should be doing it more in Australia. It's a big deal for female songwriters and producers to do something like this, especially as a collaborative effort.
Even though there's a long way to go in terms of equality with the men's game, it feels like a positive time for women's football right now.
It really is. I'm an ambassador for the 2023 Australian World Cup, working with the Matildas and the Australian federation to make that happen. It wasn't long ago that there was no prospect of women playing soccer full time, but now that's achievable if you're good enough. It's no surprise that women have had to work incredibly hard to earn their recognition. Right now they're playing the biggest competition in the world and they might even go better than the boys last year!
When are we going to hear your song played?
I believe it'll be played in the change room before the game and also as the girl's run out. It's also being released on Spotify and iTunes as well as being played on the radio. Pretty sure you're going to hear it.