sydney's ones to watch (after dark) — part two
Is Sydney waving or drowning? In part two of our look at the scene, we ask crucial players why the club will alway be worth the fight.
Yesterday, we asked some of Sydney's finest DJs to sound off on their city's nightlife. Their message was clear: lockouts don't keep people apart, they bring them closer together. Today, we're asking other members of the scene — two curators, a punter, and a venue manager — for their perspective. Let's talk partying, policy, and how to really make a club shine.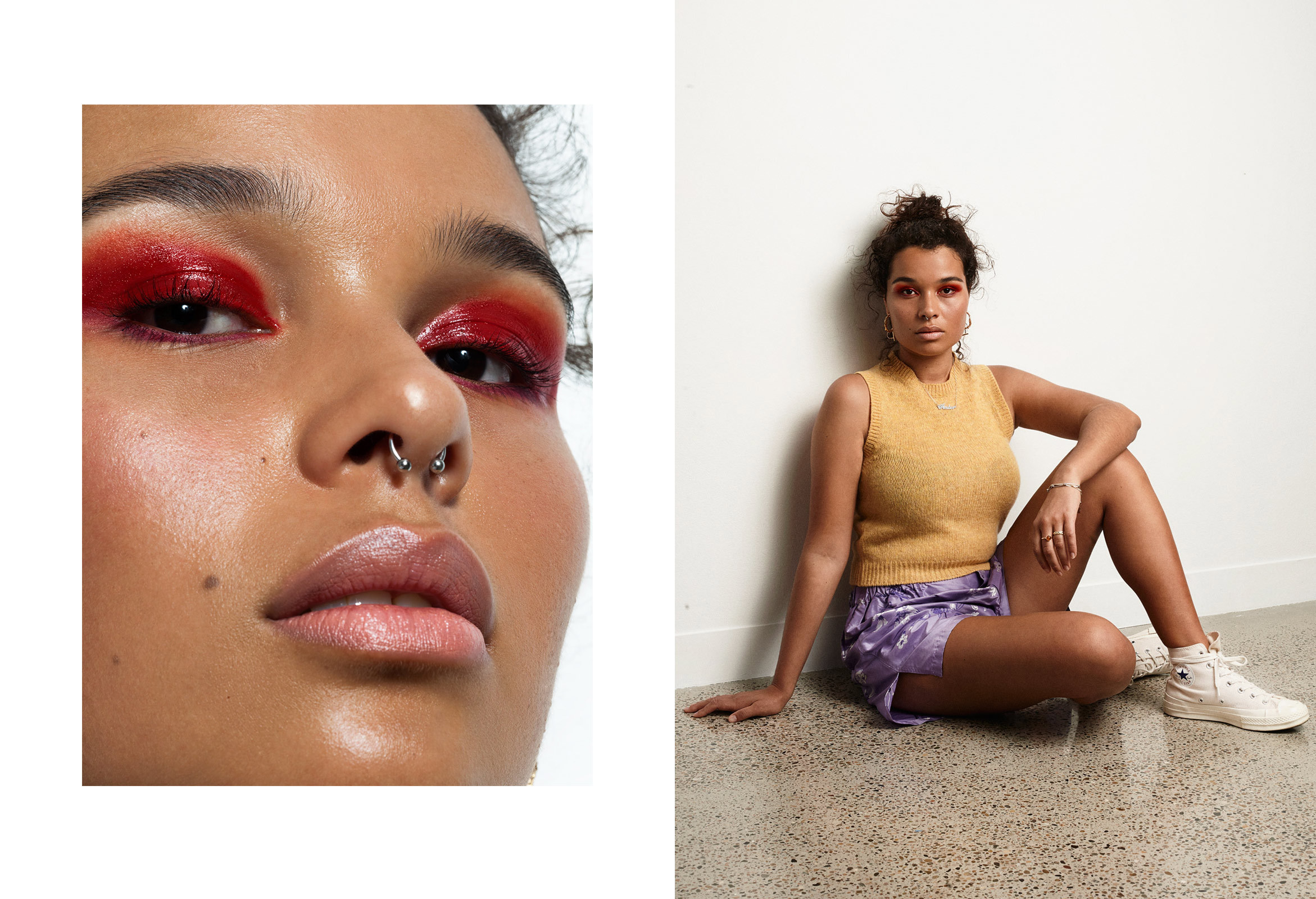 Amber Prado-Richardson, 22, Club Angel
What do you do in the daytime, and what do you do at night?
Daytime Amber is all about getting some sun and nourishment: catch me at the beach or sitting in a park, fruit in hand and getting my vitamin D. It's not that easy to achieve in winter but I make do. At night, the most important thing to me is finding music that I can dance to. If there's a good hiphop, RnB or rap night I'm there!
Tell us about the best night out you've ever had.
The best night out I've had has to be this one night in Paris with my best friend Romy. We had a mad tiring day walking around the entire fucking city, as you do, and I was not in the mood to go out at all but she convinced me after drinking some cheap French rosé. I don't remember the name of the place we went — it was some hip hop party during men's fashion week. So in a nutshell, we were surrounded by beautiful Parisians, that were just as beautifully dressed, all dancing to french rap. Young Thug was there too — how could that not be the best night out?
What's you favourite song to hear on a dance floor?
I hate to be predictable but everyone that knows me knows that it's Rihanna's Work. Like if there is anything that will get me moving, it'll be that! Even if I'm on the train alone.
What makes a great club a great club?
Everything matters! Obviously the DJ is most important, but I who's gonna have a good time if the space is funny or the people around you are whack as hell?
How do you make the most of the time you are in the club?
Don't think about the time, watching the clock is a major downer. I'll normally start my night a bit earlier, maybe at a bar, so you can get all the catching up and chatting outta the way. That way when you're in the club you can just dance!
Is Sydney dying, or is it coming back to life?
It's definitely dying. We have hardly any choice when it comes to going out in this city. That being said, people are trying so hard to bring Sydney's nightlife back. That's where it's really flourishing. People are definitely trying to make the most out of a really shit situation.
How do we fix this?
If only I knew the answer to that. We can't let it ruin our fun, we have to support the people that are trying to make a change.
Tell us your top five Australia DJs.
Look, I'm gonna be straight with you and say just one. There are so many great DJs, but FlexMami's sets are a never-fail for me. All I can say is that she knows.
Amelia Jenner & Doug Wright, 23 & 25, Body Promise Keepers
What do you do in the daytime, and what do you do at night?
Amelia: By day I fucking struggle to get out of bed, work at a music school and host two radio shows. I also co-manage the angelic Gussy, try to run a tiny record label, and am generally a big ball of stress. By night I eat my body weight in cheese, pump iron (not a joke), watch hip hop videos and stay up really late and then hate myself — and repeat.
Doug: I teach at a music school, write music (mainly as Fishing with big boi Russell Fitzgibbon), run the radio show-come-record label Body Promise with Amelia, and ride heaps of bikes. At night I plan fun weekend trips away that never eventuate because there's always too many good shows on to leave town.
What's the best city in the world to go out in, in 2016?
Amelia: To be honest I haven't clubbed in many cities around the world so I'm gonna say Sydney. I'm a sucker for partying in less conventional places like parks and headlands — trying not to give too much away here.
Doug: Couldn't agree more with Amelia. I've been to a handful of clubs in other countries and sure, I've been blown away by a few places, but what I really like about going out here is that it's small enough for you to see the same friends any time you go out, but big enough to make new friends too. In terms of music, we are so lucky to have such amazing DJs and producers under our noses, and we have fantastic promoters bringing out internationals so often that there's always something great to do or see. The fact that there are so many people really committed to making a community around clubs and parties is wonderful. There's no place like home.
Where do you go after you get locked out?
Amelia: To my house to watch hip hop videos.
Doug: I climb into a Dorito bag.
Is Sydney dying, or is it coming back to life?
Amelia: I think the traditional club scene is dying but a new one is emerging. There's a nice little community of like-minded people trying to make the best of a shitty situation. That's been really beautiful to watch and be a part of. As I say to some of my Melbourne friends who often poo-hoo Sydney and its nightlife, once you know someone here than can show you what goes on away from the standard venues, it's actually pretty vibrant. It's a god damn shame that there are a lot of hurdles in the way of throwing a good party but when it happens, it really happens
Doug: The city is dying in so many ways beyond partying. I'm terrified every time I read about our home, and how Sydney is getting royally fucked over on every single level. I think there are loads of people breathing life into Sydney in various ways — it's definitely made people a lot less complacent. Is Sydney coming to life? I really hope so. But I can't help but think about how flowers bloom when they're stressed out and about to die.
How do we fix this?
Amelia: I think it could take decades to change the culture of the city, and the opinions of those who hold the balance of power. To me, it all leads back to trust. In Sydney we're not treated like adults. We're always looked down upon with an air of mistrust. It's like they're expecting us to do something wrong the moment we go out after dark. If they — and by 'they' I mean police, government, old washed up baby boomers — treated those who are part of the late night economy with a little respect they would be amazed by the results. Give us the option to catch a late train home, or to buy wine from a bottle-o after 10. Don't assume that just because we like dancing at 3AM that we're a less valid member of society. Let us fucking live our truths and stop stifling us just so you can make a bit more money at the casino — here's looking at you Bairdy.
Doug: Rally. Support the clubs and promoters that are trying against all odds. Keep going out. Try and stay excited and positive, but at the same time be fucking livid about what's going on and make that known in the most visible ways possible.
Tell us your top five Australia DJs.
Amelia: Hot Wavs, Jikuroux, Waterhouse, Cliques, and Air Max '97.
Doug: I'm going to expand this question to DJs and live acts. Lucy Cliché, Lindsay Tuc, Cop Envy, Cliques, and Phile.
Chris Alibi, 26, Venue Manager @ Club 77
Do you remember the first time you ever stepped into a club?
Yeah of course, you never forget the first time. I was 16 going out in Camden Town with my big brother, luckily I didn't need a fakie — wasn't the swankiest of bars. It was a dark diver bar with dance hall playing and a lot girls twerking. So I've been going out for 10 years now and counting.
Tell us about the best night out you've ever had.
We need to be sitting around a campfire for the entire story so I'll try and keep it short. It was my second week in Sydney, I'd just finished having a few staffies at work and I was dragged to Kinsellas, then went on to Arq. For a kid from the black community in London, Arq was a massive culture shock — but a couple of party favours later my top was off partying my socks off. Somehow I survived until the end and then it was onto Phoenix day party, then the Colombian, and then to a house party. I had no idea I was in the gay scene for 24 hours straight until a guy called Disco Dave — his real name — gave me the rundown of what the night meant: I was lucky enough to stumble upon a few iconic venues.
What's the best city in the world to go out in, in 2016?
That's a tough question, but Sydney is my favourite for sure. Hands down the least drama, least pretension and musically it's on par with everywhere else in the world.
What's you favourite song to hear on a dance floor?
My inner ratchet always wants to hear a bit of Grime, so I'd say Lethal B, Pow!
Tell us what the best remix in the world is.
Easy. 112 featuring Notorious BIG and Mase, Only U Remix and Method Man & Mary J Blige, All I Need (Remix).
What makes a great club a great club?
Tough question to answer, because it's rare when you get the perfect balance. I think it starts with the venue, how you use the space, lighting and sound, so so important. Building a great bar team is vital too, not just to sling drinks but to set the tone of the night. Positive energy is infectious, which is why I love my crew at 77. The security guards are always over looked but they help to maintain a drama free, dickhead free crowd. DJs can easily make a great night, but they are independent so you can't rely on them to make your venue great. They're the whipped cream, sprinkles and cherry on top as opposed to the cake itself.
Is Sydney dying, or is it coming back to life?
Sydney definitely isn't dying, it most certainly is coming to life in different ways. 77 is a great example, since we've reopened we've had some of the wildest nights. It's like we never skipped a beat, nights you'd never see in London.
How do we fix this?
Partying is a universal freedom we all have, and the lockout laws have taken away some of that freedom, but there are still so many awesome nights out around Sydney. Some go until 3AM, whereas some go until stupid o'clock. You've got to keep on supporting Sydney nightlife otherwise the government will win...fuck that!
Tell us your top five Australia DJs.
In no particular order, and I'm going to be cheeky and include a couple of DJ groups; Motorik, Pelvis, Mall Grab, DJ Bongmist, and Simon Caldwell. Aussie DJs are some of the best in the world, nothing annoys me more when an 'International' acts get more love, doesn't make sense to me.
Credits
---
Photography Elliott Lauren
Casting Director Isabelle Hellyer
Art Director Charlotte Agnew
Hair & Makeup Graeme Cumming
Hair & Makeup Assistant Lynn Anderson
Assistant Lilah Merz