hayao miyazaki has officially returned to studio ghibli!
Miyazaki fans, this is the news you've been dreaming of.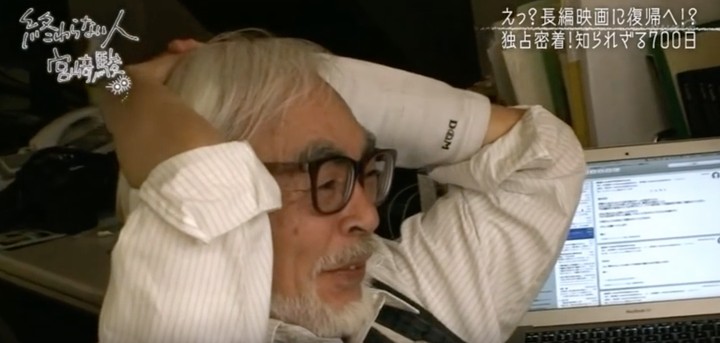 Captura de pantalla vía YouTube
This article was originally published by i-D Australia.
Hayao Miyazaki is officially back in the office, a recent newsletter from Studio Ghibli confirms. The famed anime studio took a brief hiatus in 2013 following the animator's (short-lived) retirement, as co-founder Toshio Suzuki pondered how to best go on without his partner. Over the weekend, the wonder news arrived that Studio Ghibli is abuzz once again, with close to a full team of staff now at work on Miyazaki's latest film, Boro the Caterpillar.
Miyazaki himself has been working on the film from his home studio since the start of the year, Suzuki told a Los Angeles audience in February.
Now, Miyazaki is officially working from Studio Ghibli — an sure sign that production is ramping up — with the studio holding an opening ceremony to celebrate his return to the production department. "On that occasion," the translated newsletter reads, "Hayao Miyazaki brought together his main collaborators to talk to them about the project."
As you may recall, Studio Ghibli released a global callout for animators and background artists in May. Despite the meager wages (roughly US$1,798 per month) they were flooded with applications, and more interest from foreign animators than they'd ever received.
The lucky few selected to sign the three year contract will begin their Studio Ghibli training next month. It'll take six months to get the new artist up to speed, which puts Boro the Caterpillar right on track for a 2019 premiere date.