the first joan didion documentary is finally coming to netflix
'Joan Didion: The Center Will Not Hold' is directed by the writer's nephew Griffin Dunne, who originally announced the project in 2014.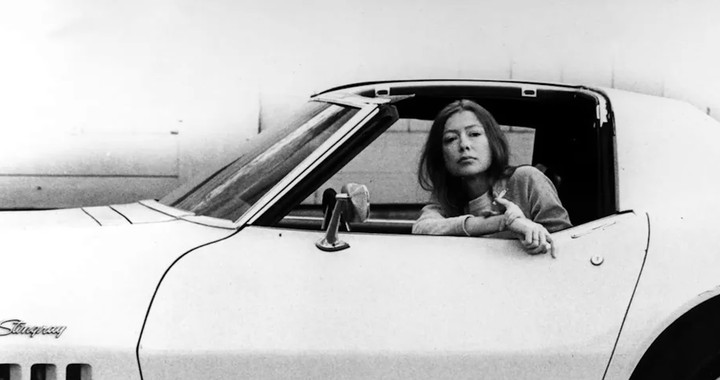 Image via Vimeo.
Joan Didion's image is nearly as famous as her books are. The literary legend has appeared in iconic photos for decades, from Julian Wasser's 70s black-and-white images to a recent Céline campaign shot by Juergen Teller. There have been t-shirts and Broadway plays created in her honor. But no one has made a documentary about the revered author of Slouching Toward Bethlehem and The Year of Magical Thinking, until now.
Joan Didion: The Center Will Not Hold is a highly anticipated project spearheaded by Didion's own nephew, actor and filmmaker Griffin Dunne. Dunne originally announced the project on Kickstarter back in 2014 under the title We Tell Ourselves Stories In Order to Live, a quote (and book) by Didion. It will finally be released on Netflix after a premiere at the 55th New York Film Festival next month, Deadline reports.
Dunne's film has attracted widespread attention from the fashion and literary crowd over the past three years. Stephanie LaCava, Gia Coppola, Zac Posen, and Christopher Niquet have all thrown their support behind the project, while the list of people who actually appear in the film is equally impressive. Patti Smith, Vanessa Redgrave, Graydon Carter, and Bret Easton Ellis are just a few of Didion's cohorts who are sharing their memories for a whole new generation of fans.
"Our journey began a couple of years ago, when we shot Joan as part of a short video to accompany her book tour for Blue Nights," says Dunne of the unprecedented film. "After hours of watching her read and reflect it became clear that we could not stop there — we had to do something much larger and deeper. Storytelling was a way of enduring the potent rawness Joan experienced through life, and through loss. Now we must be the ones to preserve this. To preserve her legacy."
Joan Didion: The Center Will Not Hold follows the author's life through her own books and essays, using rare archival footage and anecdotes from the intensely private author. Seminal eras include Didion's early days as a staff writer at Vogue, where her self-respect essay "On Morality" was first published in 1961, and her years in Los Angeles working as a screenwriter with her now-deceased husband John Gregory Dunne. The film will also offer a modern American history lesson through Didion's descriptions of the Manson murders, the wife of then-governor Ronald Reagan, and the Central Park Five. Check out Dunne's trailer below.