first, there was the supreme brick — now, there's supreme chopsticks
Supreme's latest accessories collection is decidedly pro-fine dining, and staunchly anti-Trump.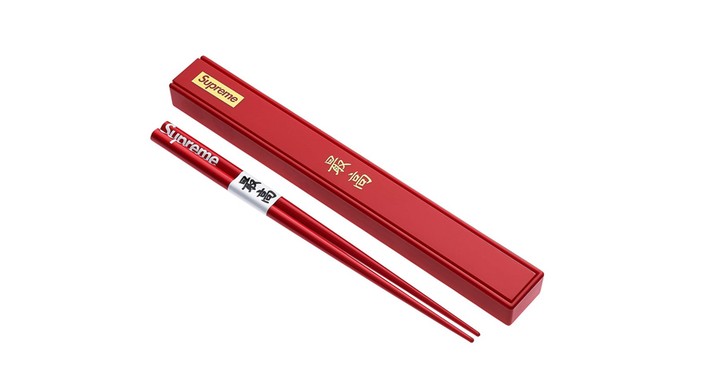 This article was originally published by i-D Australia.
James Jebbia takes the business of streetwear very seriously. Accessories? Well, not so much. Each season the Supreme team use their lifestyle collection as an opportunity to have a little bit of fun with the brand. Lately, their experiments have ranged from the interesting (albeit rather disruptive) New York City Metrocards to the more outrageous $30 brick.
With their fall/winter 17 collection, the brand have continued to reimagine everyday items. And while some are about as practical as a single brick (a pristine wad of real hundred dollar bills, permanently encased in lucite) others, like their bright white Fender Stratocaster, will likely wind up getting a whole lot of mileage.
For the streetwear fanatic's home, there's an armchair upholstered in a print reading "FUCK," a toolbox, and a shovel. For the kitchen, they've provided chopsticks and a sake set. Of course there's the usual fare too: skate decks, belts, a whole lot of fanny packs, and a few keychains — the best of which reads "Fuck the President."
Depending on how you feel about Supreme, they're either lampooning logo culture or celebrating it better than anyone else could. Either way, it's a sure sellout. You can find the entire collection here.
Tagged: