check out the blog devoted to that blue zara off-the-shoulder dress everyone is wearing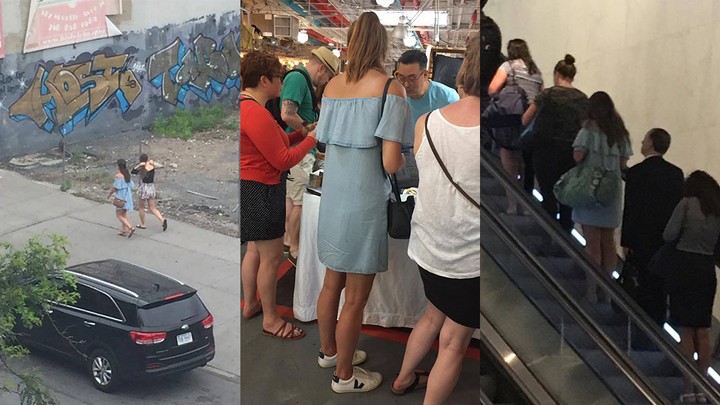 This article was originally published by i-D UK.
Look, obviously everyone loves a lil off-the-shoulder summer dress. Simple, easy to wear, perfect for hot weather, it's great — that's why they're everywhere. But, in the words of George Orwell (probably), all off-the-shoulder summer dresses are equal, but some off-the-shoulder summer dresses are more equal than others. Specifically, this one from Zara.
Now that you've seen it, you can't unsee it. This Zara dress has been everywhere, seemingly since the dawn of time (or at least 2016). You definitely know someone who owns it, and while you might have sent a sneaky pic of a girl on the train wearing one, NYC comedian Lulu Krause has gone one step further. She's dedicated a whole blog to it.
Lulu started her magnum opus "the blue off-the-shoulder dress from Zara" blog, back in 2016, when she started recording all of her sightings. She told i-D: "I assumed the trend wouldn't make a comeback this year but when I spotted a woman wearing the dress in June, I decided to upload my collection to Facebook. Soon, I was hearing from close friends and distant acquaintances, who were sending me their own sightings (one of the highlights of making my ridiculous hobby public has been hearing from people I haven't spoken to in ages). About two weeks ago, I decided to start moving everything over to a blog so I could get creative with captions for all of the photos."
And although blue dress coverage isn't a full time job (Lulu also works at Condé Nast and is a comedian, most recently charting the women laughing eating salad phenomena), the trend is reaching pandemic levels already. Lulu says she sees about two to five a week in NYC alone, and she receives photos of it from across the world, including Spain, Italy, Greece, and the UK. "I'm still shocked by its lifespan," says Lulu. "And it's still a real treat to catch one. Seeing the dress makes my day. Two in one day? Get out of here."
Each photo of the iconic off-the-shoulder number is annotated with a caption which perfectly captures the vibe of the candid pics, from "Okay, TWC wifi is a sham", to "Wait, we already matched on Bumble" and "Ahh, I love Disclosure too!" It's genius really. Unfortunately though, there are no plans for a Humans of New York style coffee table book any time soon. "I really like how simple it is now", Lulu says. "I also think the trend isn't going to make it for another summer."
"I think about what trope or trend I'm trying to get across, and then try to express it in as few words and with as little context as possible. That keeps things conversational. I have loved writing these captions, so perhaps this will inspire me to create something similar that can transcend a single trend."
So if the everlasting off-the-shoulder blue dress for Zara won't survive another winter, then what's next? As an oracle of see-it-on-literally-everyone fashion, Lulu predicts the next trend will be guys wearing white shirts tucked into white pants. "I haven't recorded any sightings yet. But I think it could be a contender."
Oh, and if you're worried this whole thing is a bit mean-spirited, don't be. Lulu's never had any complains yet, and she even owns the dress herself.
There is truly no escape from the blue off-the-shoulder dress from Zara.