50 fiorucci facts for 50 years of fiorucci fabulousness
To mark the 50th anniversary of Fiorucci and celebrate its revamped return to the fashion scene, i-D brings you fifty nuggets of essential info about the Italian-born brand's past, present and future.
|
07 September 2017, 3:57pm
This article originally appeared in i-D's The Acting Up Issue, no. 349, Fall 2017.
During the 50 years since the late Elio Fiorucci flung open the doors of his first store in Milan, the Fiorucci brand has enjoyed sky-high successes and critical acclaim, contrasted by some financial woes and unfashionable lows. All of which has contributed to its legendary status. Rebooted and unleashed once more in 2017, this time under new ownership, Fiorucci again feels like a perfect fit. There is the impeccable heritage, for starters, straddling everything from 50s sci-fi aesthetics, 60s kitsch, 70s disco, and 80s New York graffiti art, combined with pop, glamour, Warhol, sex, cherubs, Studio 54, Madonna, cutting edge architecture and interior design, Italian sauciness, gold cowboy boots, tight jeans, flashy lurex, shiny vinyl, fluorescent hues, downtown drag queens, New York, London, LA, Milan, and beyond. The Fiorucci stores were, historically, not so much places to simply buy things, but also multimedia experiences and happenings – fusing art, music, clubs, magazines, and live performances with a youthful energy that kept the label cool and fashion-topical, yet accessible to the masses. Fiorucci must be one of the only fashion giants to have been mentioned in a chart-topping song – by an all-female 70s disco group – and a landmark piece of video art, in Mark Leckey's 1999 film, Fiorucci Made Me Hardcore. Elio Fiorucci and his evolving team of collaborators curated their retail spaces brilliantly from the 60s to the 80s (promoting the excitement through witty, often controversial advertising campaigns), setting an eclectic lifestyle blueprint for subsequent concept stores such as Dover Street Market and Opening Ceremony to run with. Time has caught up with Elio's ideas – this is, increasingly, how consumers like to buy into a "brand experience" nowadays.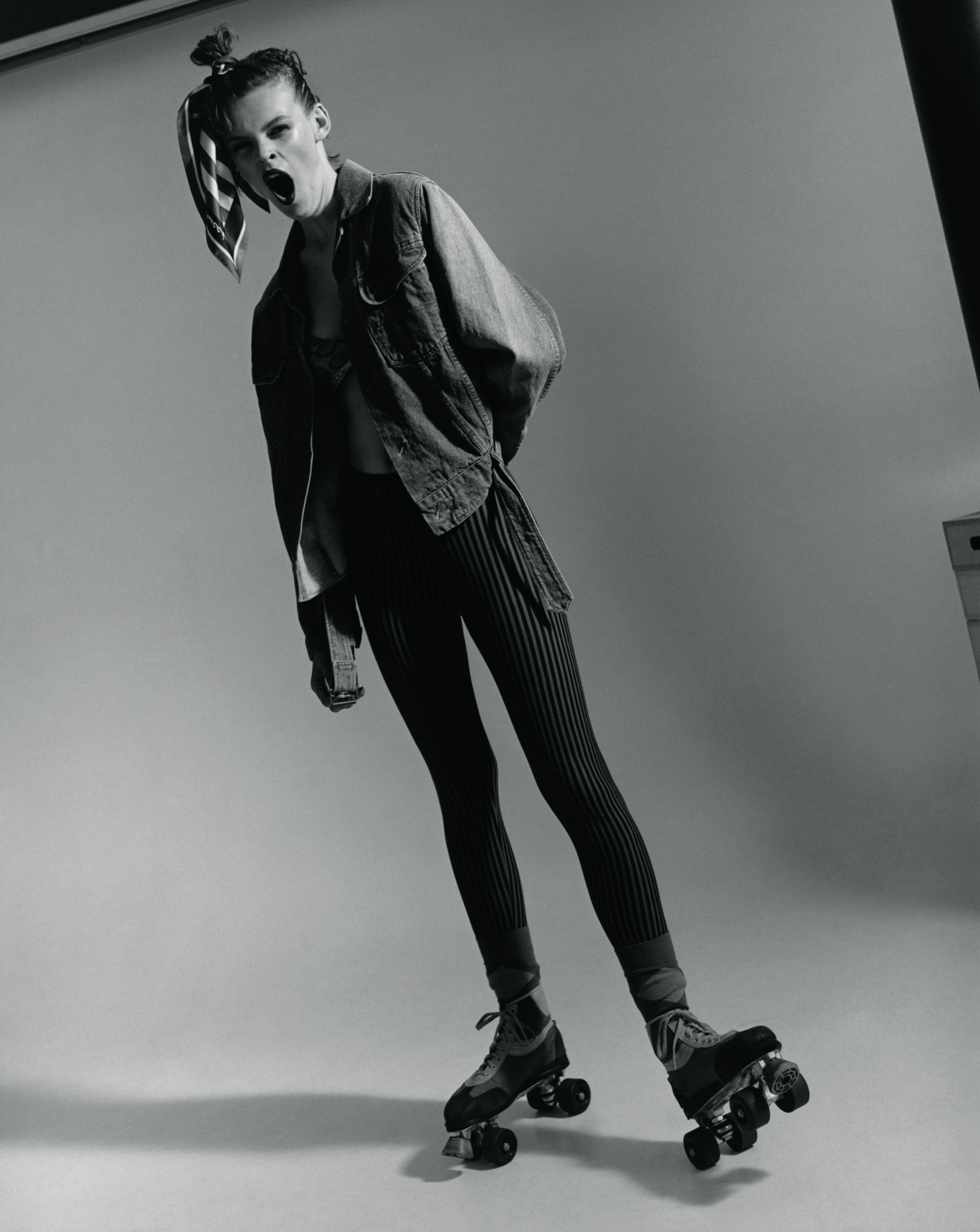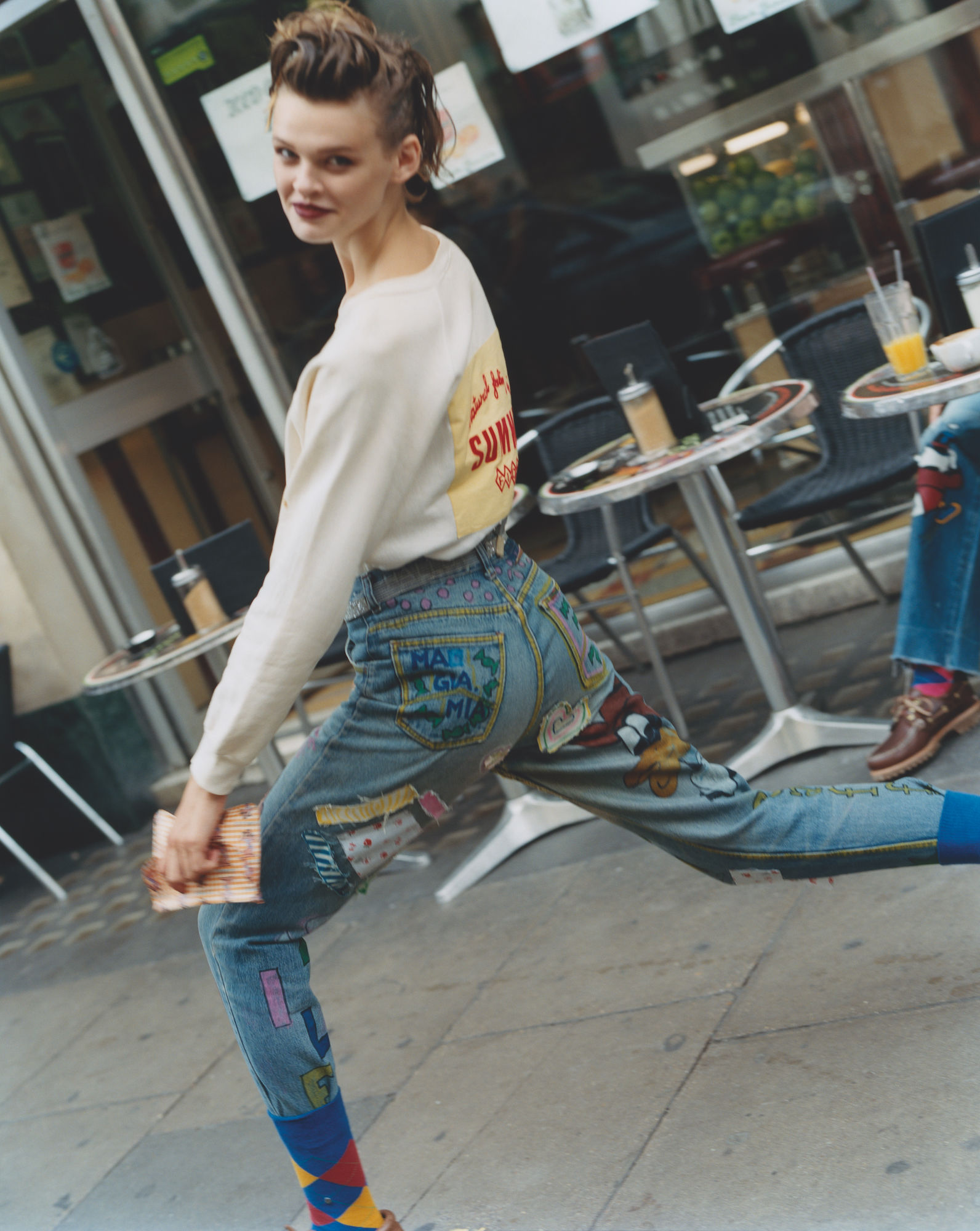 So, the timing of Fiorucci's return to the fashion limelight is impeccable. After all, the best bits of Fiorucci's mega-archive often pop up on Instagram, shared by a new generation in thrall to its retro-disco spirit. Such trashy-cartoony-irony can also be found in the ongoing work of Jeremy Scott at Moschino, which is doing brisk business among its fresh-faced punters, or via the purposefully wacky creations currently hot-footing it from Gucci's HQ, not to mention the unabashed contemporary clubby-styles tottering down the runway at Charles Jeffrey's riotous shows. Giddy fashion is back, long may Fiorucci reign.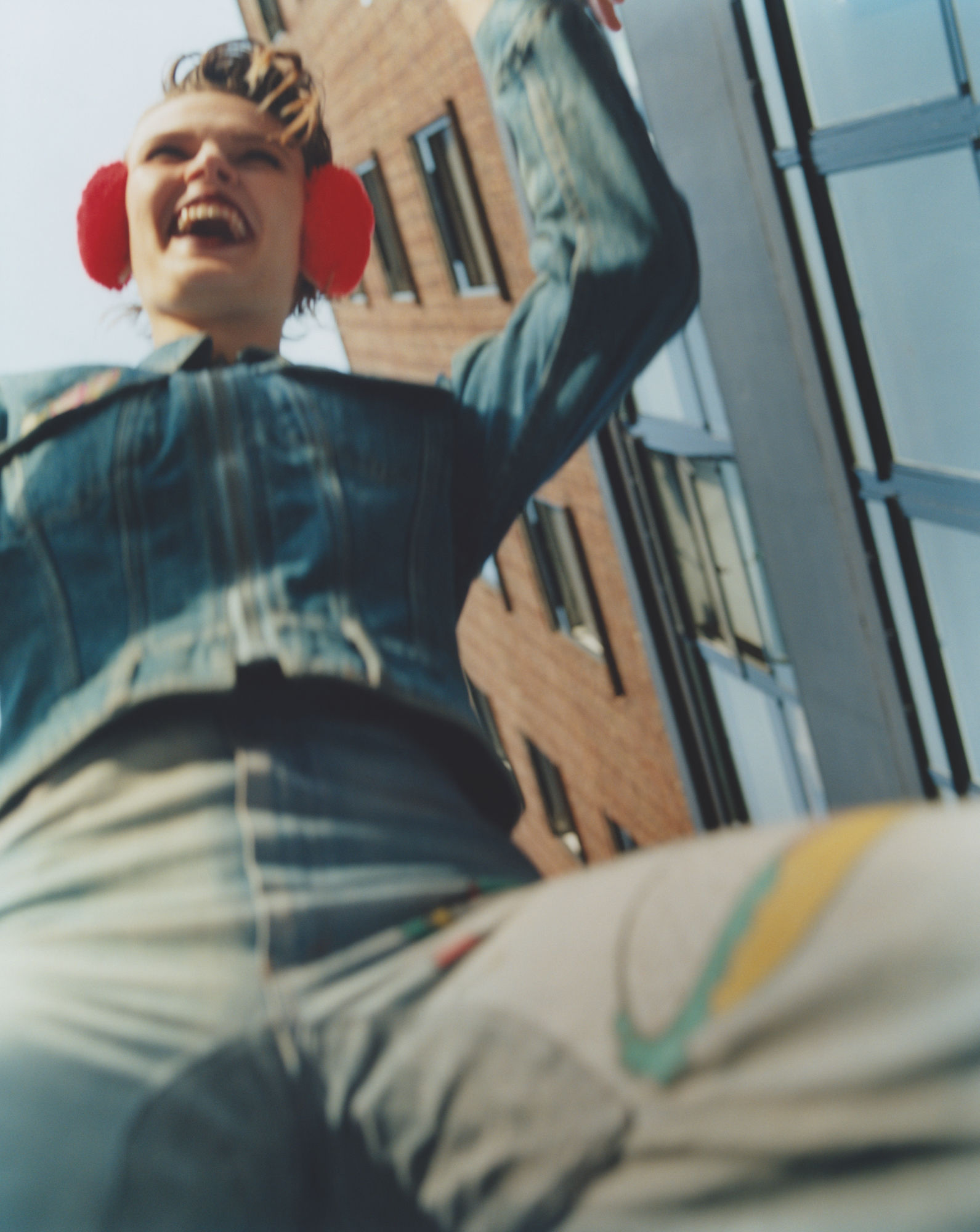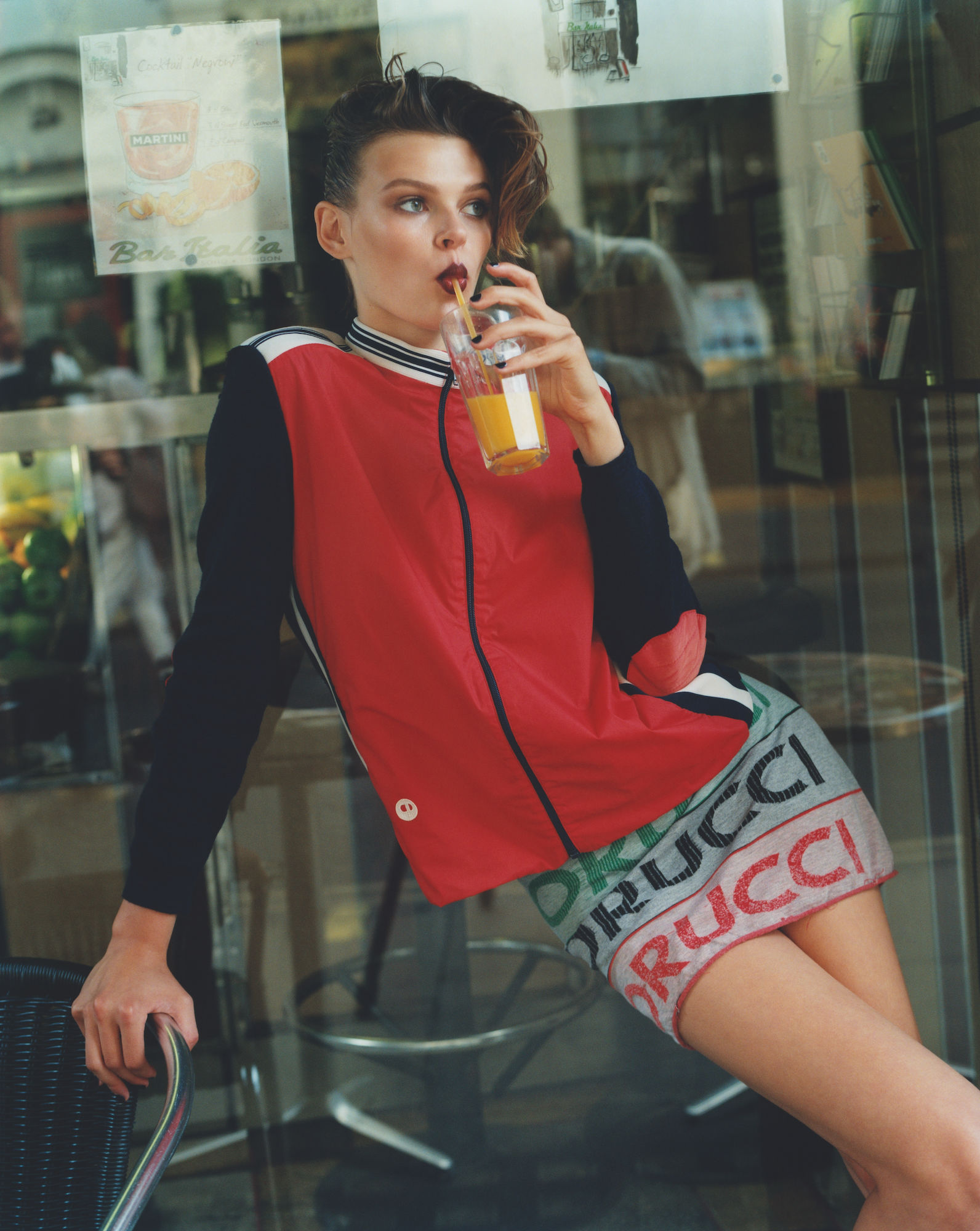 1. FIORUCCI, as in Mr. Elio Fiorucci, was born in 1935, in Milan, and worked in his dad's shoe shop when he was in his teens. This experience was his only fashion and retail "training", but that didn't hold the young visionary back.
2. FIORUCCI first made a name for himself during the early 60s when he came up with the giddy idea of manufacturing dull waterproof shoes in deliberately garish colors. These were splashed across the pages of Amica magazine and were soon selling by the bucket load.
3. FIORUCCI couldn't wait to check out Swinging London in the mid-60s. His debut trip saw him swooning over the city's hottest designers and stores: "What I liked most was the Biba shop. I fell in love with its attention to detail... it was revolutionary!"
4. FIORUCCI opened his first shop on Milan's Galleria Passarella in 1967, designed by the conceptual sculptor Amalia Del Ponte. Here, Elio touted the covetable wares of hot young British design talent, including Zandra Rhodes, Ossie Clark, and his beloved Biba.
5. FIORUCCI opened another Milan store in 1974, at Via Porino, spread over three floors and pimped up with elaborate water fountains. By now, Elio was stocking his own designs alongside an eclectic mix of books, antiques, and secondhand clothing and, as with Biba back in London, there was even an in-house restaurant.
6. FIORUCCI wowed Milan's fashion lovers with this radical idea of a shop-as-a-curated-experience. Within a few years the annual turnover was hitting $13 million – prompting Elio to open further stores in London (on the King's Road) and New York (at East 59th Street).
7. FIORUCCI employed the most in-demand Italian architects to design the interiors of the stores, including Ettore Sottsass, Andrea Branzi, and Franco Marabelli.
8. FIORUCCI spotted the potential for turning industrial items and materials into kooky new accessories – this included safety goggles and tool boxes becoming sunglasses and handbags, grocery bags being turned into trendsetting totes, reimagined carpenter's belts and polythene shoes.
9. FIORUCCI was also one of the first brands to turn army surplus into high style – selling over 3,000 pairs of used US Marine combat trousers to eager customers in just one month.
10. FIORUCCI prompted all manners of flesh-flashing and controversy, not to mention discomfort in the downstairs department, when Elio appropriated and introduced the masses to the joys of Brazilian thongs and monokinis.
11. FIORUCCI admired the innovative and subversive way in which Vivienne Westwood and Malcolm McLaren mixed-up and referenced youth culture of past and present. "I consider Vivienne Westwood a great artist and she was a great teacher to me," Elio told the writer Dominic Lutyens. "She appreciated my vision of change."
12. FIORUCCI became known at its peak for the distinctive logo featuring two cherubs sporting big turquoise and yellow sunglasses.
13. FIORUCCI brought New York graffiti artist extraordinaire Keith Haring on board to transform the Milan store interior in 1984 with his inimitable lines and squiggles.
14. FIORUCCI flung open the doors of its amazing New York mega-boutique, co-designed by Ettore Sottsass, in 1976. It quickly became the "must go to" place, even among seen-it-all-before Big Apple residents. As the disco movement crossed into the mainstream, clubbers flocked to hang out there, earning the store the nickname of the "day time Studio 54."
15. FIORUCCI received the highest of praise from Andy Warhol who gushed in his diary: "Went to the Fiorucci store. It's everything I've always wanted, all plastic."
16. FIORUCCI believed in the fantastic power of plastic. "Plastic is the most important invention for humanity," he enthused. "It changed our lives. It's beautiful, tactile, useful."
17.. FIORUCCI helped to organize a star-studded restaurant event to tie in with the opening party for the now-mythical New York club, Studio 54, in 1977.
18. FIORUCCI played host to Studio 54 regulars Andy Warhol and Truman Capote in 1977, when the famous twosome sat in the store signing copies of the latest issue of Warhol's Interview Magazine, for hordes of enthusiastic customers.
19. FIORUCCI was bigged-up in the The New York Times in 1977: "All it took this year to achieve instant chic was a pair of $110 gold cowboy boots from Fiorucci."
20. FIORUCCI was the first fashion brand to unleash its own range of sunglasses, releasing them in 1978.
21. FIORUCCI was reverently name-checked in the 1979 mainstream disco anthem, The Greatest Dancer, by Sister Sledge, which depicted a dashingly-dressed smooth mover who, in addition to his penchant for Fiorucci finery, also loved to wear Halston and Gucci.
22. FIORUCCI was the venue in which the then up-and-coming New York neo-Pop artist Kenny Scharf held his first solo exhibition, in 1979.
23. FIORUCCI spotted the talents of the young French jewelry designer Maripol and employed her in 1978 to art direct the store. She subsequently helped to define her friend Madonna's much-copied early-80s "trinkets-and-bangles-galore" look, not to mention styling the likes of Debbie Harry and Grace Jones.
24. FIORUCCI hired the New York drag and performance artist Joey Arias to manage the store. Arias would sometimes join other employees and downtown friends, such as the singer Klaus Nomi, to dance within the window displays for the entertainment/bewilderment of passerbyers. Check out the archive footage on YouTube, it's a delight.
25. FIORUCCI played host to an array of famous, infamous, and iconic customers, who glamorously passed through the doors of the New York store over the years. These included Jacqueline Onassis, Elizabeth Taylor, Greta Garbo, Cher, Divine, Lauren Bacall, Sylvester, and Calvin Klein.
26. FIORUCCI also captured the imagination of a young Marc Jacobs, who in his teens bunked off summer camp so he could frequent the store as often as possible.
27. FIORUCCI had a fabulous tactic to drum up trade when sales were slumping. Sending out a few of the most gorgeous-looking employees, dressed up to the hilt, clutching Fiorucci carrier bags, and chatting extremely loudly about the fantastic store they had just visited.
28.. FIORUCCI benefited from the creative direction and memorable advertising campaigns from Olivier Toscani and i-D founder, Terry Jones, who launched and bankrolled i-D in 1980 while still working for Elio.
29. FIORUCCI helped to propel Madonna to fame, inviting her in 1983 – when she was still on the rise to major pop stardom – to perform with her backing dancers at a party held to celebrate 15 years of Fiorucci, at Studio 54.
30. FIORUCCI was partly responsible for a young Madonna appearing on the cover of the May 1984 issue of i-D. Terry Jones had seen her peform at the Studio 54 bash.
31. FIORUCCI was the first brand to mix newly-invented Lycra into its denim – unleashing the craze for "stretch denim" jeans. Elio wanted them to be as tight as possible, having been inspired by the sight of some young women emerging from a dip in the sea in Ibiza, clad in their wet and clingy jeans.
32. FIORUCCI turned jeans into one of the most sexy and desirable of fashion items, influencing the likes of Calvin Klein and Gloria Vanderbilt, who also built their mega-empires upon designer denim. "I was able to turn work clothes into something sexy. Fashionable jeans were born in the Fiorucci house," Elio proudly confirmed.
33. FIORUCCI then took the concept even further, with "disco' jeans" fashioned in butt-clenching fabrics ranging from see-through plastic to shiny vinyl and fluorescent cord.
34. FIORUCCI in its first incarnation favored only the skinny of the female species, alas, and Mr F was bizarrely old-fashioned in this respect: "To manufacture only small sizes is doing a favor for humanity," he once sneered. " I prevent ugly girls from showing off their bad figures.''
35. FIORUCCI was the first to employ trend spotters. Tuned-in teens were employed to jet around the world to identify and document the latest club looks.
36. FIORUCCI further accentuated the link between nightlife and and fashion, way back when, by inviting DJs to spin the hottest tracks on decks installed in the New York store.
37. FIORUCCI was admired for its groundbreaking retail and marketing tactics by the equally-pioneering fashion legend, Giorgio Armani, who described Elio as "a revolutionary".
38. FIORUCCI was all about instinct and spontaneity. This approach was once exemplified by Elio overhearing a female from a taxi company office communicating by radio with the driver of the cab he was traveling in. He liked the voice so much, he tracked its owner down and promptly hired her to work on reception at his Fiorucci factory.
39. FIORUCCI was a hardcore vegetarian and a champion of animal welfare.
40. FIORUCCI liked to only drink a meager glass of milk for his dinner, having been told by a doctor that not eating at night would make him live longer.
41. FIORUCCI never wore Fiorucci designs – Elio favored much more conservative, tailored clothing for himself.
42. FIORUCCI went on to expand its retail presence into various other locations around the world, including Sydney, Los Angeles, Tokyo, Hong Kong,and Rio de Janeiro. Its Beverley Hills branch was used as one of the settings for the ultra-kitsch film, Xanadu, in 1980.
43. FIORUCCI vanished from NYC when the store was closed in the 80s due to financial and management problems. The other stores soon followed.
44.. FIORUCCI was finally over in 1990, when Elio sold the past-its-prime business to Edwin International.
45. FIORUCCI the genuis died at the age of 80, in 2015, resulting in countless obituaries and tributes to Elio in newspapers and fashion magazines around the world.
46. FIORUCCI lives on, however, and was this year bought up and relaunched for the 21st century by the pant-tastic duo Janie and Stephen Schaffer whom, back in the 80s, unleashed the insanely successful high street undies chain, Knickerbox.
47. FIORUCCI will continue to tap into its positive vibes of yesteryear and, as the Schaffers recently told W magazine, will represent "spirit, optimism and happiness" for its audience of new converts and long-term fans.
48. FIORUCCI showcased its utterly post modern summer 2017 collection earlier this year, of predominantly skinny tees, knickers, sunglasses and jeans, within a characteristically cheeky campaign starring Georgia May Jagger.
49. FIORUCCI has hooked up once more with the Italian pattern maker, Venucia de Russi, who was with the brand the first time around. The original jeans designs have been tweaked and updated, but de Russi has remained consistent in her belief that they must, above all else, be sexy.
50. FIORUCCI is going to stay true to the spirit of its original retail incarnation by ensuring the imminently opening shops in London's Soho, then Milan and LA, will feature collaborations, pop-up events and, and live performances-a-plenty, making them places to hang out as much as places to purchase stuff. And in the gloomy Brexit-Trump-austerity times in which we live, the world surely needs some fiercely-frivolous Fiorucci fun with a capital F.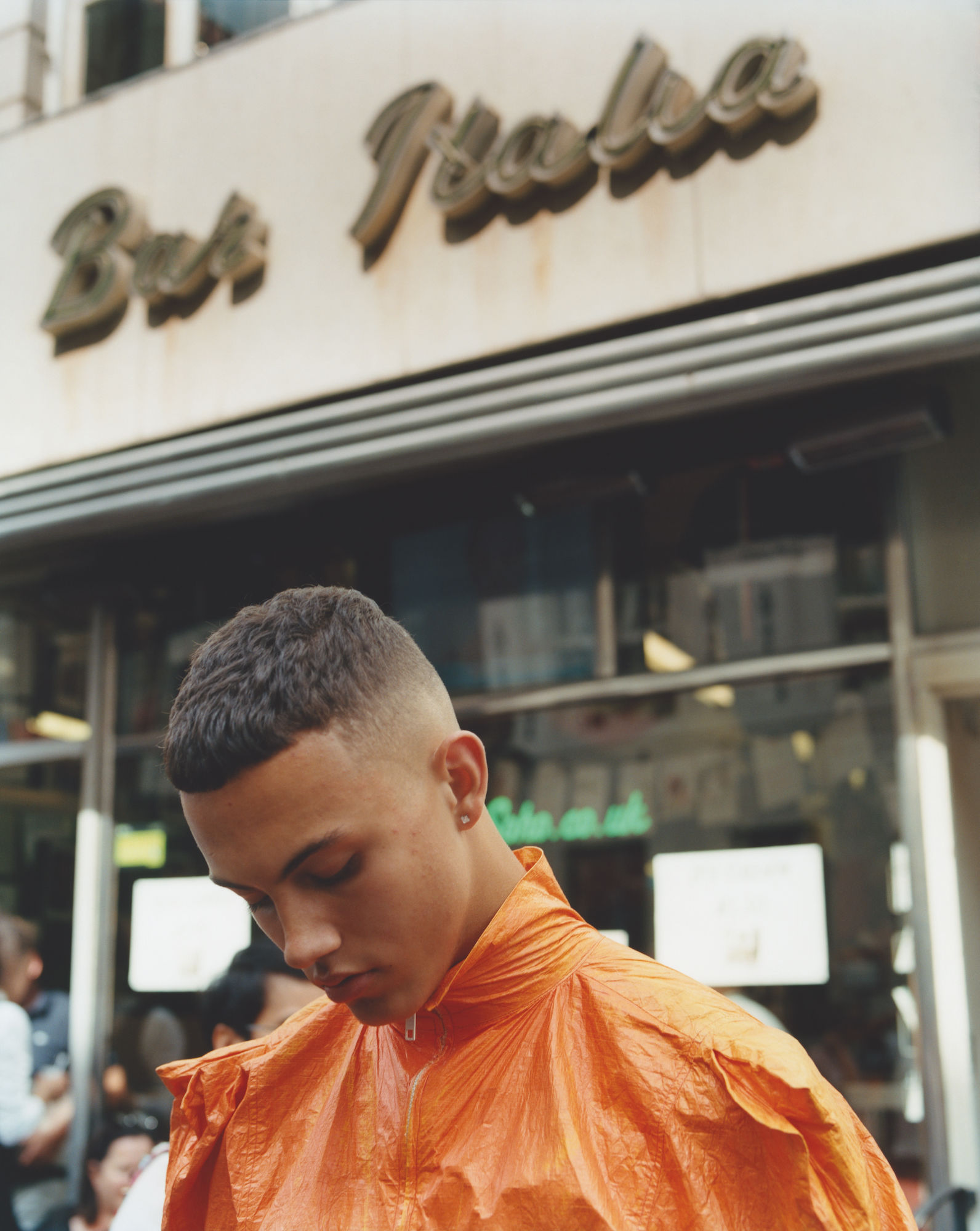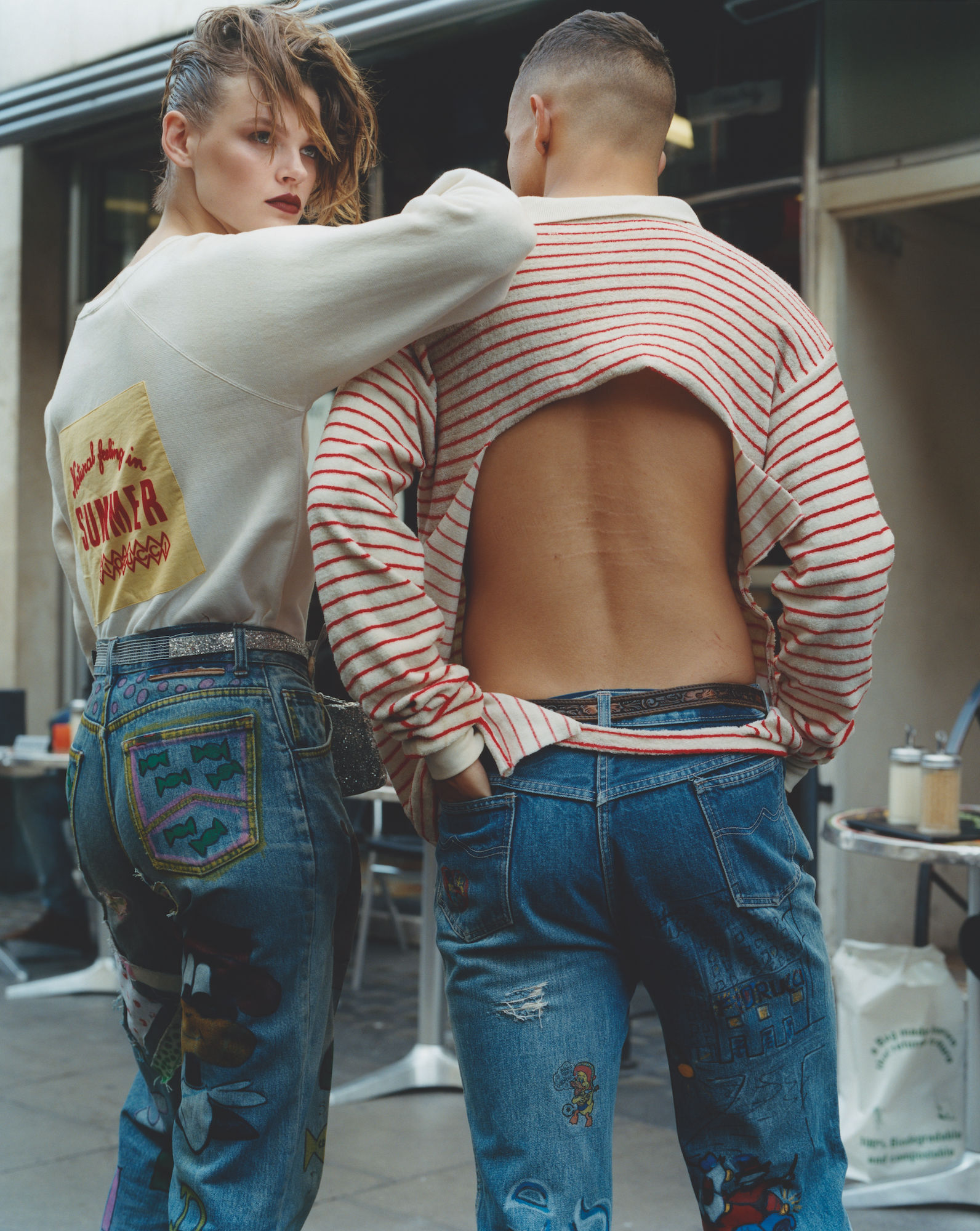 Credits
---
Text James Anderson
Photography Oliver Hadlee Pearch
Styling Max Clark
Hair Cyndia Harvey at Streeters using Bumble and bumble. Make-up Lotten Holmqvist at Management + Artists using M.A.C Cosmetics. Photography assistance Jack Day and Arthur Williams. Styling assistance Louis Prier-Tisdall. Casting director Angus Munro at AM Casting. Model Cara Taylor at The Squad, Luis Brooker at Select. Cara and Luis wear all clothing throughout Fiorucci Archive, earmuffs The Costume Studio.