Photography Rahil Ashruff
gianni lee is the modern-day basquiat painting skeletons on nyc streets
The deliberately crude figures are inspired by ancient African hieroglyphics.
Photography Rahil Ashruff
If you've spent any time in New York City recently, there's a good chance you've seen Gianni Lee's street paintings. The artist recently left his Los Angeles studio to spend the summer painting vibrant skeletons and aphorisms all over New York City's streets. So far he's painted walls, abandoned office chairs and refrigerators, wooden crates and even a trash cabinet — any surface that he sees fit.
In a city cluttered with street art, Lee's stands out for its simplicity — a few bold strokes of black marker over pink spray paint are enough to create his compelling skeletons. They seem to vibrate with energy, echoing the animated effervescence of Keith Haring's figures and Jean-Michel Basquiat's brazen epigrams.
As a multidisciplinary artist utilizing New York City streets as his canvas, Lee shares more than a few parallels with Basquiat. Both have created vibrant paintings about the black experience on the streets and on canvases; both have made music (Basquiat with his band Grey; Lee with DJing, remixes and original music), and both have made clothing (Basquiat painted found pieces like jackets; Lee co-designs the brand Babylon Cartel). When we meet Lee on Crosby Street in SoHo to join him for an evening of street painting, he's wearing a white denim G-Star jacket that he's painted with his pink and black skeletons.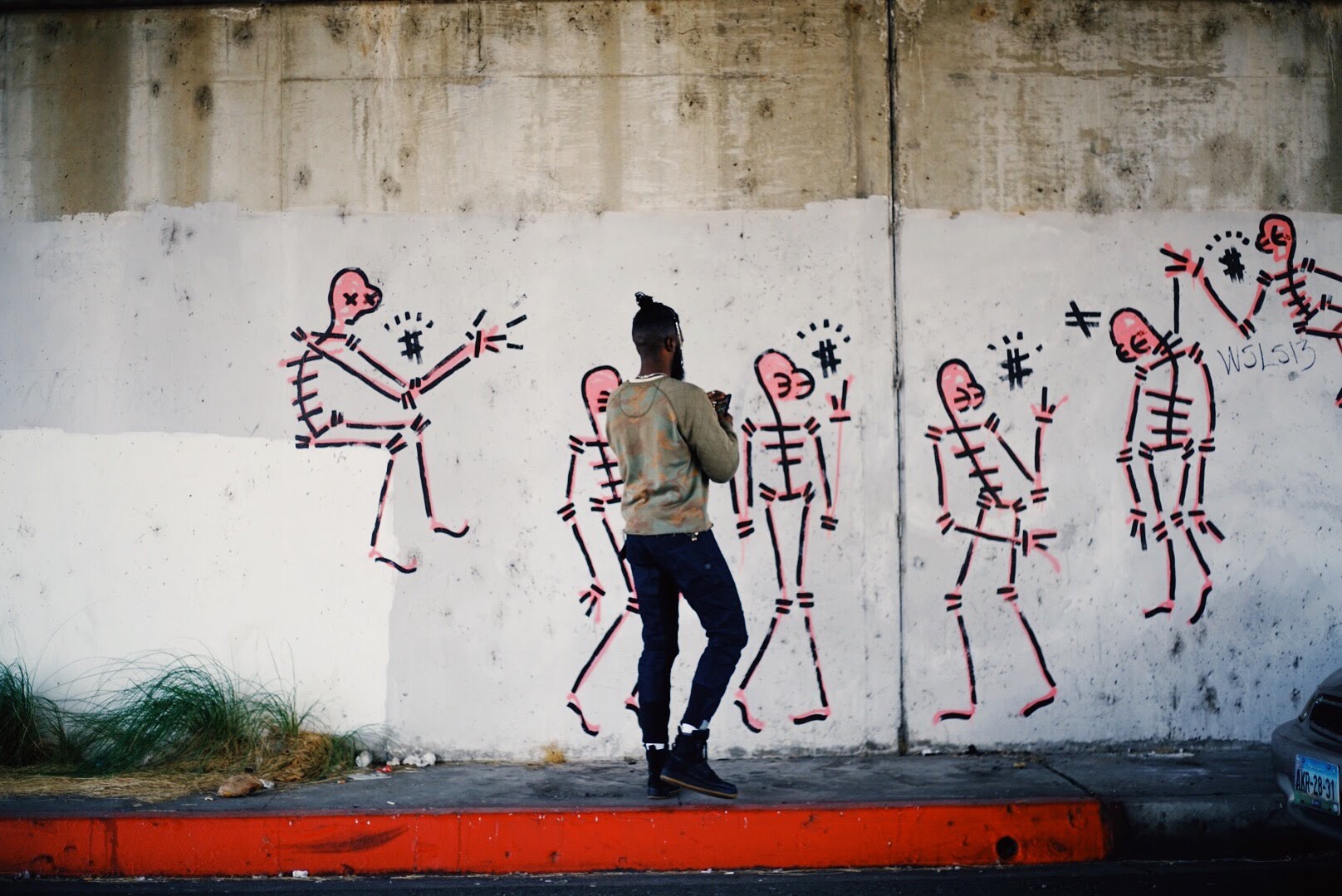 Like Basquiat, Lee sought inspiration and a platform to share ideas on the streets of New York. When he arrived in the city he caught a screening of Boom For Real: The Late Teenage Years of Jean-Michel Basquiat at the IFC Center in Greenwich Village, and felt a kinship with the then-emerging artist. "There was a method to his madness, he knew what he was doing. He was like, 'If I really want to blow this shit out of the water I need to be where it's happening,' and I really thought the same thing," Lee says.
Lee usually paints primarily on canvas, and has rented a studio in New York to work on pieces for his next exhibition, while at the same time exploring street art. His last exhibition, titled "They Sat Back, They Let It Happen", explored slavery and the evolution of oppression through institutionalized racism. It was, in part, inspired by Lee's wrongful arrest in 2017, which saw him placed behind bars for three days for a crime he didn't commit. His trauma is palpable in his paintings: "Hanging Man" depicts a lynching; "Make America Great Again" and "Solitary Confinement" show bodies being subsumed by technology and propaganda.
Where Lee's gallery pieces examined issues of slavery and mind control, his street paintings seek to break viewers from the spell he believes they're under, and to spark change. He says the skeletons represent lost souls. "Zombies, in essence, that still walk the earth in purgatory because they haven't been let into heaven or hell. So they make the city their playground and send messages about how we are all under a spell of the government and the higher-ups and how art and creativity can break us out."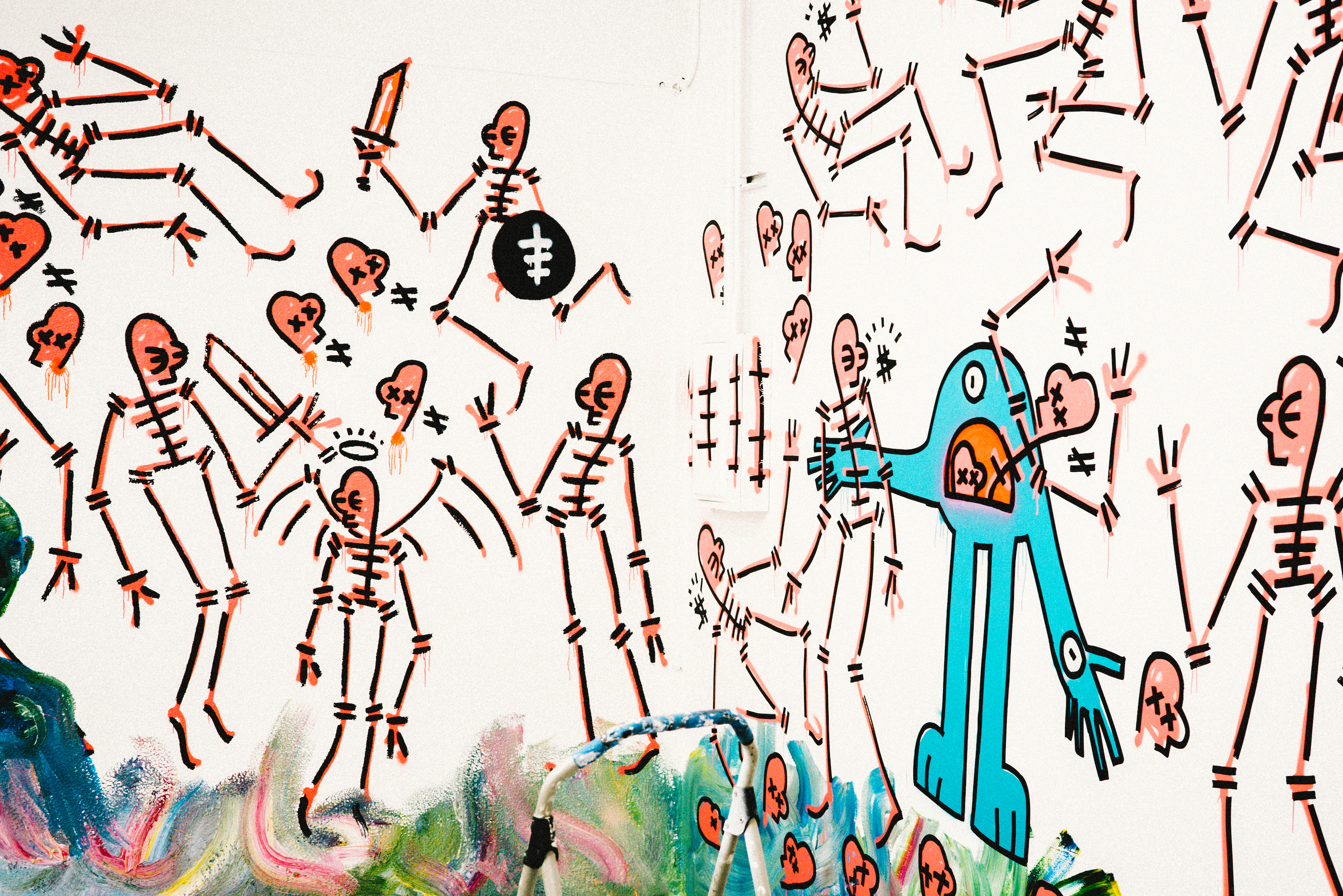 It's political, but also personal. We wander to the corner of Bowery and Broome Street, where another piece Lee painted – on an abandoned refrigerator with no door – sits on the sidewalk. His instantly recognizable paintings are all over it. "REPUBLICANS AREN'T REAL" is written on the back inside wall, and a skeleton figure dances on the side facing the street, next to a skull.
Lee likens his "deliberately crude and simple" skeletons to hieroglyphs, and says they're inspired by what he's been learning about medieval and ancient African traditions. "The way society is set up in America, it's made for me as a black person to not know about my heritage or where I'm from. So, the more I learn about both neighboring sides, the more I learn about myself."
He elaborates, "As a black person in America, I don't even really know my history. I could be from Senegal, I could be from Nigeria — I don't know. So I had to do the research myself to find out, and when I find out things, I put them in my art." In this way, Lee is reclaiming his identity through his art. "When you see these skeletons around the streets, that's like my own form of hieroglyphs. It's very multilayered and it means things to me. It's me telling my story."
The skeletons evolved from an earlier painting on canvas, of a man with cables protruding from his head. Lee says they represent lines of communication; "us not really being in control of what goes into our brain, and what goes out." Since he first started painting them on the streets at SXSW in Austin, TX two years ago on a whim, he's begun altering the figures — giving them swords, or a lone angel wing.
"I'm trying to train people to not expect monotony. Things will change. Like, the skeleton's cool, but, now you see one-winged angels around! What does that mean?! And now they're beheaded!" His work can be deeply embedded with meaning, or completely ambiguous — he revels in uncertainty.
By this point we've walked through to Delancey St, to another piece he's painted on a wall and a metal trash cabinet. Lee notices someone has added a wheat pasting of a tree below one of his skulls, and he's excited. "That's cool as fuck!" he grins.
Lee is inspired by the collaborative culture of street art, how it embraces spontaneity and work in progress. He mentions Kanye West's "Poopity Scoop". "We're getting to the point where you can literally put out whatever you want. I don't know where that came from or what inspired him to actually do that, but I could tip my hat to any artist who could be that brave to just put whatever out."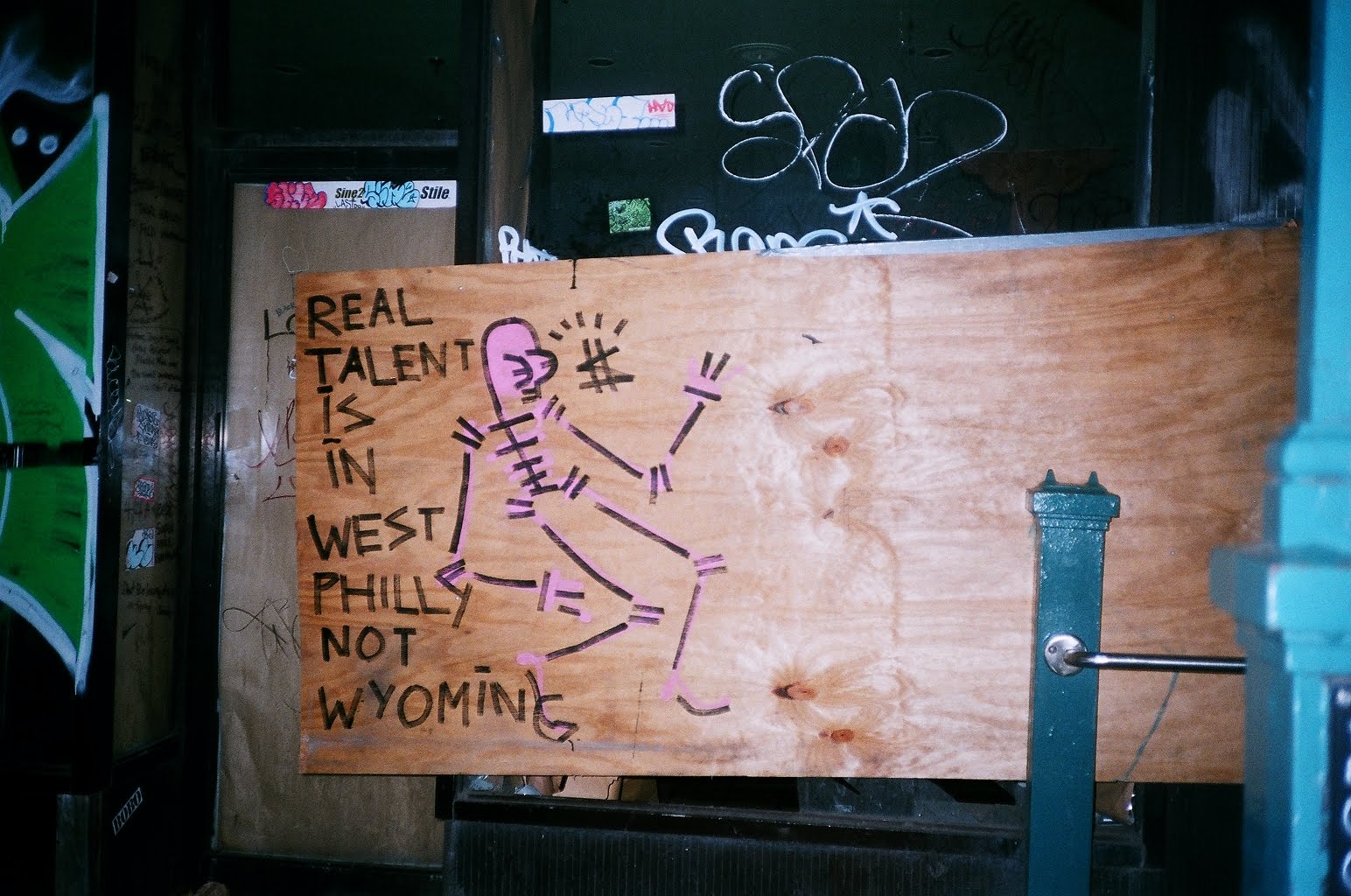 Around the time of Ye's release, Lee painted a piece featuring the line "REAL TALENT IS IN WEST PHILLY NOT IN WYOMING". It immediately comes across as a dig at Kanye, but Lee clarifies that it was aimed at the status quo. "I'm just not ready to accept something because I was told to accept it. Like, why so much attention on this one city just because of this one man, for this one period of time? I want to show people that the real talent is within ourselves. I think we have the power to make anything happen, and we need to start believing that shit! And not focusing so much on the status quo or what the media tells us."
Lee's vision is clearly resonating. He recounts being recognized by a fan while painting on the street in Bulgaria. Then, as if on queue, a lanky guy walking past stops to ask Lee, who's standing by his work, "Did you do these, uh, stick men?" Lee says yes and the guy's face lights up. "I love them, man!"
Lee is beaming. Human connection is more important to him than social media recognition. That's why he doesn't brand his street art with his instagram handle. "I think that's corny!" he smiles. "It's like I'm digitizing it." He adds that none of the artists he looks up to branded their work. What about Basquiat? "Yeah, but that was SAMO. You look at his actual pieces, his paintings, he didn't sign anything. I mean, maybe on the back. But it wasn't like... [overt]." He continues, "If Basquiat was alive right now, I don't think he would put his Instagram handle on his work. You know?" he smiles. "It devalues it, to me. To someone else, maybe not. But I want my art to live past the digital realm."
Fortunately his art is recognizable, so he needn't worry about branding. "I told myself early on, if I do enough of them, people will start to realize it's me, and it'll just spread like that." The fact that people are picking his pieces off the street and taking them home to put in their apartments says he's building that legacy.
It's like director Sara Driver said about Basquiat in Boom For Real. "He wanted to get his signal out, any way that he could." With his street art, Lee is doing that very thing.