this new exhibition is exploring the future of body modification
'A. Human' is an interactive art show endorsed by Kim K.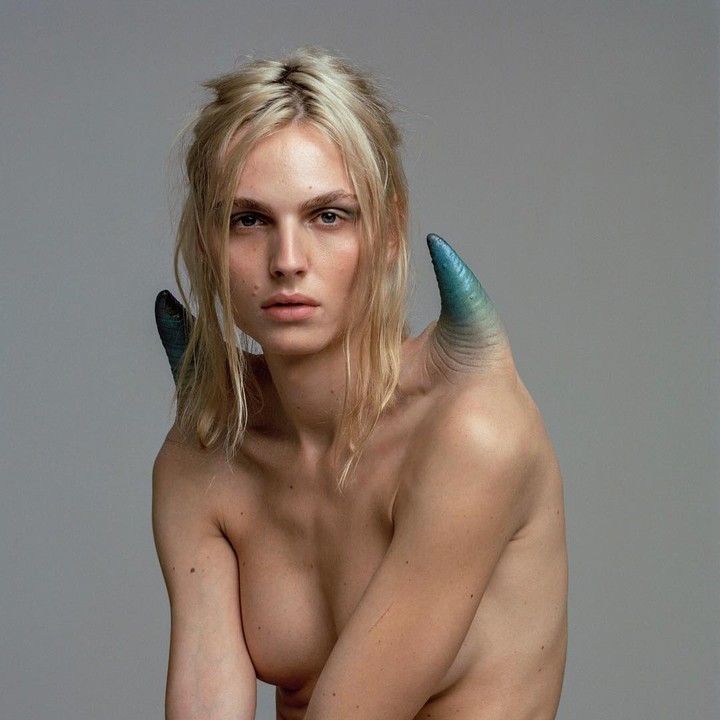 Photography Louis Banks. Via Instagram.
Body modification has become increasingly normalized in western society over the past few years. Pink hair, pierced noses and tattoos were once a symbol of teenage rebellion, but in 2018 modifying our appearance has become an accepted, and often celebrated extension of ourselves. So what next?
A new exhibition opening in New York on 5 September from Simon Huck -- the famed PR and Kardashian affiliate -- aims to answer this question. Collaborating with venerable creative masterminds such as make-up artist Isamaya Ffrench, designer Nicola Formichetti and theatrical director Michael Counts, A. Human will be an interactive examination of the idea that, as technology changes, so too will our relationship with our bodies, with modifications becoming as interchangeable as the clothes we wear.
This weekend, Kim Kardashian posted a series of Instagram Stories teasing the show, in which she wore a flesh choker around her neck that moved to the rhythm of her heartbeat. Tagging the official A. Human account in said stories, one would imagine this will be a piece found in the exhibition. Speaking to Vogue, Nicola Formichetti discussed the motivations behind exploring this intersection of art, fashion and human expression. "Fashion is more than the clothes you wear, it's also the choices you make about your body and how you present yourself. I like pushing the boundaries of what can be considered fashion and finding the edge of self-expression."
Running for four weeks, A. Human promises to be a proverbial Insta-kingdom. Not that it's just about the social media flex. "Yes, sharable content is important, but there is also a desire to go to something that makes you ask questions when you go out the door," Simon told Vogue. Okay, true, but at $40 entry fee I'ma need to get a good pic for the gram.
This article originally appeared on i-D UK.