korean techno queen peggy gou is launching a fashion line
The Berlin-based DJ talks about Asian visibility, starting her own record label, and why her fans love giraffes.
Photography Jungwook Mok
If you watch one of Peggy Gou's DJ sets live, chances are you'll see her fans waving giraffe cut-outs, their shoes or maybe even Korean flags in the crowd. Labelled "the most beloved DJ on earth" by Fader, she's still unsure how she got such dedicated fans with such a random assortment of props. She does, however, intend to continue to ride the wave of support by launching both a music label later this year, and fashion line next year.

Gou began DJing and producing while studying at the London College of Fashion, but it wasn't until 4 years ago, when she relocated to Berlin, that she focused on it. In 2016, Gou announced in an interview that she set out to become a DJ with one major goal: to be the youngest and first Korean woman to play Berghain, Berlin's most exclusive nightclub. By the end of that year, she had achieved that goal, along with releasing four EP's.
Since then, the 28-year-old has continued to grow her cult-following with her eclectic dance mixes. She played more than one hundred live gigs in 2017 and has performed alongside the likes of Moodymann, The Black Madonna, Jackmaster, and DJ Koze. This year has also been similarly hectic for Gou. She released her EP, "Once," in March, played in Coachella in April and has a 2018 tour date list that almost puts her performing in a different country every night.
We caught Gou on one of her quick trips to New York, where she was playing at the Brooklyn launch party for Revlon's "Live Boldly" and "Lash Loudly" campaigns. "I'm here for just 24 hours," she says. "I woke up confused like, 'am I in New York?'"
After that night, she was headed to Croatia to play at Sonus Festival and then back to Berlin, briefly, where she is based. "If I'm really honest with you, I say that I love Berlin because I'm not there all the time," she says. "If you want to live in Berlin, you have to leave, if that makes sense."
Before moving to Berlin, the unofficial techno capital of Europe, Gou lived in London for 12 years, working as as the London correspondent editor for Harper's BAZAAR Korea after her studies. She moved from Incheon, South Korea at age 14 but visits often. "I'm actually going there next month for some events and a festival. Plus, I've already been there two times this year," Gou says.
Her Korean heritage is something she's recently learned to embrace more and more. This year, she featured her voice for the first time in her song "Han Jan" and chose to sing in Korean, rather than English. "I was trying it in different languages. But then I thought, why not in Korean?" She says. "I was a bit shy about it but I'm very happy I did it. I'm proud to be Korean and a lot of Asian people come to me at shows. Every time I see them I'm like 'yes, brothers', 'yes sisters!'"
One person brought a Korean flag to her show and she posted it on her Instagram. Afterwards she says the "new thing" from her fans was to bring Korean flags to her shows. She speaks with pride about representing Asian woman in the electronic music category, a category that has a long way to go to reach gender equality. "I think Asian women have this thing where they're like 'She's Asian, I'm Asian'," she says. "I get that Asian support and I think it's very precious. They're like 'go kill it sister'."
But Korean flags aren't the only props people bring to a Peggy Gou set. Since one incident in Glastonbury, her fans have continued to raise their shoes and yell "Peggy Gou, Peggy shoe" while she performs. "I was first like 'What's going on?'" she laughs. "I still don't know how it happened but now everywhere I go people say 'Hi' to me with their shoes. Apparently some people think shoe is the only word that's close to Gou."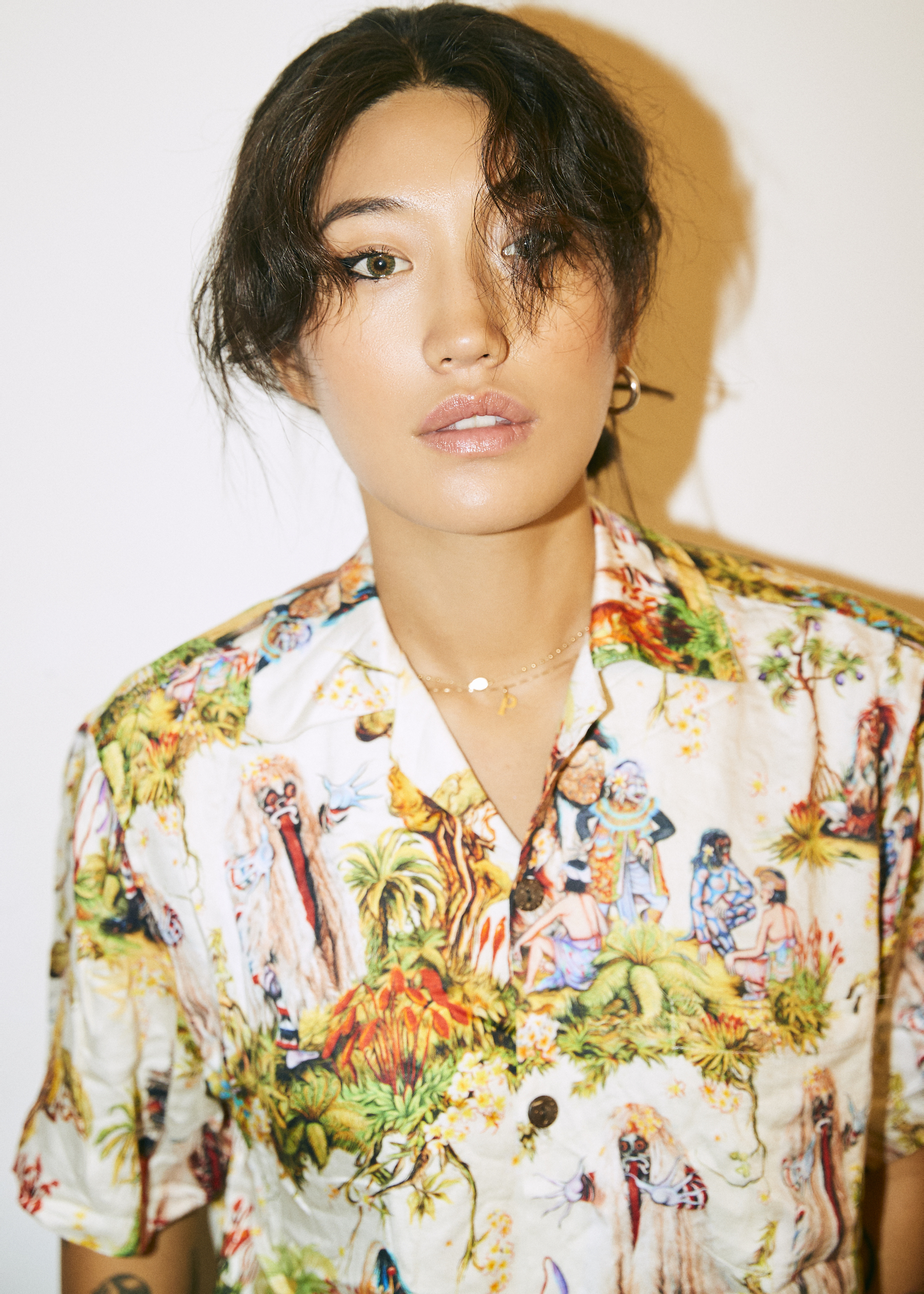 Then there's the Giraffes. But she has more of an idea on why fans like to bring Giraffe toys and cut-outs. "I'm very hyper and giraffes remind me to calm the fuck down," says Gou. "They make me happy. They are just beautiful creatures with their long neck and eyelashes and purple tongue." Her obsession started when she was younger and has blossomed into a two-meter giraffe toy in her home, a huge giraffe tattoo on her leg and "thousands" of other Giraffe's she has been gifted from around the world. Something she says happened everywhere she went after her agent put giraffes down on her rider secretly.
It's fitting then that her fashion brand, launching next year, will be called Kirin, meaning giraffe in Korean. While she's always been interested in fashion, it wasn't until she was DJing for an Off White event last year, that the opportunity arose. After that night, New Guards Group (NGG), the fashion production house of Off White, held a meeting with her and asked her to create a brand consisting of things she would wear. It's launching as a high end, streetwear label for women, but will become unisex in the future.
But she hasn't always embraced her eclectic style. "When I first started DJing I wanted to look as serious as possible," says Gou. "I used to dress up in just a white t-shirt and denim but now I know fashion is just part of me." For the Revlon event, Gou was wearing a full-length patterned button-up style dress, something she said she wouldn't usually wear "but should".
She was also super excited to be a part of a beauty event. In Gou's words, makeup and her "can't be separated". "A lot of people ask me what I do before my gig," she says. "I prepare my music but I also have to prepare my face too." She had just gotten a tattoo at the event, to add to her "50 others". It was a small match on her arm and she was eager to show me it. "My parents used to hate my tattoos but now they've just stopped counting," she says.
Gou's signature style both in her outfits and music clearly is what attracts her devoted fans. After one-minute speaking with her you find yourself firstly wanting to give her a giraffe and secondly wanting to play her music on repeat. She effortlessly sets trends by just being her authentic self, embracing her Korean heritage, giraffes and her quirks. She's also hilariously blunt. She describes playing at Coachella this year as "amazing" but also "posher" than any festival she's been to and with a "family vibe." She then goes on to tell me about the buffet in the VIP area, which she loved, but was disappointed in when she discovered she could only go one round.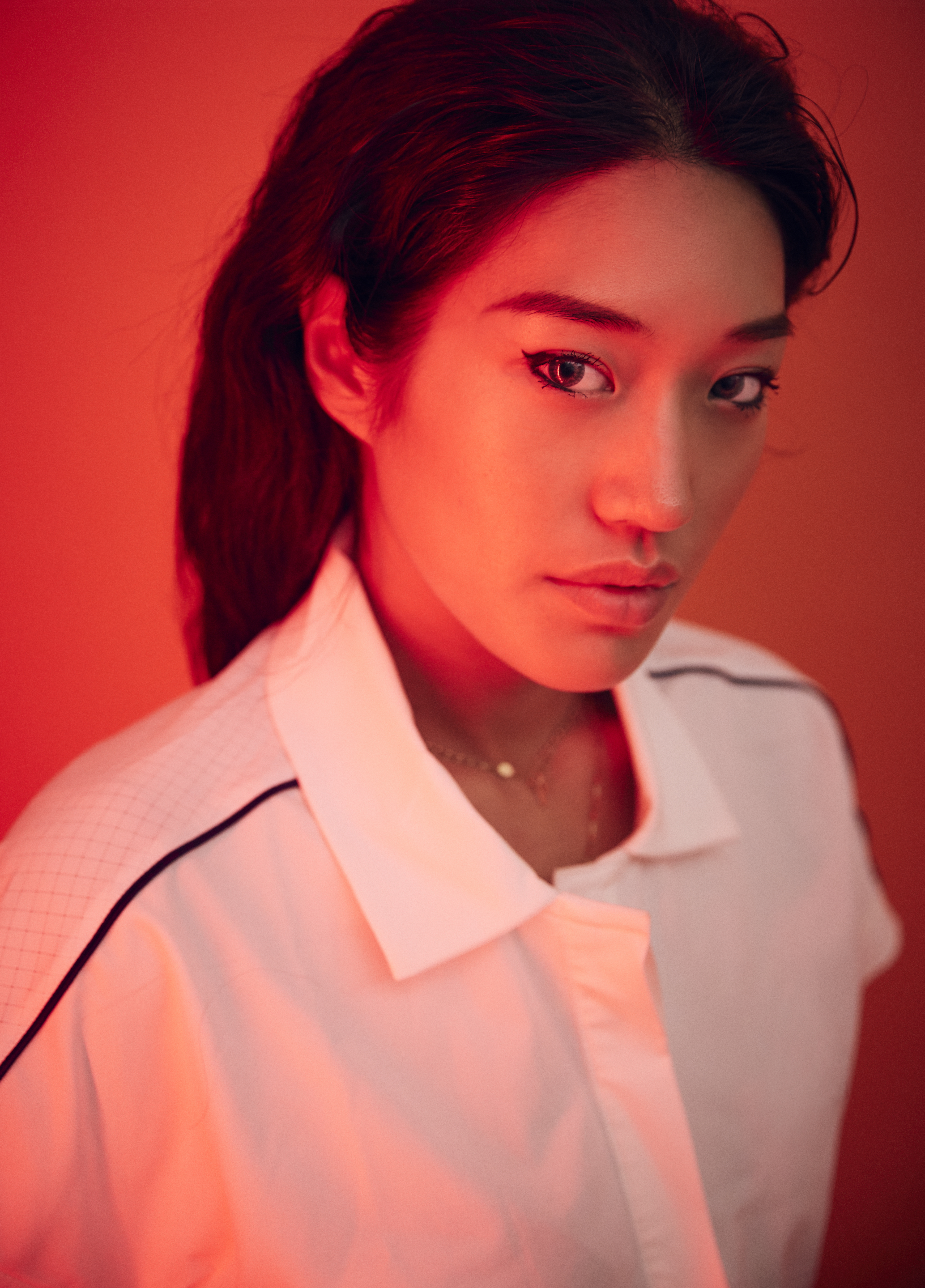 It will be this magnetic energy that will attract a devoted fan base for everything Gou does. Along with the launch of Kirin next year, she also hints that she's launching her own music label much sooner. Its name, "Gudu", means shoes in Korean but is also a play on "Gou do" or, in her words, "Peggy Gou does.""I realized I wanted to be my own boss with my own music," she says. "At first I wanted to have just my music but now I think people would like to know what kind of artists I support."
She's looking to support Asian artists and give them the opportunity to play shows out of their country. But she's also open to any artists from any genre. "Music is music so if I like it, you're signed," she laughs. "If I like it then that's it."
Watch out for Peggy Gou as she travels to festivals probably near you, and don't forget to throw her a giraffe. Chances are we'll all be wearing her clothes and listening to her signed artists in a few years anyway.