faye dunaway gives an oscar-worthy performance for gucci
She plays tennis with Soko in a lace tracksuit.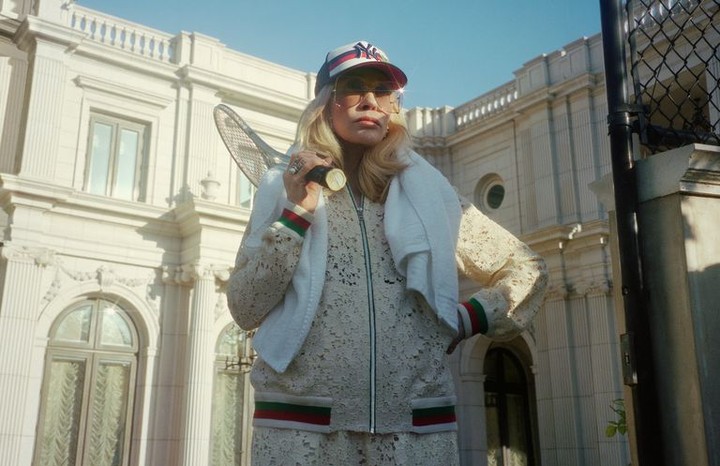 Image courtesy of Gucci.
Academy Award winning actor Faye Dunaway plays a chic (grand)mother in Gucci's latest campaign video, shot by Petra Collins in Los Angeles. Essentially, she gets to live one of our possible dream lives — shopping on Rodeo Drive in a large hat, walking arm in arm with Soko, and being attended to by a series of maids. Dunaway and Soko lounge by the pool, fully clothed in exuberant designs by Alessandro Michele, and then play a swift game of tennis, for which Dunaway wears a lace tracksuit and a trucker cap (as one does). For the denouement, she presents Soko with her very own Sylvie handbag.
Most of our more senior family members have never done anything like this, preferring instead to make macaroni cheese or shout repeatedly at the television. But then, most people are not Dunaway, who has been nominated for an Oscar thrice, and won it once, alongside a host of other awards. Dunaway is famously reticent about making public appearances or giving interviews, saying "I kind of like to be alone and do my work and, you know, be focused on my own things." Which is why a glimpse of her is so exciting.
Tagged: