It's time to expose your bra
Take off your top because shirts are over.
|
14 November 2019, 5:05pm
Photos by Mitchell Sams.
As designers sent their spring/summer 2020 collections down the runway, there was one thing that was notably missing — shirts. From Tom Ford's futuristic bralettes to Mugler's avant-garde brassieres, it appears tops are the unnecessary garment of the new decade. It's a trend that has been openly embraced by those like Bella Hadid, who has been spotted around the world sans shirt, and of course, Katie Holmes, who's cashmere bra sent the internet into a frenzy.
Even before the invention of the modern bra in 1914, women have been expected to keep their undergarments hidden. Exposing one's bra was the mark of a promiscuous women even well into the 90s. The social faux pas was even a plot point in a 1996 episode of Seinfeld, with Elaine calling a woman who wears a bra in public a "menace to society." A year later, in an op-ed for the New York Times, writer Constance C. R. White declared that "any mother worth her good-parenting badge [should] tell her daughter that exposing one's bra is tacky thrice over."
But that didn't keep women from publicly wearing their lingerie. Bras were embraced among countercultures like the hippies, who in the midst of the 60s sexual revolution opted for stringy bikini-like tops and punks in the 70s would rock strappy bondage-inspired bras. Madonna notoriously wore her iconic Jean Paul Gaultier cone bra on stage during her Blond Ambition Tour in the 90s and brands like Vivienne Westwood and Versace brought high-fashion bras to the runway before that, but they were still presented as provocative, titillating, and rebellious.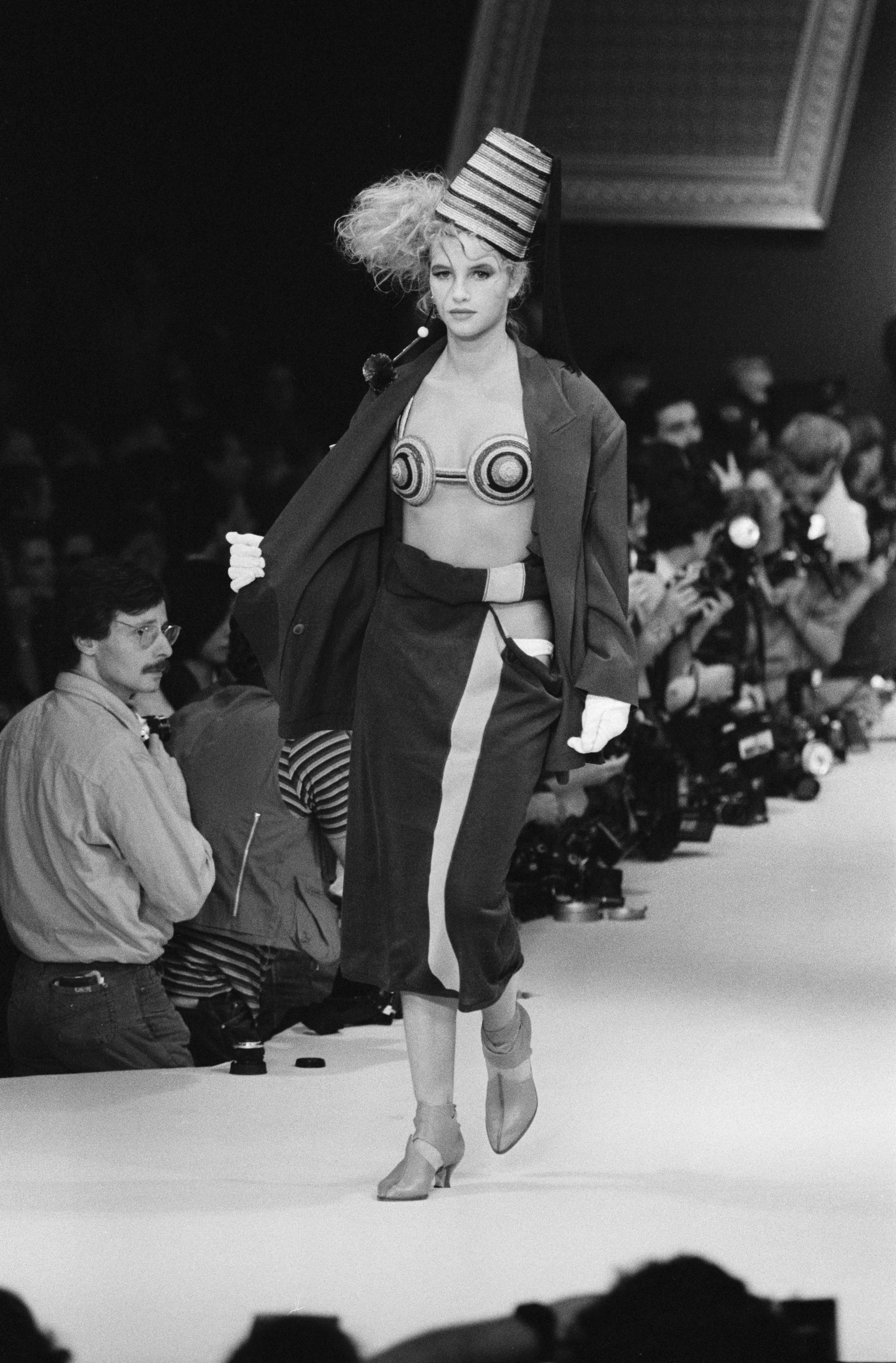 "The bras from the late 80s into the 90s by Gaultier and Versace were a highly sexualized exposure of undergarments that was very much predicated on the view of the dominatrix or the vixen," explained Emma McClendon, an assistant curator at the Museum at FIT. "They were highly-stylized in a way that's very different than today."
As McClendon explained the athleisure trend that dominated the past decade "changed what is commonplace exposure of the body on the street." Crop and bra tops in the 90s, often worn by pop stars like The Spice Girls and TLC, helped make underwear as outerwear more common, but not like they are today. Wearing workout clothes outside of the gym, helped usher in a new acceptance of sporty bras as everyday tops, while just two decades ago, female athletes were shamed for even showing their bras on the field.
Now, women have gone beyond just wearing their gym gear to the store, they're wearing all types of lingerie in place of shirts, from intricate corsets to basic bras, whether they're on the streets or the red carpet. Celebrities like Zendaya and Kristen Stewart have been wearing their bras with oversized blazers and trousers, adopting bras as a new piece of their power suits.
"It's provocative in a very agency-driven statement of challenge and in the use of transparency and exposure to show the power of the body and of being in control of what you expose or don't expose," McClendon, who is curating the upcoming exhibit, Power Mode: The Force of Fashion.
But even without showing your skin, exposing a bra can make a statement. Brands like J.W. Anderson and Random Identities are putting bras on top of their clothing, while designer Shayne Oliver turned bras into leather handbags for Helmut Lang's spring 2018 collection. "Bras are fusing with knitwear, with jewelry, all sorts of different elements," said McClendon. "There's a very conscious attempt to challenge the gendered and conventional forms that we see in clothing. And using clothing as a tool to break down barriers and to challenge perception." So whether the intention is fashion, feminism, or both, wearing a bra can be a symbol of power, especially in a society still set on policing women's bodies.
Much like the visible thong, the exposed bra marks a growing trend of women throwing the rules of what society tells them they can wear to the wind: clothes have gotten sheerer, nipples have gotten freer, and shirts, well they will just get in the way of bras.