this is the most important lgbt film you will see in 2018
The Wound is a powerful South African story that explores sexuality, class, race, and ritualism.
Fledgling director John Trengove didn't intentionally set out to make one of the most thought-provoking and visually arresting films of 2018. "It was circumstantial," he admits. The filmmaker was previously known in his native South Africa for television shows such as Swartwater and Shuga, but had been holding off making his first full-length feature. "I was invested in making a certain kind of film that was provocative, that was transgressive, that challenged an audience. These are generally the more difficult kinds of films to make."
He certainly found the right vehicle in Inxeba (The Wound), a profoundly confronting film about a same-sex relationship that takes place during the ancient Xhosa ritual of circumcision (ulwaluko). Set on a remote mountain in South Africa, a number of initiates undergo the procedure of ulwaluko -- viscerally represented in the film by the tearing of a piece of card -- and then spend several weeks under the guidance of elder caregivers who help counsel the young men on their physical and emotional journey into manhood.
"I was invested in making a certain kind of film that was provocative, that was transgressive, that challenged an audience." John Trengove
Played beautifully by Nakhane Touré, factory worker Xolani travels to the mountain ostensibly to care for an initiate called Kwanda [Niza Jay], an insouciant, middle class teen who, Kwanda's father tells Xolani, is "too soft, [he's] been spoiled by his mother". It quickly becomes clear that Xolani is actually returning to the mountain to continue a long-running affair with fellow caregiver Vija [Bongile Mantsai], a married father of three. Their continuing relationship is viewed by the watchful eye of Kwanda, who challenges the couple's unwillingness to come out.
Set within the hitherto secretive Xhosa community's circumcision rituals, it's a brave place to explore homosexuality, and particularly contentious given that while John is gay, he's also white. "I kind of knew right from the beginning that by doing this I was taking on a lot of backlash, potentially there would be a lot of criticism that I would have to legitimately face," he says. John was approached about The Wound by fellow filmmaker Batana Vundla, a Xhosa man who wanted to base a film on the novel A Man Is Not A Man by The Wound's eventual co-writer Thando Mgqolozana. "It was Batana's connection to Xhosa culture that opened up the idea of the initiation and this closed community of men and the idea of a same-sex desire story that plays out in that context," says John. "Immediately it was exciting to the both of us and terrifying to the both of us. We could see how this could be provocative, how it would challenge people in all sorts of different ways, how it might be divisive but also how it could be a very exciting film." He's fully aware of his privilege as a white man in being allowed into the world of the Xhosa community. "For me, as an outsider, it was a humbling experience every step of the way. I got to go on an extraordinary journey not necessarily knowing what the outcome would be and I think I came away with a respect for the culture and for the subject matter. It's incredibly complex, this ritual -- where it finds itself in contemporary society, what it means in the bigger cultural spectrum. There is so much to say and the film is a small sliver of a perspective on that. It was the hardest thing, but also the most rewarding thing I've ever done."
The casting of the film's lead of Xolani, is another circumstantial but inspired piece of happenstance. Known in South Africa as an openly gay musician and author, John initially approached Nakhane to score The Wound's soundtrack.
Having been through initiation himself, Nakhane was immediately open to the themes of the film. "I remember when I went to initiation -- and yes, the circumcision scene was shot so realistically," he winces. "At that point in time I knew I wanted to write a book one day and I thought it would be based on the initiation. But then Thando wrote A Man Is Not A Man and I was like damn it! So when I read the script that John sent to me, I was like, 'Oh it's come back, but as a different thing'. I didn't know I was going to act at that point in time. I was excited that I would compose the music for a film that I really liked the story of." Upon meeting Nakhane, John knew he'd found his lead. "I was very interested in working with Xhosa collaborators, but when I met Nakhane I immediately felt like he was Xolani. Something clicked in that first meeting. He, in many ways, is an instinctive method actor, by which I mean he makes the character very real for himself. He didn't put on a character, rather he stripped away something to connect with the raw emotional truth of Xolani."
Nakhane's performance is really the heart of the film; still and composed even during the final shocking moments, it's through the character of Xolani that we are introduced to a world where homosexuality is still simply not an option. "I was born in a rural space, and I remember those men who were like Xolani, those much more quiet men who had murmurs around them. The word gay didn't exist but this sense of 'effeminate' surrounded them and I remember how people were suspicious of their character and their credibility. So when I was preparing the character I wanted to go back to those people and try to remember how frightening it must have been to be seen like that. People who are seen as something 'spoilt' in a society that values masculinity that is very two-dimensional". The Wound explores, explicitly, themes around tradition, sexuality, homophobia, class and masculinity: Vija's character is a working class hyper-masculine male who creates a sharp contrast between the thoughtful stillness of Xolani and the impertinent precociousness of Kwanda's uber-confident characterisation. The impetuous Kwanda creates palpable tension between the three leads and adds another layer to an already intricate story. The cocky initiate sees sexuality in very prescriptive turns, taunting and pushing Xolani and Vija to deal with their affair in a way he wants them to, rather than the way they might do. "He really lacks empathy," says Nakhane of Kwanda. "He's also very young and he only has one idea what it means to be "free". For Xolani to not see that leaving his community would be the right thing for him, he can't understand that. He can't even imagine that Xolani doesn't even identify as gay, which is another topic. Do these men identify as gay or are they men who just happen to have sex with other men? He's coming with this metropolitan idea of what it is to exist in the world and to be free and to be happy and he has no interest in that community."
"We defied conventional wisdom and kicked against what was expected of us; by the industry, by the culture at large." John Trengove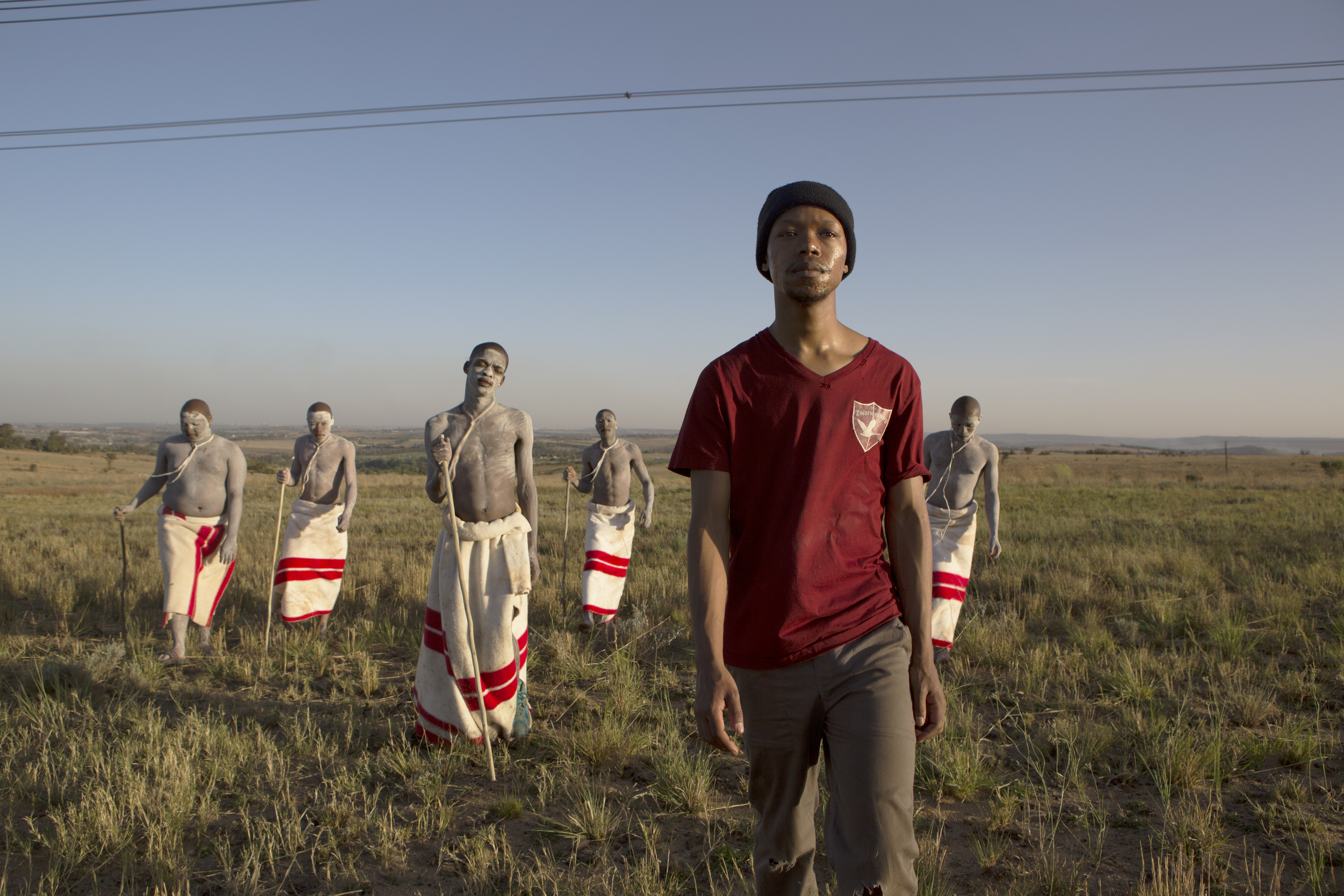 The film has, predictably, courted controversy; the South African Films and Publication board initially gave it a 16+ rating, before making it an X18, meaning the film could only be watched in sex shops. In March the Film and Publication Tribunal re-classified The Wound as an 18+ and it returned to cinemas. Despite South Africa having, generally, a positive attitude to homosexuality (gay marriage is legal there), The Wound has caused severe upset; it got so bad for Nakhane that he was forced to leave his homeland and relocate to London. "I had good friends say, 'No, you've gone too far', which was very interesting to me," he says. "We expected some level of backlash but it was surprising the level of effort that people took to show you how much they hated this project and hated you and go on to detail how they were going to make sure that you were not alive tomorrow. That was interesting to me." In many of the cases, says John, the anger emanated from people who had not actually seen the film. "It was the idea of the film rather that what the film actually was that was triggering a lot of this stuff."
"We expected some level of backlash but it was surprising the level of effort that people took to show you how much they hated this project. But as much hate, the film was also received with defiant love." Nakhane Touré
In spite of such strong feelings towards The Wound, this brave, bold film has been rightfully lauded, nominated at Sundance and winning awards at Outfest and the London Film Festival, finding champions in numerous communities who have helped spread the word of this important, necessary, challenging piece of filmmaking. "For me, the success of the film was the power of the feminist black women and the queer, mostly black world who supported the film," says Nakhane. "That changed me. As much as people talked about the hate that the film got, people didn't write as much about the love that the film got. It was so defiant. In reaction to the hate, people would love the film even more. People would see it three times just to piss people off!"
So what is the underlying message of the film? Did they want to challenge preconceptions, spark discussion, invoke change? "It's so hard to find a definitive idea for the film," says John. "I feel like what we did was, on every level we defied conventional wisdom and kicked against what was expected of us; by the industry, by the culture at large. There is a definite spirit that characterised the film and the conceptualisation of the film and it stands as that." Both Nakhane and John hope The Wound serves as a call to action for other filmmakers and creatives. "Be brave," John insists. "Trust those counterintuitive impulses and don't listen to conventional wisdom because it's always wrong!"
The Wound is out now and available to watch on Video On Demand.