fecal matter are redefining beauty with their alien realness
​Designers, musicians, curators, artists, otherworldly beings, Hannah Rose Dalton and Steven Raj Bhaskaran's Instagram account will blow your mind.
Hannah Rose Dalton and Steven Raj Bhaskaran first met at sewing school in Montreal. Steven identifies as gender non-binary: a thinker, a teacher, and a trans-human. Hannah thinks of herself as an activist and an alien. Steven was born in Montreal, but lived in Guyana for the ten years of their life — an oppressive environment, surrounded by extreme poverty. Coming to Montreal exposed Steven to the possibilities of self expression through fashion and art. Hannah was born in New Zealand but grew up in Montreal. They met, bonded over their distaste for the ordinary, and banded together to create Fecal Matter — the banner under which they make paint splattered and corseted clubland clothes, pretty intense music, and surreal photoshoots serving otherworldly looks (think yellow reptile contact lenses, pink wigs, veinlike marks streaked down their faces, and shoes made out of prosthetic flesh).

Yes, their name refers to faeces, but don't let that put you off this extraordinary pair. "We want to provoke Instagram and all of it's conformist ways," they say. "We want to challenge our viewers to expand their minds. We hope to show that you don't have to live by society's rules, you can create your own lifestyle, and be free. Growing up, we were never exposed to anything like this, so we simply did not know such a life could exist. Hopefully, we can inspire people people to create their own freedom." Here, they offer their notes on beauty.
Steven Raj Bhaskaran
"I first became aware of the importance of beauty when my neighbor in Guyana got acid thrown on her face by her husband because she cheated on him. This woman was very popular. Then she began isolating herself from the neighborhood and from that moment I began to understand the importance of beauty and how desperately it needed to be challenged for those who will never fit in.
In my early teens I was overweight. I hated my body so much. I would avoid mirrors at all costs. Looking back, I suffered a lot from emotional eating. My mm did it, my sister did it, so naturally I also did it. My reasons was different then them, I was eating away my fear of being gay. I started realizing that I liked men and I was afraid of coming out due to how conservative my environment was. When I hit 14, I started going to the gym, but I took it way too far. I would exhaust my body. It was a battle. Now I've finally found some type of balance. I still have bad eating habits and I still obsess over my body, but I've found peace with what I look like. I've learned to love myself for all of what I am. Right now, I'm going through a new journey regarding my gender. My self image is still evolving.
I've always had a hard time dealing with the pressure of gender beauty ideals. I never felt comfortable with my gender. I tried to look like a cis male when I was younger. I looked the part, but it never felt right. I began playing with makeup. I just never had the courage to wear it in public or even outside of my room. I was so afraid it would trigger even more bullying than what I was experiencing. It was also only when I met Hannah that I was able to start experimenting and walk outside of my room with smudged red eyes and an overdrawn black lip. Now, I have fun with it and have developed enough courage to walk on my own to meet up with Hannah. Hannah has helped me a lot because she loves me no matter what I look like and is very supportive of me in my journey.
We receive a lot of hate — online and on the street. People don't understand what we do, they want to paint the picture that we are a white privileged art duo, when in reality, I am half-Sri Lankan and half-Guyanese. Still today, I endure extreme violence due to my skin color and gender expression. How we deal with the hate against us is we turn the pain into creation. When we feel hurt, we escape into our world and we fight back with a new look or photoshoot concept.
We started Fecal Matter in order to challenge censorship. We wanted a platform that would enable us to express ourselves freely without any limitations. Honesty is our main objective. We hope to promote the truth; the truth about the fashion industry, the human experience, and our reality.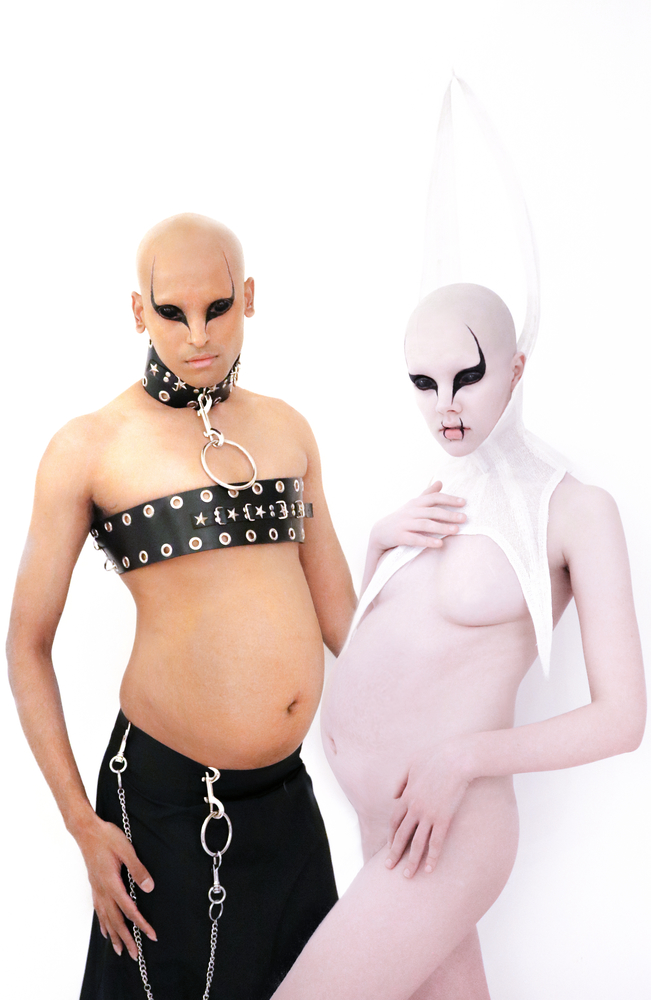 Hannah Rose Dalton
I grew up wearing a very strict school uniform. I didn't have a choice, but to be honest, I was always thankful to have a uniform because nobody could make fun of me based on what I was wearing. The other students couldn't judge me for what I didn't have because they were all wearing the same thing. It made us all equal. But then leaving high school, I didn't have a visual identity and I had a hard time expressing my inner self onto my outer self. The media forces a singular vision of what a woman is supposed to look like upon us.
For a while, I bought into that soulless visual identity to mask my inner self. It was almost like a protective layer in public. But in my room I was sewing, creating, doing research, things I wouldn't dare express to others at the time. I was afraid of judgement, exclusion, questions, and loneliness. A few weeks ago, I went to a high school reunion looking how I do now. Funnily enough, most peopled appreciated and understood, but many were also concerned and asked if I had an addiction problem or was on drugs.
I actually didn't use makeup until I was 18. Growing up I perceived makeup as a mask to disguise my true self. The media presented makeup to young girls as way to attract men and look more like a "desirable woman." I hated that and didn't want anything to do with products that was promoting seduction. I was a career girl and wanted to avoid misogyny. It was only when I met Steven that I discovered the fun side of makeup, how it can be used as a tool to express.
Beauty can mean anything you want it to be. It's all perception. It has nothing to do with physical appearance and everything to do with how you feel on the inside. A beautiful mind is more important to us than a beautiful body. Beauty itself can be so limiting, that's why we like to focus on areas that are far away from it. Areas that don't depend on beauty to function. We find freedom outside of what is considered beautiful and attractive. When we say areas, we don't mean an actual physical location, we are talking about an emotional place. Places in our minds that are never visited due to fear. We find beauty in what can normally disgust the general public. We find beauty in our wounds and our injuries caused by violence and abuse. It helps us heal to turn the negative into something positive.
Steven and I help each other in every single way possible. It is a challenge being so close to someone and working with them and being in a relationship with them as well as having that person be your best friend. It creates a lot of dependence on one person but that is something we have learned such valuable lessons from. We have helped each other become better human beings.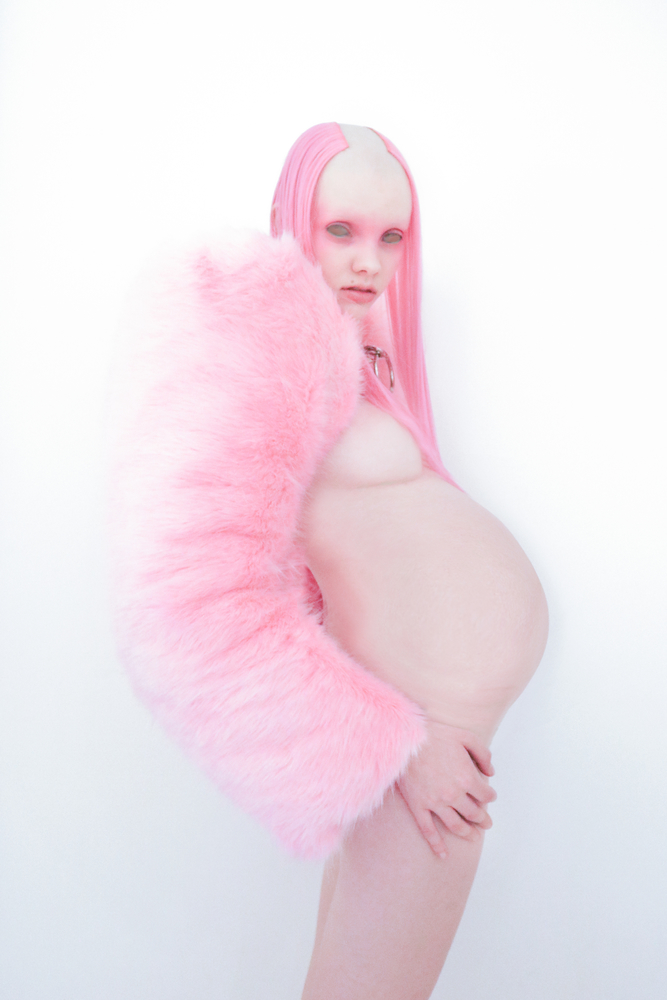 We're still evolving. It is a constant journey. Chasing your dreams with someone else is not easy. In the beginning we were fighting this idea of being a duo. We wanted to be together but do our separate projects. As kids we didn't imagine or see the value of creating with someone else. But that was before we learned the importance of having someone who completely understands your mind in all its glory and ugliness. We help each other embrace our true selves and value how rare our relationship is.
This article originally appeared on i-D UK.