sandy liang's guide to celebrating the holidays in nyc
The downtown designer shares her top tips, from eating like a local, to party dressing.
|
18 December 2018, 5:26pm
Photo via Instagram.
Sandy Liang is the New York based designer known for her playful prints (fruits and cars), quirky coats, and comfy fleece pullovers. Growing up in New York City with parents who run the iconic restaurant Congee Village, she has constantly been inspired by the life and scenes around Chinatown and the Lower East Side, where she's currently based.
One of her very first collections was inspired by "Chinatown grandmas," and she often casts cool downtown locals and Chinatown friends and family in her lookbooks. Her latest project in the neighborhood, however, is a limited edition holiday shop open until Dec. 21st at 5 Delancey street, full of exclusive pieces as well as an installation by floral artist BRRCH. "The people who run Procell Vintage are giving me the space, and I first met them while shopping as a customer," says Liang. "I bought on of my favorite t-shirts and I showed him my senior thesis collection since I was at Parsons. I showed him a picture of my puffer, and I'm still making that puffer." Since then, the owners of Procell have supported Liang by attending her fashion week shows and staying in touch.
This season also marks the first time Liang did a proper pre-fall collection. She brought back archive styles, such as shirting and denim inspired by a "galactic cowgirl" aesthetic and new takes on signature items like the fleece pullover. "I just thought, how fun would it be to rework this piece that I hated wearing when I was younger," says Liang. "I wanted to wear all the cute and glitter stuff from Gap Kids and Limited Too but my mom would always throw me in my brother's old Nautica pullover. Ever since I started my brand, nostalgia was a huge component. I felt that it was fun to bring back these pieces that I didn't necessarily love."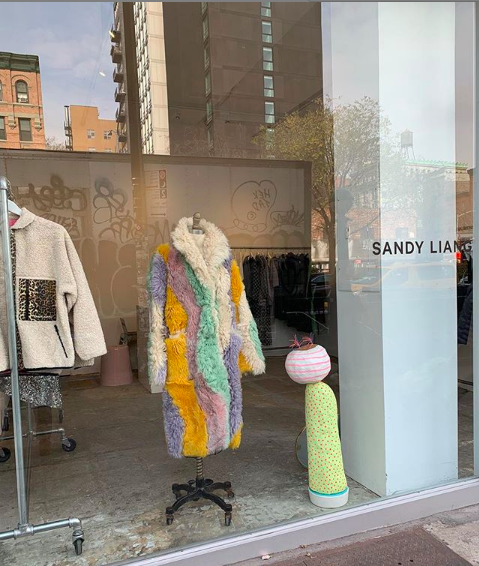 Along with sentimental fashion memories being the biggest influence on Liang's work, the city itself works its way into her collection every time, whether it's a direct or subtle mention. "It's really the only neighborhood that feels like a true neighborhood," she says of the Lower East Side. "I see the same people on my block everyday. I'm always a fan of doing thongs in the community out of necessity because it's easy but also because it's cool I want to make the neighborhood that I live in a better, richer place."
"I remember being really fascinated by this neighborhood when I was in high school," she remembers, when asked how she first became interested in the Lower East Side. From the wholesale stores to the small boutiques offering deadstock dresses, the budding designer would wander around the neighborhood to get inspiration. "Now that I get to work here, it makes me feel older but it makes me appreciate the area so much."
Here, inspired by her holiday pop-up, Liang shares her three top tips for celebrating the holidays like a New Yorker: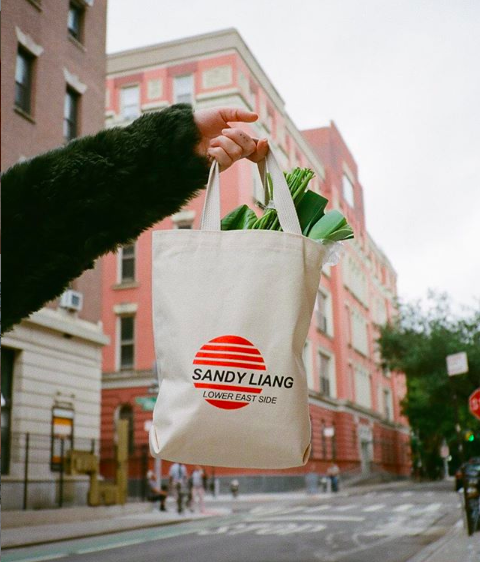 On eating like a local:
We do cook, but we also live on top of my dad's restaurant in Flushing. My dad loves eating at his own place. There's so many new restaurants in Flushing, it's crazy. There's all these different hot pot restaurants. I even love going to the food court in New World Mall. I just love how accessible everything is. It's so the opposite of paying $4,000 for one meal. I'm so much more about hunkering down and ordering from five different vendors then just like sitting at your table and enjoying it.
We also have a fun family tradition for holidays. We order this baby roasted pig that's not from our restaurant, but we have it at ours. The things I like to have from my dad's restaurant are super low-key like not fun. I love the broccoli, the steamed rice that they only do in Flushing with seawater, for holidays we'll do a banquette style meal. It's abalone with goose foot. You have to eat the goose foot with a glove, it's served to you on a really nice plate but then they give you a plastic glove and you have to hold on to it and just eat it. Just chow down! My favorite, favorite thing is bird's nest in a coconut husk, steamed. It's the yummiest thing ever. Sometimes we'll put the dough balls that are filled with black sesame paste inside of that.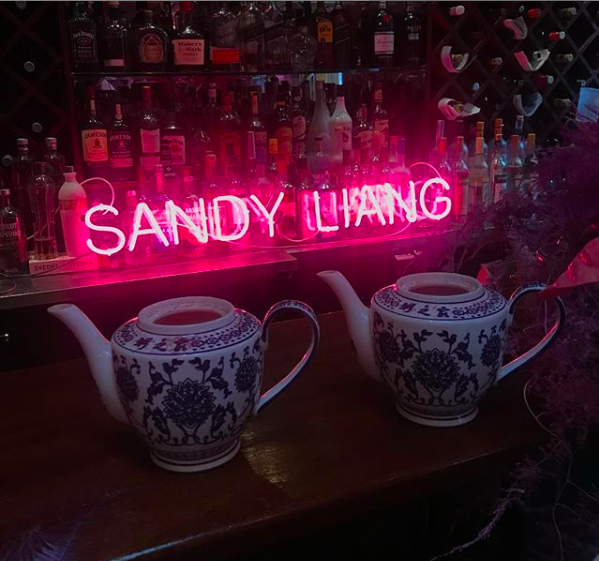 How to celebrate Chinese New Year:
We'll all be in bed and then my dad will blast Chinese New Years music with firecrackers and then we'll all wake up. He'll give us our red envelopes and we'll eat a vegetarian breakfast because it's tradition. We'll burn incense and pray. Then we figure out which dragon dancing ceremony we want to go to.
There's all these fun traditions about Chinese New Years that I didn't know about. You can't wash your hair before a certain time. You can buy shoes on Chinese New Year and you can't cut your hair. That's the thing about Chinese culture, there's like all these things are bad luck but you don't really know why. I'm not supposed to buy vintage shoes.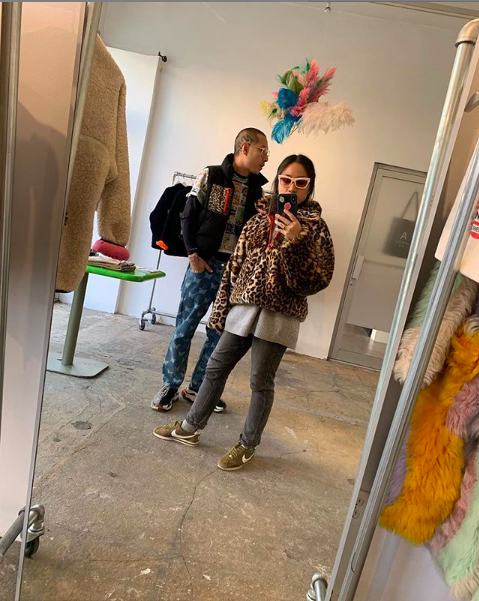 On what to wear to a holiday party:
If I'm at home, I'm just in sweats and a bathrobe but if I do go out I do dress up but not sequins. As much I love the idea of being someone who goes out and dresses up and wears heels, that's not me and the aesthetic is just sort of like, my version of dressing up. Maybe that is a nice fleece with cool shoes. It'll never be stilettos with a skintight dress.
We're going to go to Maine for Christmas. I always said if I ever moved to Maine, I would probably dress like I lived in New York. But now that I live in New York, I dress like I live in Maine. When everybody else looks like you, you don't want to look like that person.
Tagged: