six female-directed films to look forward to in 2019
A brutal revenge thriller, a semi-autobiographical movie about Shia LaBeouf and a new version of 'Little Women' are just some of our most anticipated female-lensed films for 2019.
|
12 December 2018, 7:28am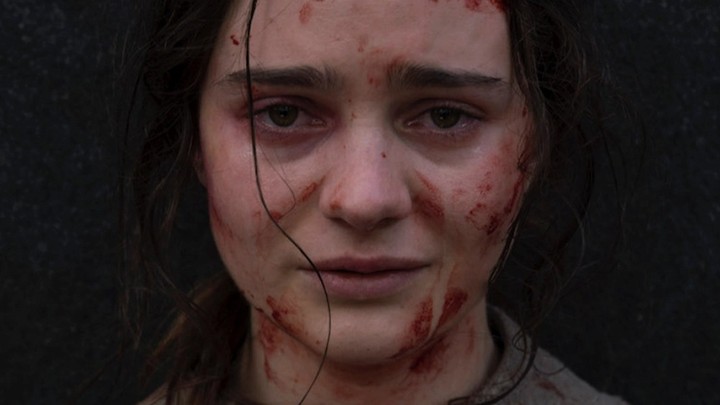 A still from The Nightingale via IMDB
Earlier this year a report analysing a decade of the film industry from 2007–2017 found that just four percent of the era's top grossing films were directed by women. While it's still too soon to tell if 2018 saw a change in these statistics, it's not too soon to look forward at what's next. With 2019 just around the corner and a new crop of films heading our way we decided to spotlight just a few of the female-directed titles that we're already excited to see and support.
The Nightingale by Jennifer Kent
Director Jennifer Kent follows up her indie horror hit The Babadook with The Nightingale, a gruesome revenge thriller set in Australia's colonial era. It follows Claire, a young Irish convict chasing a British officer through rugged wilderness, hellbent on revenge for a terrible act of violence. The Nightingale premiered at the Venice Film Festival this year where it picked up both the Special Jury Prize and the Marcello Mastroianni prize for an emerging young actor for Baykali Ganambarr, a young Indigenous dancer who had never acted before starring in the film. It'll show at the Sundance Film Festival in January where we expect to hear more news about a wider release.
Honey Boy by Alma Har'el
Alma Har'el had the daunting task of directing this project, a semi-autobiographical film written-by and starring Shia LaBeouf. Honey Boy dramatises the story of Shia's life as a child TV star as he tries to mend his contentious relationship with his ex-rodeo clown father over the course of a decade. Shia will act in the film as his father while Lucas Hedges will star as one version of young Shia. It'll premiere at Sundance in January.
The Turning by Floria Sigismondi
Over the last few years a new crop of filmmakers have turned horror into one of cinema's smartest genres, and it doesn't look like that's about to change anytime soon. Next year we'll get The Turning a reimagining of of Henry James' horror novella The Turn of the Screw directed by Floria Sigismondi, who's previously worked on commercials with Gucci and music videos for David Bowie. Her adaptation will star Mackenzie Davis as a young governess hired by a man to take care of his niece and nephew after their parents death, with Brooklynn Prince and Finn Wolfhard playing the children. Floria has previously stated her film will be a reimagining set in the 90s and will "play around with the music" so get ready for this one to be just as strange as it is spooky. It's expected to release around March 2019.
The Farewell by Lulu Wang
Hot off the back of breakout supporting roles in Crazy Rich Asians and Ocean's 8, Awkwafina takes the lead in Lulu Wang's The Farewell. She'll star as Billi, a headstrong Chinese-American woman who returns to China upon discovering her beloved grandma has a terminal diagnosis. The twist to the story is that while Billi and her family know about the illness they've decided to hide that fact from Billi's grandmother. This true story is based on Lulu Wang's own life, which she previously wrote and narrated for an episode of This American Life in 2016. Now she's turned the story into a feature length family comedy that we can expect in mid-to-late 2019.
Hala by Minhal Baig
Back in 2016 Minhal Baig made Hala as a short film called in order to get financing for a feature length version — and it worked. Set to premiere at Sundance in January, the film follows a Muslim teenager as she deals with the unravelling of her family as she comes into her own. Minhal wrote the script for the film partly based on her own life growing up in Chicago as the child of Pakistani immigrants. Hopefully it gets picked up at Sundance and we'll know more about wider release then.
Little Women by Greta Gerwig
It should really come as no surprise that this is on our list; this film is like a fan fiction article come to life. When Emma Watson, Saoirse Ronan, Florence Pugh, Laura Dern, Meryl Streep and, of course, Timothée Chalamet all joined Greta Gerwig's adaptation of Little Women, we all became deeply invested. Her version of the film will focus on the second half of the classic American novel, when the March sisters begin their lives as young adults after leaving home. Filming took place this year but we'll have to wait patiently until the end of 2019 to see Timothée in his 1800s costume.