five couples on the intricacies of their relationships
How did you tell them you loved them? What's their weirdest habit? Do you agree on politics? We got one of our favourite new photographers, Ekua King, to shoot someone loved-up couples, and then grill them on the intricacies of their romance.
Snoring, obsessive clothes folding, using a hairdryer to dry off after a shower -- sometimes it's the weird habits that make us fall hard. For Love Week, i-D favourite Ekua King shot some young and in love couples looking, well, young and in love. Then she picked their brains about how they make it work. From politics to first dates, read on to live your romantic life vicariously through these sweet things.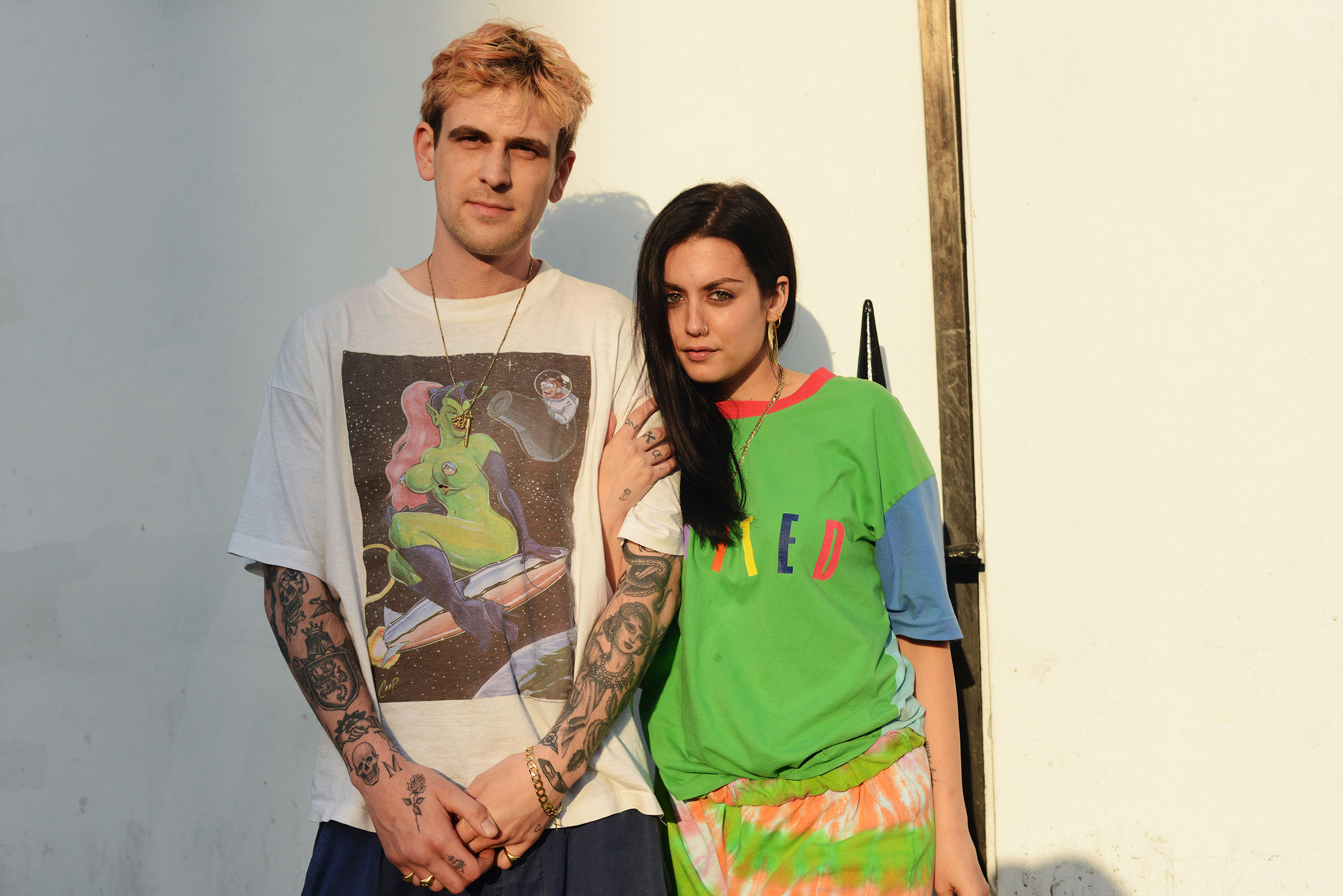 Sam and Danielle

How did you first tell each other you were in love?
Danielle: Sam got mad at me out of nowhere because I said he was a really nice guy. He said he wanted to be considered more than that. I asked him to explain, and he eventually said, "because I'm falling in love with you". It was a really cute moment, even though he was all pissed off. He said I was supposed to say it first.
What was the most awkward moment you had together?
Sam: Every single social activity. Even leaving the house together is a stretch nowadays. The first time we went to the movies was a nightmare, because they wouldn't let me in with a skateboard at the age of 26.

What's your favourite weird habit the other person has?
Danielle: Sam is a strange creature. He's obsessed with how he folds his clothes, it's so particular. After he does his wash he'll sit on the floor with his socks for forever, making sure the pairs are perfect. Recently I learnt he has to have lids on everything.

Sam: She does this insane thing with her face when trying to answer emails seriously, and concentrates so hard she literally starts gurning. When she's doing this I could be butt naked in public, and she wouldn't even notice.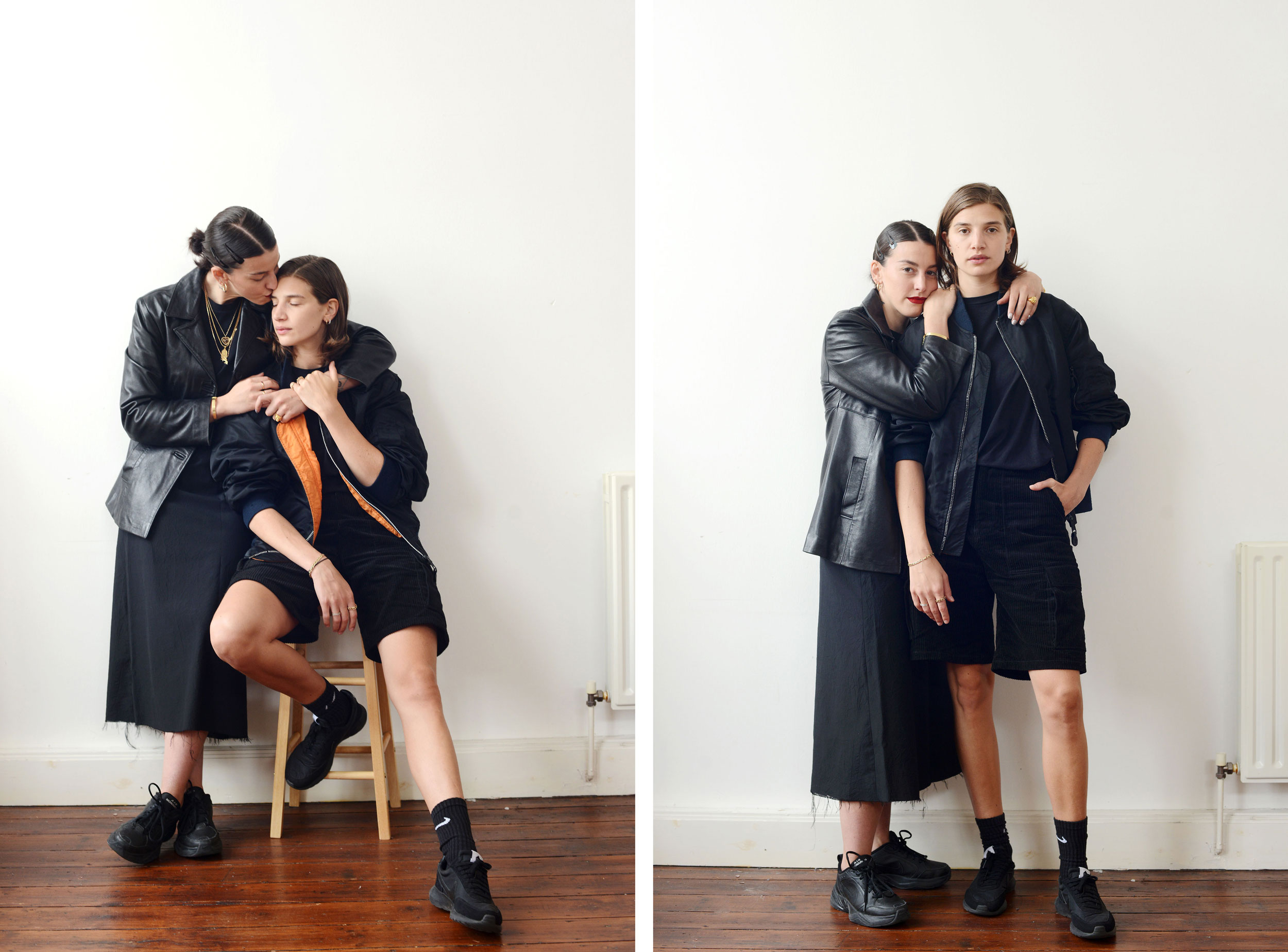 Ana, left, and Florence
How did you first tell each other you were in love?
Ana: Florence says it was on her 25th birthday but to be honest I don't remember well. I think I liked her so much since the beginning that in my head I was saying "I love you" already, even before that.
Florence: Ana and I exchanged our first "I love you's" on my 25th birthday. I think she knew I wasn't fully in love with her at that point, but I knew I would be. It took a couple more months for me to say it and have the excitable feeling you get in your stomach.
What's your favourite weird habit that your loved one has?
Florence: Ana bites me all the time. It's like she gets a surge of excitement and just bites me, mainly my hands and arms. At first I was like "Oww! what are you doing?!" but then I actually came to realise it's one of her ways of showing affection to me.
What's your favourite thing to do together?
Ana: Definitely eating, drinking good wine and dancing. In this order.
What do you fight about?
Ana: Florence is much more organised, and I love to see where things take me, so sometimes it's quite hard to find a middle ground. She also freaks out when I borrow her clothes without asking. We can both be quite stubborn at times which then leads to things building up and driving me crazy. I find myself screaming in Spanish like Penélope Cruz in Vicky Cristina Barcelona. I'm sure it's quite funny to watch. Our fights are rarely too serious and we normally end up laughing.
Do you agree about politics mostly?
Florence: We agree, but most importantly we try to educate each other in politics. Ana is from Barcelona, so with the recent activity over there I have been given a crash course. It's been amazing to see how powerful movements are spreading worldwide all with similar sentiment. I would say I'm much more emotionally political than fully "woke" -- while it's so important to be current and stay up to date, it does often feel hard to see positivity in the current political climate.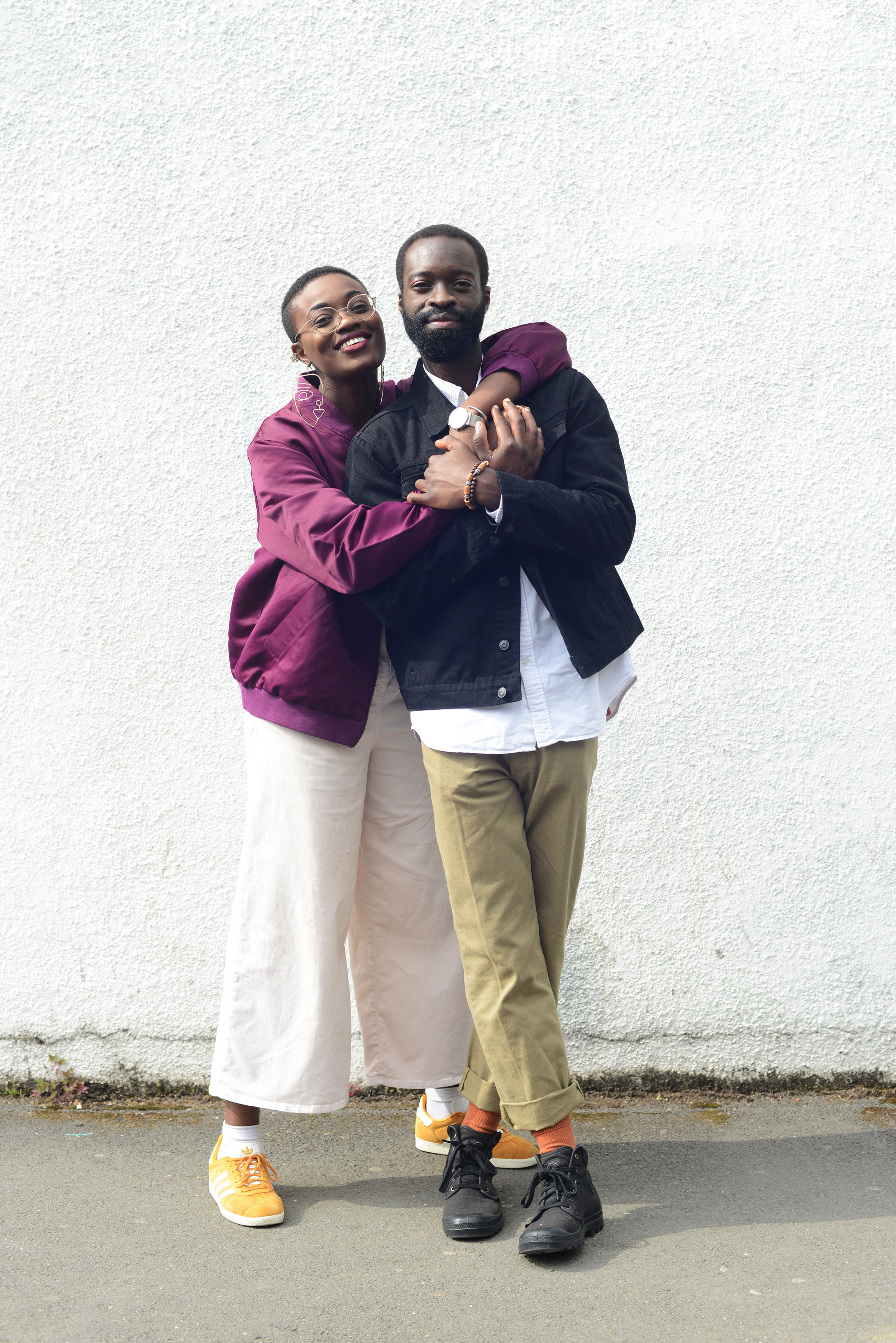 Christian and Nicole
What's your favourite weird habit that your loved one has?
Christian: She has a particular hand pose for her world class selfies that's infectious. Rumour has it Annie Leibovitz is on the verge of buying the trademark rights for her own pose portfolio.
What do you normally fight about?
Nicole: We don't actually fight, we just have dance battles to sort out our woes. I can confirm that I always win.
What's your favourite thing to do together?
Christian: Bar finishing off each other's sentences, eating Ghana Jollof and Plantain, laughing (with and at each other), having intense conversations on a myriad of topics till daybreak… listening to music and skanking out at any function is in our DNA.
Do you agree about politics mostly?
Nicole: Yeah, I couldn't be with a Tory. Jesus, imagine that.
How do you imagine your futures?
Christian: Back in the motherland married and being reunited with our long lost relative the sun, making our melanin pop to build a historic legacy with our children.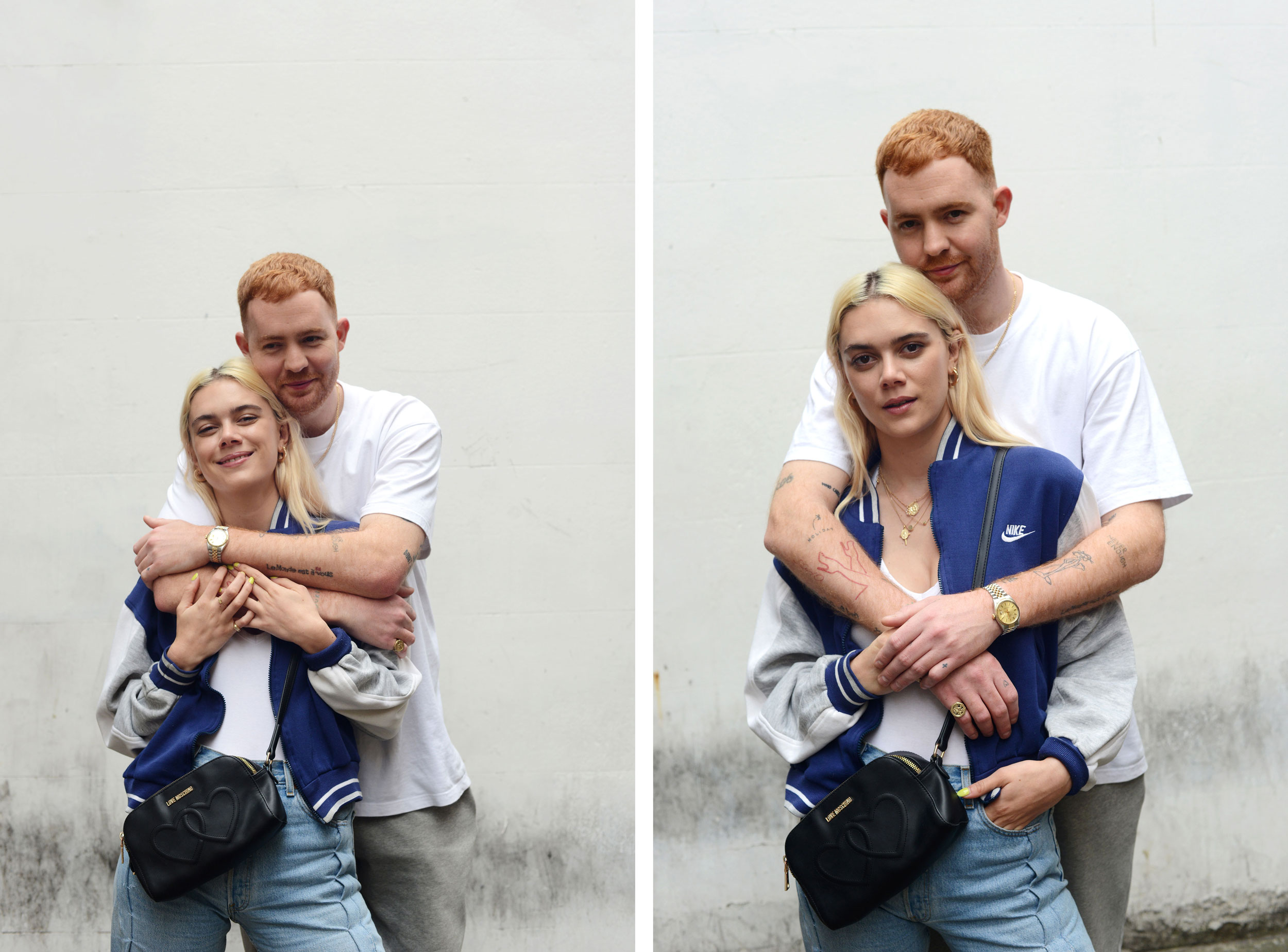 Olivia and Milo
What's your favourite weird habit that your loved one has?
Olivia: Milo actually has so many unusual habits it's hard to pick one. He has to pick his outfit before he goes to bed otherwise it spins him out.

Milo: When she's getting ready for work in the morning she kind of whispers to herself while she's getting dressed. At first I used to think it was quite weird, but now I actually quite like waking up to her doing it. I'm still not 100% sure what she's saying to herself!
What's your ideal day together?
Olivia: We're both so busy all the time, so I love it when we can stay in bed together on Sunday mornings. Then we'd normally get a bacon sandwich from The Fromagerie and go to the Battersea car boot sale. Perfection.
What does your relationship give you as a person?
Milo: Earache! Joking -- she's my favourite person in the world, and to be honest I couldn't do half the things I'm able to if I didn't have her in my life.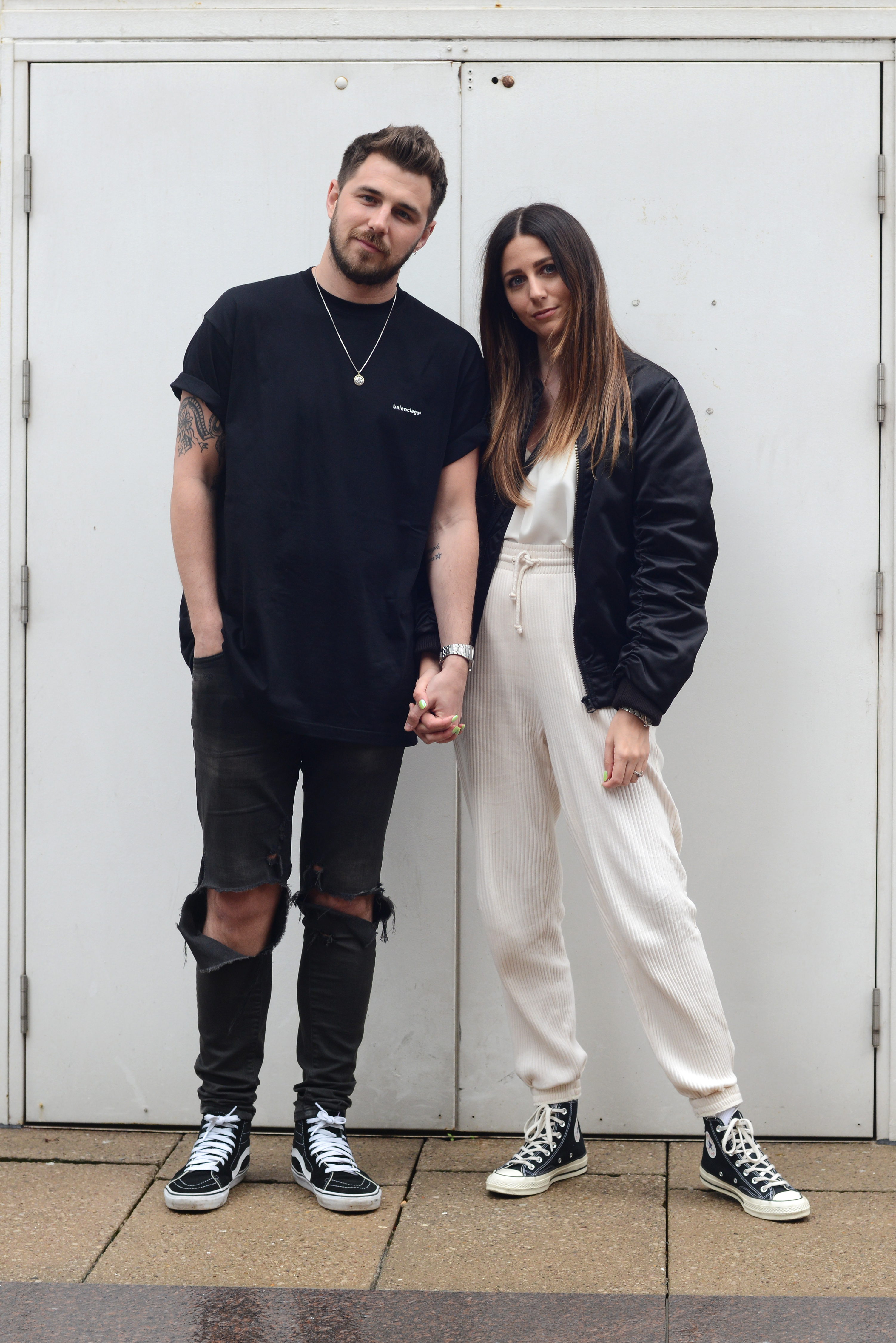 Maggie and Alex
How did you first tell each other you were in love?
Alex: I knew I loved Maggie before I even went on a date with her (we had been friends for a couple of years). It took her a little longer...

Maggie: Yeah, I definitely took a little longer. It's not something I take lightly, and I wanted to make sure I was ready. I'm very dramatic and wanted to tell him when it was just right -- I lit candles and shit, so cheesy. But I knew it would mean a lot to him, and it meant even more to me that he'd been so patient, so I wanted it to feel special.
What's your favourite unusual habit that your loved one has?
Maggie: It's a love/hate one -- every morning he uses my hairdryer to get himself dry after a shower, no towels. He's a weirdo like me.
Alex: She may kill me for saying this, but when she is in a very deep sleep, she does very tiny little snores. Snores is a bit unfair -- it's more like breathing, but I like it, I know she's relaxed and getting her rest.
What does your relationship give you as a person?
Alex: I've always struggled spending more than five mins in most people's company... I've never felt that with Maggie. We travelled the world for six months and didn't really have a single cross word. I have a best friend, someone who always makes me feel like I can do anything, supports me and sees a side of me that no one else ever has.
How do you imagine your futures?
Maggie: You can call it naive, but I know we're going to be together 'til the end. He's my best mate, and no one makes me laugh as much, I'm completely obsessed with him. I can see us as pensioners sitting on our favourite chairs watching Eastenders with Deliveroo Nandos.