take a trip to marseille with koché
Why can't every fashion show be in Marseille? Escape to the south of France with streetcast locals, collaborators and friends of the Paris-based provocateurs Koché, as they express their creative universe and vision of Marseille.
France's oldest city is having a fashion moment. Before Jacquemus immersed us all in the sun, sea, sexiness and boys of his hometown, Christelle Kocher transformed the upper deck of a Marseille-docked ferry into a catwalk, as streetcast locals, collaborators and friends of the Paris-based label paraded Koché resort 19. The show, alongside two art exhibitions the designer organised with curator Anissa Touati, was part of the third edition of the OpenMyMed festival, an incubator for the international fashion sector set up in Marseille. The result saw Koché transport its creative universe to a city to create a multicultural, multimedia mosaic.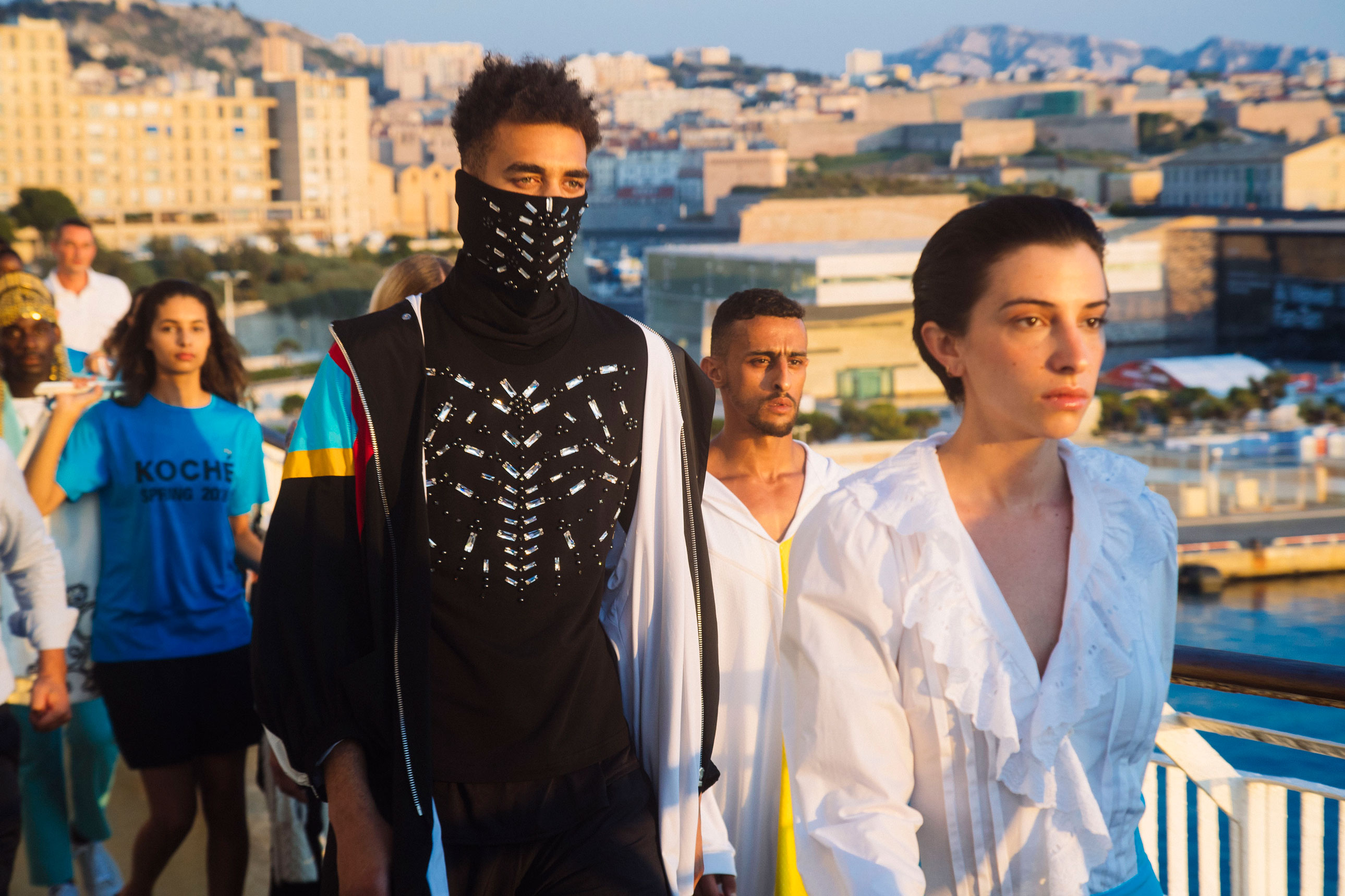 "It's great to be a part of this moment," Christelle explained post-show. "The MMM (Maison Mode Mediteraanée) is a huge part of this initiative, they're really trying to redefine the city as a fashion spot and fashion should sometimes leave its traditional capitals, it's refreshing." After visiting the city with Jacquemus, the energy of the city is energising. Why can't all fashion shows be in Marseille?
"Since the beginning of the OpenMyMed invitation, we wanted a show in Marseille because it encapsulates the idea of a land of welcome, of multicultural influences spread everywhere in the city, of an energetic mix, with thousands of stories," she added. "The boat, the sea, the port, all the people arriving and leaving the city everyday, it was the perfect combination to express this." Marseille's energetic mix mirrored Koché's cocktail of high fashion, street culture and contemporary art.
"I think it's politically important to represent the world as it is, extremely diverse, as well as to give positive signs of open-mindedness," the designer explained to i-D last year. With all that's happening in the world, in fashion, politics and beyond, Koché's fusion of different worlds has seemed pertinent ever since it burst onto the scene in 2014 with a fashion flash mob taking over Les Halles. In the collections since, the LVMH and ANDAM Prize finalist has always reminded us of the importance of sharing ideas and, as Kocher herself puts it, "living together, without denying our own individuality". Her resort 2019 collection, shown on the the deck of the Danielle Casanova -- a passenger ferry freshly returned from Tunisia, Corsica and Algeria -- was the ultimate celebration of this sentiment.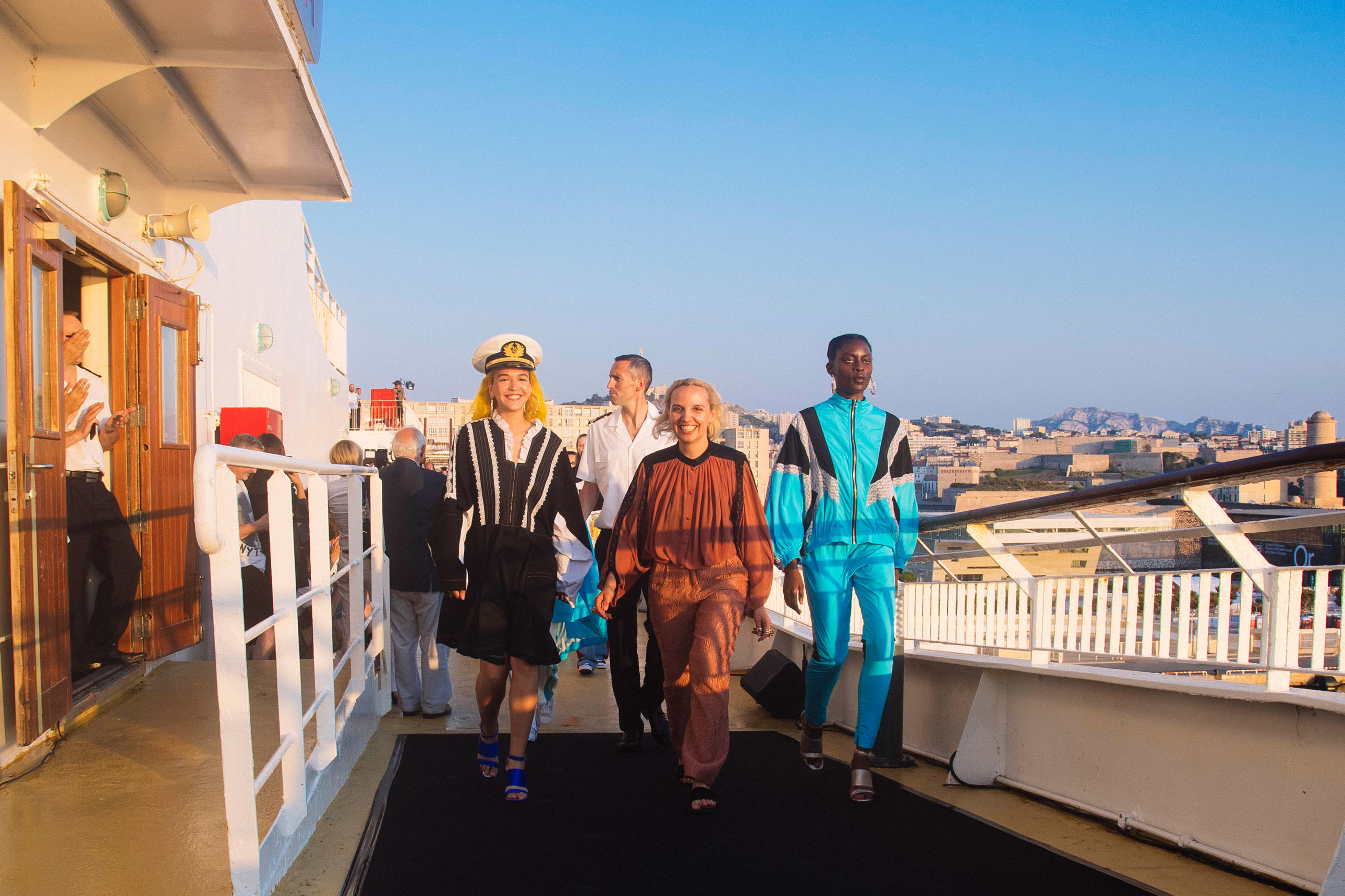 "I wanted a bright and sexy collection that mixed more elements that ever," Christelle said. "It about mixing different cultures inspired through the Marseille influences and energy." Jersey djellabas met tracksuits in Olympique de Marseille-blue, florals met sportswear-inspired ribbings embroidered with crystals, patchwork wool sweaters met Le Sud Bébé! T-shirts.
"It's Le Sud Bébé," Christelle proclaimed when we asked what Marseille meant to her. "Hot, sensual, crazy, full of promises, so different from any other place. After spending more time there, I was surprised at how vivid the city was. I could then get rid of all the clichés. Marseille has a big heart and so much energy, all the cast we met were incredible, youth is super inspiring and modern. People can have so much style here, I love it, they don't care about any codes." From its guerrilla shows to its garment mash-ups, Kocher is part of a new generation of French designers that have rebelled against the conventions and expectations of Paris. This resort show, framed alongside the two exhibitions, felt like a celebration of the brave new world it's formed.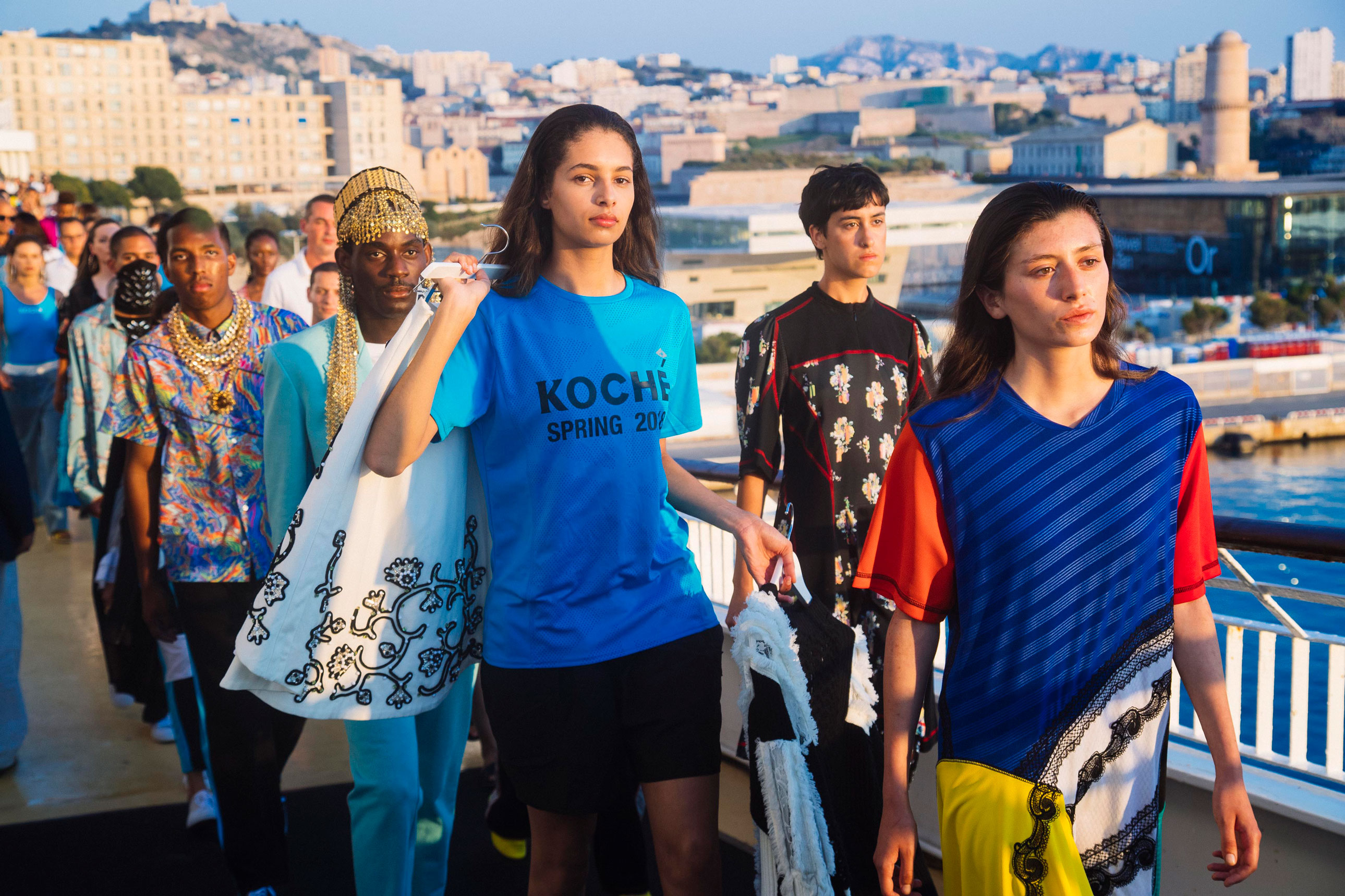 "It felt like a celebration with my faithfull team," Christelle explained. "Julien Lacroix for the show, Aamour Ocean for the music and all my friends who come from Paris to help were all so warm and solar! I'm so proud of the two art exhibitions created for the event with the curator Anissa Touati with great artists. Some to them also agreed to walk in the show, like Morgane Tschiember, Diego Bianchi, Lucille Uhlrich, Jussi Kantonen. The exhibition takes place in two different parts of the city, in J1, a huge cultural space on the waterfront, and in abandoned shops in one of the biggest streets that leads to the port. Everything is connected, the show, the exhibitions and the city. Le Sud Bébé! is really a Koché manifesto, as we always try to do, in Paris or everywhere else."