photographer kate ballis makes your palm springs vacation photos look basic
In her new project "Infra Realism", the Australian photographer welcomes us to her alien-looking American dreamland.
Photography Kate Ballis
Kate Ballis feels like she's been "adopted by Palm Springs" but her otherworldly new series Infra Realism might suggest she's been abducted. Through infrared photography and lucid color filters, Kate has captured an alien 80s version of America, the one she says that MTV and Barbie promised her as a child.

The Australian photographer began her Infra Realism series in February 2017, while in Palm Springs for Modernism Week. Kate has now visited Palm Springs seven times with her fiancée, fellow photographer and travel partner, Tom Blachford, who also captured Palm Springs in his Midnight Modern series.
Through her travels, Kate wants to make "the unseen seen", forcing us to look at our own streetscapes in a new way. "I love finding landscapes that already look like another planet and then making them even more surreal," says Kate. A self-confessed aestheticist, Kate's photos shows her true fascination with light, color and capturing an energy that only the lens can unveil.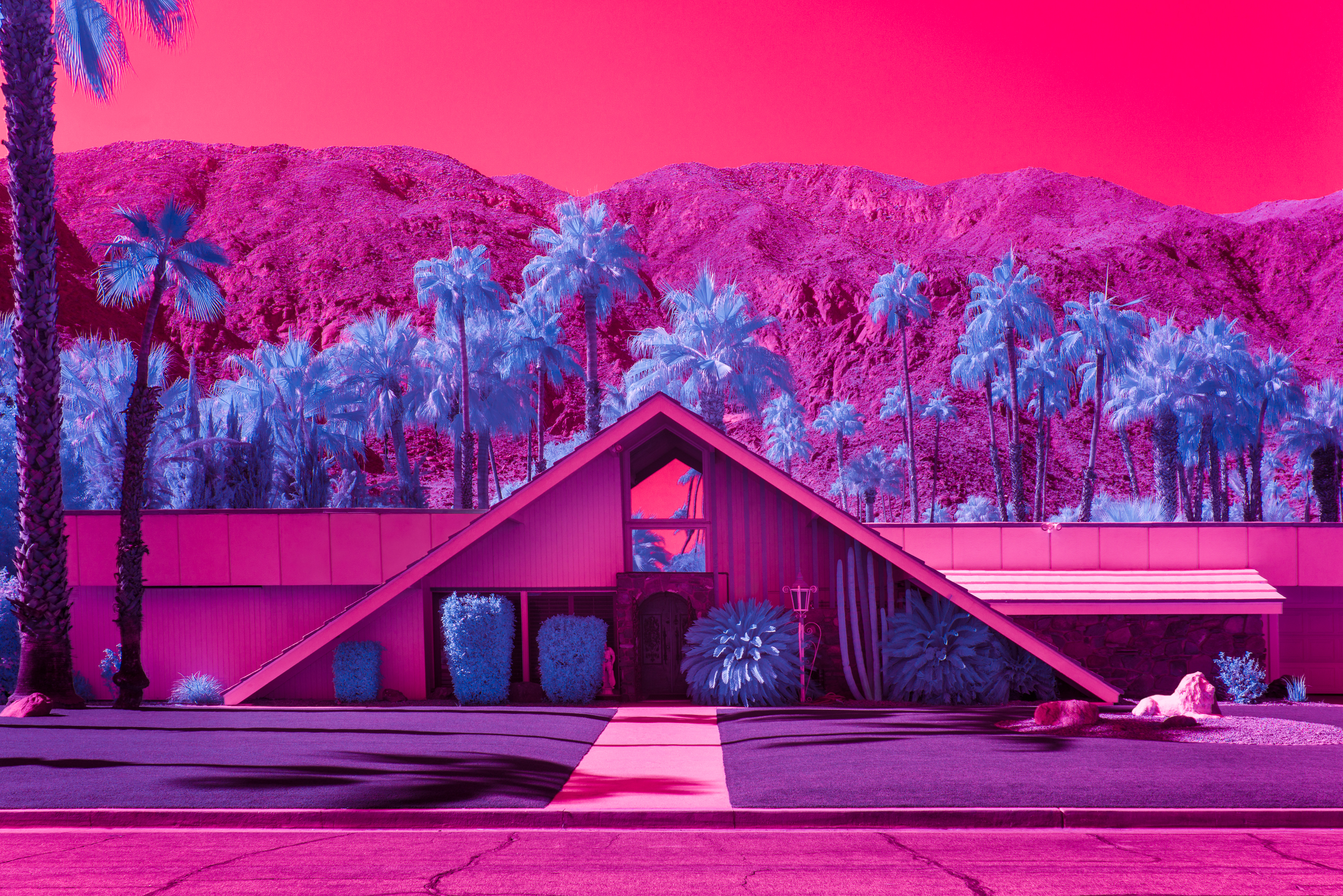 Previously an entertainment lawyer, Kate has always been drawn to photography but didn't pursue it full-time until 2013. She's also always felt most comfortable shooting landscapes, so it's natural that her work often requires her to travel to strange or deserted areas.
She's currently in London, where she's about to embark on a photographic journey of Greece and Crete. After that, she's back in California for her Hyper Color Fantasy: Infra Realism exhibition at Garis and Hahn, opening July 22. She will also be releasing a book for the series in October.
We caught up with Kate before her travels to talk about capturing the Martian-like planet she calls Palm Springs.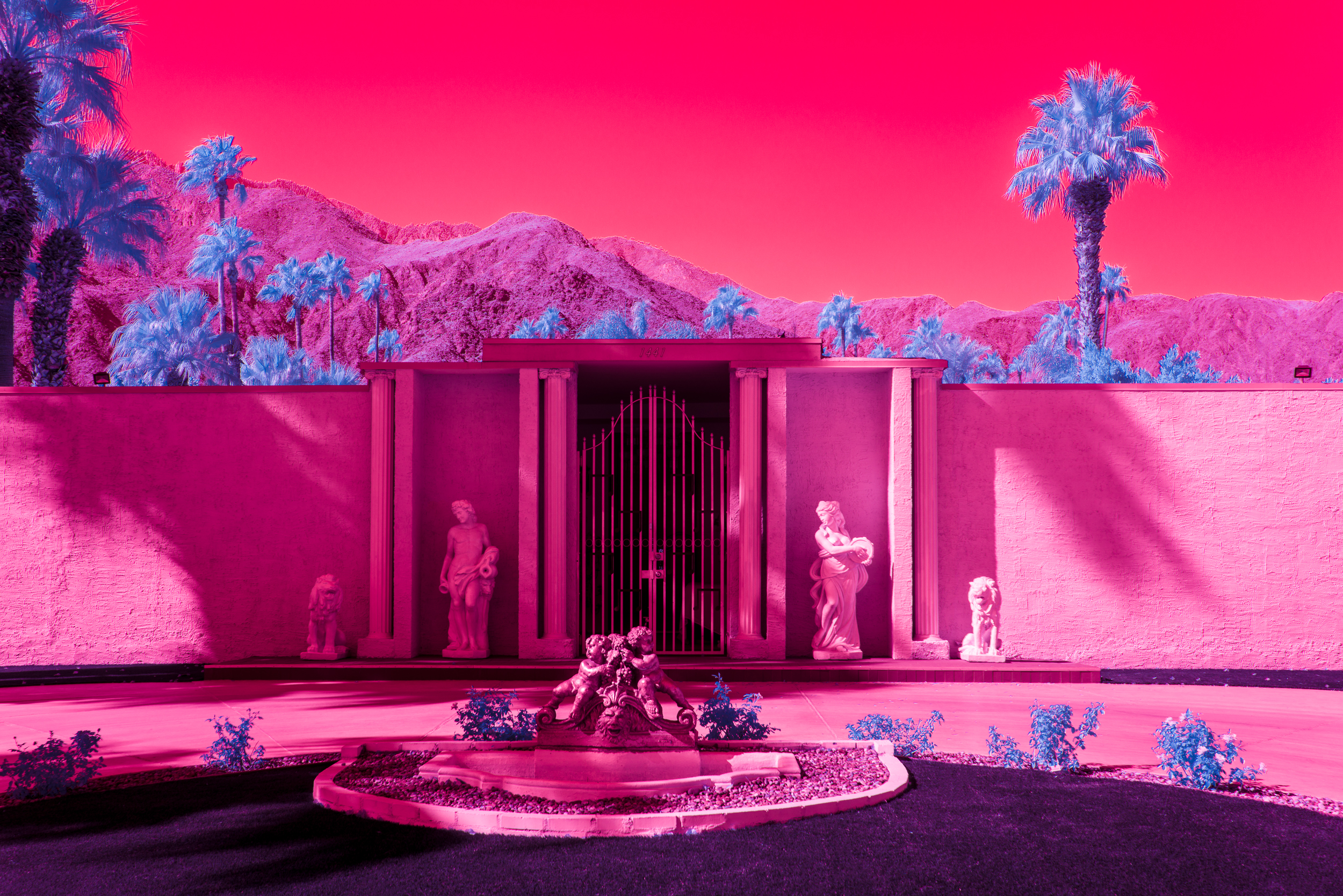 As an Australian photographer, what made you choose Palm Springs?
We went for a holiday in 2012 because I was obsessed with photos of the area and just the general style of William Eggleston and his photos of America. I absolutely fell in love with Palm Springs, and it has become a kind of second home to me, but after photographing its deserts, houses, pools, and cars many times it's almost like my eyes turned off. I needed to see it in another way, so I started experimenting with infrared photographer and colored filters. It completely changed how I view Palm Springs, and opened up an entirely new world.
Had you ever shot infrared photography before this?
No. I had seen Richard Mosse at the Venice Biennale in 2013 and I absolutely loved it. After that, it was definitely something I wanted to explore. I had about a month in Palm Springs at the beginning of 2017 and I just started around with a camera that I'd had converted for infrared. I love the fact that it would make the foliage just pop out in comparison to the housing and desert, which took a step back. It made the life step forward and showed me all the succulents and cactuses thriving in what looks like a dead desert landscape.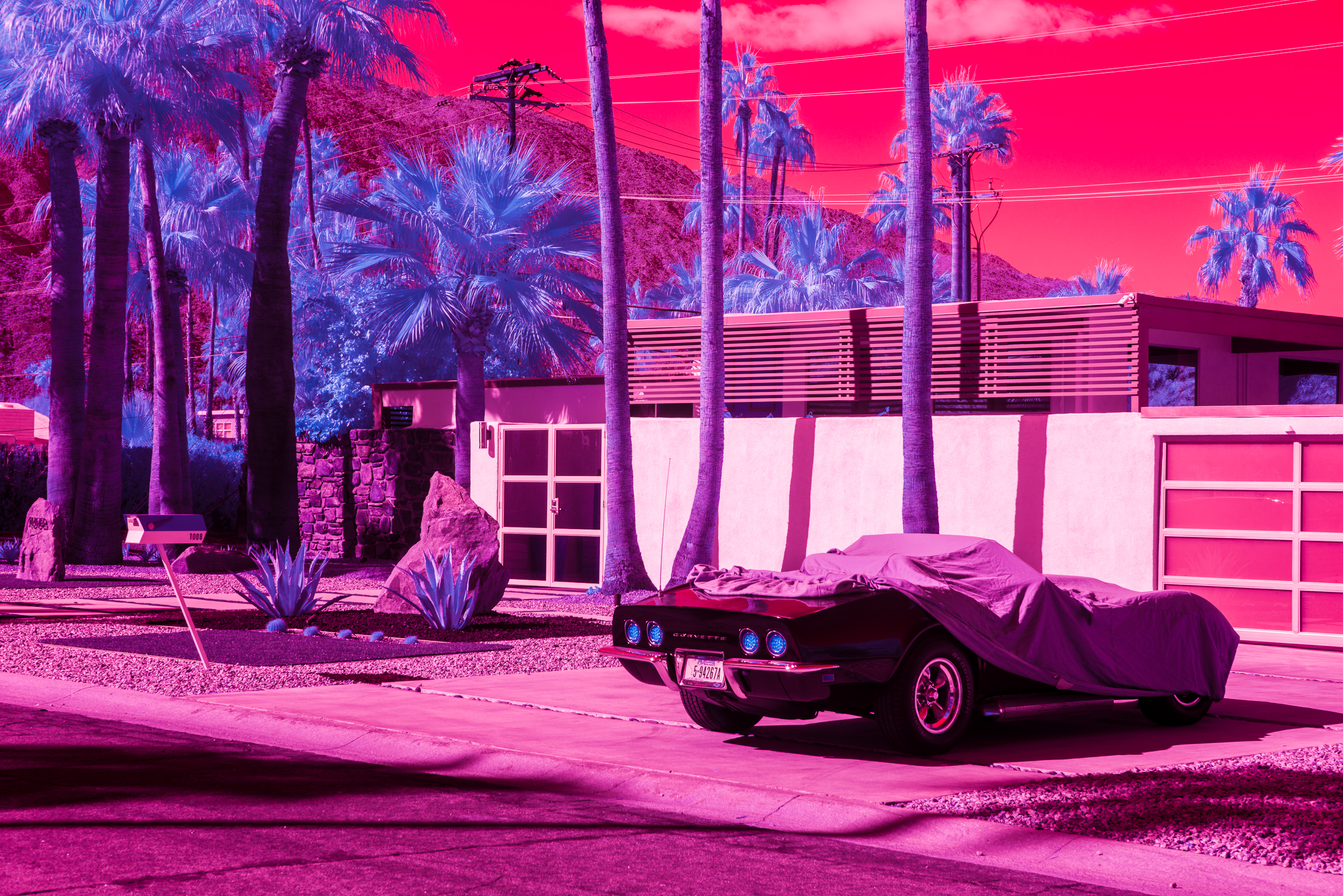 How did you decide on the pink and blue color palette?
While experimenting, I stumbled across an aesthetic that to me brought together all my memories of American adverts in the 80s, like MTV, pink Barbies driving Mustangs, and Disneyland. Growing up in Australia, that's all I saw of America as a child, so it resonated with me and seemed like the perfect fit. It was how I wanted to portray California, by candy coating it. Perhaps, in a way this series is a way of finally attaining the dreamland we were sold in the 80s.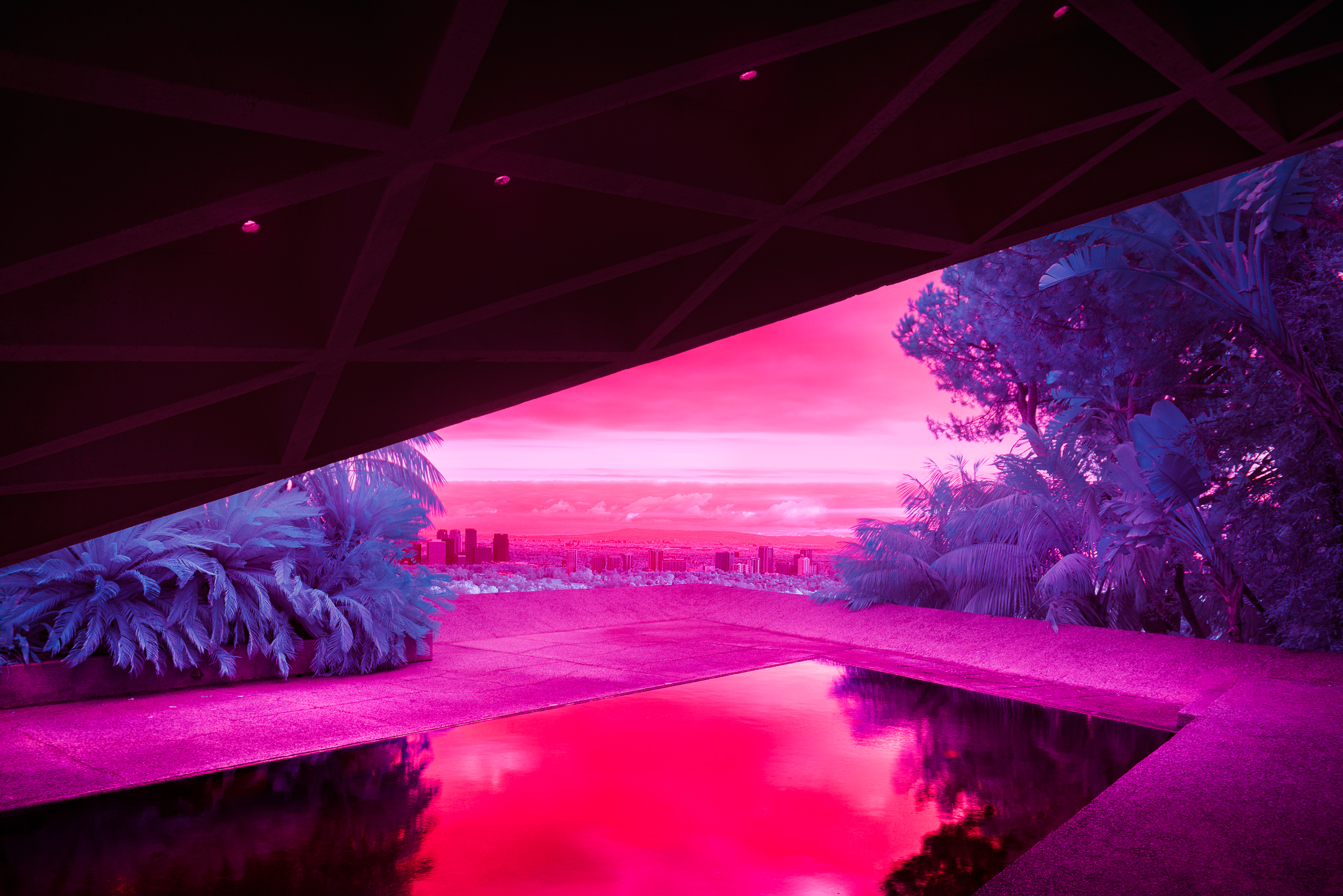 It also looks like an alien planet. Was that intentional?
Yeah. That's something I love to explore through my different series. I've also taken the series to the Atacama Desert and Joshua Tree, which have an otherworldly feel. But strangely, the view of what another planet looks like has been made somewhat familiar by space movies. So through the infrared process I try to make these foreign landscapes seem surreal again.
You were an entertainment lawyer before this, why did you make the switch?
I think there's a tendency that, if someone is creative as a child but also does quite well at school, you get sent on this path of lawyer or doctor. It felt like I was just ticking all the boxes, but I had all these creative ideas that I wanted to express. I was doing photography every time I travelled and on the weekends and I had no balance because I was working long hours. Eventually, I had to take a step towards my passion and I've never looked back. I'm still really grateful for my time as a lawyer because I feel like I'm better equipped as an artist knowing the legal side of things.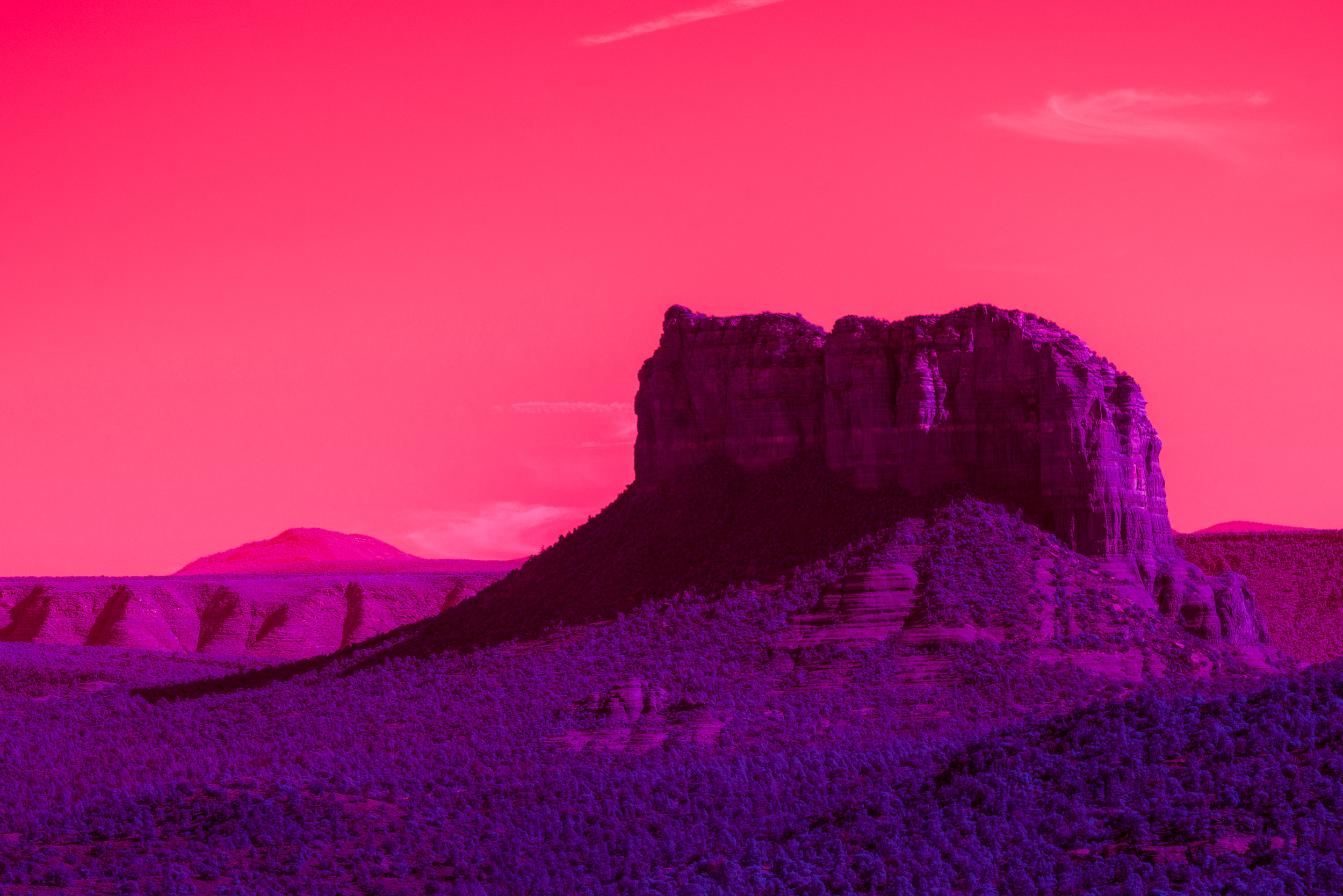 Where's somewhere in the world that you haven't photographed yet but want to?
I'm actually in London currently because I'm about to start my new series that will explore my heritage through mythology. I'm about to go to Crete, Santorini and the lost city of Atlantis. But I have always wanted to go to Russia. I don't know why. I haven't started researching yet but it's really high on the list, along with exploring the deserts back home in Australia. That's what I'd love to do when I get back in August.
What do you want people to take away from your Infra Realism series?
I think because the infrared spectrum of light is invisible, by making it visible I want people to think about the spectrums of light and energy that they aren't seeing. I love the fact that there are spectrums of light that can't be seen by the human eye but the process of photography can make them visible. To me it's the border of science and magic.