björk releases trippy video for new single, the gate
Taken from her upcoming "Tinder album."
|
18 September 2017, 12:22pm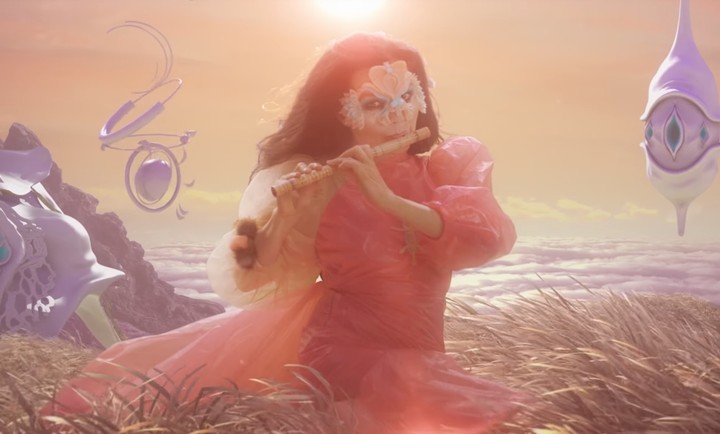 Screenshot via YouTube
Last year, we donned VR goggles and watched Björk's Vulnicura play out in a variety of mind boggling scenarios. She took us on a 360 degree tour of a volcanic black beach, and played with underwater fire as her limbs turned into pieces of animatronic looking body armour, stepping back and forth through the imagined flames.
The video for her new single The Gate is no less weird. Directed by Andrew Thomas Huang – who did much of her Family experience mentioned above, the video continues the mystical riff she's been riding. This time, however, it doesn't have the utter heartache of Vulnicura, because it seems she may have moved on. 'My healed chest wound,' she sings, 'transformed into a gate / where I receive love from / where I send love from,' she muses over a fluet-y sample that sounds like a whale song.
Described as a glimpse into Björk's utopia, the six minute video's creative direction comes from a team of her long term collaborators, including Huang, as well as Alessandro Michele (she wears a custom Gucci gown) and James Merry, who is once again responsible for her outta-this-world headpiece. The Icelandic wonder has already referred to it as her Tinder record; 'Didn't used to be so needy / Just more broken than normal.'