the new, brown powerpuff girl is a win for wokeness
Brown sugar, spice, and everything nice.
|
18 September 2017, 9:30pm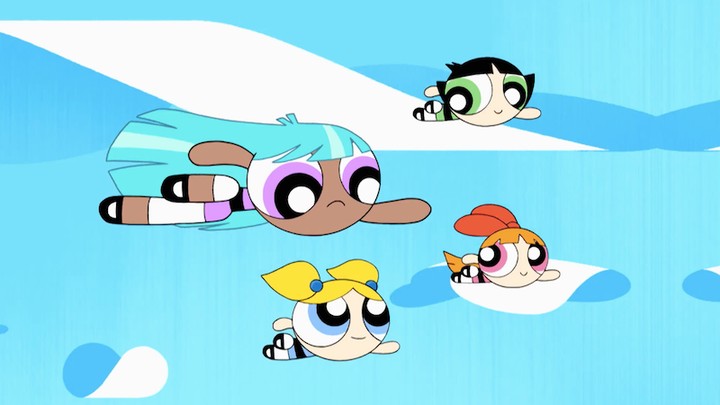 Screenshot via YouTube
Bubbles, Blossom, and Buttercup have gained a new sister. The remarkably feminist 90s cartoon, which received a reboot last year, has become more diverse with the addition of Bliss, a brown-skinned, blue-haired character.
So far, Bliss's full role in the girls' new battle is yet to be revealed. Her exact race is unknown and she will be voiced by different actresses in different countries. It's an important move towards diversity by Cartoon Network and one that will likely resonate with the channel's fans (notably, 52% of Generation Z viewers are non-white). The character will appear in The Powerpuff Girls's new five-part movie event, which premiered September 17 and will air over the next few weeks. Although Bliss appeared in first episode, it's unclear if she'll be in the other four parts of "Power of Four". Hey, perhaps she could even lead a spin-off series? Either way, here's everything you need to know about the fresh, super adorbs new cartoon character.
The Powerpuff Girls first premiered in 1998. So far, over 78 episodes have aired, as well as a feature-length film and a Christmas special. So why has Bliss been MIA this entire time? The superhero was created by Professor X before Blossom, Bubbles, and Buttercup were in the picture. And because he used Chemical W, instead of X, her superpowers were tied to her emotions. So whenever she becomes upset, Bliss violently combusts and damages everything around her. Tired of causing more harm than good, Bliss ran off to Bird Poop Island (yes, you read that right) and chose to live in exile… until now.
In the US and South Africa, Bliss will be voiced by the South African rapper Toya Delazy. Scoring the role was a big win for Toya, who grew up watching The Powerpuff Girls as a kid and identified with Buttercup because of her tomboyishness. "It feels amazing; there's nothing more I can say… to fill girls, especially young black girls, with that energy to say you can do anything," Delazy told South African Elle when asked what the role means to her. "That was the point of Powerpuff Girls. It was to make young girls dream that they can be superheroes… If the representation counts to the fact that everybody's speaking about it to this extent, that means it was very necessary, and it's beautiful. It's exciting putting a spotlight on Africa as well."
A main focus of the Powerpuff Girls reboot has been removing the problematic parts of the series, like the sexist portrayal of Miss Bellum, the mayor's assistant. And Blossom, Buttercup, and Bubbles are less clichéd. The show's writers have shifted the characters away from the archetypes of "the smart one," "the tomboy," and "the ditzy one," respectively and developed them into fleshed-out young girls. "By developing them as stronger personalities and understanding them more as characters, we were able to write stories that are more relatable to people," Nick Jennings, executive producer of the reboot explained. "I think you connect with them better."
And the superheroes even battle hypermasculinity. Jennings says the new villain Manboy, who is the size of a child but possesses super strength, is "an old-thinking type of male character set into this modern-day world." Sounds like an easy battle for Blossom, Bubbles, Buttercup, and, now, Bliss.