Image courtesy of Louis Vuitton
Louis Vuitton x BTS and Kenneth Ize x Karl Lagerfeld: What's in fashion?
Your one-stop-shop for this week's fashion news to know.
Image courtesy of Louis Vuitton
Oh how good it is to see you again! What a week it's been! Though that said, most of this week's news to know has been taking place in fashion's Elysian Fields of haute couture. That's right, physical spectacles have returned to la ville lumière, bringing with them some of the most spellbinding fashions we've seen in some time, including Balenciaga's first couture show in over 50 years, the rebirth of Jean Paul Gaultier under sacai's Chitose Abe, and Pieter Mulier's Alaïa debut. Click those links to our reviews! Here, though, we're bringing you all the chicest news worth knowing that went down outside the industry's gilded circle. From Louis Vuitton's trip to Seoul to the lowdown on where to get London's most fab facial; here's what's in fashion!
Louis Vuitton and the BTS boys take Seoul!
BTS !!! In Seoul !!! For Louis Vuitton !!! Yes, that's right, this week K-pop's biggest boyband did their first official turn for the Parisian house since being announced as official ambassadors back in April. In a show staged at the Bucheon Art Bunker B39, an industrial centre turned art centre on the outskirts of the South Korean capital, Jin, Suga, j-hope, RM, Jimin, Jungkook, and V sported unseen looks from the Maison's AW21 menswear collection by Virgil Abloh, as a coterie of models sported looks from one of the standout shows of the season. Virgil's decision to take the show on the road was a fitting one, given the notions of travel and escapism at the collection's heart (which i-D Fashion Director Osman Ahmed neatly unpacks here). More than that though, it was a touching way of welcoming the BTS boys to the LV family by bringing the show to them. Too cute! MS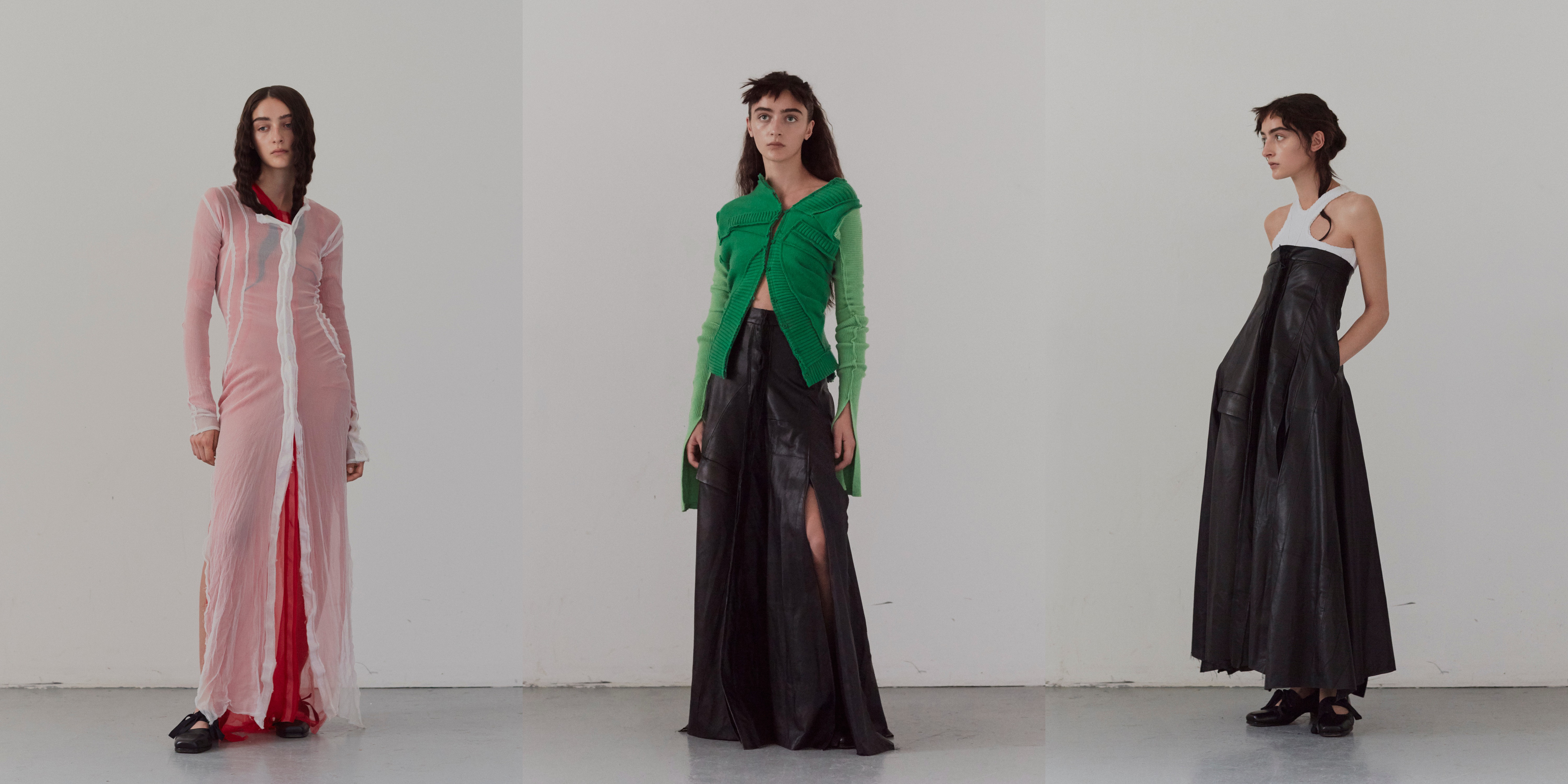 Talia Byre takes a sensual turn for SS22
Looking at young London-based label Talia Byre's SS22, you'd be hard-pressed to believe that its founder, Talia Lipkin Connor, only started working on her semi-eponymous practice at the dawn of the first lockdown, just after she graduated from CSM's prestigious MA course. In just over a year she's put out three fully-fledged collections — the latest with just a lead time of 10 weeks! — exponentially refining her handwrought, unapologetically feminine design language with each one. Her SS22 collection, Anti-Purism, sees her push her approach to its most nuanced, most seductive degree yet. Born of avid research into colour theory, as well as an antithetical reaction to French architect Le Corbusier's Purist Manifesto; Talia has gone all-in for colour this season, offering sinuous, peel-off-the-shoulder tops and cardigans and voluminous skirts in a palette spanning scarlets, purples and pinks, teals, lime greens and royal blues, all against a base of starchy whites, muted browns and sober blacks. Talia's palette is not the only thing to have expanded this season, though. The range of textiles she works with have, too! Column dresses in doubled chiffon and an empire-waisted frock in repurposed black leather bring a subtle body-consciousness into the equation, rounding out the collection's skin-cladding jerseys and cashmere-blend knits with sensuality and poise. Truly one to watch! MS
Get your mug beat at Browns!
Ok, so we know that this is usually a fashion news round-up, but darling, nothing is more chic than a radiant mug! If, like us, the dreary weather of late has sapped the glow from your visage, then fear not — we have just the thing for you. Over the next six weeks, Margate-based natural skincare and fragrance label Haeckels is setting up shop in Browns' très fab new Mayfair location. From their residency in the Big Smoke, they'll be offering you — yes, you! — the chance to "harness the mineral-rich power of the ocean" (!!) with a series of custom-developed luxury facials in the Browns flagship's Parlour, as well as indulging in a one-of-a-kind scent making session using botanicals from the garden. You "can expect something truly unique but also real; a tranquil time out within the building, cleverly bringing the garden into the store using a scent created from unique distillations from clippings taken from the courtyard itself," says Dom Bridges, Haeckels' founds. "This establishes the authenticity of the space — nothing superfluous, only using what is present to amplify the sensuality of the space." Sign us up, Dom! MS
Kenneth Ize's Karl Lagerfeld collab is finally here!
From a design perspective, Karl Lagerfeld and Kenneth Ize aren't necessarily two names you hear in the same breath — but that's what makes their new collaboration such a beautiful love story! That's right, the long-awaited collection — which sees the Lagosian designer apply his vibrancy and sense for intricate craftsmanship to the label founded by King Karl himself — has now arrived online and in Karl Lagerfeld's flagship stores in Paris and London. "Kenneth shares Karl Lagerfeld's vision for innovation, craftsmanship, quality and authenticity, and we are excited to bring the fruits of this collaboration to the public," said Pier Paolo Righi, Karl Lagerfeld's CEO. The result of a close collaboration between Kenneth and Karl Lagerfeld's Design Director, Hun Kim, the latter's iconic monochrome palette has been revitalised with patterns inspired by the handwoven aso oke cloth that Kenneth has made the cornerstone of his creative practice. A favourite of ours has to be the black-and white swirl print seen on pure silk shirting and matching pants in Italian hemp. Go get yours — NOW! KK
For the LOEWE of art!
Living and working as an artist in London is a dream for many, but, we're not gonna lie to you, the reality of it can be pretty damn harsh. Faced with dramatic decreases in funding for the arts, alongside exponential rises in both home and studio rents, eeking out a living as an emerging artist in the British capital ain't cute at times. Thankfully, though, there are private organisations that recognise the vital contributions of artists to the city's cultural vibrancy — not to mention its economy — and have stepped in to offer their support. Earlier this week, Clapham gallery Studio Voltaire and the Loewe Foundation announced the seven London-based artists chosen to receive the Loewe Foundation / Studio Voltaire Award, a programme founded with the explicit intent of amplifying artistic voices across class, race, gender, sexuality and disability. In a testament to the Madrileño fashion house's commitment to incubating fresh creative talent, Ayo Akingbade, Ufuoma Essi, Adam Farah, Nnena Kalu, Djofray Makumbu, Josiah Moktar and Curtly Thomas will each receive a rent-free workspace within Studio Voltaire's newly developed buildings for two years, a bursary of £2,000, and an individualised programme of mentoring and professional development. We love to see it! MS
Get shady with Ambush and Gentle Monster
"The eyes, chico, they never lie!" goes Tony Montana's famous line in Scarface, and, if the sunglasses Ambush and Gentle Monster just put out are anything to go by, they both feel very much the same. Inspired by each brands' respective aesthetic identities — Ambush bringing slick, pop-art flair to the table, while Gentle Monster brought its trademark sci-fi minimalism — they proposed two new sunglass designs in three different colourways, each featuring Ambush's signature 'CARABINER' detail. "Gentle Monster has been incredible with its unique vision and presence in the industry, pumping out many unique pieces straight from Korea, my motherland. I'm proud to announce our second collaboration using our classic motifs found in our jewellery line," said Yoon, Ambush's creative. The collaborative collection is now available to purchase worldwide at Gentle Monster and Ambush's online and brick and mortar stores. So go get yourself some new shades girl, you've earned it! KK