Watch the final trailer for the Scream reboot
Get up to speed before the return of the horror classic hits cinemas on Friday.
|
12 January 2022, 10:00am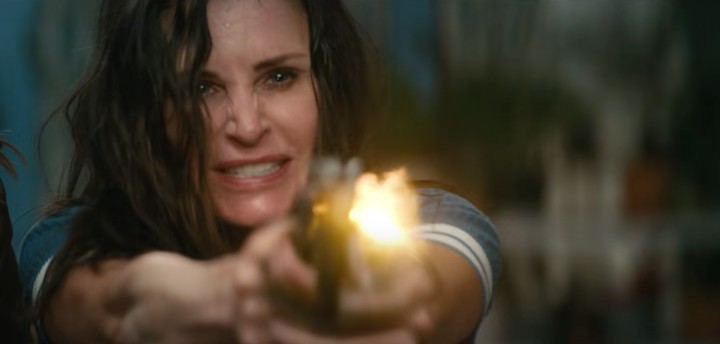 We usually don't see horror movies pop up until around spring time, so thank god for the reboot of Scream, arriving on Friday, that's going to cut through those winter blues with some much-needed blood and guts. Ahead of its release, the studio behind the anticipated movie (informally known by fans as Scream 5) has revealed a final trailer, giving us a closer look at the possible fates of the characters, as well as some of the critic's opinions. One has even hailed it "a masterful horror classic".
For those not caught up with the plot of the new Scream, the movie sees Jenna Ortega of You fame seemingly taking on the iconic first death role established by Drew Barrymore in the original 1996 film. Of course, 25 years later, Ghostface's MO has changed with the times and landline calls are replaced with text messages and app-controlled door locks.
We then have the return of relentlessly terrorised Sidney Prescott, Gale Weathers, Dewey Riley and Judy Hicks, from the fourth film, each played by their original actors: Neve Campbell, Courteney Cox, David Arquette and Marley Shelton, respectively. (Luckily, despite Instagram posts suggesting otherwise, Courteney's cursed bangs from the third film will not be returning). Having stopped seven Ghostface murderers so far, the team advise a new set of teens -- all relations of the previous killers behind the mask -- on how to evade death in the school hallways and house parties.
The first Scream movies became notorious for taking famous stars such as Drew Barrymore, Sarah Michelle Gellar, Kristen Bell and Emma Roberts and dramatically killing them off, sometimes within the opening scene. Will the new film follow suit? Well, it remains to be seen. But the trailer shows that alongside the OG cast is Melissa Barrera (she's also starring in the new Carmen adaptation with silver chain king Paul Mescal), a blonde Dylan Minnette of Thirteen Reasons Why fame, Jasmin Savoy Brown, model Sonia Ben Ammar, Mikey Madison (Once Upon A Time in Hollywood) and Mason Gooding (Love, Victor) all as the ill-fated high school teens, alongside Jack Quaid (The Hunger Games) and Kyle Gallner (Jennifer's Body). Perhaps all of them will be murdered!
During filming, which took place in autumn 2020, multiple script variations were made and unused scenes were filmed to stop the murderer's true identity leaking -- as it infamously did in 1997 around the release of Scream 2. So, 11 years after Scream 4 we can finally watch the franchise's new chapter in cinemas on 14 January 2022. Watch the recent teaser below. We can't wait.
Follow i-D on Instagram and TikTok for more on horror movies.