Photography Arnaud Lajeunie. Images courtesy of KNWLS
Charlotte Knowles becomes KNWLS for AW21
The cultish London label just revealed its slick new brand identity, along with its most accomplished collection yet.
Photography Arnaud Lajeunie. Images courtesy of KNWLS
If, as they say, periods of strife are followed by periods of growth, then boy are we set to see a lot of growth in fashion. Proving that right is KNWLS — the label you'll have, until now, known as Charlotte Knowles — who today revealed a fresh brand identity. "During lockdown, especially at the beginning, we had a lot of time to think, and a lot of big decisions to make," Alex Arsenault, one half of KNWLS's founding duo says. "We were sitting down and really analyzing where we're at, and where we want to be in the future," Charlotte adds.
The conclusion they came to was that their practice — which draws on a close community of collaborators like stylist Georgia Pendlebury and imagemakers Arnaud Lajeunie and Harley Weir — had outgrown the narrow parameters its eponymous moniker imposed. "We wanted something concise and a bit more cryptic, that would maybe represent what the brand identity is better than just a name," Charlotte says. "It's not just an eponymous, one-person effort. We're moving towards being a bigger luxury house."
While the new name certainly does a good job of that, it is, as ever, the clothes that do the talking. For AW21, KNWLS presents "Feral", a svelte collection that restates the brand's mission statement with fresh maturity and poise by proposing an assured, elegant and downright rad take on feminine dressing. A feline silhouette dominates; think lithe viscose jersey tops and trousers, draped mini dresses in faintly cyber riffs on big-cat prints, and slim tailoring in featherlight stretched suede.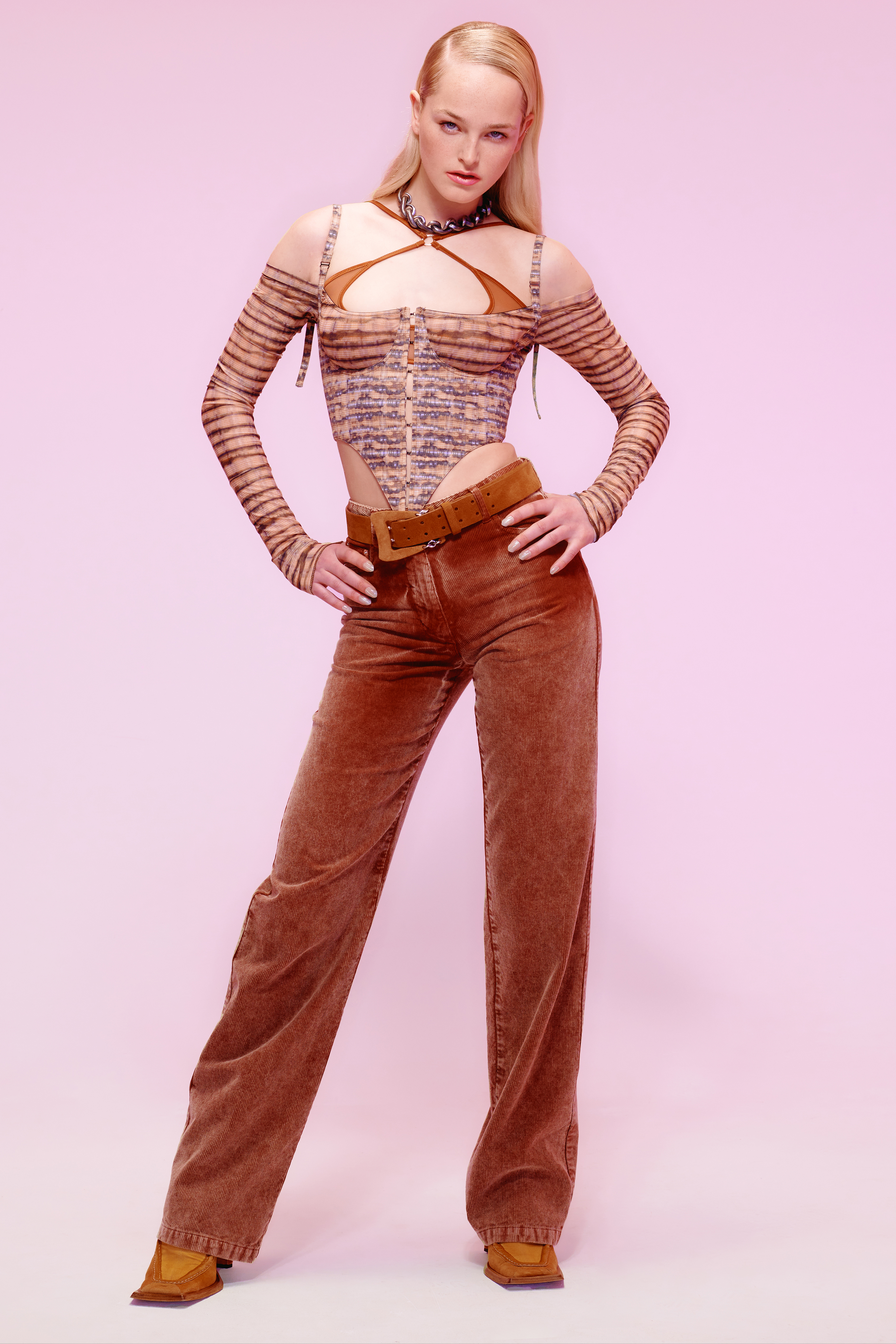 They're counterposed by pieces that imply a bold, will-not-be-fucked-with strength, like coated black cotton trench coats that draw on the severity of 40s biker jackets. Then, there is this season's shearling pieces: a wide-skirted coat and corset-vest hand-painted a mottled camouflage of forest greens, as well as a hand-shaved zip-up jacket.
AW21's more explicitly evening-ready looks — a sleeveless black corduroy corset dress, and a printed godet gown with a criss-cross halter-strap neckline — capture KNWLS' ability to offer a full, dynamic wardrobe. "I think we've always stayed away from eveningwear a bit, or we've been a bit scared of it," Charlotte admits. "It can so easily look really frumpy or gaudy." However, a raft of red carpet requests (a given, in light of the label's inherent celebrity appeal) saw the pair apply themselves to the challenge of "making a full-length dress feel KNWLS", Alex says.
The senses of chic severity and conviction that the finished result demonstrates is certainly cause for excitement, but perhaps more so is the potential for the continued expansion of the brand's remit. If its new name signifies a step towards establishing itself as a here-to-stay luxury house, then, with this collection, KNWLS hasn't proven that it's well on the way to that goal. It's proven that it's already there.