Main images credits (from left): Photo by John Parra/WireImage; Photo by Matthew Peyton/Getty Images; Photo by Carlo Allegri/Getty Images. Collage by Douglas Greenwood
How 2000s label Heatherette changed celebrity in fashion
The brash, shamelessly queer label upended fashion's snooty relationship with fame, putting Naomi Campbell, Kim Kardashian and Anna Nicole Smith on the same stage.
Main images credits (from left): Photo by John Parra/WireImage; Photo by Matthew Peyton/Getty Images; Photo by Carlo Allegri/Getty Images. Collage by Douglas Greenwood
Cast your mind back to 2004, the height of pop culture's golden age; the year that gave us Mean Girls, the Motorola Razr and Natasha Bedingfield's "Unwritten". Meanwhile, over on America's East Coast, New York nightlife icon Amanda Lepore was sashaying down the runway for one of the city's best-loved fashion houses of the 2000s, Heatherette. Spilling out of a rhinestone-embellished corset, she tossed handfuls of pink rose petals into a starstruck front row, then cruised on backstage to kick up her feet with Paris Hilton, decked out in a sunset-ombré tiered tulle minidress. Naomi Campbell was hot on her heels, her svelte figure patchily clad in a dress composed solely of jagged, mirrored stars.

"Naomi was on stage at Radio City presenting an award when the show started, so it was nail-biting," recalls Traver Rains, who co-founded Heatherette with notorious club kid Richie Rich. "We had Paris in her look, just in case she didn't make it, and sent Amanda Lepore out to stall the show – we told her to just keep walking until she saw someone else come out." Naomi made it in the end, of course, nabbing the closing look off the blonde heiress, and emerging on the catwalk to a standing ovation. "Meanwhile, all I could think about was hoping that the sharp edge of the stars wouldn't slice her nipple off," Rains recalls. "That would be the end of our careers."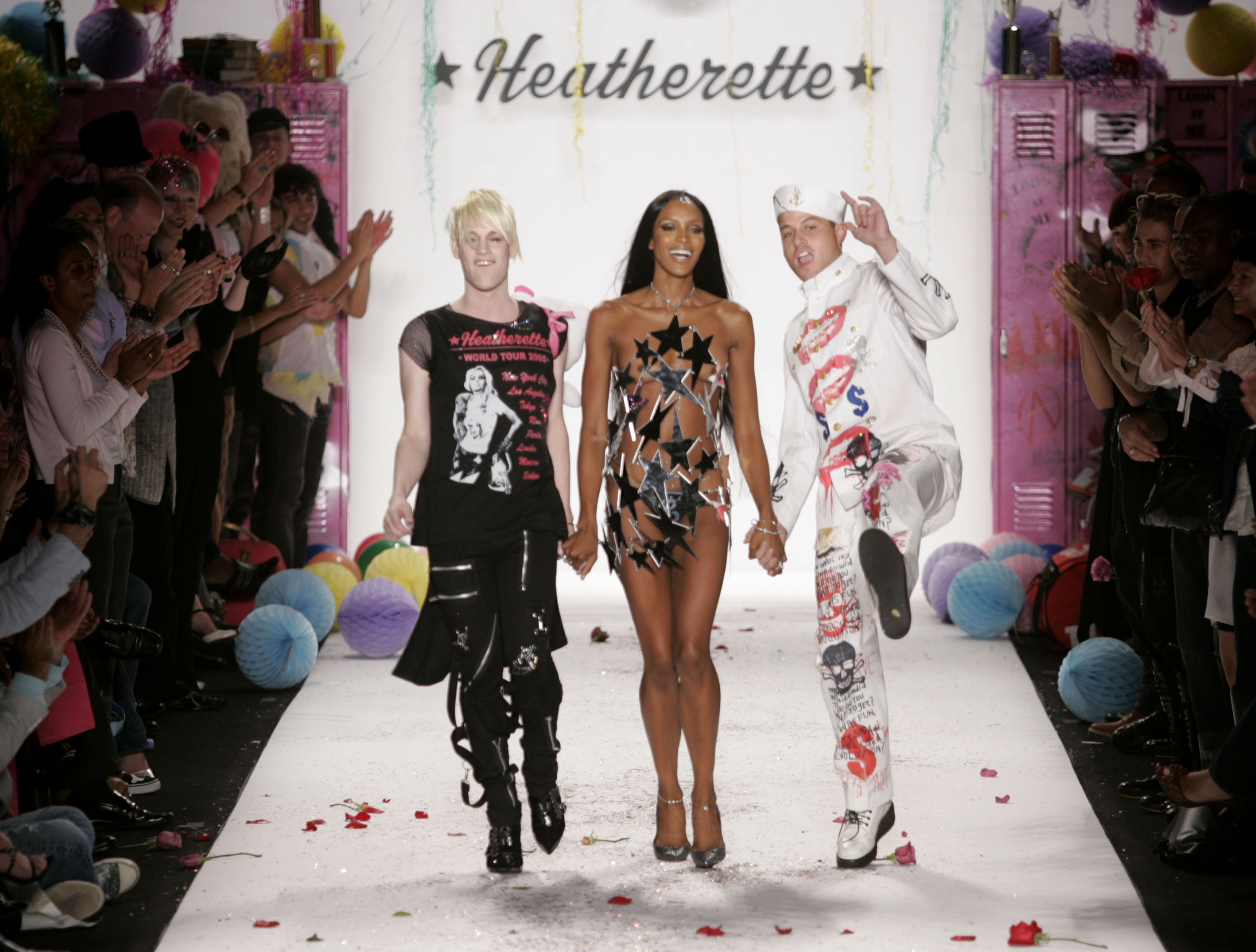 Consider this vignette a window into the chaotic genius of Heatherette, which, over the course of its nine-year reign, blossomed from a brand that bedazzled baby-tees for the city's most glamorous, hedonistic partygoers into a bona fide fixture of the New York fashion scene. It all goes back to when Traver and Richie Rich first met at a riding school on the Chelsea Piers in 1999, where the former was teaching the son of nightlife legend Susanne Bartsch how to take to the saddle. The pair quickly bonded over a mutual love of dressing up and going out, and soon began crafting their own luxury leather goods and bespoke glittery T-shirts, eventually attracting the attention of a magpie-eyed buyer from Patricia Field's Bowery store.
"The fashion scene in New York was fairly corporate and boring when we started showing," Traver says of his early days in the industry. "People were really wanting something crazy to mix it up." Heeding calls for more colour and chaos, the two got to work fast, lining up commissions for midriff-bearing tops to be worn in Sex and the City promo shoots, outlandish red carpet looks for Gwen Stefani and Foxy Brown, and even providing the perfect dress for a teenage Teyana Taylor at her Barbie-themed My Super Sweet 16.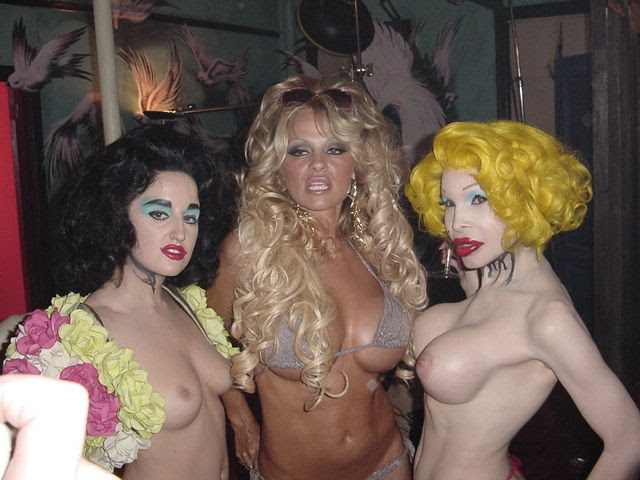 With one foot rooted in the increasingly-style obsessed world of celebrity, and another in the city's bustling club scene, Heatherette's rise to the big leagues relied on a novel formula for success. The label created a space where glamorous tabloid stars and their entourage of queers came together with Hello Kitty-loving scene girls, sharing swabs of lip gloss and tips on how to get your bangs cut. As an equation, it works out something like 'Camp + Creativity x Provocation = Press' — and tons of it. The brand were among the first to openly embrace 'new fame' on the runway, inviting tabloid stars typically precluded from the catwalk — Jenna Jameson, a pre-KUWTK Kim Kardashian and even the late Anna Nicole Smith, to name a few — to let loose on stage in fairytale dresses, flouncy organza skirts and enough sequins to make Ashish's eyes water.
"I think Heatherette really showed the children that an idea, an aesthetic and conviction are more important than formal training in fashion, which you can still feel the effects of in the fashion industry today." — Aimee Phillips
"Many of the reality/mainstream celebrities Heatherette unexpectedly embraced in a fashion context have become fodder for more mainstream brands," says fashion critic and historian Alexander Fury of the brand's runway legacy. Whether it's Anna Wintour putting members of the Kardashian clan on the cover of American Vogue, Prada and Louis Vuitton finding their next generation of It-girls on TikTok and YouTube, Lanvin spotlighting Paris Hilton for their SS21 campaign, or London-based label Art School tapping the likes of Dawn Ward and Bimini Bon Boulash for their poetically queer shows, the "wider cultural embrace of art forms such as drag means that the current fashion landscape seems closer to Heatherette's panorama than one may expect".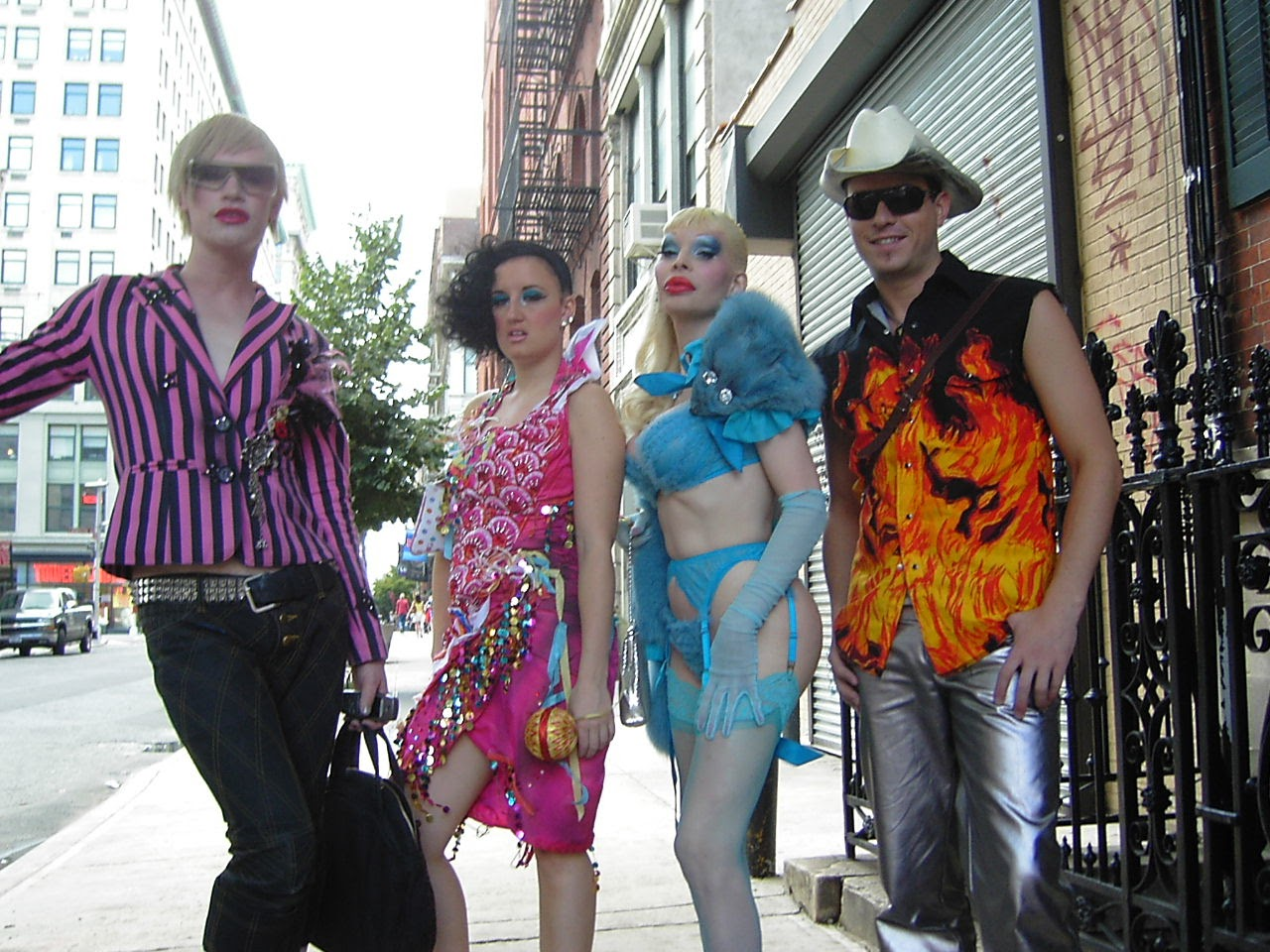 It was around the time of Heatherette's peak that Scissor Sisters, a flashy queer pop outfit born out of NYC's club scene, were beginning their ascent to global superstardom. Jake Shears, the band's frontman, was caught in Heatherette's glitzy web almost immediately. "They were fans of this early stuff I was doing," Jake explains. "I think they were probably listening to the music a lot in the studio." After Heatherette's right-hand, Aimee Phillips, pulled him into their East Village base to try on some pieces, a bond was cemented between the group. From then on, every live performance or festival pit-stop saw Jake kitted out in the latest, greatest and sexiest pieces that Richie and Travers had conjured up. "It just looked like the height of New York glamour and fun," he says, "this awesome blend of things bleeding into everything else."
Aimee says that at one point there was even a reality show in the works ("Thank fuck no one commissioned that!"). As the brand's resident PR maven, a title she earned through partying hard in the label's runway looks and being the only person present who would ever answer the phone, Aimee was there to have fun — actual fun, not weird, contrived fashion fun — and help the duo make noise. "It still surprises me, especially now that I'm living in London, how many people have not only heard of Heatherette but were really impacted by what we were doing," she says. "I think it really showed the children that an idea, an aesthetic and conviction are more important than formal training in fashion, which you can still feel the effects of in the fashion industry today."
For all the queer magic the pair sent strutting down the runway, or even put to film in one legendarily bizarre MAC Cosmetics campaign shot by David LaChapelle, a heavy comedown was brewing that not even the Heatherette crew could party through. "Prior to the market crash in 2008, we had a huge amount of orders in production," Traver says. "When things crashed, department stores went back on their orders, so we got stuck with too much stock. Everyone got nervous, our backers wanted us to stop doing the fashion shows, and things just stopped clicking."
"We thought we could just throw people at it, throw money at advertising, but it didn't move the needle. It was just us lying to ourselves," says Daymond John, a partner in the brand and the man behind hip-hop wear pioneers FUBU, reflecting on this tricky period in an interview with Business Insider. With losses already mounting to around $6 million, the unprecedented global financial crisis spelt the end of the party for Heatherette. In 2008, the garish maison shut its doors for good.
Richie and Traver are still around of course; the former recently started BEAUTYKWEEN, a virtual beauty venture, and the latter is a fixture on LA's fashion scene with formalwear label Dulce Bestia. Though never formally embraced by the fashion institution during their peak — "we were TOO campy back then," Traver says — the two did get a modest shoutout in The Met's 'Camp: Notes on Fashion' exhibition in 2019. "I think it's pretty ironic," he jokes of the monstrous Hello Kitty creation that made the cut, "regardless, it was quite an honour to be included".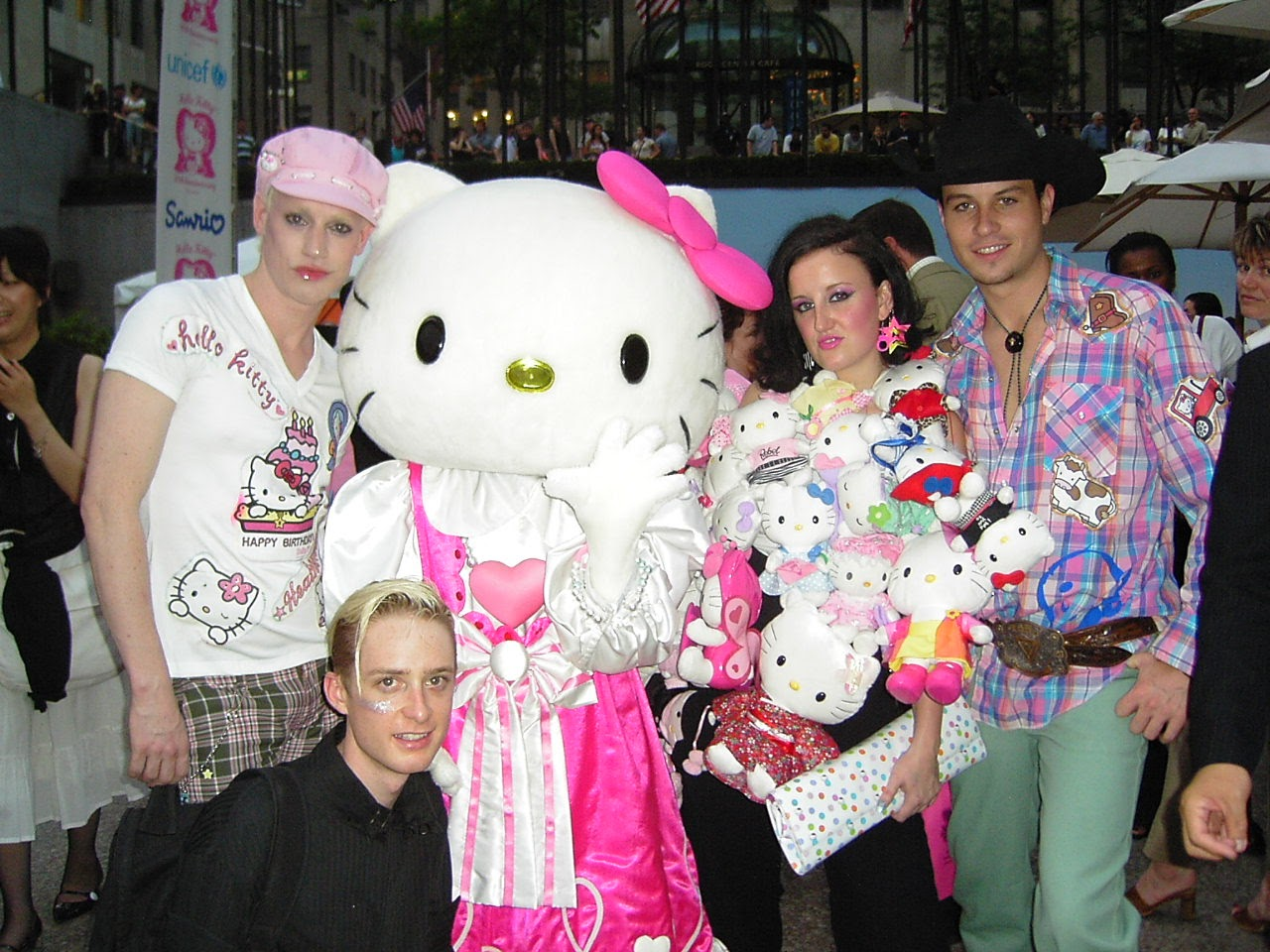 So what legacy did their dazzling moment in the spotlight leave? You need only look at the performative cheekiness of Vaquera's larger-than-life Tiffany bag dress, or The Blonds' elaborate takes on the modern Disney Villain — casting Paris Hilton as legendary Dalmation dominatrix Cruella De Vil — to see that their spirit is alive and kicking among NYC's next generation of design talent. Indeed, whether it's seen on the runway at Christian Cowan and Blumarine, or in the halls of major art institutions, the exuberant camp that's being embraced and celebrated across the industry's top tier has Heatherette's heavy eye-shadow smudged all over it.