Everything we know about the Charli XCX documentary
Her new movie 'Alone Together' premiered at SXSW last weekend. From release date to who appears in it, this is everything you need to know.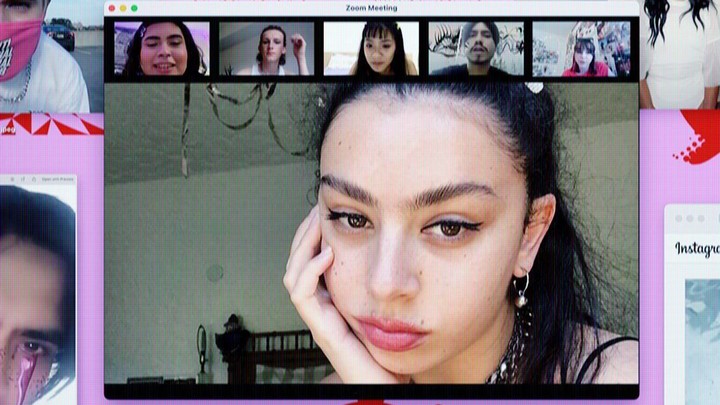 Image via SXSW
Remember back during lockdown 1.0, when Charli XCX, stuck inside her house, set herself the challenge of crafting a whole album in five weeks without seeing another songwriter or producer IRL? That record, how i'm feeling now, was formed by Charli in collaboration with AG Cook, BJ Burton, and her fans, who she'd regularly host Instagram live and Zoom sessions with to get feedback on what she had worked on so far. The final product, a glitchy, ghoulish romance album, was a hit with fans and critics, and got shortlisted for 2020's Mercury Prize. Well, it turns out she was making a documentary, titled Alone Together, during its recording process too.

Alone Together, a moving portrait of what it means to create in the digital age, just debuted at this year's digital SXSW festival, with critics praising the way it makes sense of Charli's wild fandom and explores the creation of a singular record with high emotional stakes attached to it. But what's it about on a wider scale? Who directed it? Is there a trailer? And when the heck can we finally see the damn thing? All of these questions are about to be answered.
What's Alone Together about?
Yes, the documentary explores the making of how i'm feeling now and all of the intricacies behind its inspirations, but the vulnerabilities we saw in those live sessions online is added to here. With cameras seeming to run pretty much non-stop throughout the recording process, we're given perhaps the most exposing look into Charli's life to date.
Alone Together starts at the obvious point: just as lockdown began in spring 2020. But instead of following the traditional lockdown trajectory, the relationship between Charli and her boyfriend Huck Kwong seems to form the backstory to how i'm feeling now's creation. The pair have been a couple for just over a year when we first meet them in the documentary, but seem to have been friends since 2012. We see them moving in together during the pandemic, despite the pair never having spent more than 11 days together since they first started dating. Charli's fans — her "angels" — play a key part in the project too. Many of them chronicle their own lockdowns, warts and all, alongside Charli; a handful appearing alongside the making of the record. It is, at its heart, a movie about how relationships catalyse great art and keep us sane when we're drawn apart.

Who appears in it?
Alongside Charli as the lead star, and her boyfriend Huck, who we've already mentioned, the documentary almost solely takes place within the four walls of Charli's house. There are no talking heads, only momentary delves into the outside world through the words of her fans and the occasional appearance of AG Cook via FaceTime. Oh, and Charli's managers Sam and Twiggy also move in, acting as soundboards and camera people for the album and documentary's creation respectively. All in all, a rather isolated affair.

Who directed Alone Together?
The duo responsible for stitching Alone Together, well, together, are well versed in the art of music video making, but this is their feature length documentary debut. Bradley&Pablo are known for producing music videos for Harry Styles ("Watermelon Sugar'') and Rosalia ("Aute cuture"), and have often worked with Charli on her visuals too ("Blame It On Your Love", "2099"). Their stylish approach could have made the grounded Alone Together a little too glossy, but they've maintained the most humble elements of the record's weird creation, keeping it real whilst splicing digital avatars amongst it, playing into the hyperpop fan community that lie at the heart of Charli's music.

Does it have a trailer?
As of right now, Alone Together doesn't have a trailer, nor have any clips from the documentary been released. All we have are loglines, reviews and a handful of screenshots to go off of. Expect more to materialise once the movie has a distributor.

When will it be released?
Again, this is another thing there's no solid answer for. Charli posted on Twitter shortly after the movie's SXSW premiere stating that they haven't sold it yet.

What does that mean? Well, a movie needs a distributor to get seen by an audience either in cinemas or digitally, be it Netflix, Amazon or an old-style distributor like Warner Bros. It can't be too far around the corner though. With strong reviews mounting up and the demand of Charli's fans, it wouldn't be a shock if someone like YouTube or Netflix (who Charli worked with for her Nasty Cherry: I'm With the Band series) snagged it. Patience, angels. Alone Together will be yours to view very soon.
Tagged: