Images courtesy of Chanel
Chanel hits the club for AW21
For AW21, Virginie Viard just designed one of her best Chanel collections yet, set in the basement of one of Paris' most legendary nightclubs.
Images courtesy of Chanel
You know the meme. It's Lady Gaga repeatedly saying the word "club", and it's captured our collective urge to feel the pulse of a sound system, the bustle of a crowded bar and the sweaty crush of bodies on a dancefloor. We're all desperate to go out-out, even the most introverted among us. Virginie Viard, the elusive creative director of Chanel, is just like the rest of us. For AW21, she staged the Chanel show in the intimate salons of Castel, one of Paris' most legendary nightclubs. It's considerably different to the monumental scale of its habitual fashion week home, the Grand Palais, where Chanel would recreate everything from waterfalls to space stations — and the first time the French house has shown its ready-to-wear in another Paris location — which was fitting as 'intimate' was a word that Virginie used to describe her collection.
"I imagined the models doing a show for themselves, going from room to room, crossing each other in staircases, piling their coats up in the cloakroom and going up to the next floor to get changed," Virginie explains. "I like Castel so much for its many salons, the spiral staircase, its bar, the journey through this venue, its little house style, where the models can get changed, dressed and undressed, do their make-up together, and have fun like a girls night in."
Girls' night in? Perhaps what Virginie means is the ritualistic fervour of girls getting ready together for a Big Night Out. There was certainly a sense of occasion, of skin-flashing sexiness to her collection, which she elegantly describes as "sensual". It's Chanel, after all — the lady is never a total vamp. Here were abbreviated versions of all the classic Coco-isms, like tweed jackets baring toned midriffs, high-waisted trousers panelled with wisps of translucent chiffon, and scrims of organza dresses worn over tweed bandeaus and skirts with bare legs. Big chevron coats were draped over these reveal-and-conceal outfits, slung onto the cloakroom counter as the girls descended the spiral staircase at Castel. Coco's beloved black was the most pervasive colour, nocturnal in its spirit — but there were also jolts of bright fuchsia, tangerine and cobalt, and even a rainbow-hued retro print on pleated silk miniskirts and dresses.
Virginie even has you covered for the morning-after-the-night-before with hints of après-ski: fuzzy shearling Chanel jackets, quilted salopettes and overalls, fluffy two-tone faux fur snow boots, and cosy-looking knitted jumpers. "This collection is a mix of two influences: the ambiance of ski holidays, which I adore, and a certain idea of cool Parisian chic, from the 1970s to now," she points out. If there were ever two modes to draw upon for the way we will dress come September — simultaneously relishing the hedonism of nightlife and retaining a sense of domestic comfort — then let it be in the image of that. Chanel for day and night.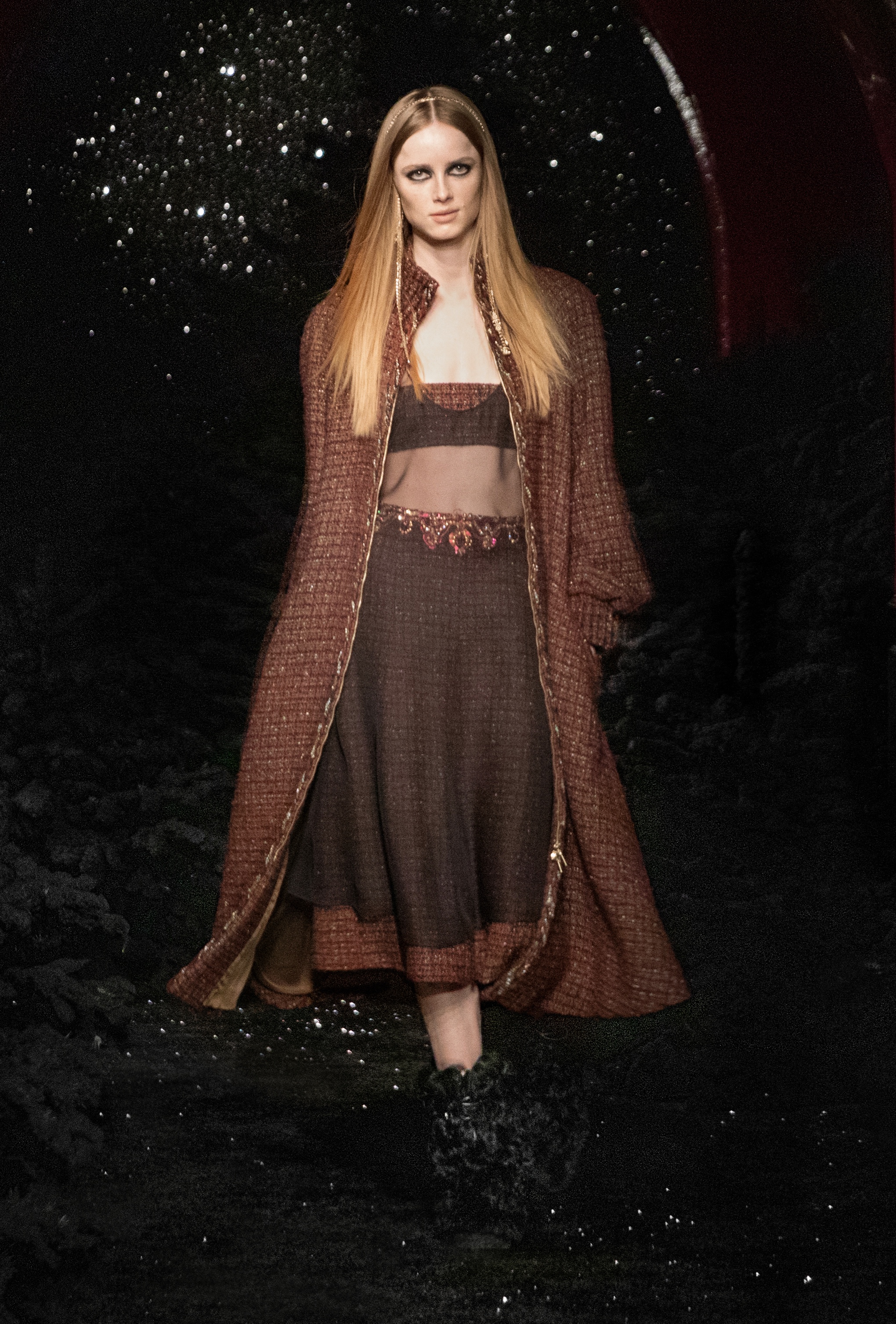 TKTK