Photography Ottilie Landmark. Images courtesy of Sinéad O'Dwyer
Sinéad O'Dwyer offers empowered, body-diverse luxury for AW21 
The young London-based designer translates her radical vision to ready-to-wear, proving that fashion truly is for all.
Photography Ottilie Landmark. Images courtesy of Sinéad O'Dwyer
"I'm really interested in how big busts have been typecast," Sinéad O'Dwyer says. "In books and films, they're often portrayed as either buxom and sexualised, or motherly, and these ideas then dwell in our minds." If you're familiar with the young London-based designer's work, her musings on how ample chests have been perceived and packaged over the course of fashion history will come as little surprise. Interrogating and rewriting the cruel, exclusionary relationship between the fashion industry and women's bodies is, after all, the core pillar of her practice, which she established at the 2018 Royal College of Art MA graduate show. There, she presented a series of bright, hand-poured silicone casts of the bodies of her friends and muses.
Where these pieces directly grappled with the exclusion of non-sample-size bodies from mainstream fashion narratives, asserting their right to visibly and adamantly take up space, 'The Switch', Sinead's AW21 collection, takes a slightly different tack. Here, she translates her radical approach to wearable contexts, unpicking unconscious biases around specific garments and the bodies we instinctively associate with them.
Drawing on memories of conversations with her mother and sister about the unflattering, matronly fit of straight-cut shirts on women with larger busts, she set about reimagining "a garment that's typically worn on a flat person for a less flat person." She inserted darted cups into cotton poplin shirts, moulded from the bust of her longstanding muse, Jade O'Belle, integrating a similar construction into a strapless pearl white satin dress and an imposing coat in forest green vegetable tanned goat leather, sourced and tanned in the UK. "It's perhaps a slightly more literal interpretation of power, strength and taking up space," Sinéad says, though it's no less disruptive, offering a defiant, concrete counterpoint to historical ideas of women's power dressing that prioritise a flat side profile.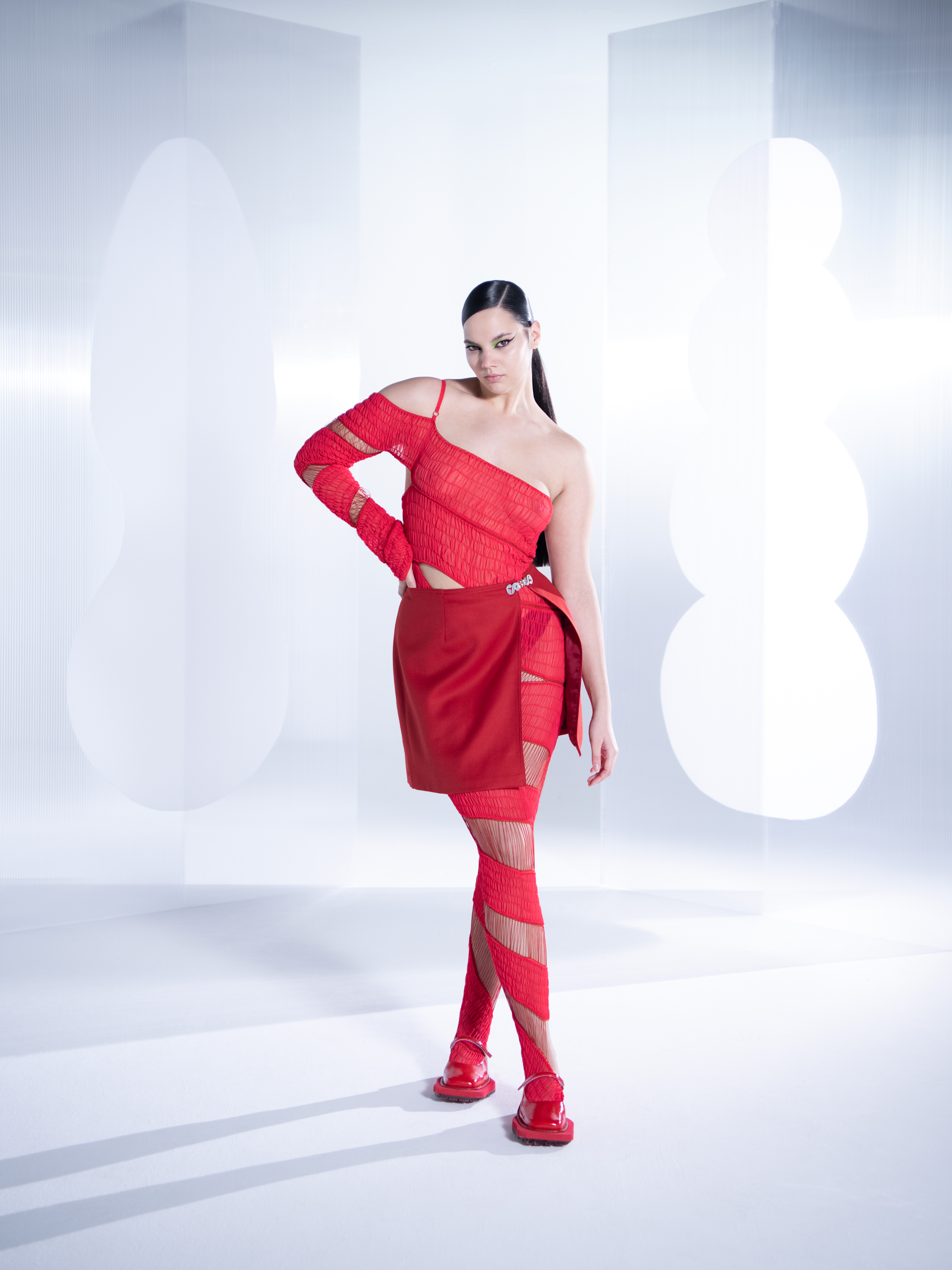 Beyond the bust, attention is paid to other garments that bodies with certain body shapes are typically precluded from wearing. "If you're not a really small size, finding a pair of leather trousers you love that aren't pleather is tough," Sinead says, leading her to develop a size 20 pair using a spiral-cut pattern. The technique is then echoed in the collection's dresses, leggings and bodysuits, composed of coils of shirred silk satin and chiffon which gently hug and move with the contours of the wearer's body.
It's also put to use in a thigh-boot created in collaboration with London-based cordwainer Tabitha Ringwood, suggesting a carnal energy that fully materialises in pieces like a wool schoolgirl skirt; apron-like Swarowski-crystal-embedded silicone bodycasts that nod to a BDSM latex garment worn in an image from Nan Goldin and Nobuyoshi Araki's Tokyo Love: Spring 1994, held up with straps and silver, sex-toy-shaped clasps handcut by Kevin O'Dwyer; and a custom illustration of a queer femme orgy by artist Christa Jarrold, embroidered on the quilted satin uppers of pairs of square-toed Mary Janes.
What it all boils down to a body of work that "twists and critiques our ideas around what bodies belong in what clothes," as the designer aptly puts it herself; that takes luxury fashion's aspirational narratives of self-actualisation, and makes them accessible to the women they've historically overlooked. "Most women want to be many different things, but are just shoved into a box, especially if they're bigger," Sinead says. "I want to challenge the idea that certain garments inherently look better on certain bodies. It's just not true." And here's a collection that proves it.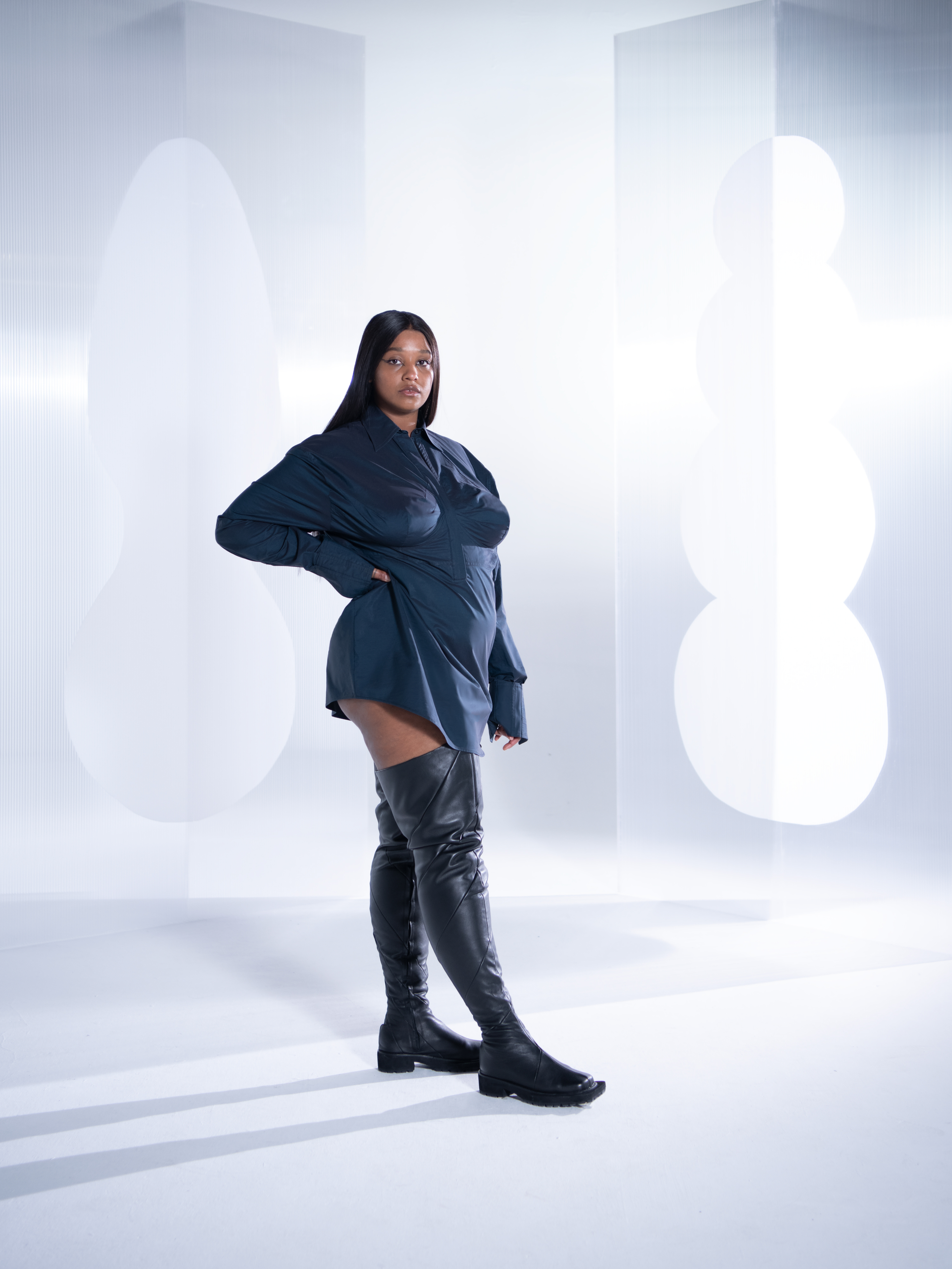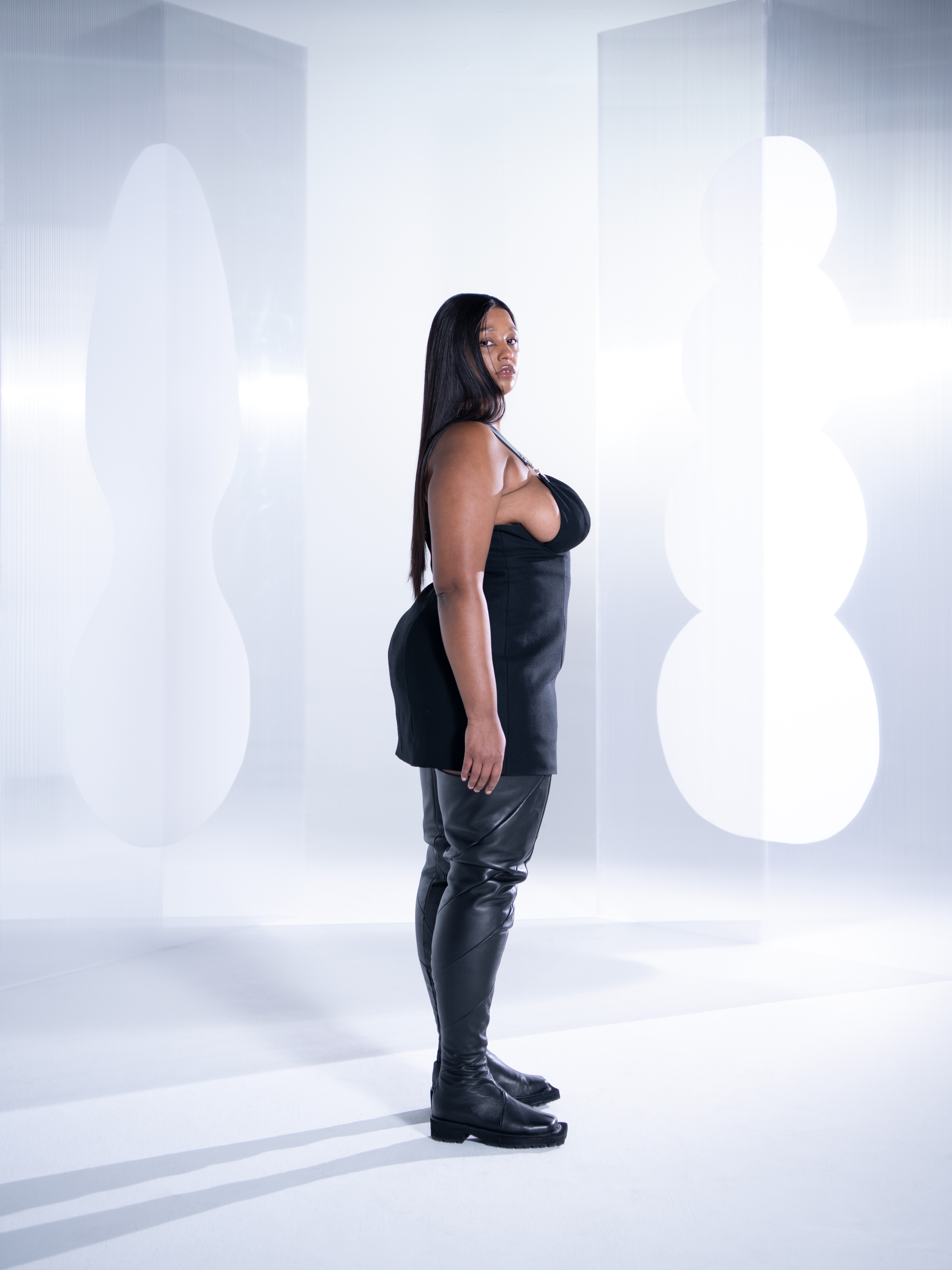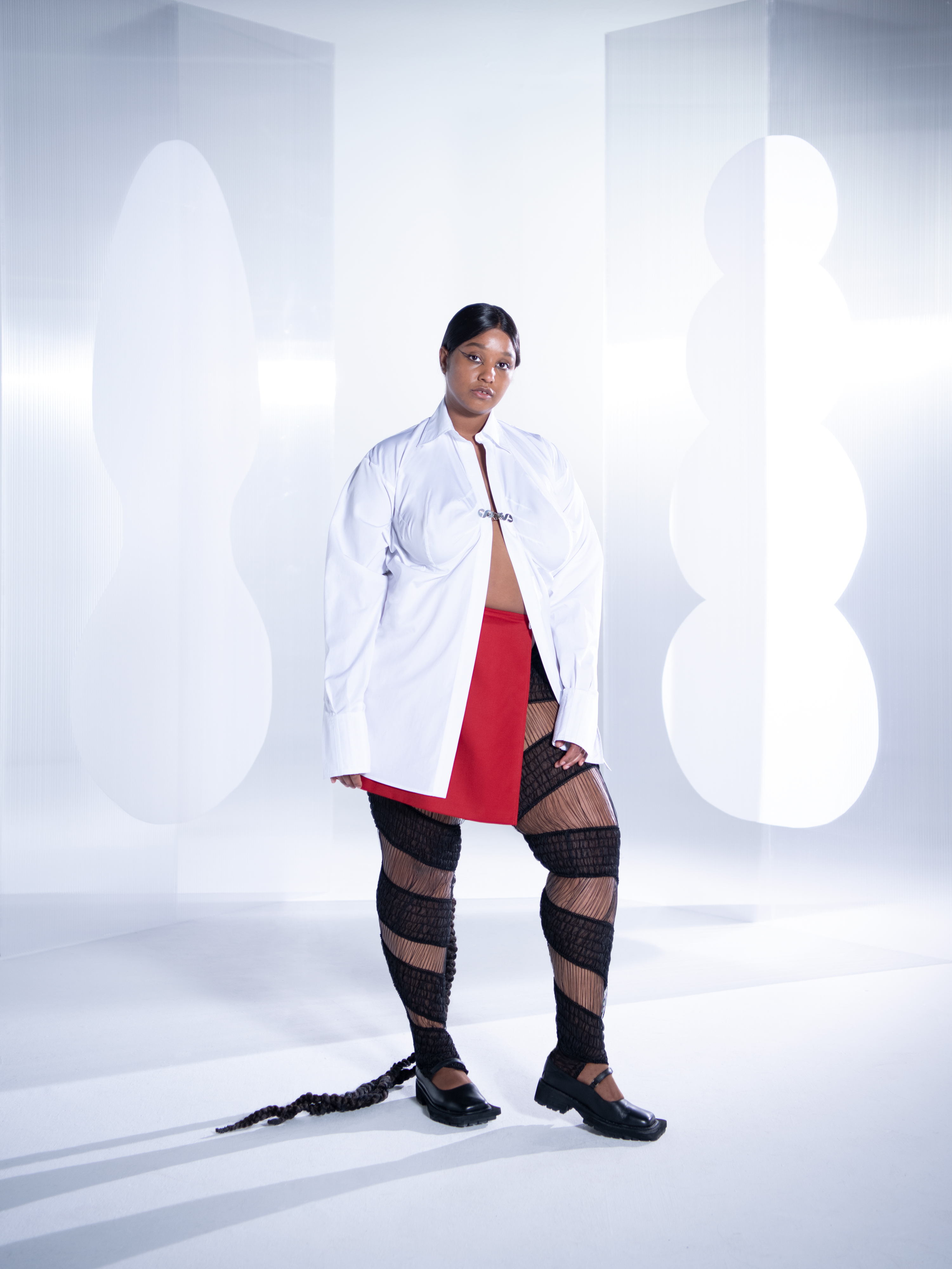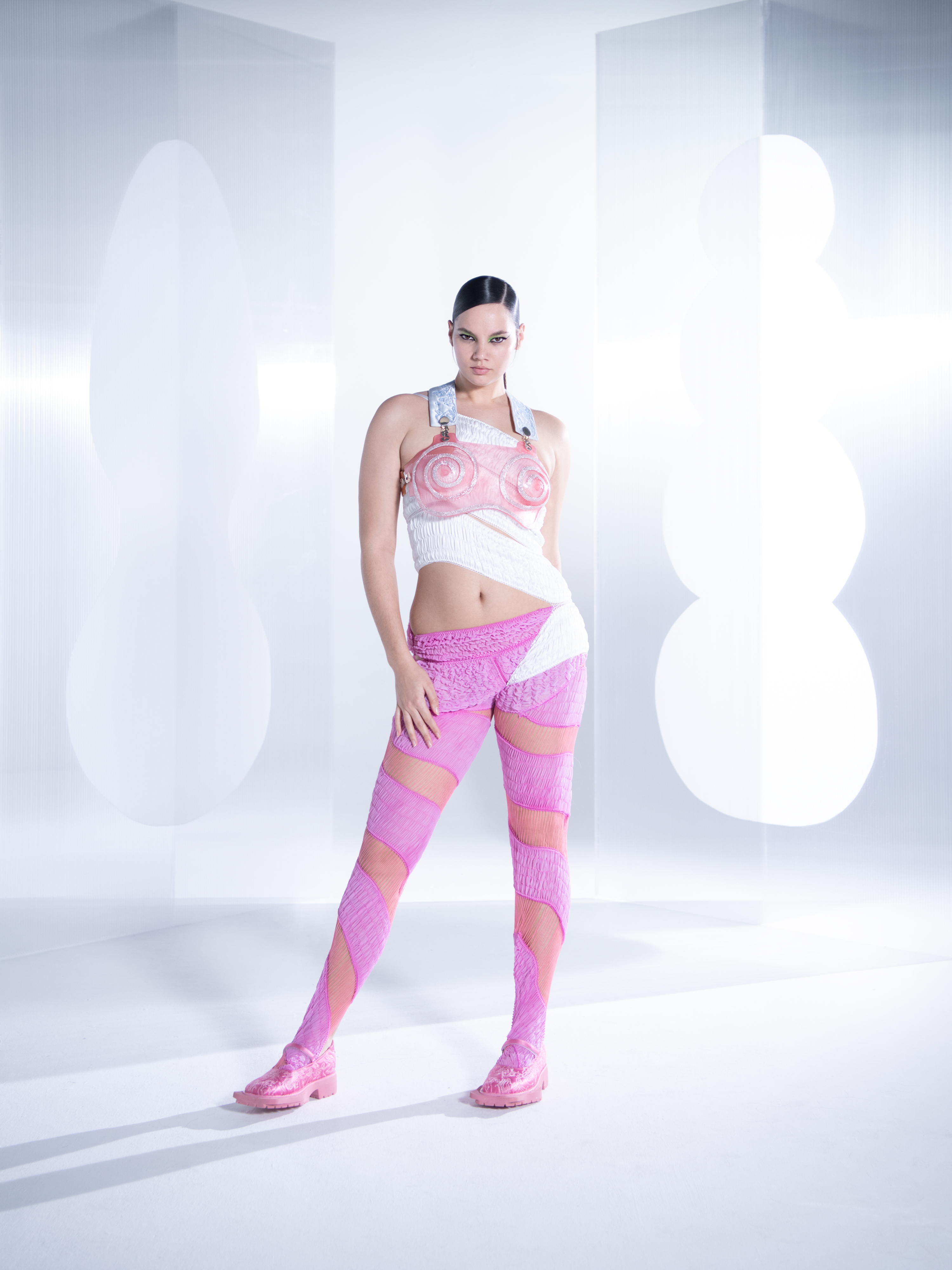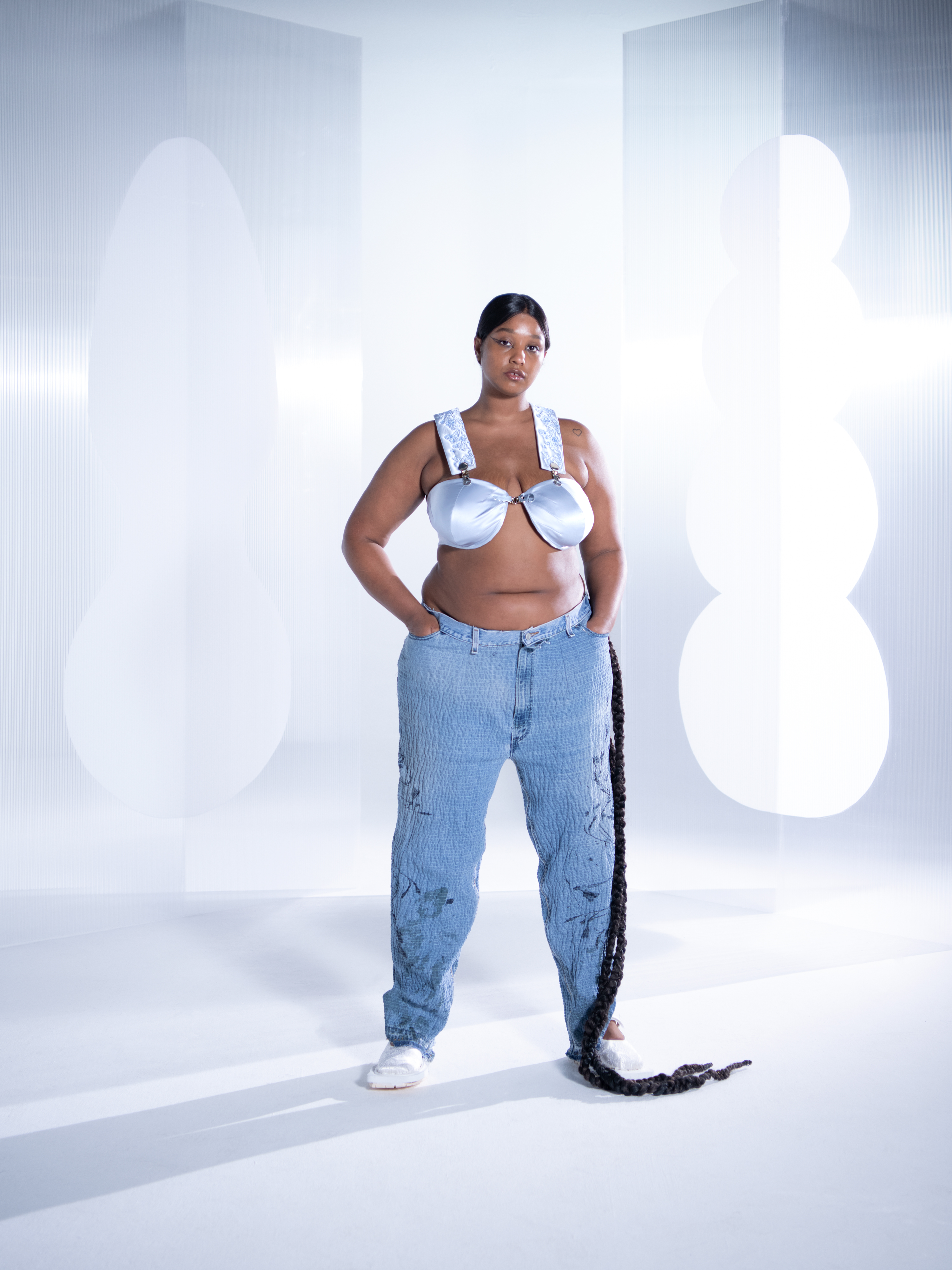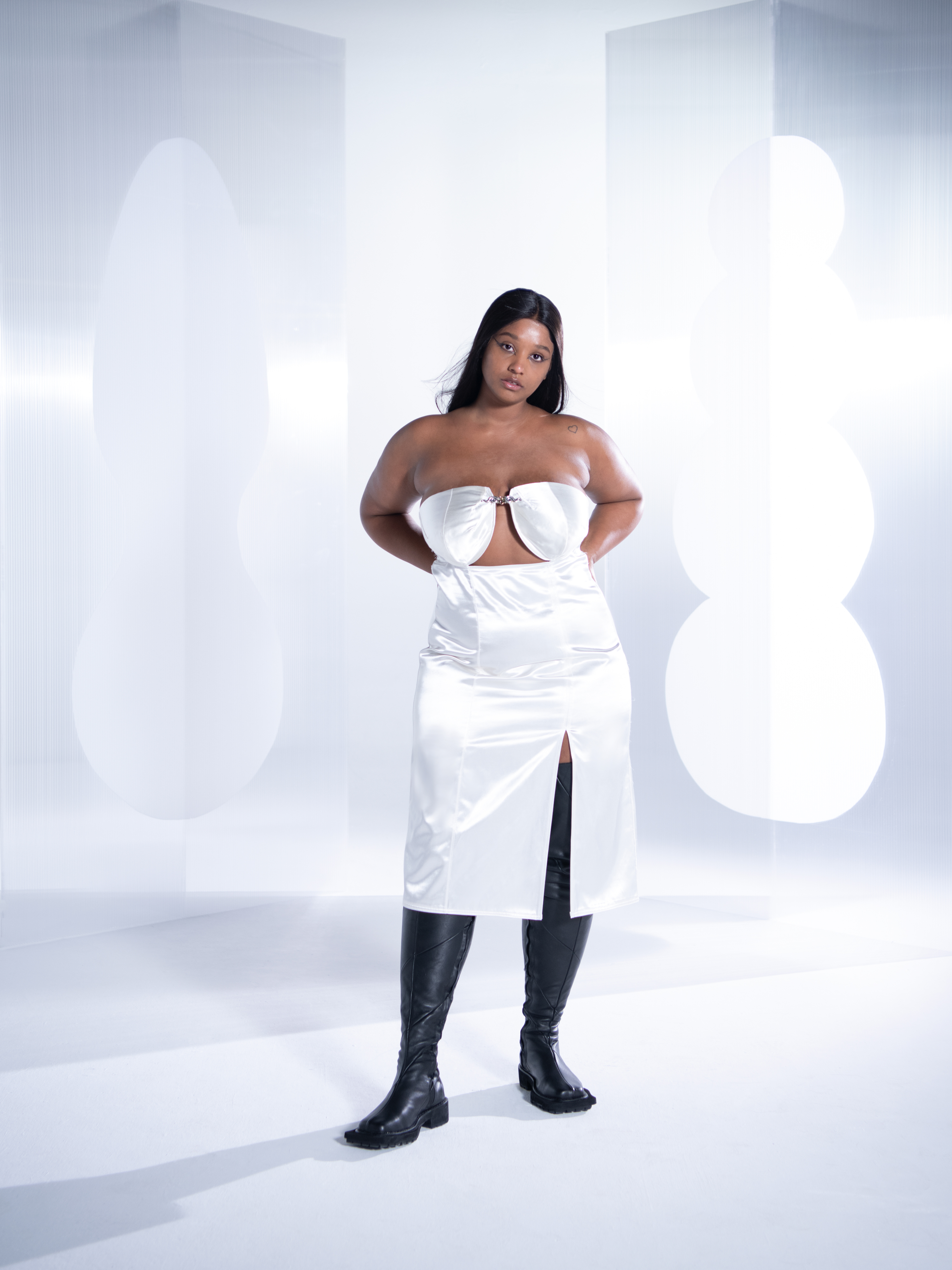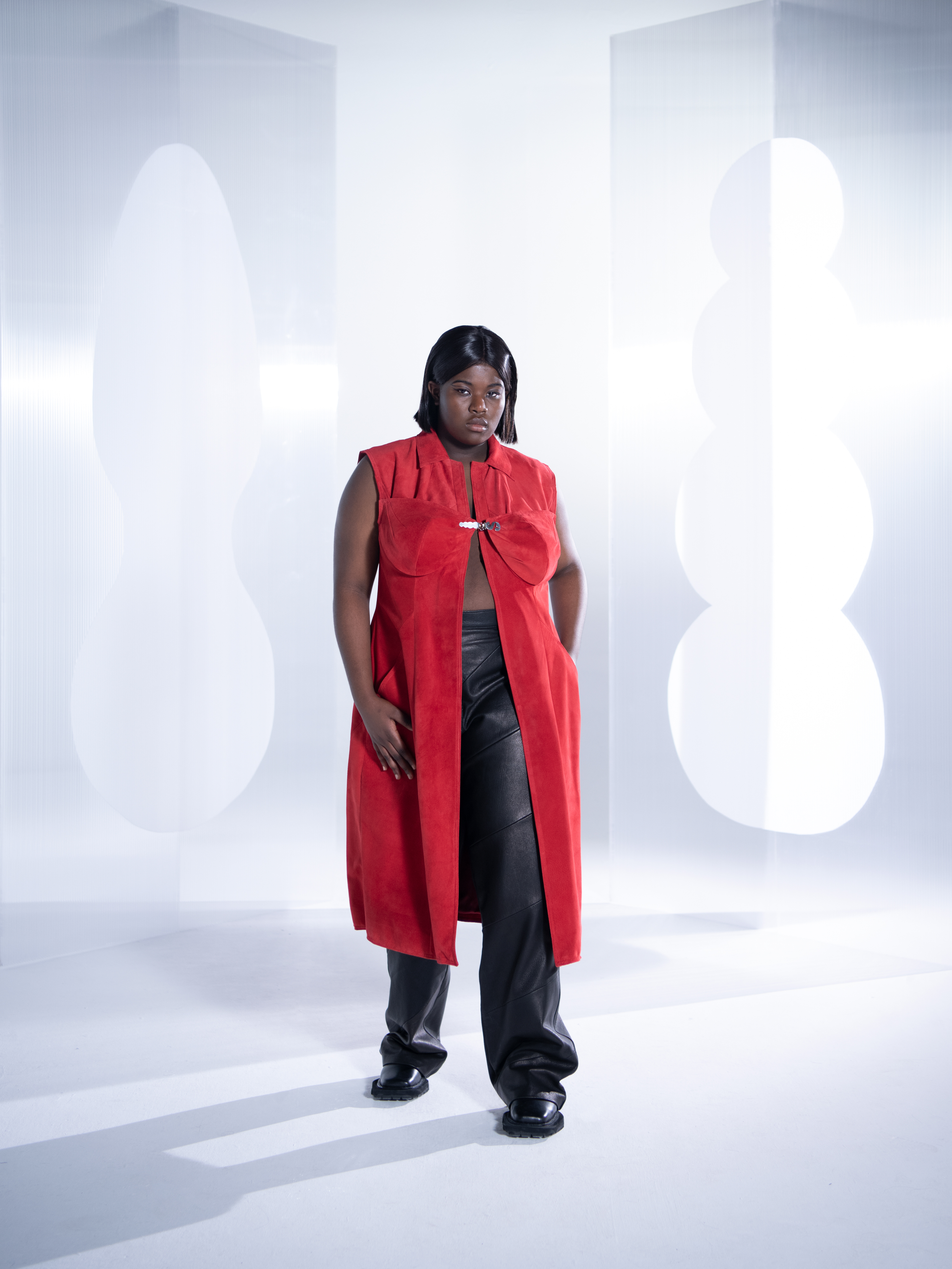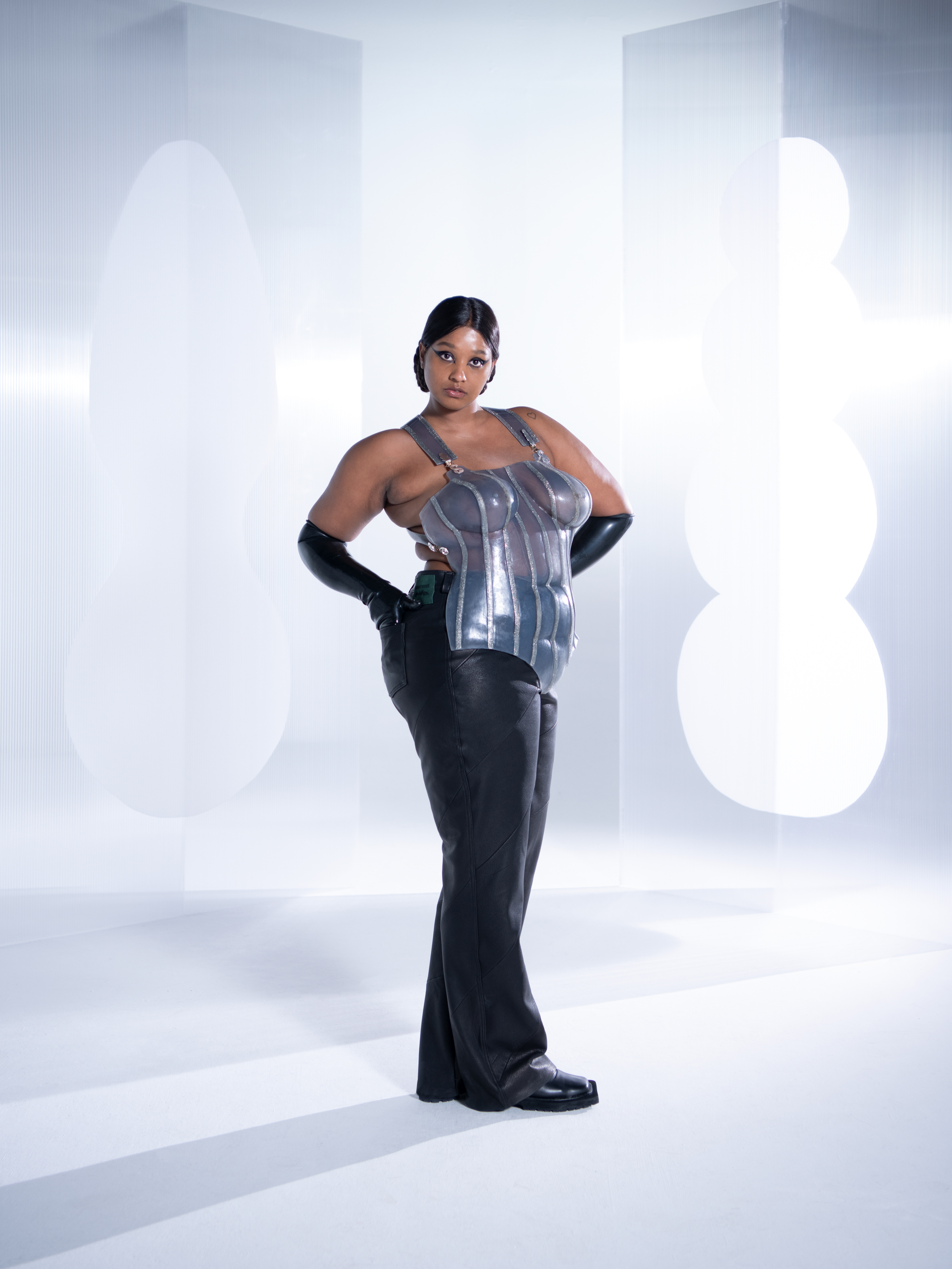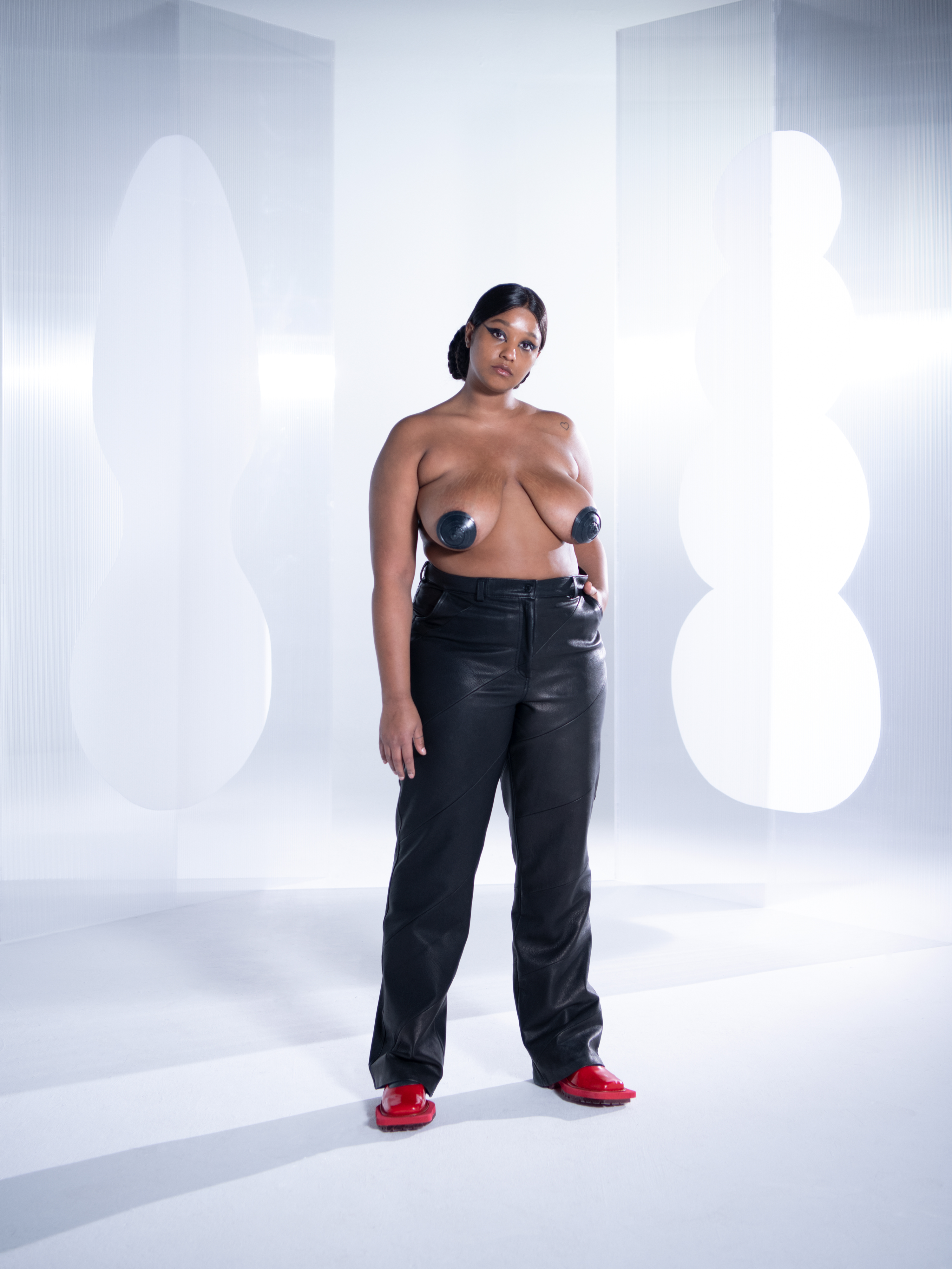 Credits
---
Photography Ottilie Landmark
Styling Ai Kamoshita
Hair Artist Issac Poleon
Make-up Artist Grace Sinnott
Set Design Tom Schneider
Casting Director Emma Matell

Models Jade O'Belle, Taylah at Milk, and Raphaela at Milk