Sunil Gupta's life in photos
The photographer guides i-D through six of his most crucial pictures to coincide with new retrospective.
For My Life in Photos, i-D speak to the best photographers in the world about their favourite images from their archives.
Sunil Gupta has always used photography as a vehicle for social engagement, occupying a unique space within the medium as an openly gay South Asian man.
Born in New Delhi and raised in Montreal, where his family had immigrated to, Sunil moved to New York to study business in the 1970s. It was here he was introduced to two things that would shape the rest of his life: a world of photography that didn't exist in Canada, and a hyper-visible community of gay men. Swapping business for photography at The New School instead, where he studied under Lisette Model -- a street photographer and contemporary of Robert Frank, Diane Arbus et al -- his first ever series, Christopher Street, married these two worlds.
Today Sunil's work is known across the world, with images of his forming part of the permanent collections at the Tate and MoMA. From his landmark images of the 1970s appearing in Barbican's mammoth Masculinities: Liberation through Photography exhibition earlier this year -- among the show's highlights -- to his recent work shooting Helmut Lang's AW20 campaign, Sunil's images continue to delight.
As a new retrospective at The Photographers' Gallery opens -- reprising the title of his 1999 series From Here to Eternity -- the photographer guides i-D through six of his most crucial pictures.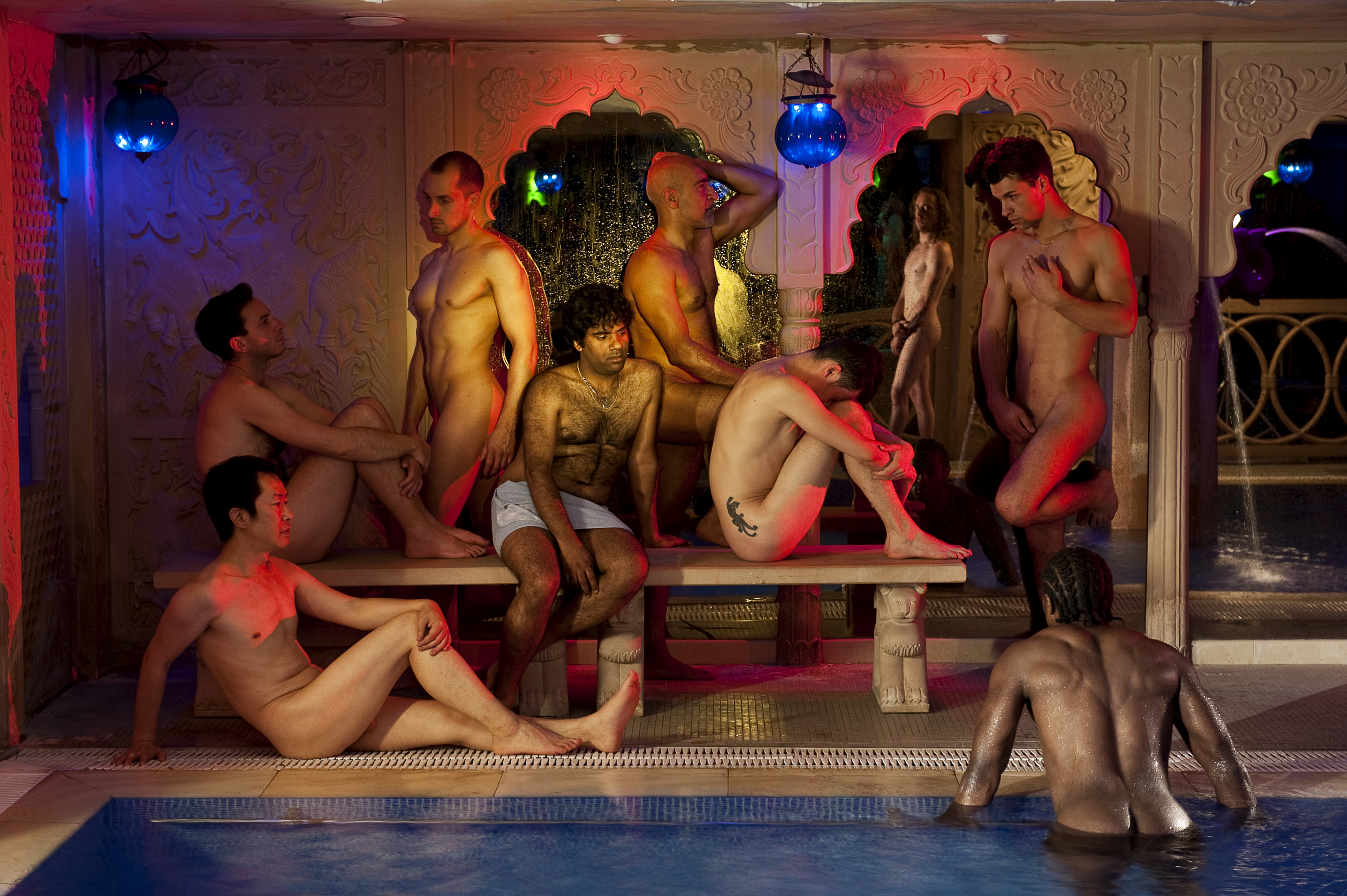 Untitled #9, 2010 from the series Sun City
A commission from the Pompidou Centre, made with a production company. I took La Jetée by filmmaker Chris Marker and modelled it on that. It was a movie made of stills, so I made a set of stills that made up a movie. I was playing with the idea of a migrant who comes to Paris, fleeing India to have a gay love affair and spend time in the bath house, where this scene is. The bath house is called Sun City, and unbeknownst to him there's an epidemic happening around him. I was living in India and the Pompidou was making [2011 exhibition] Paris-Delhi-Bombay…. They came to see me and said would I like to make something for this exhibition that would connect the cities, so I came up with this; a response to something, completely fabricated, cast and everything.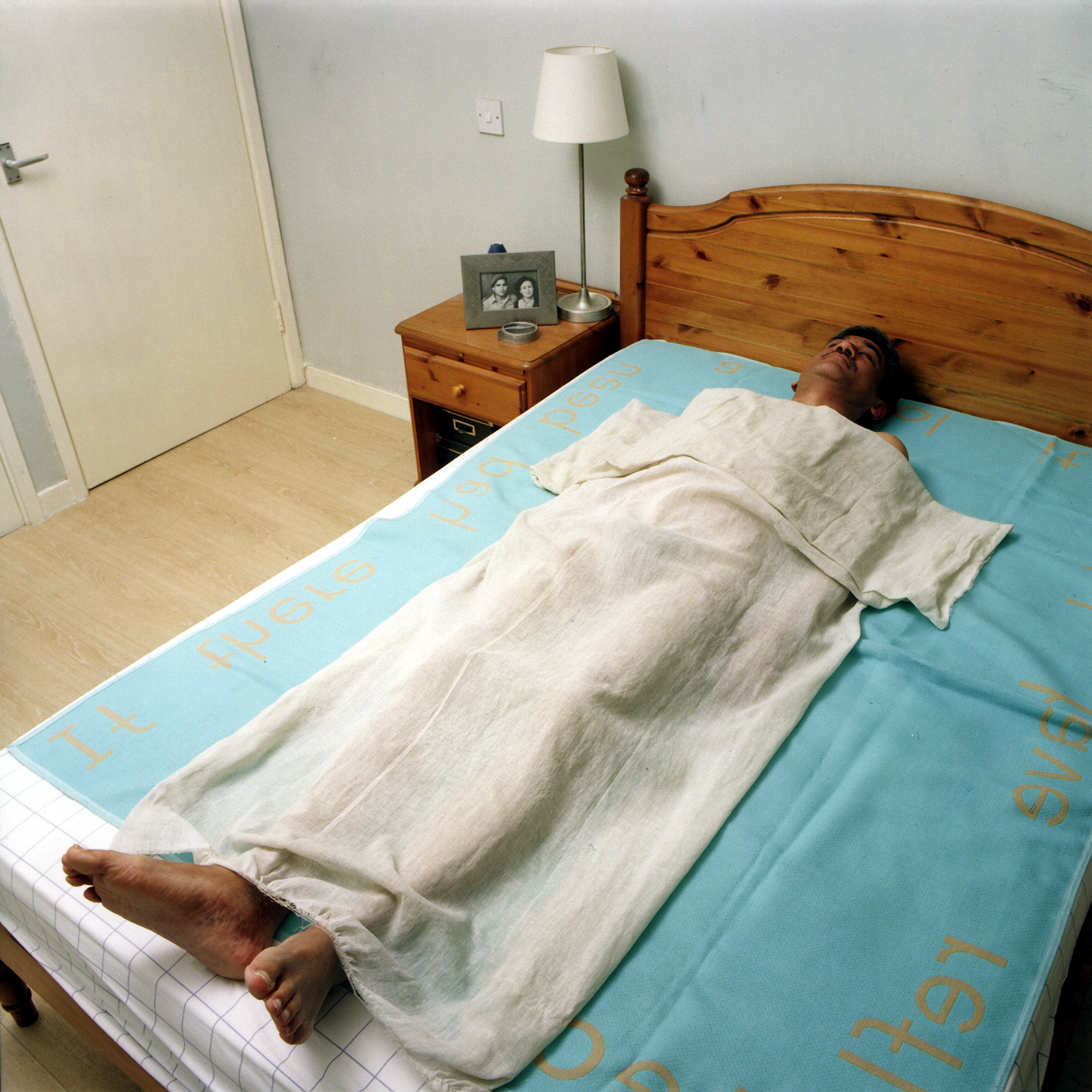 Shroud 1999 from the series From Here To Eternity
Another provocation but much more personal, it's about me and my HIV. I'd been diagnosed in 1995 and decided to not work with HIV as subject matter because I was already overloaded, being gay and Indian, but in 99 I suddenly wasn't well. I thought I would do something about the illness as 'photo therapy'. This is me playing dead. It was a real low period, having become ill I couldn't carry on being the kind of freelancer I had been, I lost work and consequently income, and very nearly my flat. So yeah, that was a very traumatic year, and doing this lifted me up a bit. Getting paid for it was even better.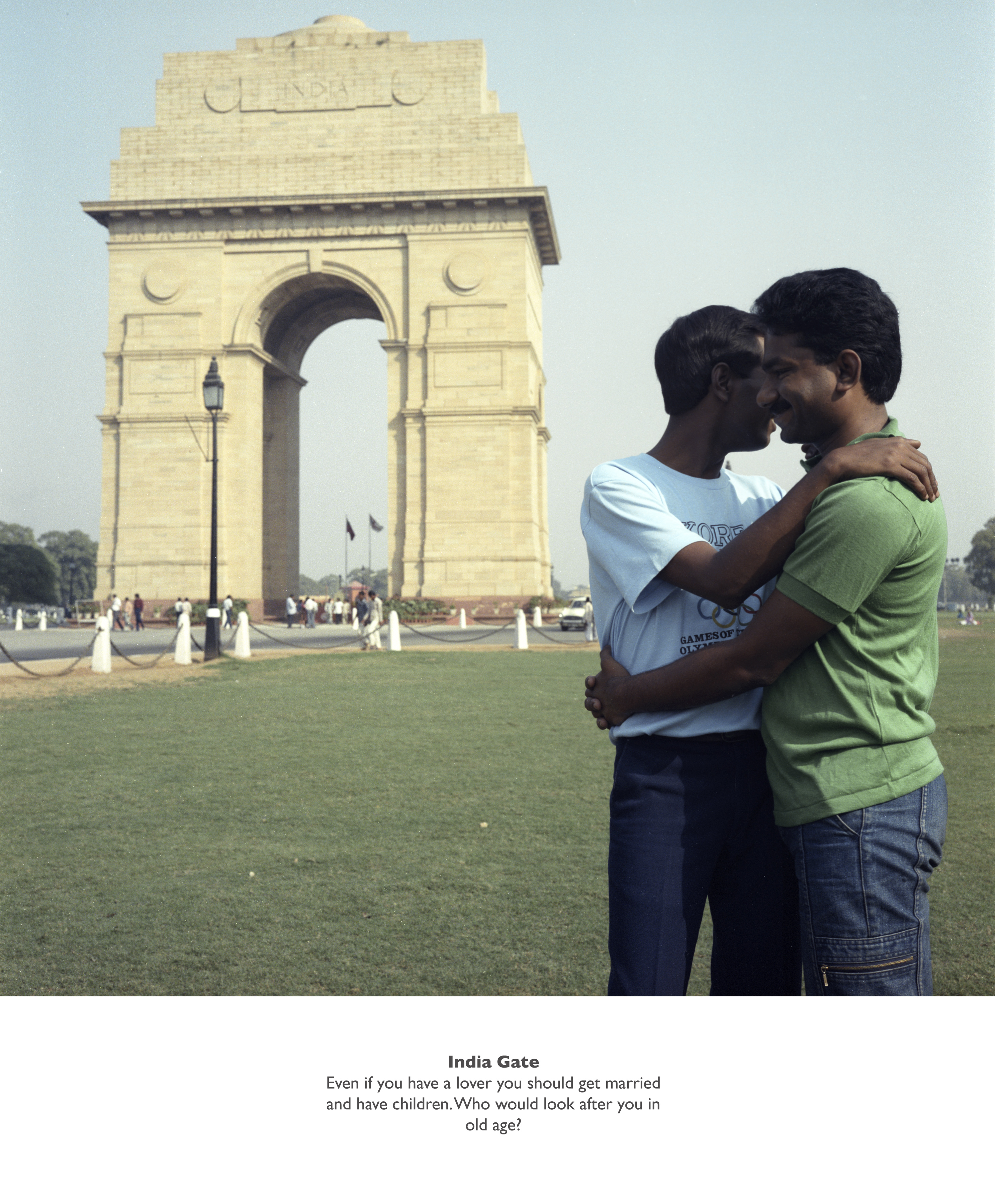 India Gate, 1987
 from the series Exiles
I'd been making photographic jobbing trips to India from London, looking into gay life. It seemed completely invisible, but I did find it through a social network. At this point I'd started to make social justice documentary photography, and this seemed like a good case. But documentary wasn't appropriate -- they didn't want to be photographed, and while I could have done it surreptitiously, that would have defeated the purpose, exposing people that didn't want to be seen. But I liked the documentary look so I kept the people and the places real. I cast it through the network, we made these pictures as a kind of collaboration, which was new to me. I was gathering interviews too, about what people thought about being gay in India, and I added those to the bottom of the photographs, so it gave a more complex picture. At the time they didn't generate a lot of interest, I think because things set outside Europe just looked kind of 'ethnic' and not that interesting maybe.
Untitled #22, 1976 from the series Christopher Street
I'd followed somebody to New York; we met in business school and he started working. I was still ostensibly studying business, but I got distracted and enrolled in photography at The New School. My hobby suddenly became serious. I was at this place that was both the hub of photography but also the main subject matter, every street corner in New York was photographed. Eventually I found my street corner. There was this big public gay life, this display of gay men everywhere -- certainly in Greenwich Village -- and Christopher Street in particular. It was after Stonewall, after gay liberation so people were out and proud, and before Aids so there was none of that fear. I thought I'm going to photograph them because I can't have all of them, but if I shot them with my camera it would be the next best thing. It was me following my eye, I wasn't studying them or making any anthropological case for it, just shooting people I fancied.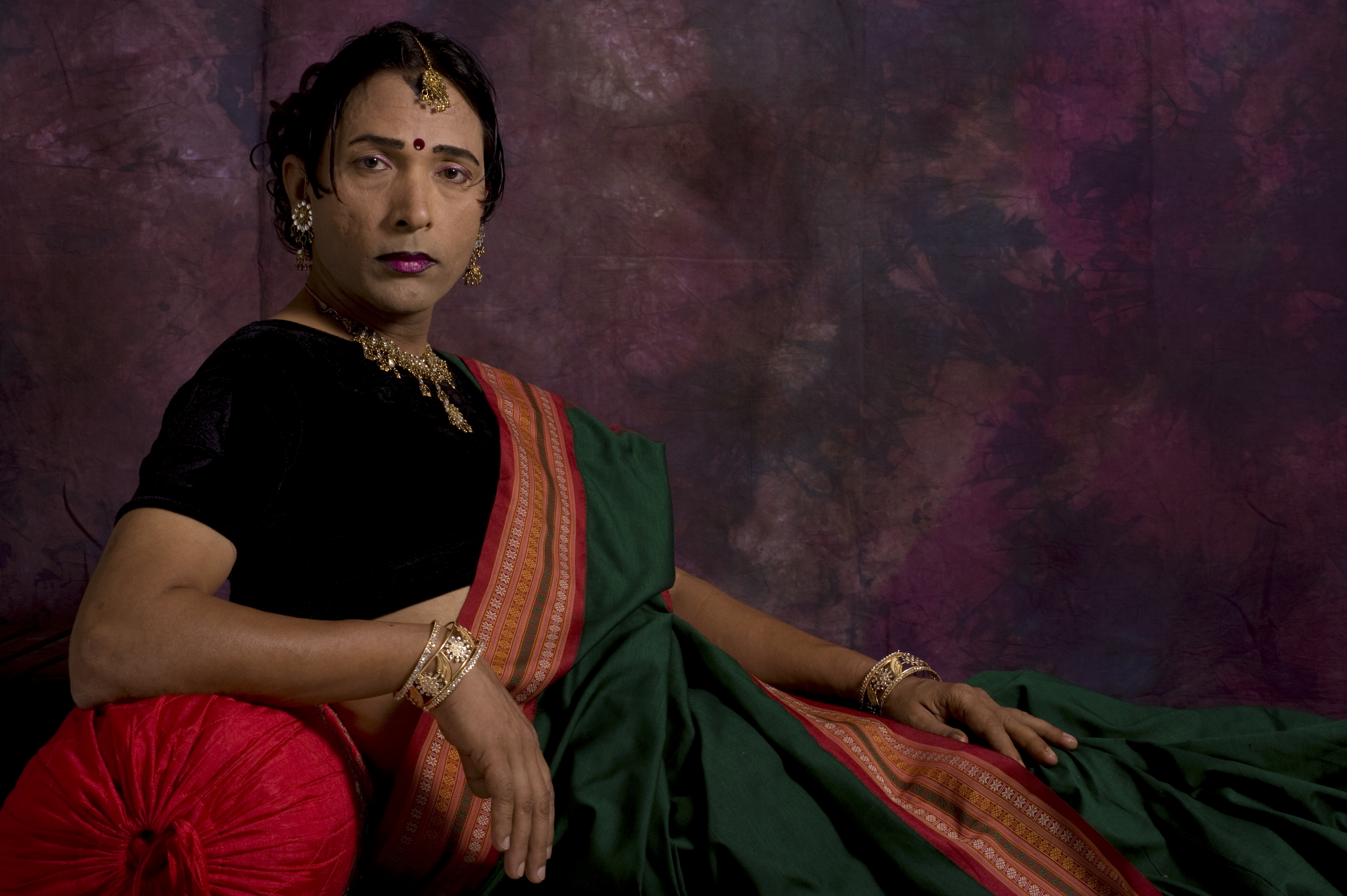 Untitled #13, 2008
 from the series The New Pre-Raphaelites
I was living in New Delhi, which was undergoing a radical change in visibly gay life. There was a new generation with completely different expectations. The economy was growing, they wanted change and weren't going to wait. Queer had arrived through academia like it did in the West, by the time it was mid-2000s it was spilling into the streets in Delhi, but the law hadn't changed. We had the old colonial anti-sodomy laws that had already changed in the UK in the 60s, so I sensed an impatience, a bubbling over. Around then I visited the Tate and walked into a Pre-Raphaelite show. I was struck by the moment captured, that kind of rebellion to the hypocrisy of Victorian England. I went back and made a set of pictures modelled on the Pre-Raphaelites.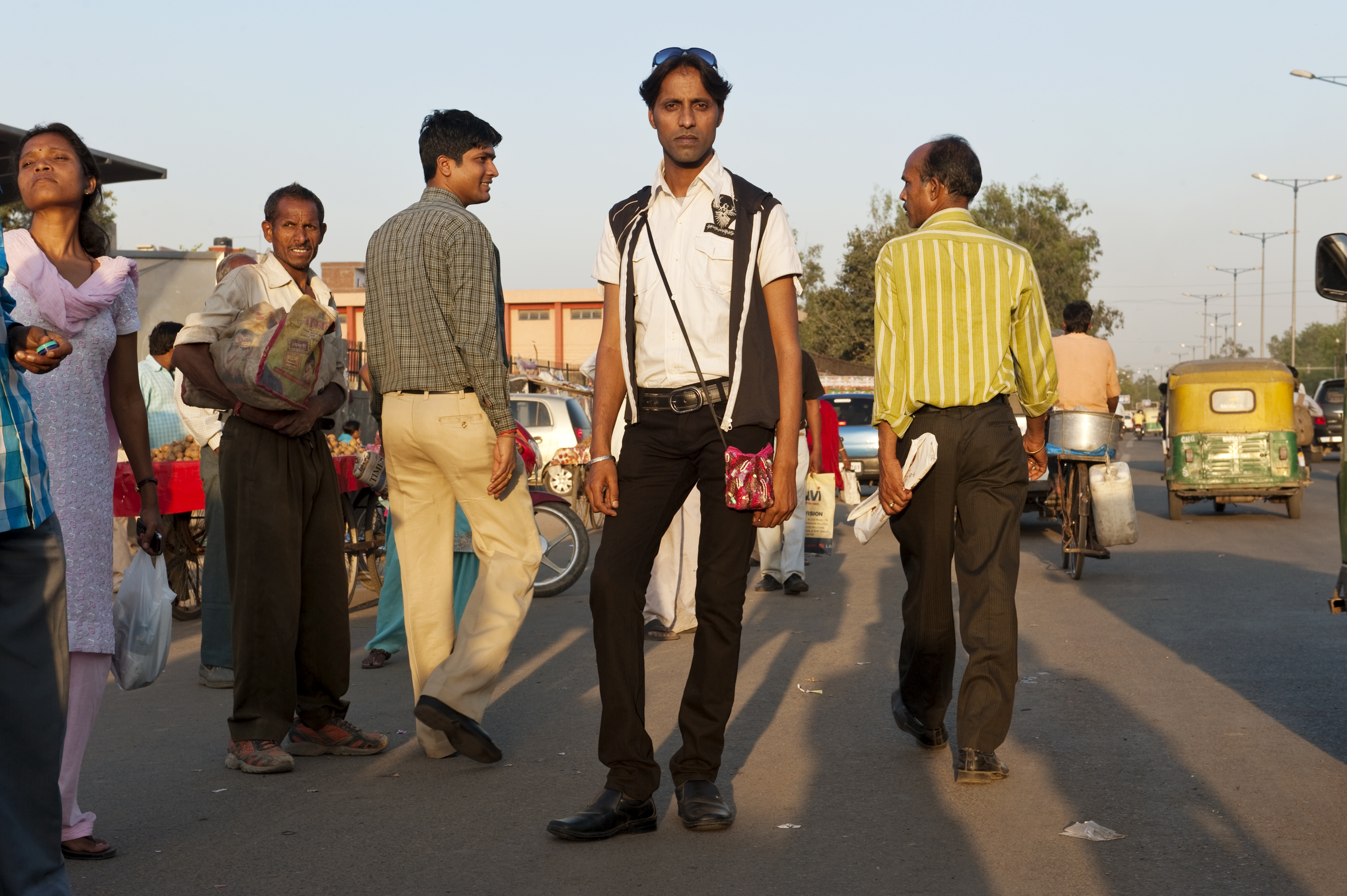 Manpreet, 2011 from the series Mr Malhotra's Party
This is a series of queer portraits, a follow up to Exiles. Now everyone's coming out, I wanted to shoot them in that more contemporary way, in the vernacular setting of where they live or work. These are deliberate portraits -- Manpreet is in the middle -- at a bus stop. The scene around him kept changing, it was interesting: I only have control of the subject. The law in India then did a funny thing -- they legalised homosexuality around the time I took this picture, but with so many barriers, one of them language, legal stuff can happens in English, involving the middle classes, but most people like him wouldn't even know it was against the law. It didn't occur to them, so by the time they were informed, the law had already been reversed, and it was criminal again. It didn't get decriminalised until 2018.
'From Here to Eternity: Sunil Gupta. A Retrospective' is on show at The Photographers' Gallery 9 Oct 2020 – 24 Jan 2021
Credits
---
All images courtesy Sunil Gupta and Hales Gallery, Stephen Bulger Gallery and Vadehra Art Gallery
Tagged: