How Safe Hquse uplifted queer Nigerian youth
Spurred on by the #ENDSARS protests, Nigeria's LGBTQ+ community is rallying together and calling for change. Safe Hquse is the grassroots organisation that supported them in their mission.
|
24 November 2020, 2:46pm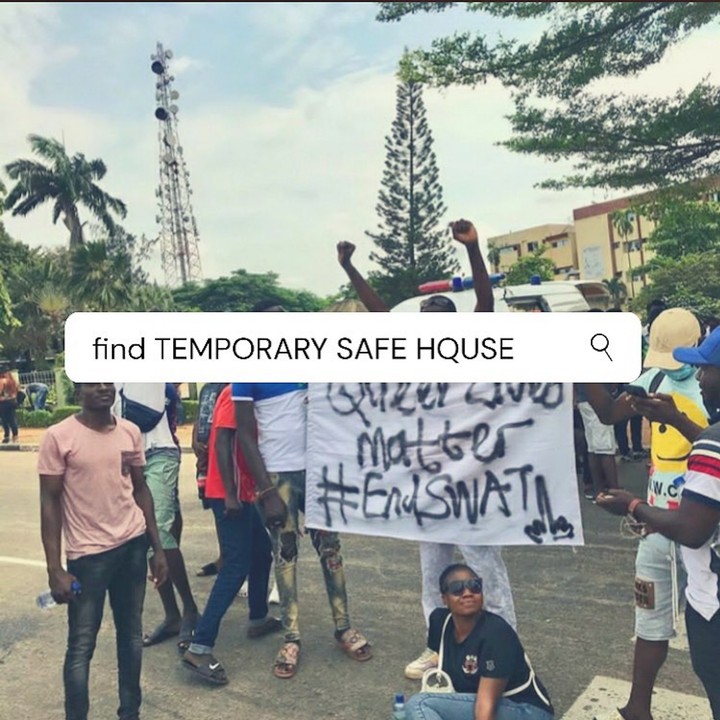 Image via Instagram
Some names have been changed in this piece.
Last month's police brutality protests -- #ENDSARS -- saw a three-year-old slogan unite Nigerian youth against The Special Anti-Robbery Squad (SARS). Set up in 1992 to tackle crimes like robbery and kidnapping, SARS has long been a source of fear among Nigerians -- particularly young Nigerian men -- owing to the organisation's notorious reputation for extrajudicial killings, arbitrary arrests, extortion and harassment. After a video of a SARS officer shooting a young man in the street went viral at the beginning of October, indignation turned to outrage on the streets.
Throughout these demonstrations, queer Nigerians -- very often invisible to the general public -- left the fringes and moved to the frontlines of the protests. Police brutality, after all, is a reality all too familiar to them. But it wasn't long before the protests began to show pockets of intimidation, harassment and violence towards these LGBTQ+ protesters. For 24-year-old Adaeze Feyisayo, a legal practitioner and queer woman, it was time to draw attention to the overlooked complexity of being a woman and queer, and navigating the terrain of police violence with these identities.
"I started protesting online, expressing how we are affected by police brutality in a multi-layered way,'' Adaeze says. "It was after we helped a protester with housing, because they were outed to their family, that it dawned on me that we needed to create safe housing for queer Nigerians during the protests.''
Adaeze casually tweeted these concerns one night, then woke the next day to a blizzard of messages from people around the world making enquiries and wanting to offer their support. With the help of nonbinary queer activist Matthew Blaise (fundraiser), queer feminist Temmie Ovwasa (coordinator), writer and author Lara T. Kareem (coordinator) and UI/UX designer Tobi Afolabi (design and tech support), within days, Safe Hquse was born -- a non-profit resource organisation prioritising the welfare of queer Nigerians.
21-year-old Blue joined the protests as a queer man in Imo, eastern Nigeria, holding a placard with an inscription that pointed to the fact that queer people experienced disproportionate police brutality. He was beaten to the ground by a gang during a protest. "They said I was deviating from the main goal,'' Blue says. 'It wasn't my finest moment, standing alone and receiving derogatory words hurled at me. I sustained some injuries, but I survived. This is where Safe Hquse came in, I was directed to their website and was sent some money to cover my medical expenses.''
In Anambra, another state in eastern Nigeria, 29-year-old Nonso Emmanuels and other queer protesters amplified their voices in the town of Akwuzu and then Onitsha. Because many of them couldn't return home after protesting, Safe Hquse provided a hotel in which to stay. ''They supported us in every possible way they could, from the funds, feeding, transport and lodging,'' says Nonso, ""Their support aided our safety, except for the occasional homophobic person who attacked us.''
Southwest Nigeria saw demonstrations in Ibadan, where protesters joined a march towards the state secretariat. Public walls were streaked with graffiti, with the words #QueerLivesMatter offering a rare moment of optimism for the young queer protestors present. Kingsley Chukwu, a 25-year-old demonstrator, says it felt like a mini LGBTQ+ Pride. "It was a chance to feel alive, as several queer people took pictures with the graffiti.'' Kingsley lost his portable WiFi modem during the protest. ''I was told to check in with Safe Hquse, which I did on Instagram. I got a response and they provided the funds to replace it.''
Powered by a small, unwavering team residing across different Nigerian states all communicating via texts and phone calls — away from the power hierarchies that have shaped Nigeria's social and political life — operating through social media has enabled Safe Hquse to run efficiently. Protecting the identities of beneficiaries was paramount to their work. Even before the Same Sex Marriage Prohibition Act passed into law in 2014, a climate of homophobia has long prevailed in Nigeria. Queer people are abused, harassed, outed and rendered homeless if they occupy a bubble of visibility. Understanding these nuances was crucial to how Safe Hquse disseminated resources, whether food, call vouchers, safe lodgings, rent, sanitary products, medical care, free therapy, or by bettering the lives of queer youths by funding vocational trainings. These resources also went to non-queer survivors of the Lekki shootings.
"The major work I did for Safe Hquse which was one of the foundations of the initiative, was fundraising,'' Matthew Blaise says. "I used my visibility as an openly gay person to attract attention across the globe to the plight of queer protesters in Nigeria. I was able to achieve this by granting interviews and live sessions with the global queer community.''
Donations quickly began rolling in thanks to queer and feminist Nigerians amplifying the work Safe Hquse was doing on the ground. At least 68% of these came from Nigerians and well-meaning people in the diaspora -- from Canada, the UK, the Netherlands, Germany, Australia, America, Ghana and France.
Physical protests for #ENDSARS began winding down due to government-imposed curfews in the first week of November. But for Safe Hquse, the work is far from over. "Currently we are creating awareness of #ENDSARS and amplifying the work that others are doing," Adaeze says. "We are also sending donations to other ongoing initiatives running safe housing for queer persons.'' Normalcy may have resumed for some young people, but the fight for a fairer Nigeria for queer people has only just begun.