All photos courtesy of Getty Images
7 of Angelyne's most iconic outfits
The LA billboard queen was the original influencer.
All photos courtesy of Getty Images
Before the Kar-Jenners and today's Insta-set, there was Angelyne. A pioneer of self-marketing — "famous for being famous" before the celebutantes of Y2K — Angelyne was the original influencer. The actress, singer and media personality rose to local infamy in the 80s after purchasing and plastering a series of Los Angeles Billboards with her blonde-haired likeness. Soon enough, Angelyne was a bonafide LA icon, signing autographs, posing for photographs and selling merchandise from the boot of her pink Corvette. By 1984, after the launch of her sophomore album Driven to Fantasy — and her debut billboard campaign — she was attending film premieres and the Grammys, wearing what else but her signature hot pink fashions. Decades on, a new Peacock series starring Emmy Rossum celebrates the inimitable Angelyne. Here, we take a look back at the elusive billboard queen's most iconic outfits.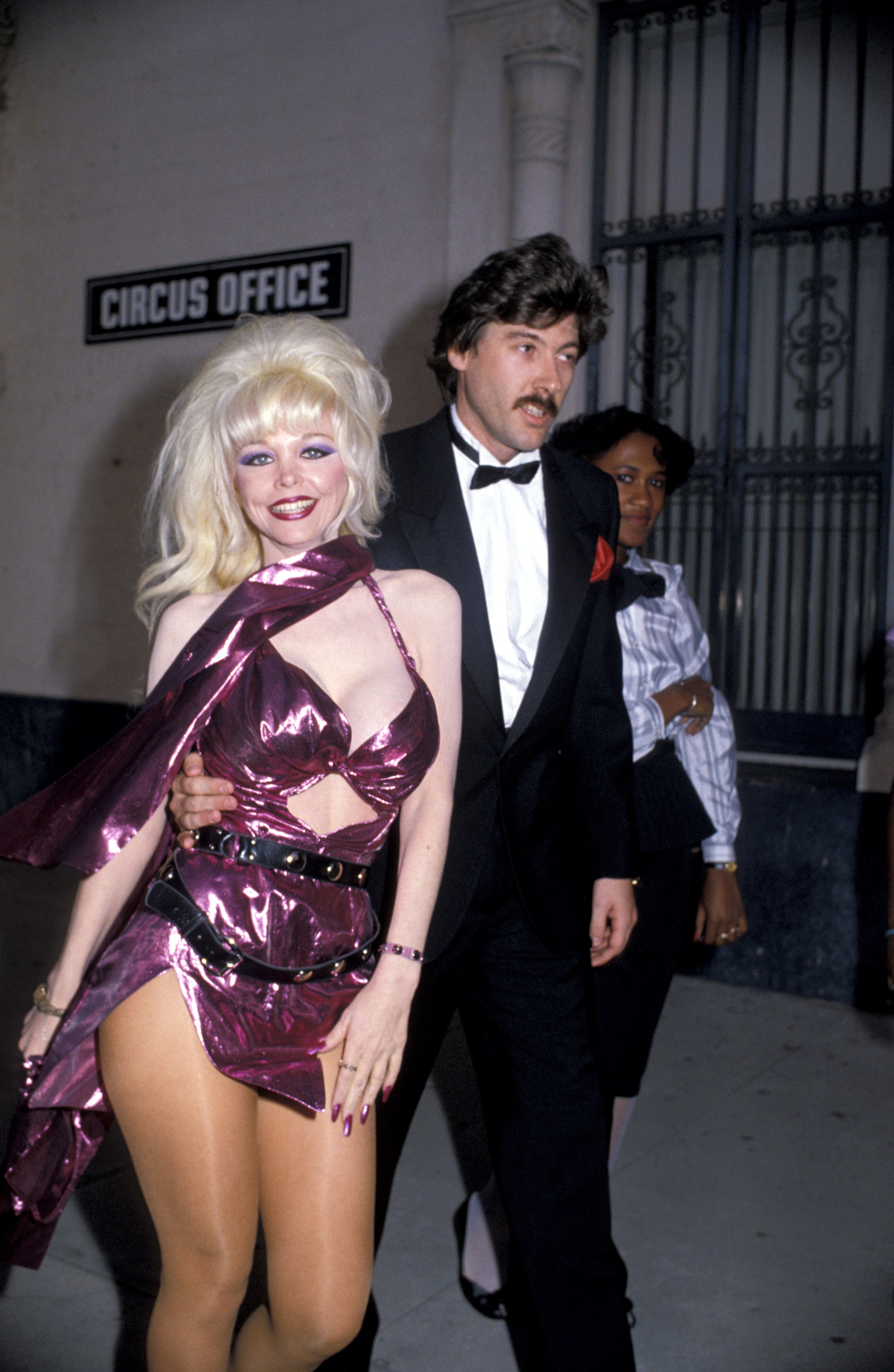 At the Grammys, 1984
Angelyne began her musical career in the late 70s, first joining her boyfriend's band, Baby Blue, and then launching her self-titled debut album in 1982. Two years later, Angelyne released a sophomore album, Driven to Fantasy, alongside her debut billboard on Sunset Boulevard. The promotions paid off and Angelyne became somewhat of a local legend for her campy, enigmatic aura. Here, the singer attends the Grammys wearing a very Barbarella-esque metallic party dress in her hallmark pink.
At Le Dome in LA, 1986
Founded in 1977 (by Elton John, no less), Los Angeles' Le Dome restaurant was one of the Sunset Strip's primo celebrity hotspots at the turn of the 80s. Famous fans included Elizabeth Taylor, Zsa Zsa Gabour, Diana Ross, Jeff Goldblum and, of course, Angelyne, the face of Sunset. Here, she poses outside Le Dome wearing a futuristic pink dress and studded leather jacket.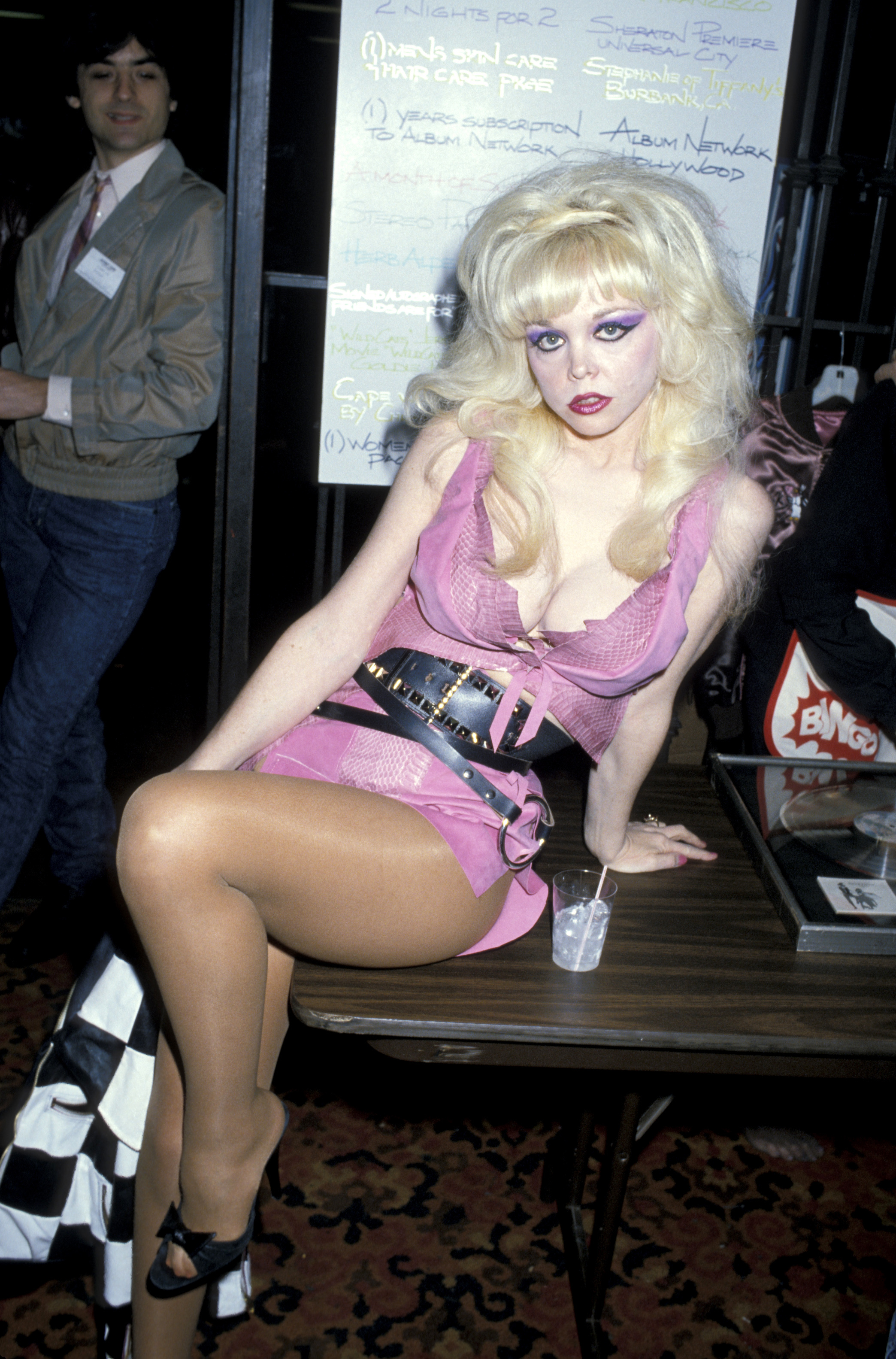 At the Rock & Bowl tournament, 1986
Hot pink minidress, massive blonde bouffant, and a slick of purple eyeshadow. You might be noticing a pattern here. Part of Angelyne's notoriety derived from her dedication to her signature — and very singular — look: Barbarella meets Barbie meets Blondie. Here, she accessorizes her signature Little Pink Dress with a black leather belt and mules to match.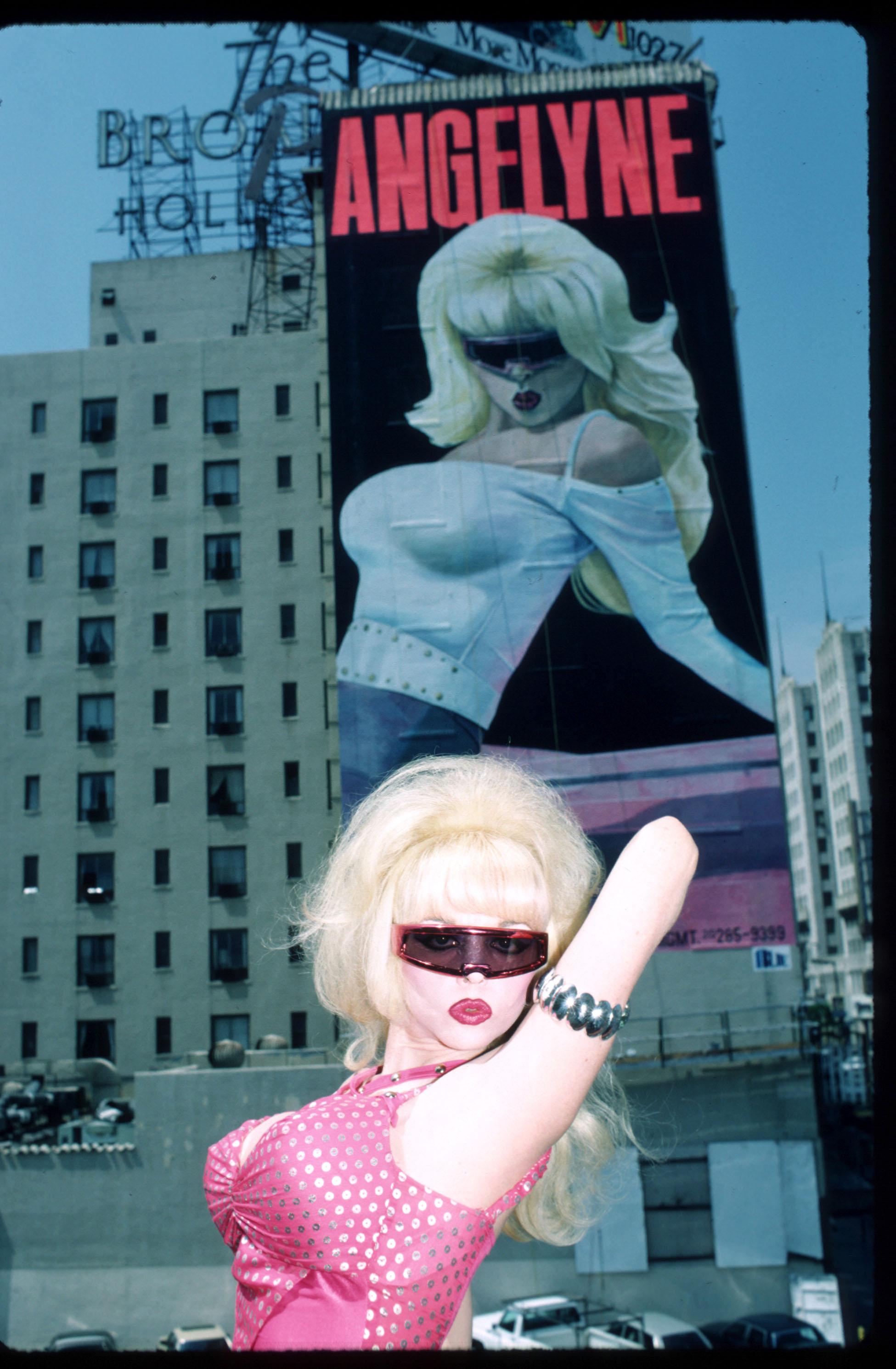 Posing next to one of her billboards in LA, 1987
Angelyne was rarely spotted cruising LA without a pair of sunglasses. Her most iconic pair are these futuristic pink shield shades, which she wore on her infamous 1987 billboard promoting her (unreleased) third album, Beware of my Boyfriend.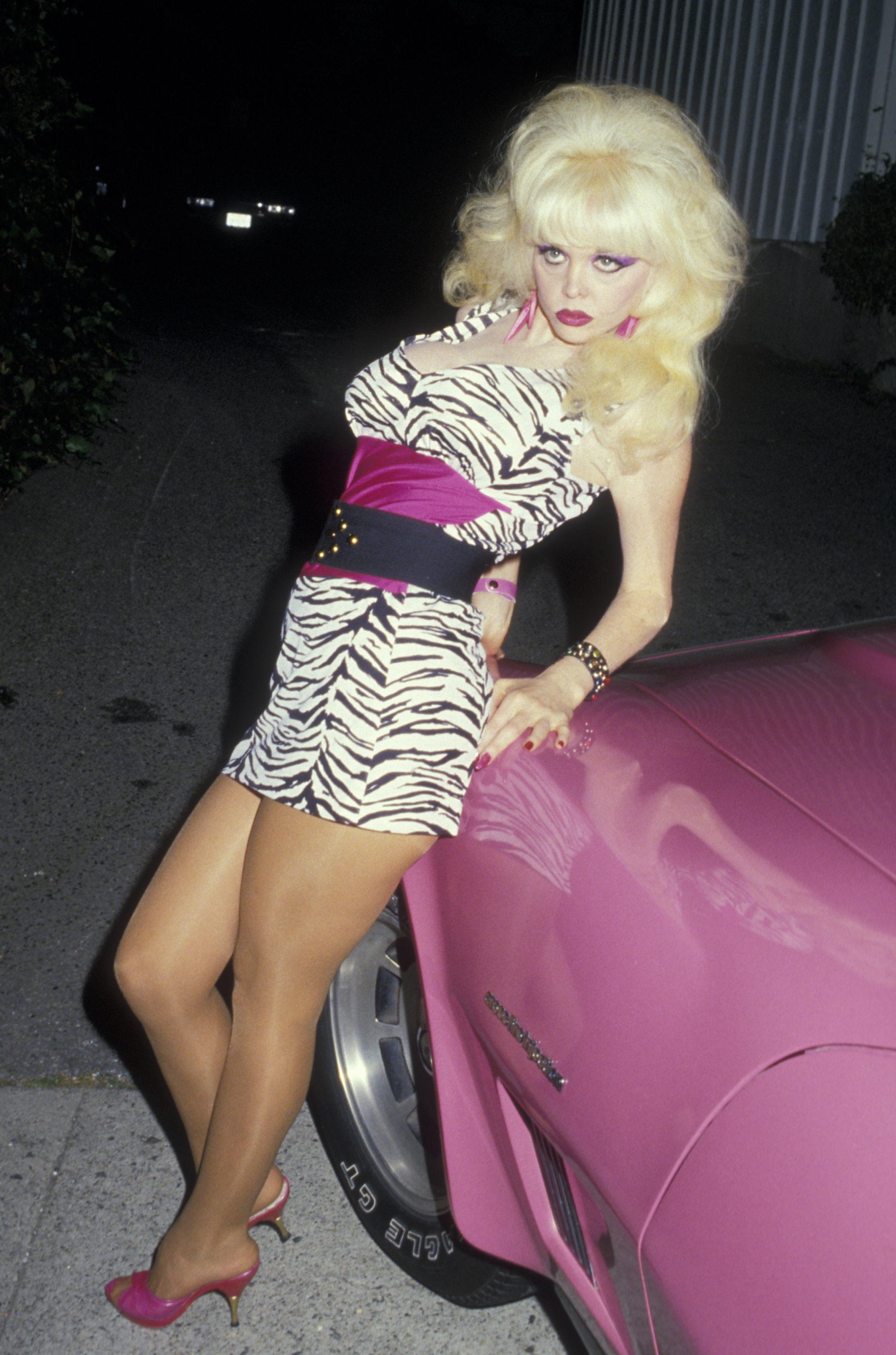 At Spago restaurant in West Hollywood, 1987
If Angelyne wasn't hanging out at Le Dome, you could usually spot her at Spago, another iconic Sunset hotspot. Here, she's snapped outside the restaurant leaning against her Corvette, wearing a zebra print dress and little pink mules.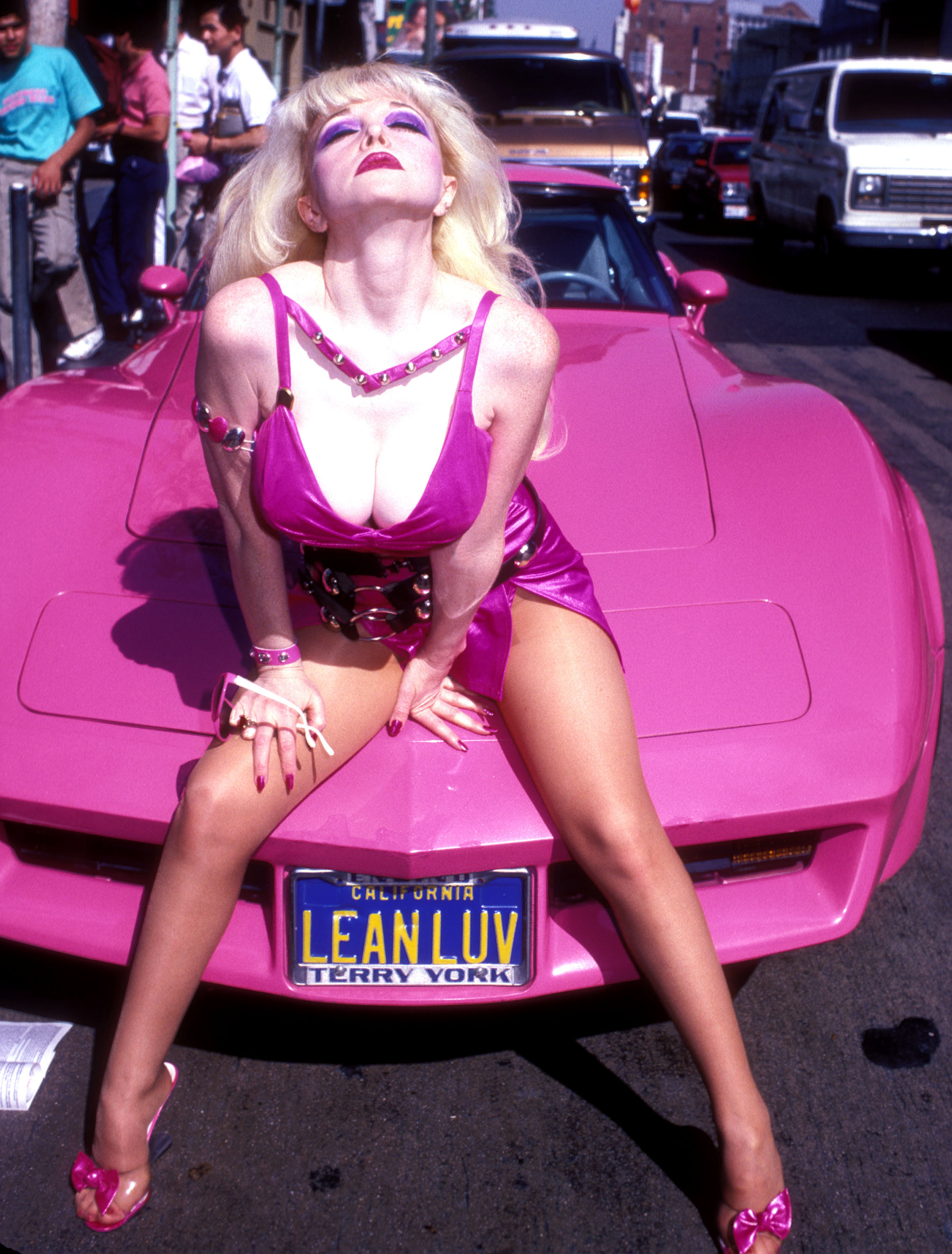 Posing on the hood of her Corvette, 1992
Angelyne and her Corvette were inseparable. Well, almost. Over the course of her career, she's owned seven different pink corvettes. According to a profile by LA Mag's Maggie Milstein, "When a car reaches between 75,000-83,000 miles, she buys a newer, updated version. She drives around 100 miles a day ("99 if I'm sick!" she jokes)." Here, Angelyne poses on the hood of one of her many Corvettes wearing a matching fuschia dress, sunglasses and vinyl mules.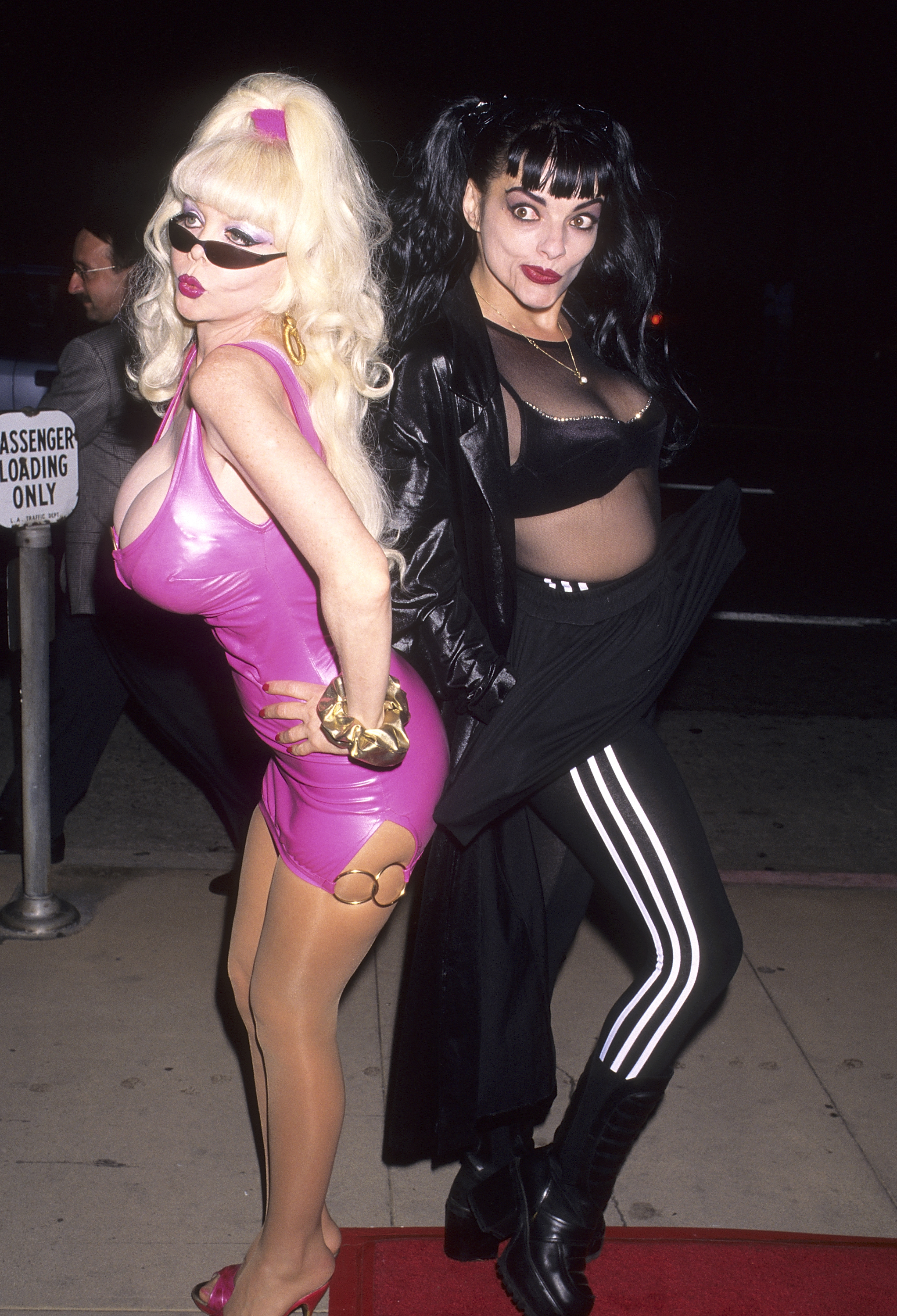 At the premiere of I Shot Andy Warhol, 1996
Along with being a singer and LA's billboard queen, Angelyne also pursued a career in film, making cameo appearances in comedies Earth Girls Are Easy and Homer and Eddie. Here, she attends the Hollywood premiere of I Shot Andy Warhol wearing — what else!? — a hot pink latex dress and her ubiquitous sunglasses.

Follow i-D on Instagram and TikTok for more fashion.